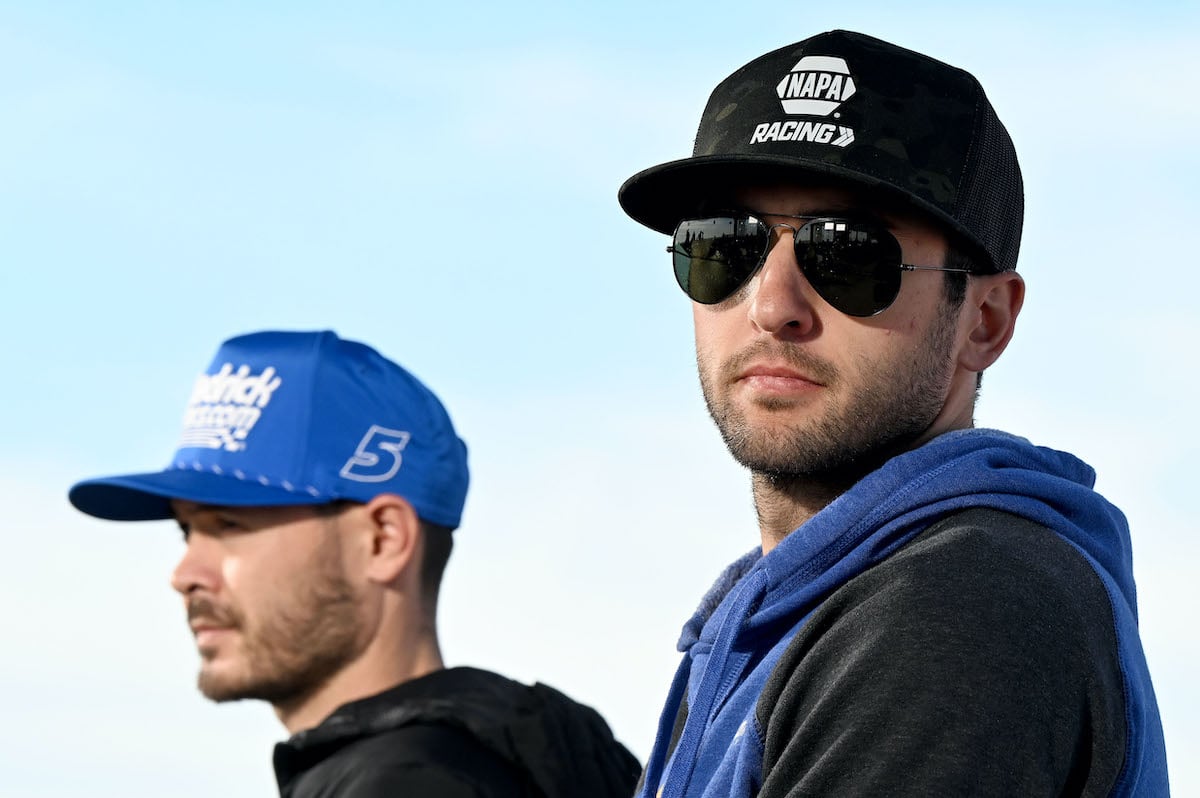 Jamie McMurray Doesn't Hesitate in Calling Chase Elliott a Liar After Comments About Kyle Larson at Kansas
Jamie McMurray wasn't buying what Chase Elliott had to say after Kansas, calling out the HMS driver for lying about his incident with Kyle Larson.
Chase Elliott wasn't happy in Sunday's race at Kansas Speedway. He felt wronged on a move by Kyle Larson in a late-race pit stop and drove his car into the door of the No. 5 soon after exiting pit road to show his displeasure. After the race, the Hendrick Motorsports driver went over and had a word with his teammate before visiting with the media. 
During that brief discussion about the incident with reporters, Elliott didn't do himself any favors by denying anything was going on. And a day later, Jamie McMurray didn't hesitate in calling out the driver for lying about it.  
Chase Elliott upset with Kyle Larson at Kansas
Chase Elliott hasn't won a race in 2023. At Kansas, the 2020 champion led 47 laps and had a race-winning car. He was running near the front in the closing laps when a caution came out. After completing his pit stop, the No. 9 was driving down pit road when Larson exited his stall and unexpectedly swerved into the side of his teammate. The No. 5 was making a move to avoid a harder contact with the No. 6, which was also exiting from his box.
A few seconds after exiting pit road, Elliott made a left and drove his car into Larson's passenger-side door. And the drama began. 
After the race, both drivers addressed the incident but did so in dramatically different ways. 
"From my vantage point, I knew we were three-wide leaving," Larson said in his post-race interview on NBC. "The No. 6 was pitted in front of us, and I'm trying to leave as much space as I can. He's coming out into the lane quickly because the No. 6 wants to slow us down. I just tried to leave as much space as I could. 
"Obviously I made contact with him, but I feel like if I didn't, I was going to clobber the No. 6 right in the right front. I thought the safest bet for all of us was for me to squeeze out a little bit. 
"I understand why he was mad at the moment. I hope when he sees the replay that he understands that I didn't have any space or not much. Just inches. Just a bummer. I'm glad that neither of us got tore up there and we could get a good finish."
A short time later, Fox's Bob Pockrass questioned Elliott about the message he was trying to send to his HMS teammate.
"There was no message," the driver said, before denying that he had any issue with Larson. 
Jamie McMurray calls out Elliott for lying
The teammate-on-teammate crime was unsurprisingly the hot topic of conversation coming out of the Kansas race. NASCAR Race Hub addressed the subject on its Monday episode with host Adam Alexander and guests analysts Larry McReynolds and Jamie McMurray. 
After watching replays of the pit-road contact, Elliott's on-track retaliation, and the drivers' interviews, Alexander asked the 2010 Daytona 500 winner for his thoughts. 
"Did you see every time Bob asked Chase a question, his nose kept getting longer? Because he was lying right there," McMurray said. "He was not telling the truth. He was clearly mad at Kyle Larson in that. But I'm with Larson. I think when Chase goes back and sees the video, he's going to realize that Brad was exiting and Kyle had nowhere to go."
Elliott admits fault
With a continuing onslaught of criticism, Elliott appeared on SiriusXM NASCAR Radio on Tuesday and addressed the situation, confirming what McMurray predicted would happen.
"We obviously ran into each other on pit road, and I didn't have the full picture of what went on, so I was frustrated. That stuff happens, for sure," Elliott said. "At the end of the day, I'll certainly take the blame for my frustration on that front. The good news is he and I can have a conversation like adults and it's a non-issue. The bad news is, it's a non-issue for all of y'all and everybody else that wants to talk about it. There's nothing to talk about. I hate to be the bearer of bad news. I know you guys love your drama, but there's just none here this week."  
There's none until Larson gets into Elliott the next time, and based on history between the pair, you know it's going to happen.
To stay up to date on the latest happenings in NASCAR, including breaking stories you can't find anywhere else, follow Kyle on YouTube and Twitter.