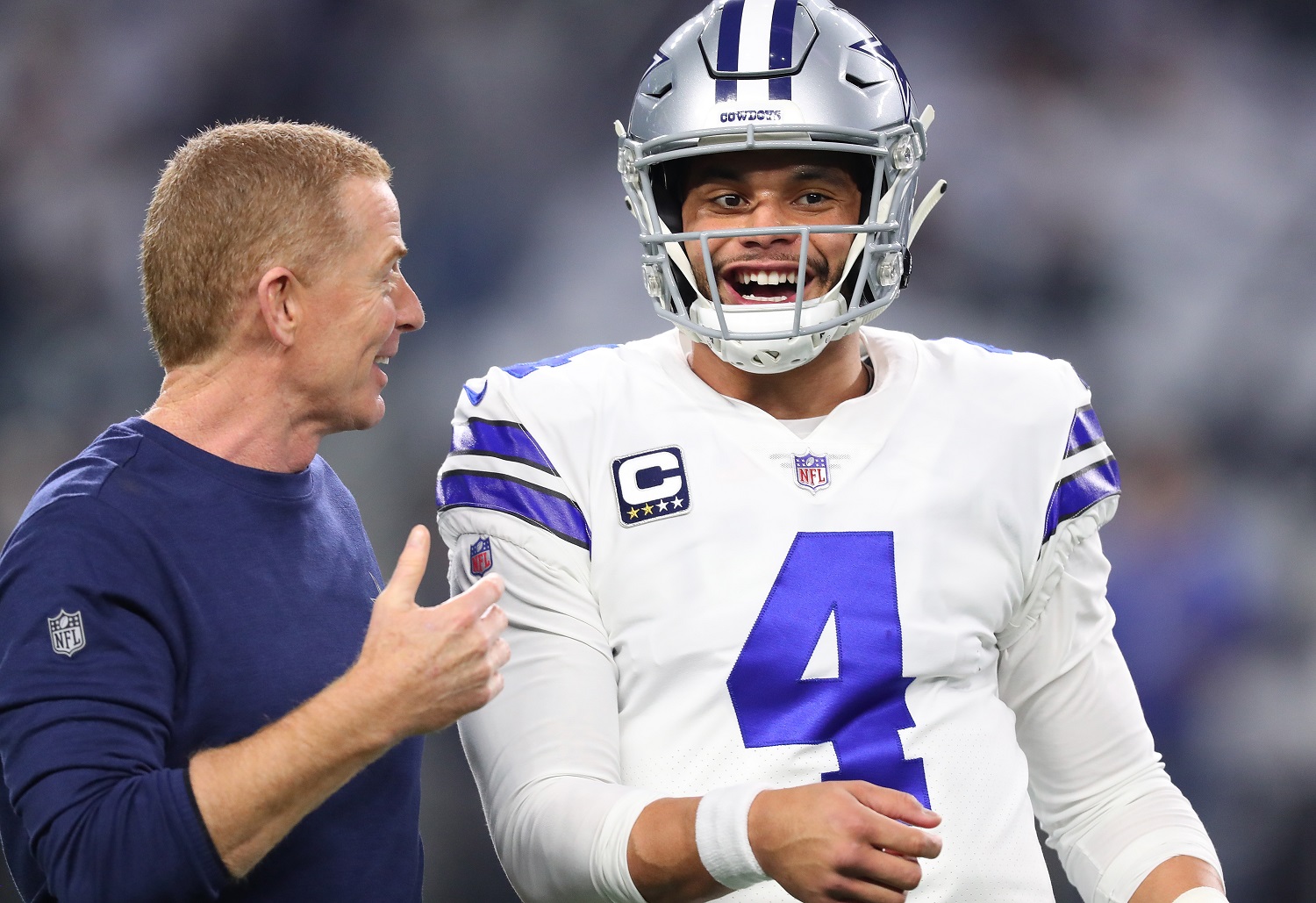 Jason Garrett Showed a Ton of Class With His Actions and Words Concerning Dak Prescott's Devastating Injury
Jason Garrett showed a lot of class when his former quarterback, Dak Prescott, went down with a gruesome ankle injury on Sunday.
When New York Giants offensive coordinator Jason Garrett showed up to AT&T Stadium on Sunday for his first matchup against the Dallas Cowboys, the team that employed him for two decades as a player and coach, the only thing on his mind was how his current quarterback, Daniel Jones, could exploit the league's worst defense to help the Giants pick up their first win of the season. Little did he know that he'd be on the field offering words of support for his former quarterback, Dak Prescott, who went down in the third quarter with a gruesome ankle injury.
Jason Garrett put a lot of faith in Dak Prescott at the beginning of his career
Jason Garrett and Dak Prescott shared four seasons together with the Dallas Cowboys. Dallas was actually hoping to draft either Paxton Lynch or Connor Cook in 2016 but when they couldn't trade up to get either one of those guys, they took Prescott in the fourth round with the 135th overall pick.
Prescott was actually slated to be the Cowboys' third-string quarterback as a rookie but when backup quarterback Kellen Moore, who now serves as Dallas' offensive coordinator, broke his right tibia in the first week of training camp, Dak competed with Jameill Showers for the backup spot behind Tony Romo. Many believed that Showers outperformed Prescott in camp but Jason Garrett put a lot of faith in Dak and named him the starter for the team's first preseason game.
Prescott played well, completing 10 of 12 passes for 139 yards and two touchdowns with the Cowboys' first-team offense, and earned the backup role. When Romo went down in the third week of the preseason, Garrett put even more faith in his rookie quarterback and named him the regular-season starter. When Romo returned to the active roster in Week 11, Jason Garrett stuck with Dak Prescott, who ended up winning NFL Offensive Rookie of the Year, as Dallas rolled to a division title with a 13-3 record.
In four years together, Jason Garrett and Dak Prescott compiled a 40-24 regular-season record but lost two of three playoff games. Following a disappointing 8-8 season in 2019, the Cowboys parted ways with Garrett, who signed on as the offensive coordinator with the Giants two weeks after his departure from Big D.
The two shared a great moment ahead of Sunday's Cowboys-Giants matchup
For the first time since being let go by the Cowboys, Jason Garrett was back in Dallas as the enemy on Sunday. But that didn't stop him from connecting with a lot of his former players, obviously including Dak Prescott.
As the Cowboys and Giants warmed up, the two shared a great moment near midfield (seen above). Garrett approached Prescott, the two slapped hands and then embraced before playfully shoving each other away, which has long been a Jason Garrett staple. But there was certainly nothing playful about what happened later.
Jason Garrett proved just how classy he is with his gestures and words concerning the injury to Dak Prescott
While Jason Garrett may not have been the right fit for the Cowboys any longer, Dallas fans can never deny the fact that he's always been a classy individual. And that class was on full display when Dak Prescott went down with a devastating ankle injury in the third quarter of Sunday's game.
As Dallas players, coaches, and medical staff surrounded Prescott, Garrett was right there as well, seemingly offering up words of support to both Prescott and the man who replaced him as head coach of the Cowboys, Mike McCarthy. Just as classy were the words he offered up following the game (h/t USA Today).
"I really feel sad for Dak. He's such a great player and a really special person. It just makes you sick. There's no doubt in my mind that he'll face this challenge head on and come back stronger and better than ever. He's just getting started in his career. He has many great days and years ahead of him. Dak's a true inspiration to so many and I put myself at the top of that list. I love him to death and wish him a full and speedy recovery."

Jason Garrett on Dak Prescott
Dak Prescott underwent surgery on Sunday night and is expected to be out of action for four to six months.