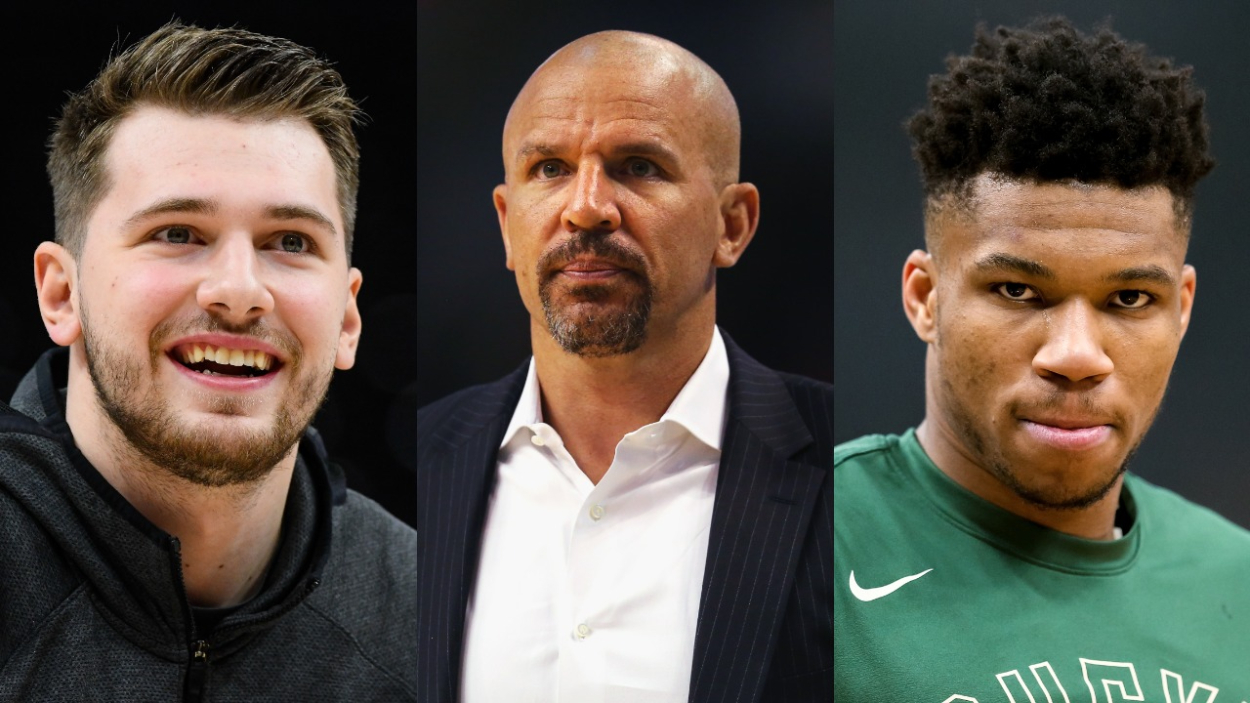 Jason Kidd Vows to Not Coach Luka Doncic Like He Coached Giannis Antetokounmpo
Jason Kidd is the new head coach of the Dallas Mavericks after previously leading the Brooklyn Nets and Milwaukee Bucks before being an assistant on the Los Angeles Lakers. However, Kidd recently said he doesn't plan to coach NBA superstar Luka Doncic like he did Giannis Antetokounmpo during his time in Milwaukee.
Competitors love to prove their doubters wrong, and that's what Hall of Fame point guard Jason Kidd hopes to do in his new role as the Dallas Mavericks' head coach. Kidd was previously the Brooklyn Nets' and Milwaukee Bucks' coach, but now, a little over three years after getting fired by Milwaukee, Kidd looks to get redemption by leading NBA superstar Luka Doncic and the Mavs.
He will only be successful, though, if he has his players playing to their strengths. So, Kidd recently vowed to not coach Doncic like he coached reigning NBA Finals MVP Giannis Antetokounmpo.
Jason Kidd spent time on the Nets and Bucks
Kidd had a Hall of Fame playing career, earning 10 All-Star selections and leading the NBA in assists per game five times. But after his final season in 2012-13, Kidd had a short tenure as the Nets' coach in 2013-14.
He led them to a 44-38 record and a win in the first round of the Eastern Conference playoffs but parted ways with Brooklyn after that season and joined the Bucks not long after.
Kidd then led Milwaukee to the playoffs in two of his three full seasons there but went 139-152 overall. After seeing the team get off to a disappointing start in 2017-18, the Bucks then fired him 45 games into the season.
While in Milwaukee, though, Kidd helped lay the foundation for Antetokounmpo. Kidd's first year as Bucks coach was Antetokounmpo's second NBA season. Antetokounmpo went from averaging 12.7 points that year to becoming an All-Star in 2016-17. He has since won two NBA MVP awards and was the 2021 NBA Finals MVP.
He won't coach NBA superstar Luka Doncic like he coached Giannis Antetokounmpo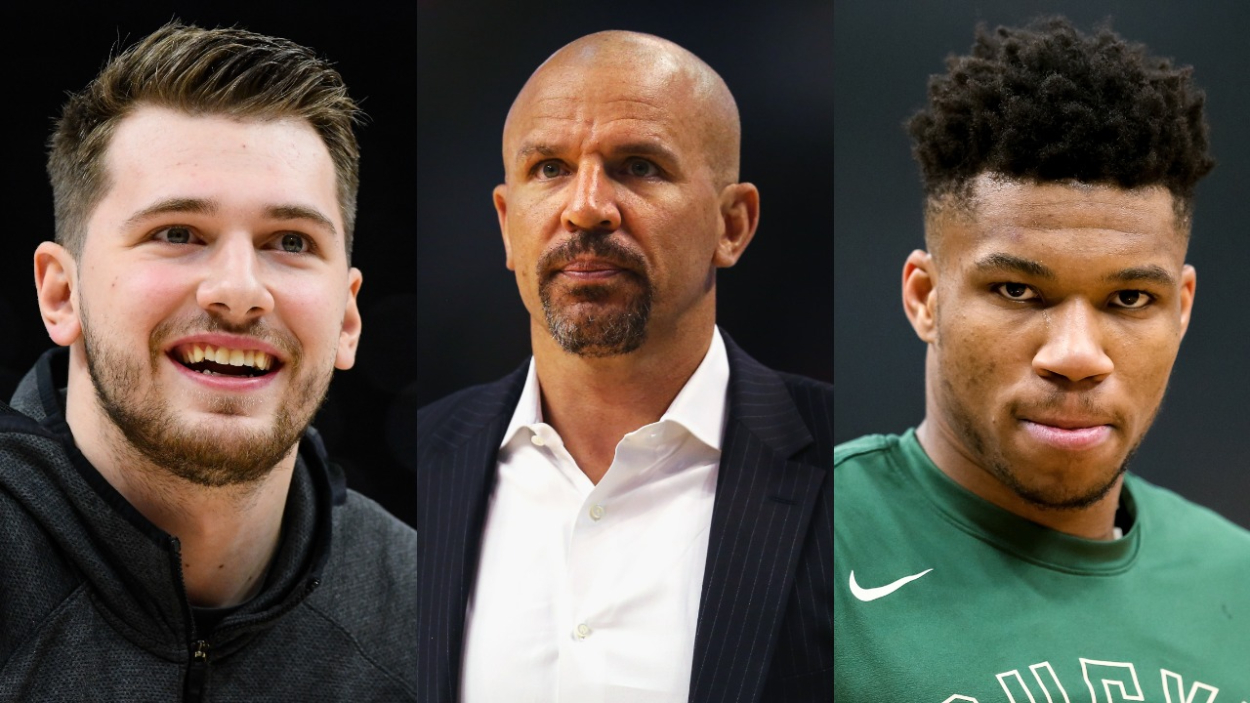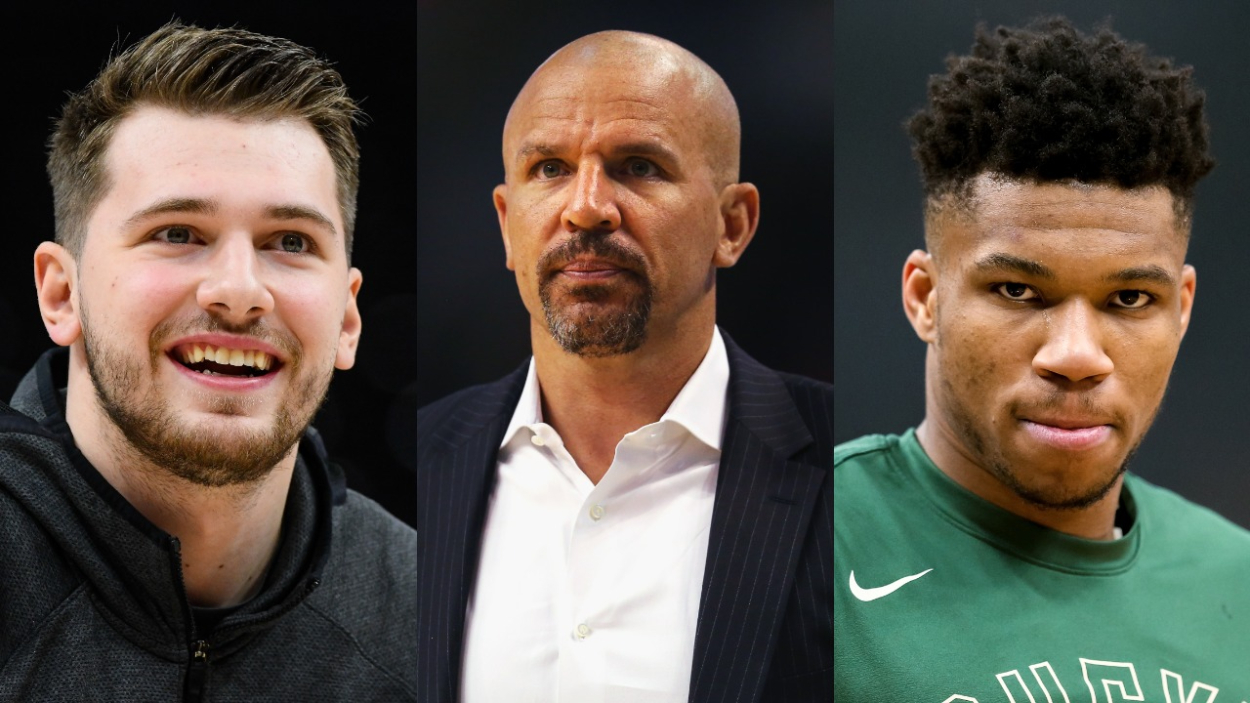 Kidd spent the past two seasons as an assistant coach for the Los Angeles Lakers and won a title with them in 2019-20. But in June, the Mavericks hired him to be their next head coach. Kidd played in parts of eight seasons with the Mavs during his playing career, earning multiple All-Star selections and winning a championship in 2011. Coaching them, though, will be a much different challenge.
The former point guard recently appeared on ESPN's The Jump, and they played a clip of Antetokounmpo giving him credit after winning the 2021 NBA Finals. However, he also mentioned how Kidd would tell him not to shoot when he was his head coach.
While discussing his new job, Kidd said that's not something he will tell Doncic on the Mavericks. Doncic averaged over 27.5 points in each of the last two seasons and improved his 3-point shooting from 31.6% in 2019-20 to 35% in 2020-21.
"Luka is a different player," Kidd said to ESPN's Richard Jefferson, who he played with on the New Jersey Nets. "When you look at someone who's 22 years old and what he's accomplished early on in his career is amazing. I'm not gonna tell him not to shoot; he can shoot the ball. My job is to make the game easier for him, understand the game within the game, understand how to get guys going, become a better leader."
He continued: "[I plan to] help him in every aspect of the game to try to make it easy. That's what we did with Giannis in Milwaukee, and, again, I won't tell him not to shoot like I did with you (Richard Jefferson) and Giannis. But I wanted you guys to be successful; I knew your strengths."
How can Jason Kidd help Luka Doncic in the coming NBA seasons?
Kidd clearly knew Antetokounmpo's strengths, and shooting wasn't (and still isn't) one of them. Antetokounmpo went from averaging just 6.8 points in the season before Kidd was his coach to averaging 22.9 with him in 2016-17.
Kidd was aware that Giannis could dominate inside the paint, and that's what the future MVP ultimately did.
With Doncic, on the other hand, Kidd can help him continue setting his teammates up for success. Doncic is already a great scorer and a significantly better shooter than Antetokounmpo. But he has also proven to be a solid facilitator, averaging over 8.5 assists in each of the last two seasons. Kidd led the NBA in assists in five different years and helped set up guys like Vince Carter and Dirk Nowitzki; he knows how to get the best out of people, and he can pass that on to Doncic, who has already been successful in that area of his game.
No, things didn't work out for Kidd in Milwaukee, but he helped mold Antetokounmpo, one of the best players in the game today. Now, he can get redemption with an already stellar player in Doncic.
Dallas has Kidd set up for success; it's time for him to prove his doubters wrong.
Stats courtesy of Basketball Reference