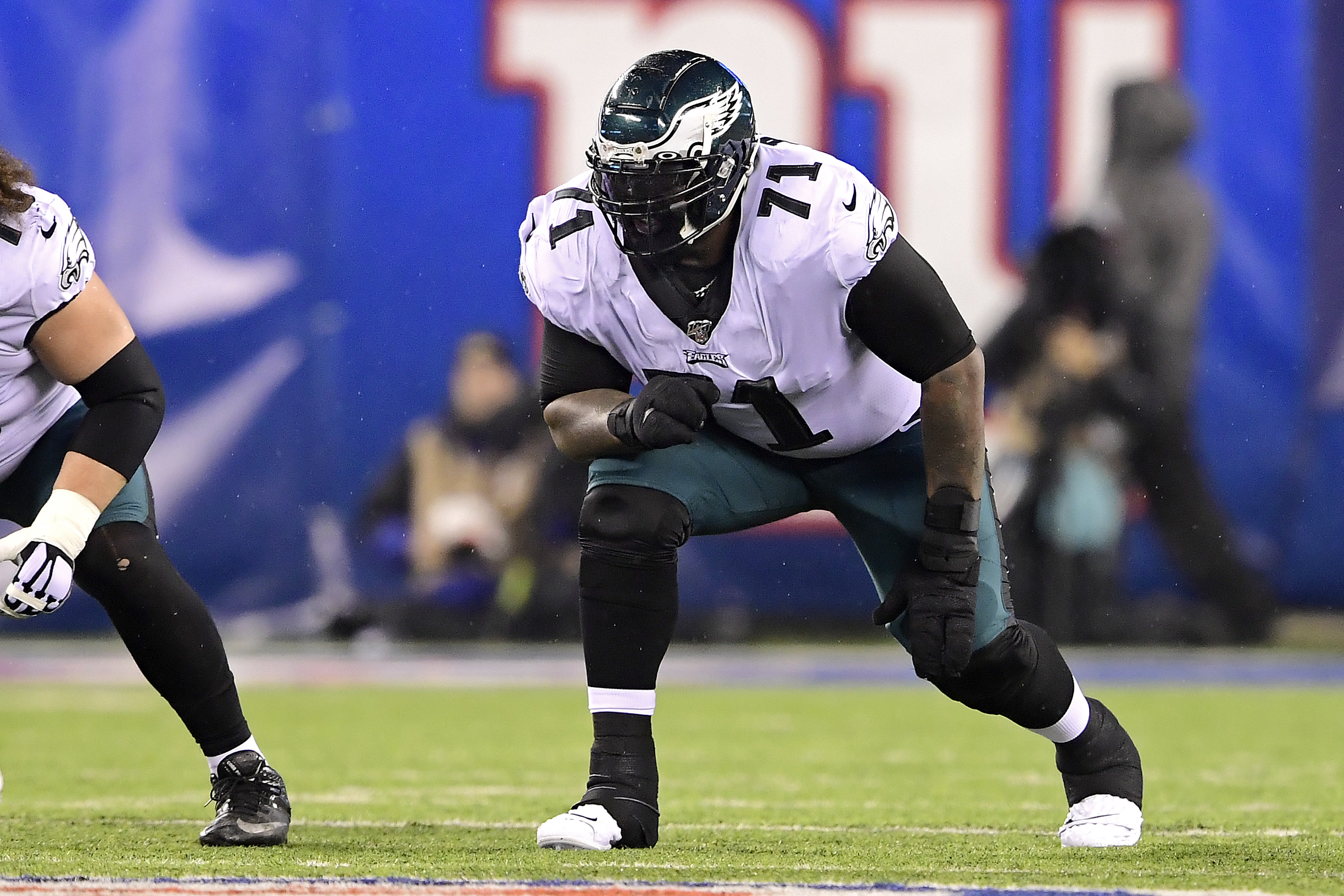 Jason Peters Moving to Guard Isn't the First Time He's Had to Switch Positions in the NFL
Jason Peters is returning to the Philadelphia Eagles to play right guard, but it actually isn't the first time he's had to switch positions.
After months of not being able to find a new home in the NFL, Jason Peters is returning to the team he left in 2019. On Tuesday, Peters agreed to a deal to return to the Philadelphia Eagles for 2020, but with a twist. The longtime left tackle will be moving to right guard to replace the injured Brandon Brooks up front. Peters has never played right guard in the NFL, but his history of switching positions should encourage Philly fans.
Jason Peters agrees to return to the Eagles to play right guard
Jason Peters left Philadelphia at the end of last season to explore new options as his career nears its conclusion. The 38-year-old was fully committed on playing in 2020, but he didn't field much interest around the NFL.
After months of silence, Peters got a call from a familiar friend — Howie Roseman. The Eagles' general manager wanted the Philly legend back, but on one condition. He would have to make the switch to right guard. Starting guard Brandon Brooks is out for the season with another Achilles injury, and the Eagles were in desperate need of a replacement.
Peters is never one to shy away from a challenge, so he said yes. The two sides agreed to a one-year contract worth up to $6 million in 2020.
Eagles' fans might not be too thrilled with the puzzling news, but Peters has plenty of experience switching positions. When he came into the NFL in 2004, he didn't even know how to play offensive line.
Peters played defensive tackle and tight end in college
Peters is a no-doubt Hall of Famer as an offensive lineman, but that's not even the position he played growing up. Arkansas offered Peters a scholarship in 2001 to play tackle, but not on the offensive side of the ball.
That's right, Peters was recruited to play defensive line for the Razorbacks. Once he got to Arkansas, though, his coaches realized he had elite athleticism that could be useful elsewhere. So, they moved him to tight end.
Peters played tight end for his entire career at Arkansas. He caught 21 passes for 218 yards and four touchdowns as a junior and left for the NFL after the 2003 season. Little did Peters know he would become a surefire Hall of Famer in a completely different position.
Peters didn't play offensive tackle until he reached the NFL
Jason Peters is one of the most breathtaking athletes to ever suit up in the NFL. At 6-foot-4 and 318 pounds, he was an effective defensive tackle and tight end in college, and he never even played offensive line until he turned pro.
After going undrafted in 2004, Peters signed with the Buffalo Bills and started his pro career on the defensive line. After one season on defense, Peters tried his hand at offensive tackle. He was instantly a natural. Peters dominated veteran defenders from day one on the offensive line.
Fifteen years and nine Pro Bowls later, Peters is switching positions one more time. With the versatility he's shown in the past and his ability to play almost any position he wants, the move to guard shouldn't be much of an issue for the Eagles' legend.