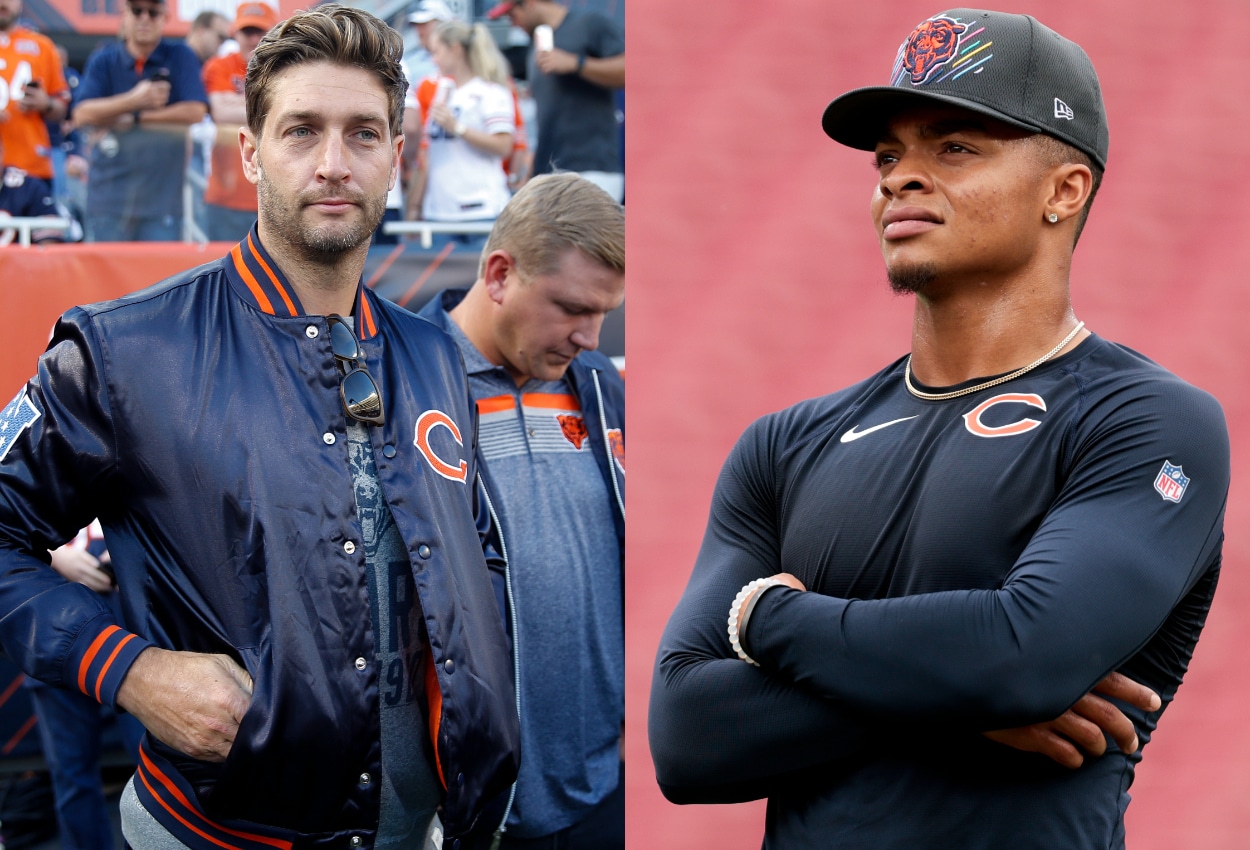 Jay Cutler Reveals the Brutal Reality of Justin Fields' Situation With the Chicago Bears
Justin Fields had a tough rookie season on the Chicago Bears, and former quarterback Jay Cutler recently revealed the brutal reality of Fields' situation in Chicago.
Justin Fields entered the 2021 NFL Draft as one of the most talented quarterbacks on the board. However, he didn't get a chance to show it in his first season with the Chicago Bears, struggling behind one of football's worst offensive lines.
So, what does Jay Cutler, the Bears' all-time passing leader, think of Fields and his potential? He revealed the brutal reality of the situation in Chicago.
Jay Cutler discussed Justin Fields' situation on the Chicago Bears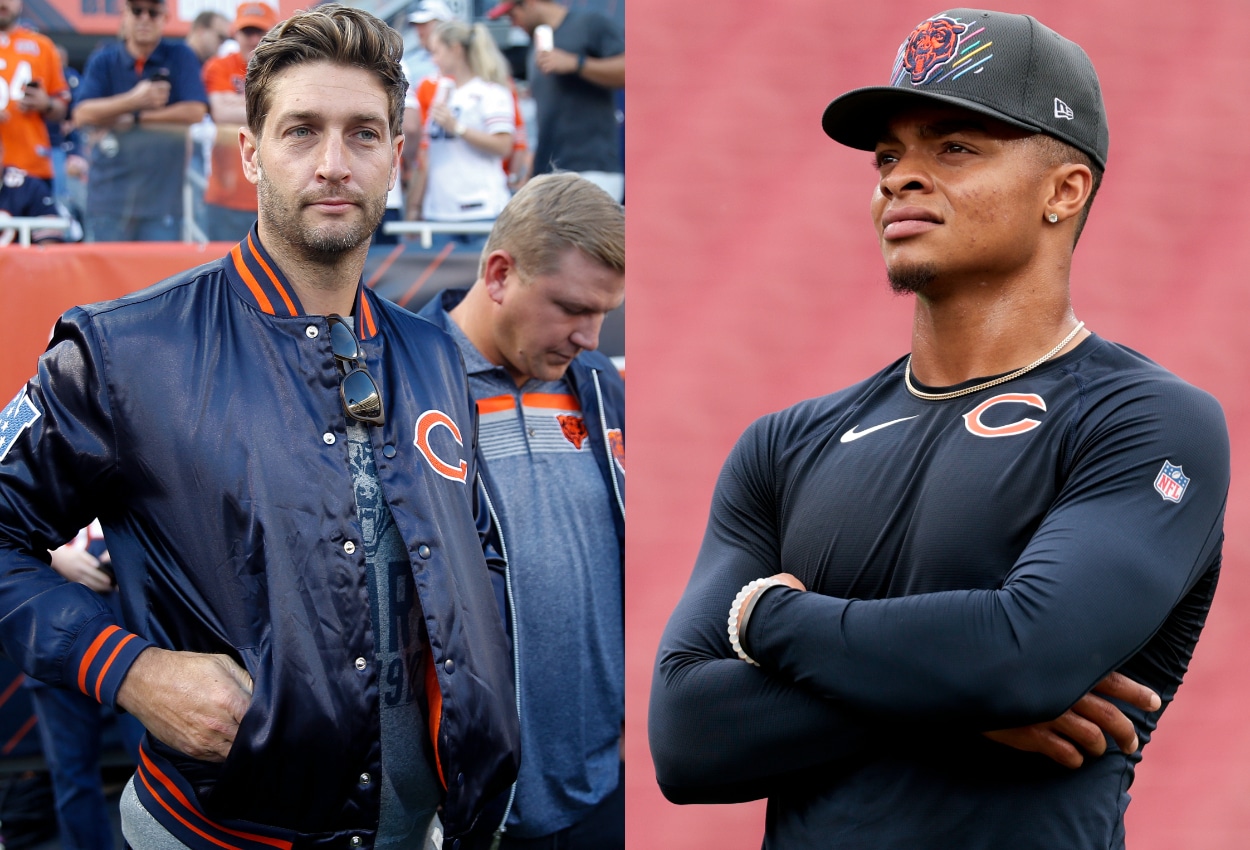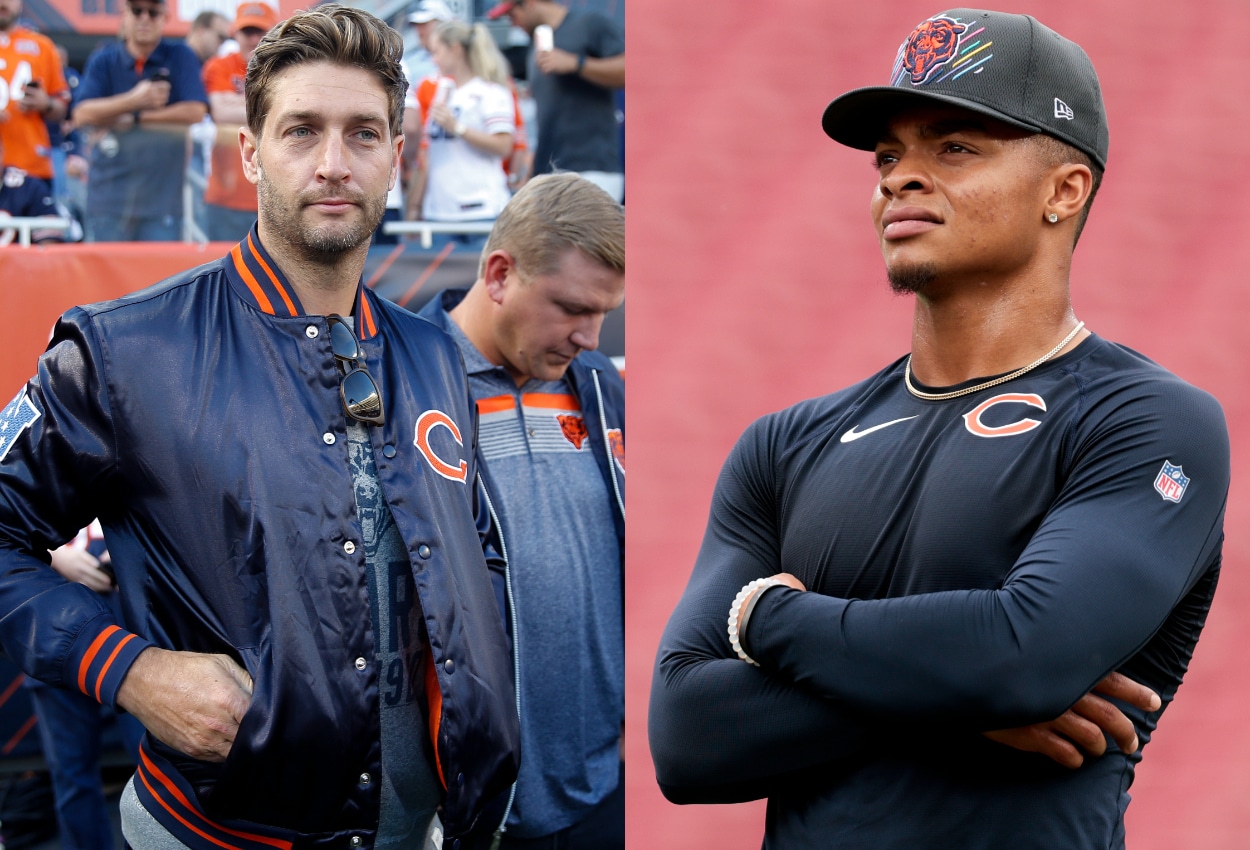 Justin Fields struggled significantly in Matt Nagy's system during his rookie season. He threw for 1,870 yards, seven touchdowns, and 10 interceptions in 12 games and 10 starts. He also ran for 420 yards and two touchdowns.
Of course, his poor passing numbers weren't all his fault. Nagy and the Bears threw him into a situation that wasn't designed for him to succeed. Fields' offensive line let him go down 36 times, and he led the league with a 11.8% sack percentage.
But the Ohio State product has the tools to be a successful NFL quarterback. He's athletic and has a strong arm. Fields can also escape from the pocket and make throws on the run.
"If the Bears start winning … I hope they do. And I hope Justin is successful, and I hope he's the next big thing here and he's the best quarterback to come out of Chicago Bears history," Cutler recently said, per the Chicago Sun-Times.
However, Fields enters another difficult situation in 2022. He will have a new head coach in Matt Eberflus and a different offensive coordinator in Luke Getsy.
"I like him … he's got all the tools, but it's the same problem the Bears have had for a long time: They're turning over coaches and turning over OCs," Cutler said to the Sun-Times. "It's hard for a quarterback. You look across the league, and the guys that are really good at quarterback have the same coaches and same systems each year."
He continued: "This is like learning a different language. It's like if I told you: 'Hey, you've gotta learn Spanish this year, and next year learn Italian and the next year learn Chinese,' it's not gonna be easy."
Cutler is correct. This is the brutal reality of Fields' situation with the Bears. They have had five different head coaches since 2012. That can kill a young quarterback's growth.
For example, Patrick Mahomes has had the same head coach and offensive coordinator every season since becoming the Kansas City Chiefs' starting quarterback in 2018. It has resulted in an MVP award, two Super Bowl appearances, and one Vince Lombardi Trophy. Joe Burrow had the same head coach and OC in his first two seasons and reached the Super Bowl in his second year.
On the other hand, Mitchell Trubisky had two different head coaches and three offensive coordinators in his first four seasons with the Bears and eventually lost his job. Similarly, Baker Mayfield has had four head coaches and four OCs in his four seasons with the Cleveland Browns and will likely be on a new team soon.
Sure, other factors come into play, but stability is essential for young NFL quarterbacks. Justin Fields could be in trouble if the Bears don't give him that; it doesn't matter how talented he is.
Stats courtesy of Pro Football Reference