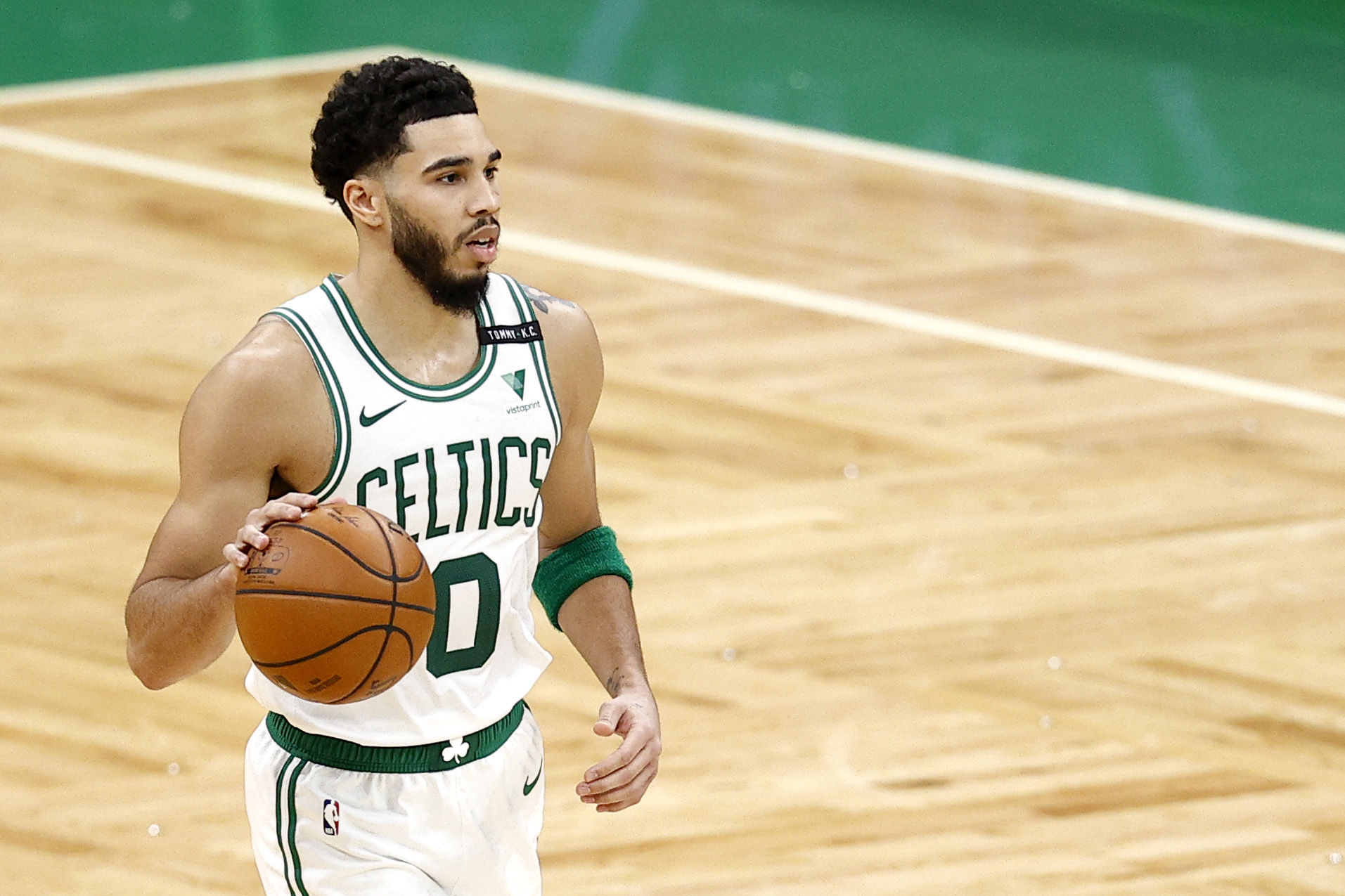 Jayson Tatum Not Prepared to Deal With the Bittersweet News He Just Received
Boston Celtics star Jayson Tatum isn't prepared to deal with the bittersweet news he just received.
The Boston Celtics are now below the .500 mark 31 games into the season. With young guns like Jayson Tatum and Jaylen Brown, and veteran point guard Kemba Walker, mediocrity isn't acceptable. Tatum recently received some news that's he's not quite ready to deal with.
Jayson Tatum has quickly become an NBA star
Jayson Tatum has been in the NBA for four years and is just 22 years old. He's coming off his first NBA All-Star season in which he helped guide the Boston Celtics to an appearance in the Eastern Conference Finals. A year ago, Tatum averaged 23.4 points and seven rebounds.
Tatum played one year of college basketball at Duke during the 2016-17 season. He averaged 16.8 points and 7.3 rebounds per game while starting in 27 of the 29 games he played. Tatum was the third overall pick in the 2017 NBA draft, selected by the Celtics.
In his rookie year in the NBA, Tatum started in all 80 games he played and put up 13.9 points and five rebounds per game. The 6-foot-8 swingman bumped up his scoring average to 15.7 points in his second year. Prior to this season, The Celtics rewarded Tatum with an extension that is worth nearly $200 million. He's averaging 26.1 points and 7.1 rebounds per game this year.
The Boston Celtics are in a season-long slump
To put it mildly, the Boston Celtics are struggling. Tuesday's loss to the Dallas Mavericks has the Celtics below the .500 mark (15-16) through 31 games. With Jayson Tatum, Jaylen Brown, and Kemba Walker leading the way, the Celtics aren't expected to be mediocre.
Not only have the Celtics been a mess on the court, but they have also had some tough times off the court. Frustration appears to be mounting among the players. Walker called out the Celtics for lack of effort, while Brown issued "no comment" statements during post-game press conferences after simple questions.
It's not just the players who are frustrated. General manager Danny Ainge has also chimed in during the recent struggles of his team. Ainge went on a Boston radio station last week and said the Celtics' roster is just not that good.
Tatum struggling with latest honor
Jayson Tatum was named an NBA-All-Star for the second straight season. It's an honor for the 22-year-old Boston Celtics player in just his fourth season in the league. When Tatum received word, he said he was "honored" but felt it was tough to enjoy the moment.
"It's like damn, look at our record, it's hard to really focus on (the All-Star Game), when we're not where we want to be as a team," Tatum said, according to The Boston Globe's Gary Washburn. "It's an honor to be an All-Star but we're used to winning games and being at the top of the East."
The crazy part of the whole NBA All-Star announcement is that Tatum's teammate Jaylen Brown was also named an All-Star. Two of the Celtics' starters have been honored, yet the team is below .500. There's a lot of work to do in Boston.
All stats courtesy of Basketball Reference.