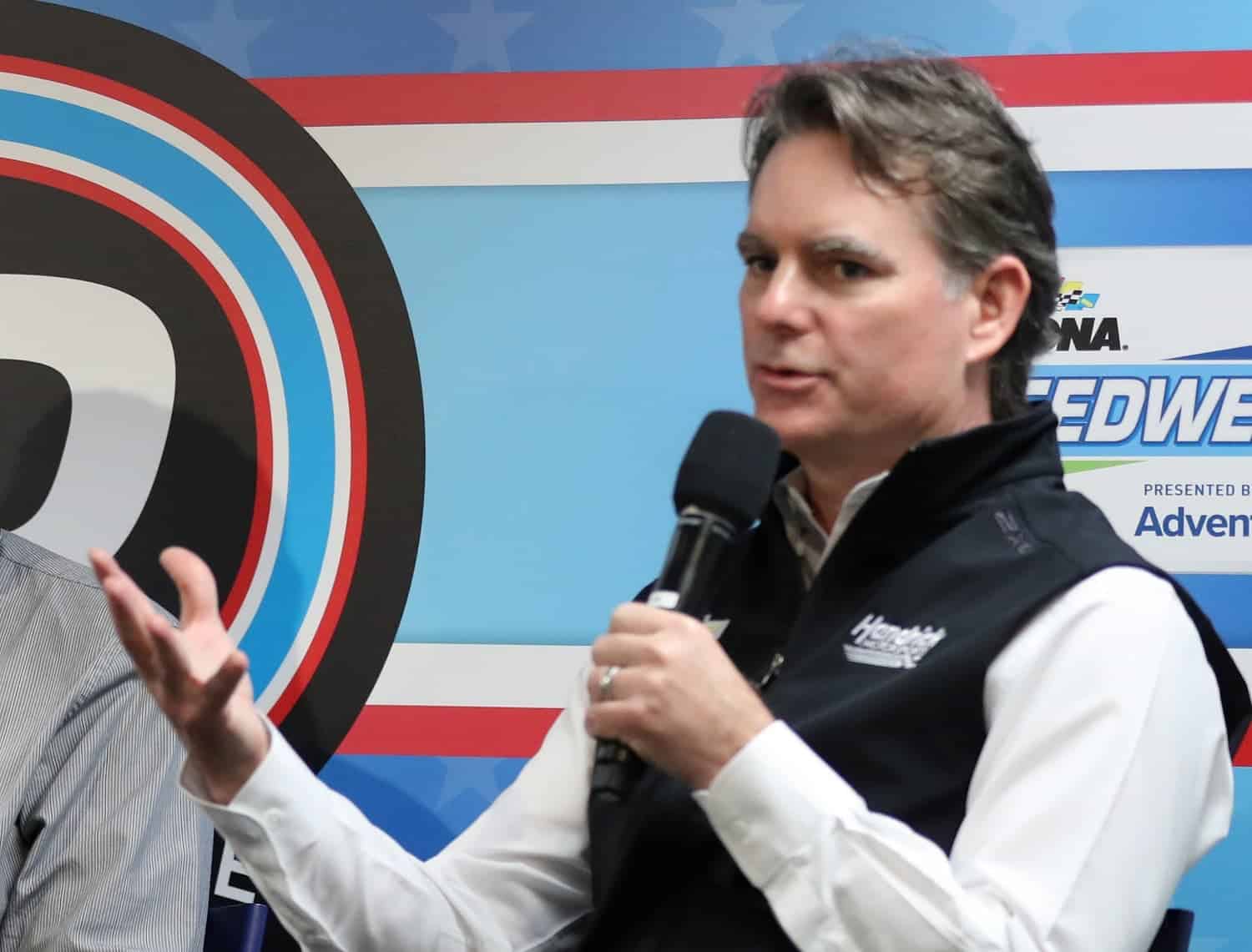 Jeff Gordon Says 'We're Going to Push Back' on NASCAR; Letting Kaulig Racing Go First Is His Best Move
Jeff Gordon has gone on the offensive ahead of the Hendrick Motorsports appeal of NASCAR penalties.
The past week hasn't been a good one for Jeff Gordon and Hendrick Motorsports. Days after NASCAR handed down severe penalties, including fines totaling $400,000, to the four HMS teams, William Byron and Kyle Larson got caught in other drivers' wrecks at Atlanta and did not finish.
HMS is appealing the penalties, and Gordon, the Hall of Fame driver, went on the attack on Sunday. "We feel like, if our integrity is going to be questioned, we're going to push back," he said on Fox's prerace show.
Pushing back is the team's right, but Gordon should let Kaulig Racing do some of the heavy lifting first.
Jeff Gordon may have a case vs. NASCAR, but Kaulig Racing has a better one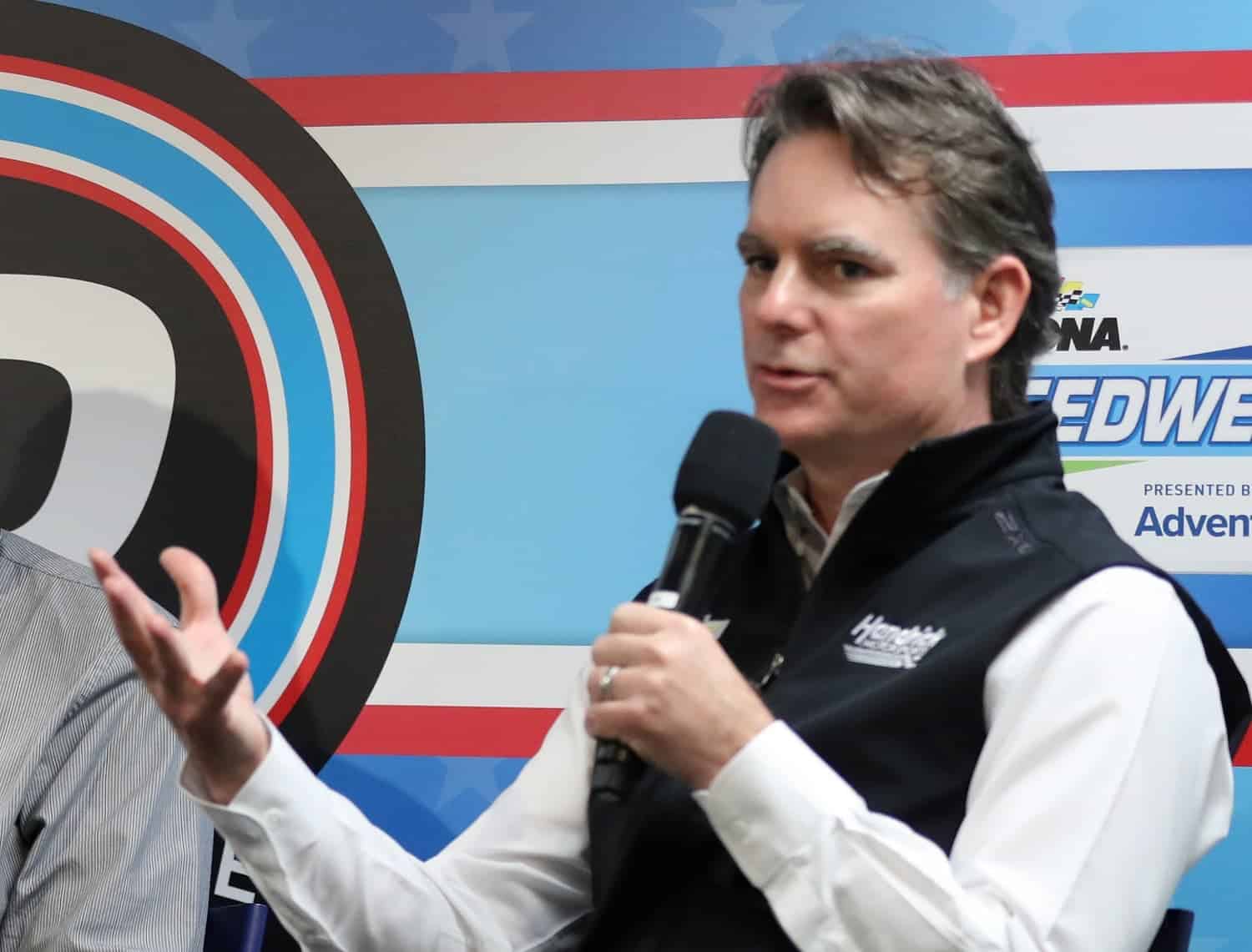 NASCAR penalized the Kyle Larson, Alex Bowman, William Byron, and Josh Berry teams over hood louvers on their cars. that were modified in violation of the policy regarding parts from the single-source supplier. However, Hendrick Motorsports wasn't alone.
NASCAR hit the Kaulig Racing No. 31 Chevy of Justin Haley with the same penalty. But whereas NASCAR confiscated both louvers from each HMS car, officials only took one from Haley's car. Kaulig Racing is also appealing the penalties — $100,000 fines for the crew chiefs, 100-point driver and owner deductions, and 10-point playoff deductions.
Both HMS and Kaulig will argue in their appeals the manufacturer's parts did't meet specifications. Kaulig's case could be particularly persuasive: Why would the team only modify one louver if the two they received from the vendor were identical?
If Kaulig succeeds in driving home the point to the three-person panel hearing the appeal, then Jeff Gordon and Hendrick Motorsports might be able to drive a fleet of Chevys through the obvious hole in NASCAR's case.
It still wouldn't be a slam dunk for Hendrick Motorsports
The burden of proof in the appeals by Hendrick Motorsports and Kaulig Racing will be on NASCAR officials. They're likely to concede inconsistencies in the manufacturing of the parts but will fall back on communications with teams about permissible modifications to make the parts fit properly.
NASCAR officials say their inspection at the R&D center after confiscating the HMS louvers uncovered changes that went beyond the approved changes. If the appeals panel agrees on that point, then HMS can forget about wiping out the penalties entirely.
It would leave the team with not much more to argue than the chain of events over the weekend in Phoenix.
"NASCAR noticed it and didn't say anything to the team 'til after that practice session," Jeff Gordon said.
That differs significantly from the case of Brad Keselowski a year ago in Atlanta. In that situation, Keselowski qualified and raced with a modified part. It was only discovered after the car went to the R&D center. The HMS cars qualified and raced with new parts that satisfied NASCAR.
NASCAR will counter that cars are under their control as soon as the haulers arrive at the track, but the appeals panel may see that as overreach.
Jeff Gordon raised eyebrows with one claim in the Fox interview
It will have no bearing on the appeal by Hendrick Motorsport, but something Jeff Gordon said during the interview in Fox's prerace coverage has the potential to rankle executives and crew chiefs from other Cup Series teams.
Standing on the grid, Gordon insisted that the most successful organization in the history of the Cup Series has a no-nonsense mentality.
"Hendrick Motorsports prides ourselves in a precision," he said. "The detail which we go about building our race cars is part of why we've been so successful over the years, but we also do it with integrity and respect for the rules and how NASCAR governs those."
Just moments later, he seemingly threw everyone else under the bus.
"There's this kind of narrative up and down pit road that (with) the single-source parts that you're not allowed to touch them," he said. "NASCAR said you're not allowed to touch or modify them. I guarantee you up and down this  grid right here, there's not a single car that hasn't in some way  been touched or modified or done something to one of those single-source parts."
That may have been intended as an indictment of the parts manufacturer, but it came off as an allegation of pervasive rule-breaking. Most teams have enough problems of their own while competing each week. They certainly don't need what Gordon's remark implies hanging over their heads.
Got a question or observation about racing? Sportscasting's John Moriello does a mailbag column each Friday. Write to him at [email protected]