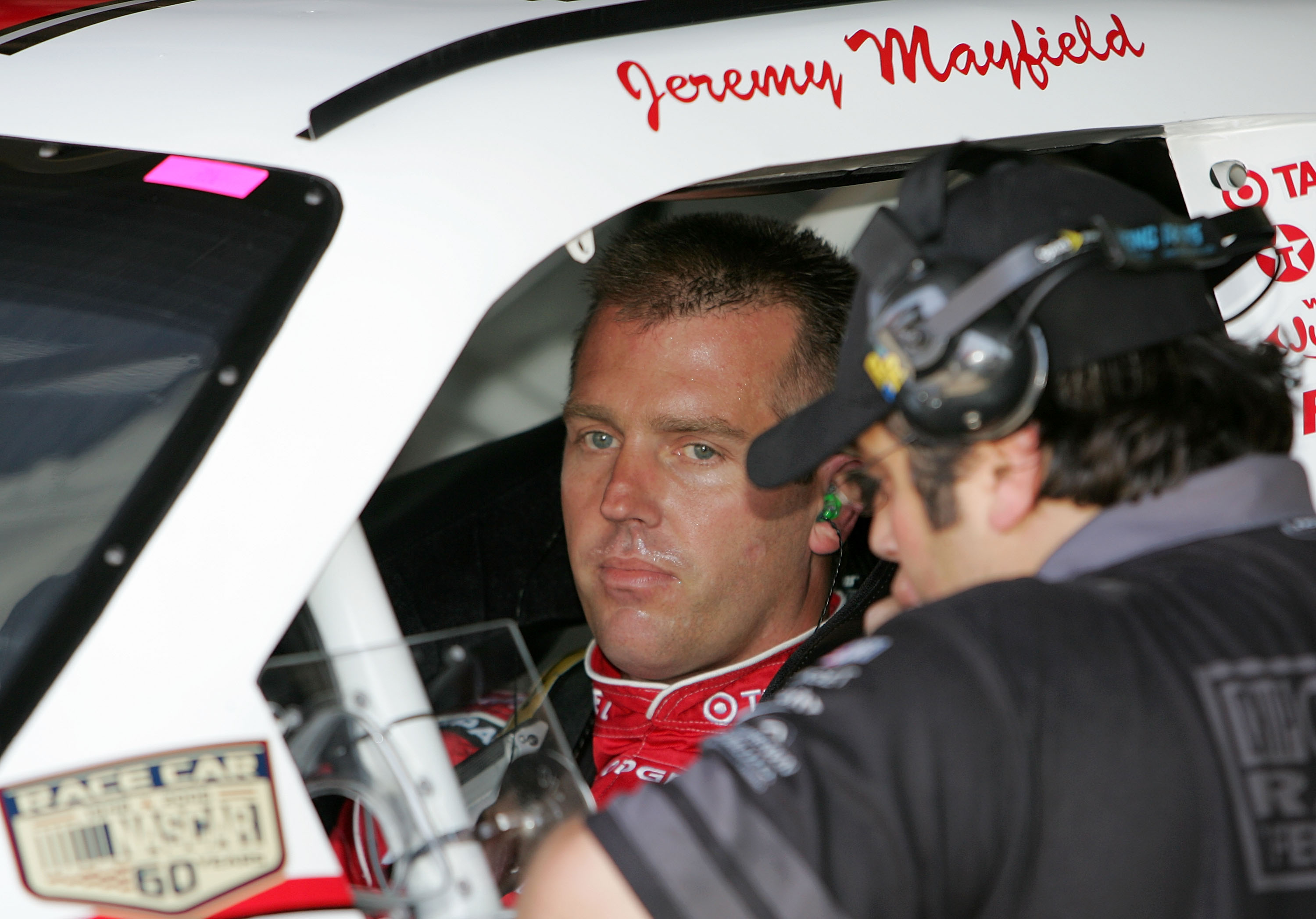 Jeremy Mayfield's Long List of Problems Included a $1 Million Loss Because of 5 Dogs
A failed drug test in 2009 led to a long list of problems for NASCAR driver Jeremy Mayfield.
Jeremy Mayfield had a promising NASCAR career cut short. Mayfield was suspended from the sport in 2009 for failing a drug test. He vehemently denied any wrongdoing but never returned to racing. The suspension was one of several off-the-course problems for Mayfield. In 2012, he was out a million bucks for a 2011 incident involving five dogs.
Jeremy Mayfield's NASCAR career
Jeremy Mayfield began his NASCAR career in 1993 when he took part in the Mello Yello 500, finishing 29th. His Cup Series career began after he was named ARCA Rookie of the Year in 1993. Mayfield won his first Cup Series race in 1998 at the Pocono 500.
During his NASCAR Cup Series career that spanned 17 years, Mayfield had run 433 races. In that stretch, he racked up 96 top-10 finishes. He won nine poles.
Mayfield finished with five career Cup wins. His last victory came in 2005 when he won the GFS Marketplace 400 in Michigan. Mayfield created his own team, Mayfield Motorsports, in 2009. He qualified for five races that year before he was suspended for failing a drug test.
Mayfield's life turned upside down in 2009
On May 9, 2009, Jeremy Mayfield was given an indefinite suspension by NASCAR for failing a drug test. Mayfield insisted he never took any illegal drugs, saying he believed the failed test might have happened because he was taking Adderall and also took two Claritin tablets. NASCAR wasn't buying it.
"What we have is a clear violation of policy," said David Black, whose Tennessee-based Aegis Labs conducts NASCAR's random testing program, according to USA Today. "In my many years of experience, I have never seen a violation like this due to the combination of over-the-counter or prescription products." The following month, ESPN reported Mayfield tested positive for methamphetamine.
Mayfield got a temporary injunction, lifting his suspension, but on July 6, NASCAR announced he failed another test. "Within days of this Court's preliminary injunction, Mr. Mayfield flouted both this Court's authority and NASCAR's Substance Abuse Policy by ingesting the same illegal drug that he has repeatedly denied taking," said NASCAR in its court filing. "By misleading this Court about his drug use, Mr. Mayfield has compromised NASCAR's ability to protect its drivers, crews, and fans."
Mayfield's problems grew because of five dogs
Things didn't get much better for Jeremy Mayfield in 2011. According to WBTV in North Carolina, Mayfield was way behind in taxes, owing more than $82,000 in back taxes for four of his properties. The TV station also said authorities found $100,00 in stolen property in the home.
Earlier in the year, five of his pit bulls attacked a postal worker. In 2012, a judge ordered Mayfield to pay $1 million to the postal carrier after Mayfield failed to answer the lawsuit and didn't show in court, according to The Winston-Salem Journal. Mayfield, whose home had just been auctioned off because he failed to pay nearly $3 million he owed on the property, was clearly in financial distress.
Mayfield said he didn't show up in court or answer to the lawsuit because he couldn't afford an attorney. "If I had a $1 million to give away, I wouldn't be in this situation," he said in 2012.