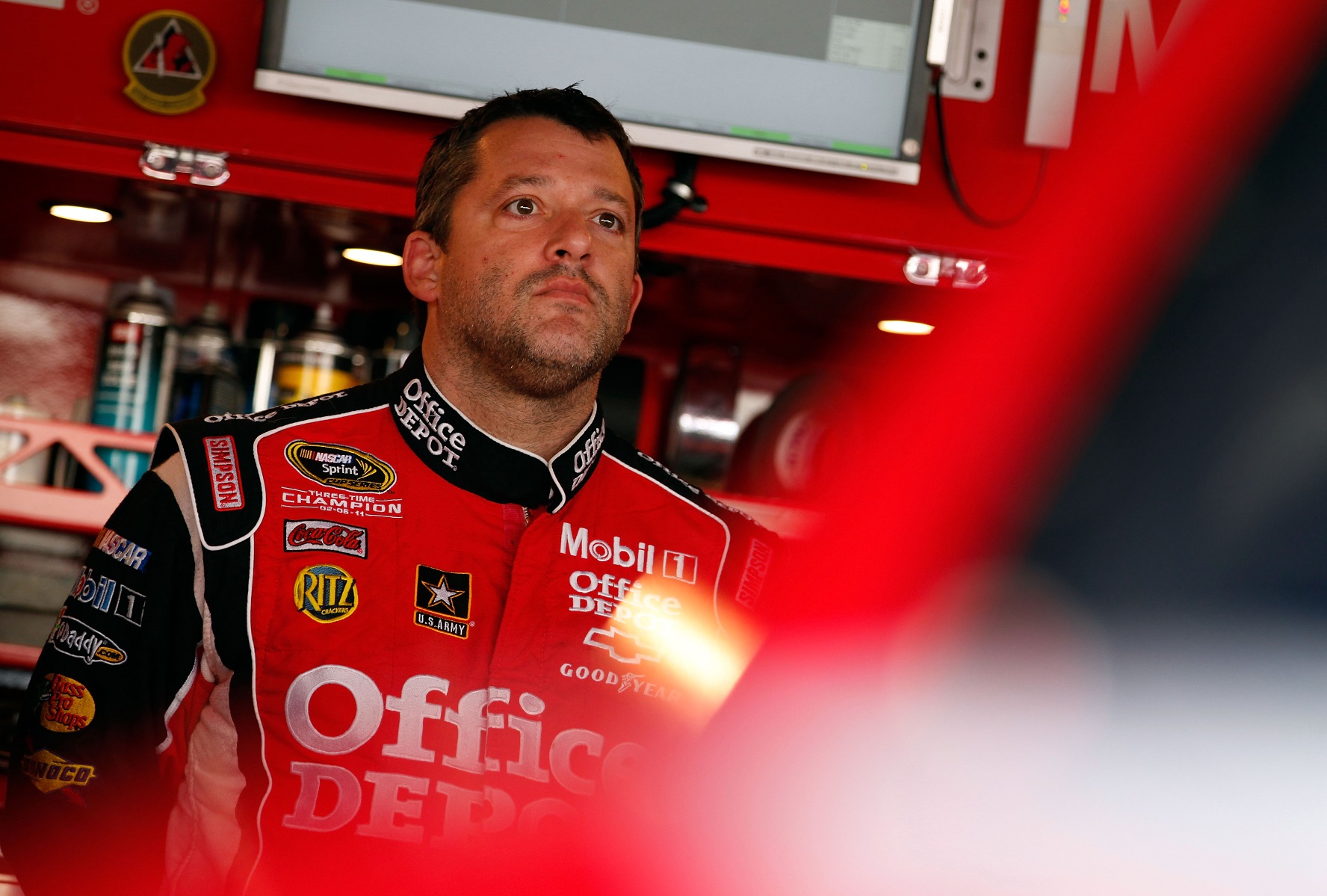 Tony Stewart Once Said NASCAR Races Were Rigged Like Pro Wrestling
A series of questionable caution flags early in the 2007 NASCAR Cup Series prompted Tony Stewart to compare his sport to pro wrestling.
With his stocky build and famous temper, Tony Stewart was not a man to tangle with during his days as a NASCAR driver. The fiery winner of 49 races had run-ins with a number of other competitors during his 18 seasons competing in the NASCAR Cup Series.
Stewart might well have accepted offers to settle a few of the disputes in a steel-cage match, especially since he once famously put his own sport on a par with pro wrestling. It was an unflattering and controversial take, but it's likely Stewart was alone in thinking it..
Tony Stewart was a three-time NASCAR Cup Series champion
Although he is known best for his success driving in the NASCAR Cup Series, there's hardly a circuit that Tony Stewart hasn't competed in as a driver. The 49-year-old Indiana native chalked up a number of victories across the board, and one of his most impressive achievements was becoming the only driver ever to win season titles in IndyCar and NASCAR.
Stewart was only 20 years old when he won USAC Rookie of the Year honors in 1991, and he captured three USAC series championships in the next four years to launch himself into the big time. He raced the IndyCar Series full-time for the first time in 1997 and won the points championship.
Two years later, Stewart was a rookie with Joe Gibbs Racing. He made an impressive NASCAR debut with a fourth-place finish in the standings with the help of wins at Richmond, Phoenix, and Homestead in the final 10 races of the year. He also pulled off a slick double by placing ninth in the Indianapolis 500 and fourth in the Coca-Cola 600 on the same day over Memorial Day weekend.
Stewart nailed down his first NASCAR Cup Series championship in 2002 and another in 2005. By the time that he completed his seventh season, Stewart had won an impressive 24 races.
The frustration showed in 2007
Fresh off his second championship, Tony Stewart experienced a nearly unprecedented 2006 season by winning five races but only placing 11th in the series standings. The final three victories came in the Chase for the Nextel Cup, too late to get him into the season-ending playoff.
Going winless in the first half of the 2007 season did not boost Stewart's spirits, especially after he wrecked at Daytona and then because of the way other early races played out. The season marked the introduction of the Car of Tomorrow (CoT) for 16 events, and Stewart's fuel pump failed while he was dominating at Bristol. In the third CoT race at Phoenix, Stewart was in command when a late caution flag helped hand the victory to Jeff Gordon.
The late caution was the result of an accident, and Stewart lost his lead while pitting. He called it the only legitimate caution flag of the race.
Stewart, who was 35 at the time, left town without raising a ruckus, but he teed off on NASCAR later on his weekly radio show, alleging that caution flags were being used late in races to create excitement.
"It's like playing God," Stewart said. "They can almost dictate the race instead of the drivers doing it. It's happened too many times this year."
Tony Stewart compared NASCAR to pro wrestling
The official reason for some of the rash of caution flags had been "debris on the track," an obvious cause for concern but sometimes also hard to confirm.
"I guess NASCAR thinks 'Hey, wrestling worked, and it was for the most part staged, so I guess it's going to work in racing, too,"' Stewart said, according to The Associated Press. "I can't understand how long the fans are going to let NASCAR treat them like they're stupid before the fans finally turn on NASCAR."
A second-place finish in Atlanta a month before Phoenix was obviously still on his mind. The debris caution came out with Stewart ahead with 25 laps to go, and Jimmie Johnson ultimately passed him with three laps to go.
"I don't know that they've run a fair race all year," Stewart said.
Like Sportscasting on Facebook. Follow us on Twitter @sportscasting19.