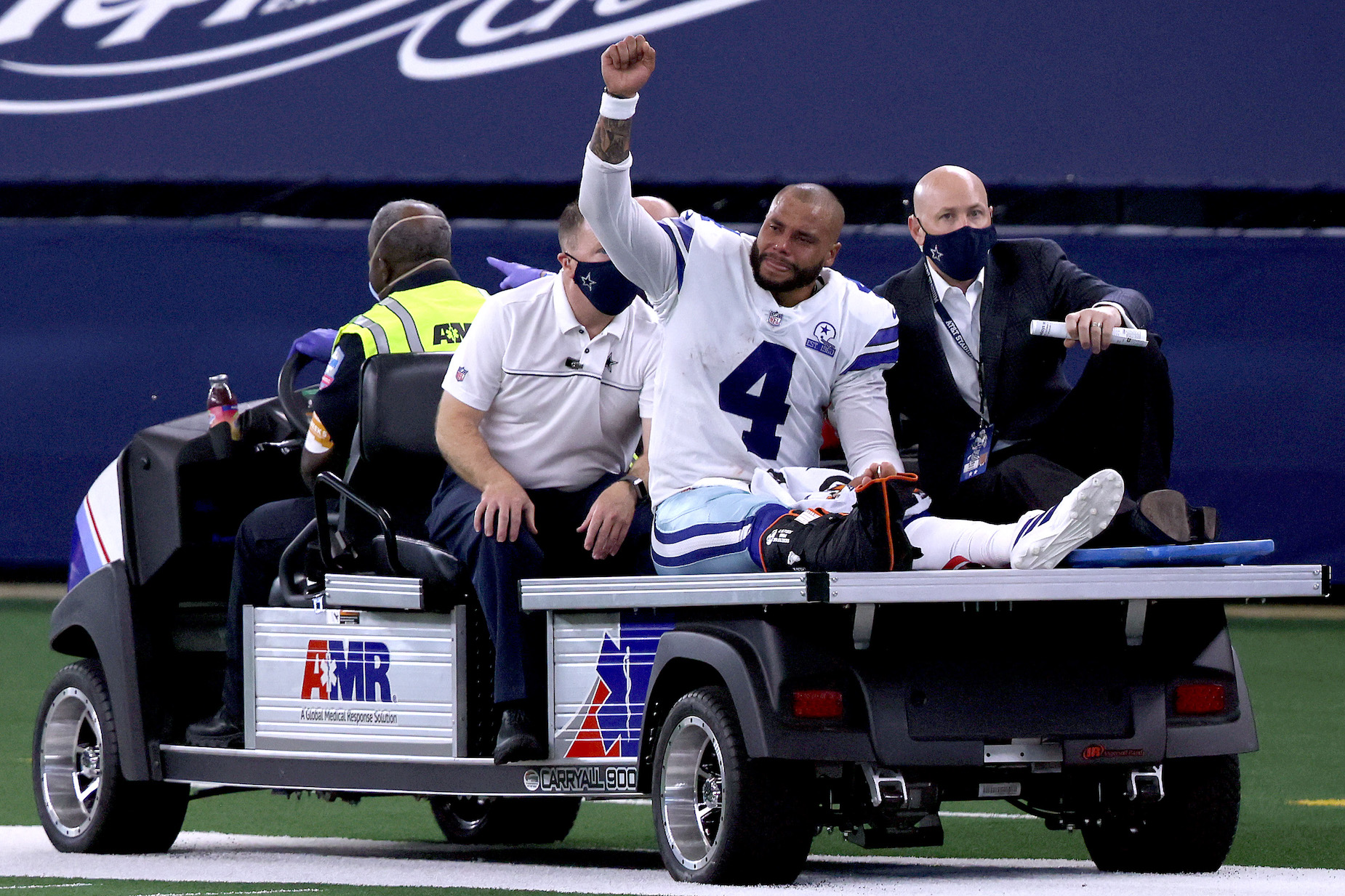 Jerry Jones Is Already Overreacting to Dak Prescott's Brutal Ankle Injury
Even if you hate the Dallas Cowboys, it's impossible to ignore Dak Prescott's ankle injury. Jerry Jones, however, is already overreacting.
Even if you hate the Dallas Cowboys, it was hard to ignore Dak Prescott's brutal ankle injury during Week 5. There's a fine line between having a visceral response and overreacting, though. It seems like Jerry Jones is falling on the wrong side of that line.
While the Cowboys owner has already spoken about Dak Prescott's ability to overcome adversity and return to the gridiron, he also wants the quarterback to change one aspect of his game. That strategy, however, would be more of a fear-based overreaction than anything else.
Dak Prescott suffered a gruesome injury on Sunday
Unfortunately, injuries are simply a reality of professional sports. Even the most grizzled veteran, however, probably won't forget Dak Prescott's compound ankle fracture.
During Sunday's divisional matchup against the Dallas Cowboys, Prescott burst out of the pocket on a quarterback draw. While the play seemed to end innocently enough with an ordinary tackle, Dak didn't get up; instead, he stayed on the turf holding the lower part of his leg.
Although Tony Romo hoped that Prescott was simply cramping, it quickly became clear that something had gone seriously wrong. The stadium descended into silence, and the quarterback eventually left field on a medical cart with his foot in an air cast.
As ESPN reported shortly after, Prescott suffered a compound fracture and dislocation of his right ankle. He's expected to be sidelined for approximately four to six months, although it's unclear where he'll be playing when he returns to the gridiron.
Jerry Jones wants Dak Prescott to run less in the future
As every Cowboys fan can confirm, Jerry Jones is never shy about finding a microphone and sharing his opinion. Unsurprisingly, he's already had plenty to say about Dak Prescott's ankle injury.
During his weekly radio appearance on 105.3 The Fan, Jones said that Prescott's injury didn't change his desire to keep the quarterback as the face of the Cowboys franchise. While Dak isn't under contract past this season, the general manager and owner sounded pretty confident that he'd be back under center for 2021.
Assuming Prescott does return to the Cowboys, though, Jerry Jones does have one change in mind. After Sunday's injury, he wants the quarterback to stay in the pocket more often than not.
"What it does remind me of though, is you cannot figure in as part of your offense is that you really are vulnerable when you put a running game in that really utilizes a lot the running game with the quarterback," Jones said during his radio appearance, according to the Big Lead. "This game, you're going to get hurt."
Jerry Jones is already overreacting to Dak Prescott's freak injury
Given that Dak Prescott just suffered a season-ending injury on a running play, Jerry Jones' reaction seems perfectly understandable. At the same time, though, it's a bit of an overreaction.
While conventional wisdom dictates that leaving the pocket exposes quarterbacks to unnecessary risks, that's not always the case. "The risk for a scrambling quarterback is almost equal to the quarterback who is sacked: once every 91.7 plays for the scrambler, once every 92.5 plays for the guy getting sacked," Mike DeCourcy once wrote for the Sporting News.
To some extent, we're all blinded by our perceptions of what a quarterback should and shouldn't do on a given play. Dak Prescott's injury, for example, will stand out because it happened at the end of a run; that will serve as another piece of 'evidence' that running puts quarterbacks at risk. Plenty of signal-callers, however, have gotten hurt while trying to throw a pass. Despite that reality, no one ever suggested that Tom Brady start running the back, even though he suffered a season-ending injury while standing in the pocket.
While Dak Prescott isn't in the same category as Lamar Jackson, his ability to escape the pocket and run with the ball is part of what makes him special; keeping him in the pocket at all times would negate that unique skillset. It's completely understandable that Jerry Jones would want his quarterback to play it safe in the future, but, based on what we know, that's a bit of an overreaction.