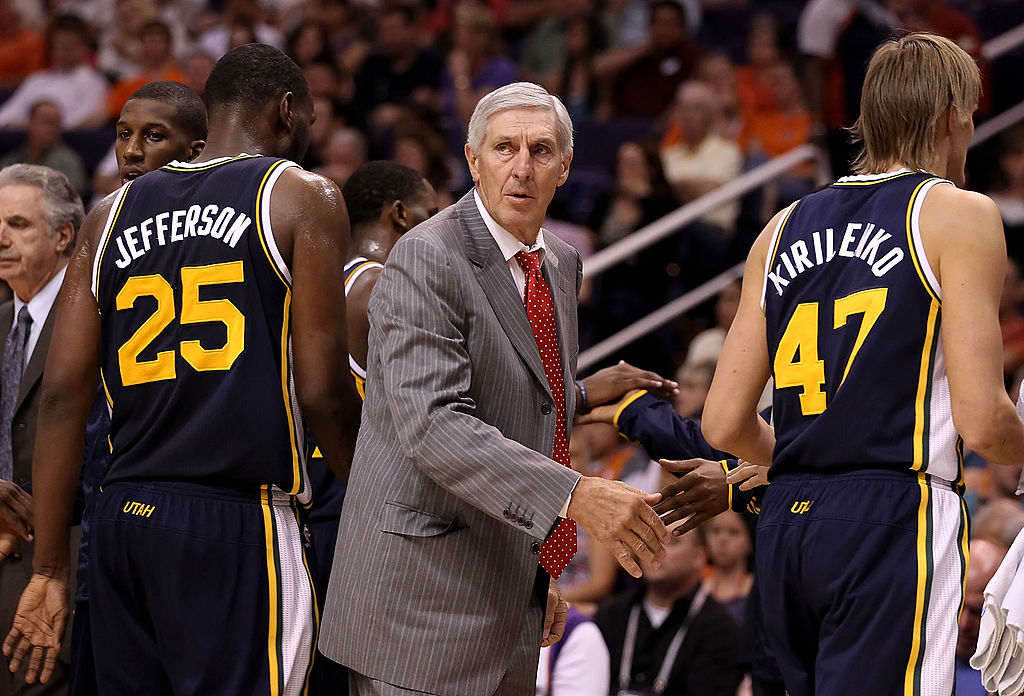 Jerry Sloan Cheated Death in Plane Crash Years Ago
Jerry Sloan is one of the greatest coaches in NBA history. His career almost never happened as a change of heart prevented him from being on a plane that crashed and killed all on board.
Utah Jazz head coach Jerry Sloan died today at the age of 78 after a long battle with Parkinson's and Lewy body disease. The Hall of Fame coach led the Utah Jazz for 23 seasons, including a pair of NBA Finals appearances in 1997 and 1998. Interestingly, all of Sloan's coaching success almost never happened. But for a change of heart, Sloan should have died in a plane crash years earlier.
Jerry Sloan was a star player in college and the NBA
Jerry Sloan was an all-state basketball player at McLeansboro High School in Illinois in 1960. After graduation, Sloan joined the University of Evansville's basketball team, a Division II school. During his time in Evansville, Sloan became a star and guided the Aces to the national title in 1964. 
The Baltimore Bullets selected Sloan as the 19th overall pick in the 1964 NBA draft, but he opted to stay and return for his senior season at Evansville. It was a good choice for Sloan because, once again, he led the Aces to another national title and improved his draft stock. The Bullets got their man the second time around in the 1965 NBA draft selecting Sloan with the fourth overall selection. 
Sloan played for a single season in Baltimore before he was traded to the Chicago Bulls. Sloan, known for his tough defense, played for the Bulls for 10 seasons and averaged better than 14 points per game. He led the franchise to its first-ever playoff appearance in the team's first season in 1966. Sloan retired from playing in 1976. In 1978, the Bulls retired Sloan's No. 4 jersey, the first in franchise history.
Jerry Sloan cheats death 
Upon Jerry Sloan's retirement from playing, he was offered a great opportunity to return to his alma mater and Evansville to replace head coach Arad McCutchan who was retiring. Sloan accepted the job. 
Sloan was head coach of the 1977 Evansville team for a total of five days. He never coached a single practice. He had a change of heart and opted to go a different direction for "personal reasons." Despite his withdrawal, Sloan remained close to the team and its new head coach Bobby Watson. 
In early December, the team had endured some early-season struggles when Watson called Sloan. Watson asked him to speak with the team. Sloan boarded the bus before the team left on a trip and told the players to "hang in there" and "keep your heads up." 
A little over a week later, on December 13, 1977, the team plane took off from Evansville's airport amid rain and fog. Just over a minute after takeoff, the DC-3 aircraft crashed. All 29 people aboard were killed, including Watson, who had survived a 31-month tour of duty in Vietnam and earned five Purple Hearts.
The plane crash changed Sloan forever
In a 1997 interview with the Scripps Howard News Service, Sloan said he thinks about that December day in 1977 every day. "It comes across my mind every morning I go to work. Evansville had that tragic accident."
In 2009 Sloan was inducted into the Basketball Hall of Fame after winning 1,272 career regular-season games as a head coach, the fourth most all-time. In his speech, Sloan reflected on his fortune and how he was lucky to be alive, much less able to pursue a career coaching in basketball.
"That incident made me realize that there are a lot more things more important than basketball, even though I love this game. I will always be grateful for what it has given me."
We've all heard stories of individuals who have brushes with death and how it dramatically alters their perspective, and they go on to achieve great things in life. Jerry Sloan lived that experience and set an example for us all.