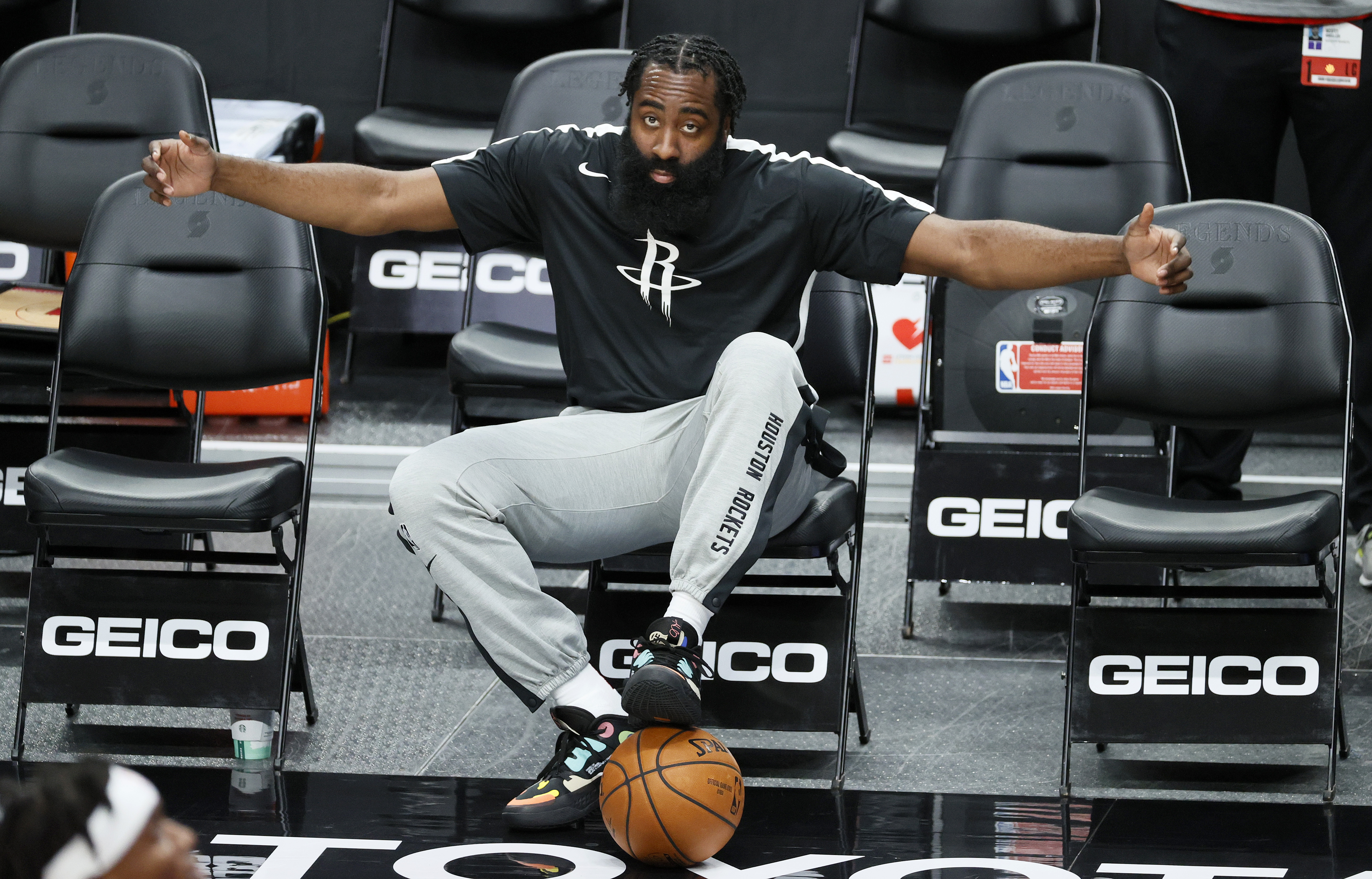 Jilted Rockets Fans Teach James Harden That Revenge Is a Dish Best Served as Cold as His Jumper
Houston Rockets fans upset with former star James Harden are writing phony reviews of his restaurant before it opens.
Houston Rockets fans aren't cutting James Harden any slack. The franchise's reversal of fate after three straight years without an NBA playoffs berth coincided with Harden's arrival in 2012, but they're fixated for the moment on Harden's desire to leave town. He got his wish on Jan. 13 via a trade to the Brooklyn Nets, and now he's getting what would have to be considered his just deserts.
James Harden had a decent run with the Houston Rockets
While it is true that the Houston Rockets never advanced beyond two trips to the NBA Western Conference finals in James Harden's eight seasons, the team made the postseason each time. It was a welcome development after three straight seasons of no playoffs, and Harden is entitled to considerable credit.
Harden's resume includes league scoring titles the past three seasons and a career average of 25.2 points a game. He also went to the free-throw line more than anyone else in the league in seven of the past eight seasons, typically an indicator that he ventured into the paint a lot and paid for it with some pointy elbows and hip checks while airborne.
On the negative side of the ledger, Harden has led the NBA in turnovers six times and has led the league in field-goal attempts and 3-point attempts three times apiece. He's a high-volume shooter with 44.3% accuracy.
The recent seasons have not gone well
Statistics can certainly mislead – You've heard the one about the guy who drowned in a river with an average depth of three feet, right? – but there was one recent stat in particular that the Houston Rockets couldn't escape. On May 28, 2018, the Rockets missed on 27 consecutive 3-point shots during a Game 7 loss to the Golden State Warriors in the Western Conference finals. James Harden's contribution was a 2-for-13 mark from behind the arc in the contest.
After the Kevin Durant-less Warriors ousted Houston in the 2019 semifinals, the Rockets made a trade widely regarded as a bid to appease Harden: Chris Paul and two first-round picks to the Oklahoma City Thunder for Russell Westbrook. Yes, it ended the bickering between Harden and Paul, but Westbrook wasn't the answer to Houston's problems.
The Lakers swept the Rockets out of last season's playoffs, and coach Mike D'Antoni and GM Daryl Morey resigned. Not long afterward, Harden turned down a contract extension and started pushing to be traded.
Most recently, he showed up late for camp and out of shape. The Rockets are 3-6 and sputtering toward an early start on offseason golf.
Jilted fans dish out their revenge against James Harden
Basketball isn't James Harden's only business. The Brooklyn Nets' newest acquisition was in the process of opening a restaurant in Houston before the huge four-team trade shipped him out of town. Interestingly, the restaurant, named Thirteen in honor of Harden's jersey number, is moving forward despite the trade.
Hilariously, disgruntled Rockets fans have already started posting reviews about the place before its opening. Whereas Chicago movie critics Siskel and Ebert used to give bad flicks two thumbs down, people in Houston are giving the restaurant two middle fingers up.
A few morsels from the reviews that Outkick.com found on Google:
"They won't sell out of food; but apparently owner did."
"I asked for a refill 27 times, and they failed to give me one. "
"The owner kept coming to my table and blaming it on the chef. We even got a new chef in the middle of our dinner, then he got rid of him before dessert."
"Dishes come out the kitchen hot, but will get cold when it counts! Food crumbles in crunch time!"
Like Sportscasting on Facebook. Follow us on Twitter @sportscasting19.