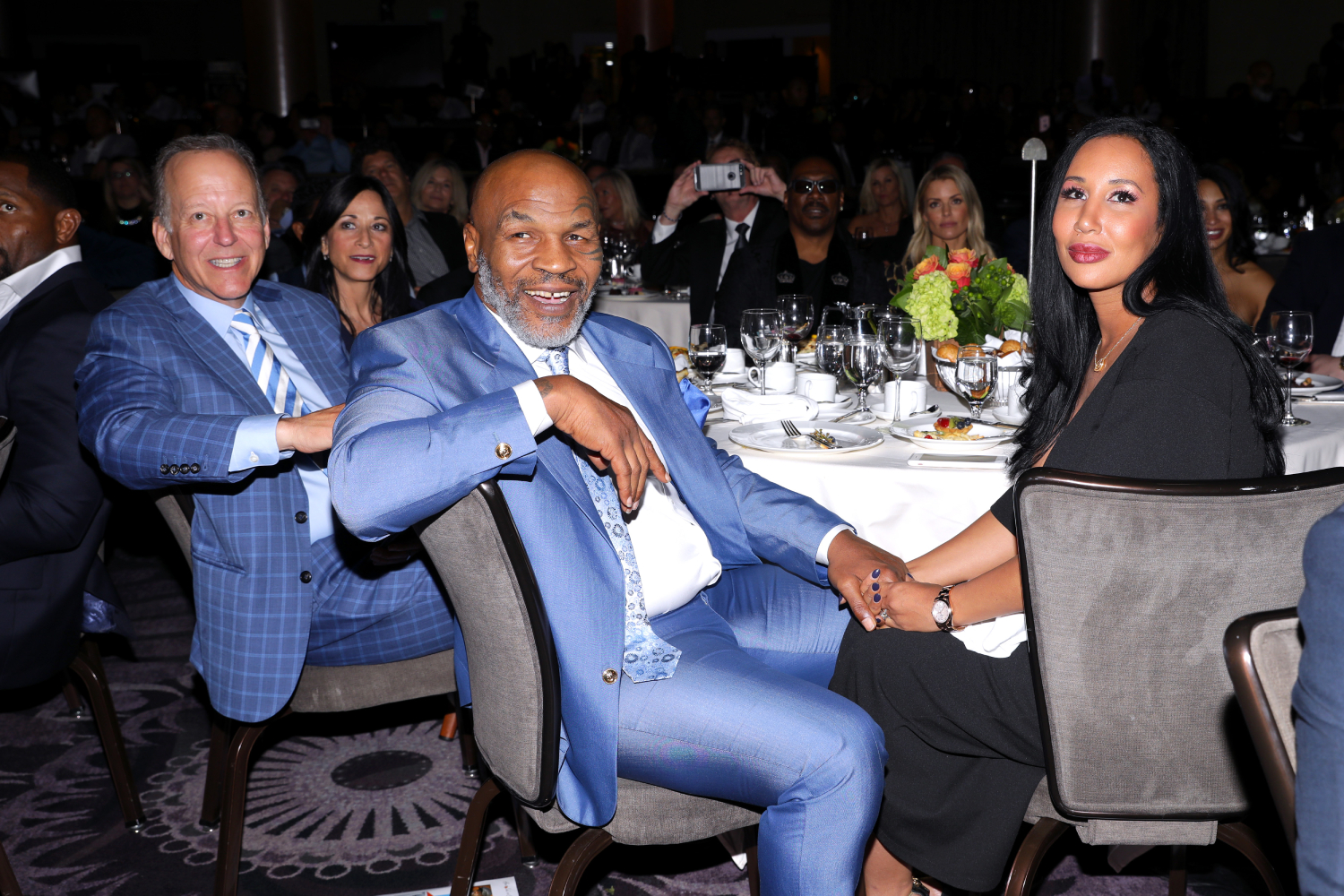 Jim Gray Claims Mike Tyson Once Threatened to Kill Him
Veteran sportscaster Jim Gray revealed that former heavyweight boxing champion Mike Tyson once threatened to kill him.
Former heavyweight boxing champion Mike Tyson and sportscaster Jim Gray are pretty good friends. Tyson, who has been known for his mood swings as much as his power-packed punches, was in studio with Gray during the most recent podcast of Hotboxin' With Mike Tyson, and Gray brought up a subject Tyson didn't seem to remember. Gray revealed that Tyson once threatened to kill him.
Jim Gray's sportscasting career
Jim Gray is an Emmy Award-winning journalist, reporter, and producer who has broken various big-time sports stories and interviewed well-known sports figures. Gray has also interviewed many politicians and other public figures. Three times, Gray has been named Sports Reporter of the Year by the American Sportscasters Association.
Gray began his career in the media field in 1977 working as a reporter and video tape editor in Denver. In 1981, Gray moved to Philadelphia where he was working as a TV host and reporter for Philadelphia 76ers and Philadelphia Eagles broadcasts. Gray worked his way up to NBC Sports and began doing NFL Live and covering other notable events such as the Olympic Games.
Gray has won 12 National Emmy Awards and has covered some of the biggest events in sports. He was a reporter at the 1996 Olympic Games when a terrorist attack occurred. He was the only reporter to sit down one-on-one with Barry Bonds. After Bonds broke Hank Aaron's home run record, Gray sat down with Bonds, who denied ever using steroids or PEDs in his career.
Jim Gray's 1999 interview with Pete Rose
One of Jim Gray's most notable interviews came during the 1999 World Series. During Game 2 of the series, Gray sat down with MLB's all-time hit king Pete Rose. Rose, who is banned from Major League Baseball for gambling, was being honored for being selected to MLB's All-Century Team. At the time, Rose hadn't admitted he had bet on baseball games, but Gray pressured Rose during the interview.
After the ceremony, Gray asked Rose about the Dowd Report, a document that described Rose's involvement with gambling. Gray asked Rose if he was ready to admit to gambling on baseball. Rose said, "I'm not going to admit to something that didn't happen. I know you're getting tired of hearing me say that but I appreciate the ovation and I appreciate the American fans voting me on the All-Century Team. I'm just a small part of a big deal tonight."
Gray kept pressing, saying there was overwhelming evidence supporting Rose bet on baseball. "This is too much of a festive night to worry about that because I don't know what evidence you're talking about," Rose said. According to The Cincinnati Post, Rose said he was "surprised" by the questioning. ""This is a prosecutor's brief, not an interview, and I'm very surprised at you," Rose said. The following day, Gray refused to apologize for his questions. "I don't apologize for it. I stand by it, and I think it was absolutely a proper line of questioning," he said.
Gray said Mike Tyson once threatened to kill him
Jim Gray was a guest on a recent episode of the podcast Hotboxin' With Mike Tyson. Gray and Tyson have a good relationship that goes back more than 30 years. Co-host Eben Britton asked Gray what it was like getting in the ring and interview Tyson after he just fought.
"It's funny, you didn't know what he was going to say, but he always was respectful to me and of the position," Gray said. "He never got nasty with me. He never got angry with me. One time he threatened to kill me. He threatened to kill me and Don King. He said, 'I'll kill you and I'll kill Don King.' You were mad at Don and I kinda looked at him, and 45 seconds later he kissed me on my cheek. It was far more disturbing that he kissed me than it was that he threatened to kill me.
"Other than that one 45-second thing, he was on time, courteous to me and the people at Showtime. Even in his craziest moments, he never lashed out at any of us that I can remember." Tyson's response? "Damn, I wanted to kill you AND Don King?"