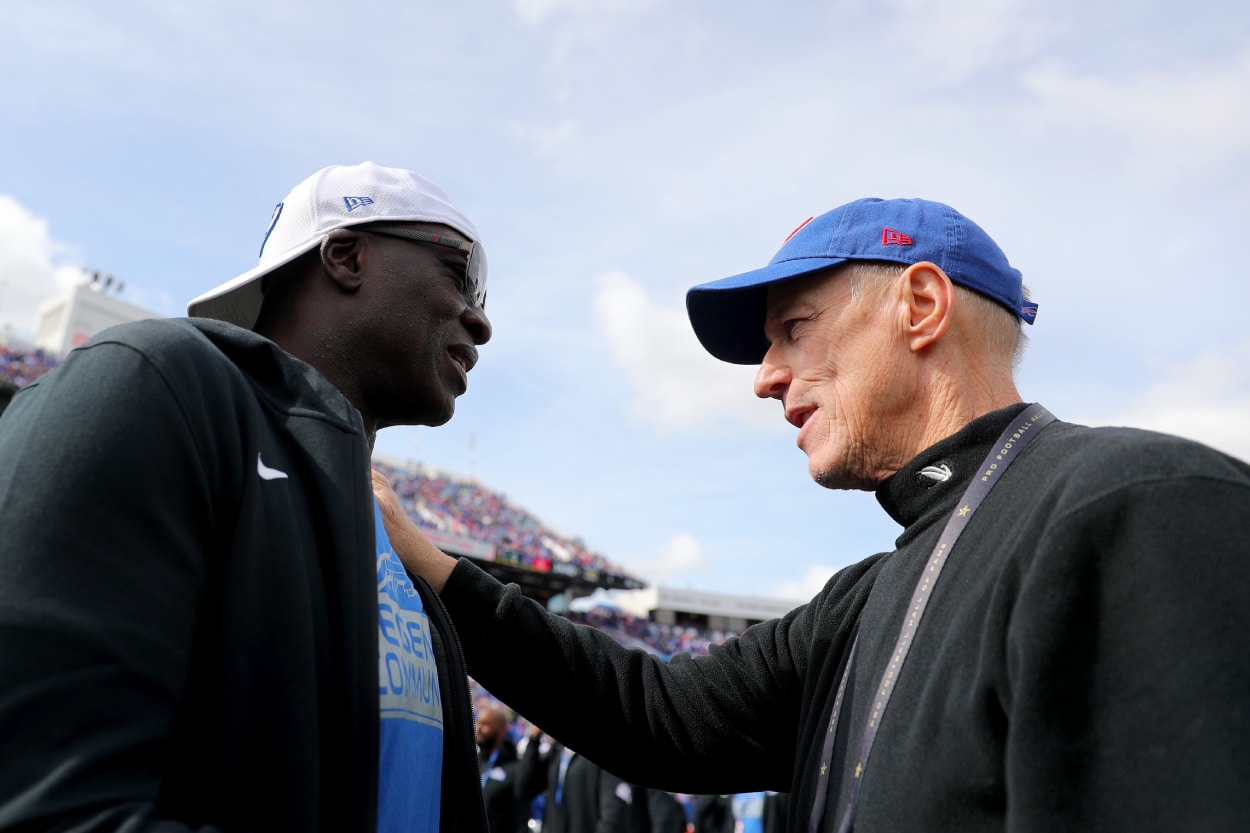 Jim Kelly, Bruce Smith, and the Buffalo Bills are Still Racking Up Victories
Former Buffalo Bills stars Jim Kelly and Bruce Smith are still making a difference in Buffalo.
Pro Football Hall of Famer Jim Kelly won more than 100 regular-season games in his 11 years as the quarterback for the Buffalo Bills. Although he never won a championship, he guided the Bills to four straight Super Bowl appearances. His K-Gun offense was one of the most potent in his era.
Bruce Smith anchored the defense during those years. He racked up 200 sacks in his Hall of Fame career, including a career-high 19 in 1990 when he was the Defensive Player of the Year.
On Thursday, Kelly, Smith, and other Bills alumni helped chalk up another victory in Buffalo, a city in mourning after a senseless tragedy.
Jim Kelly is a Buffalo Bills legend despite not wanting to play there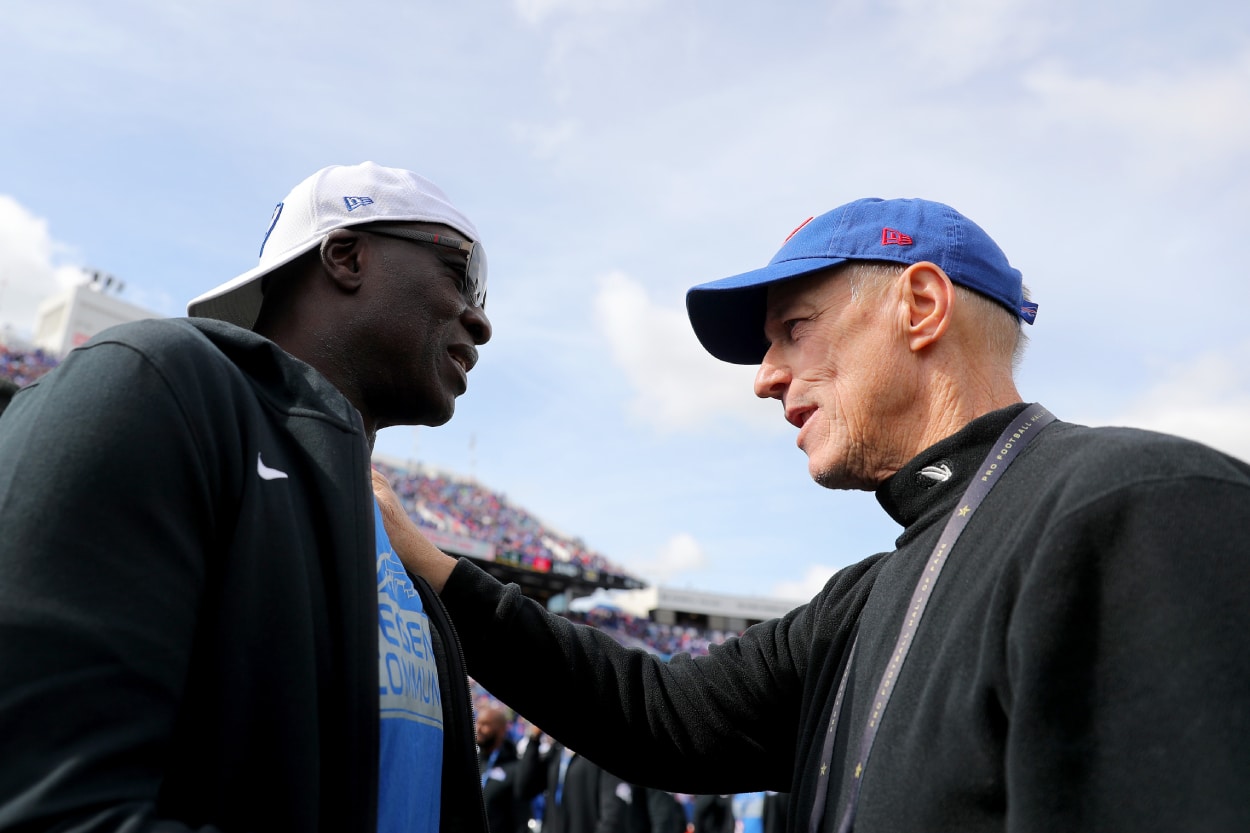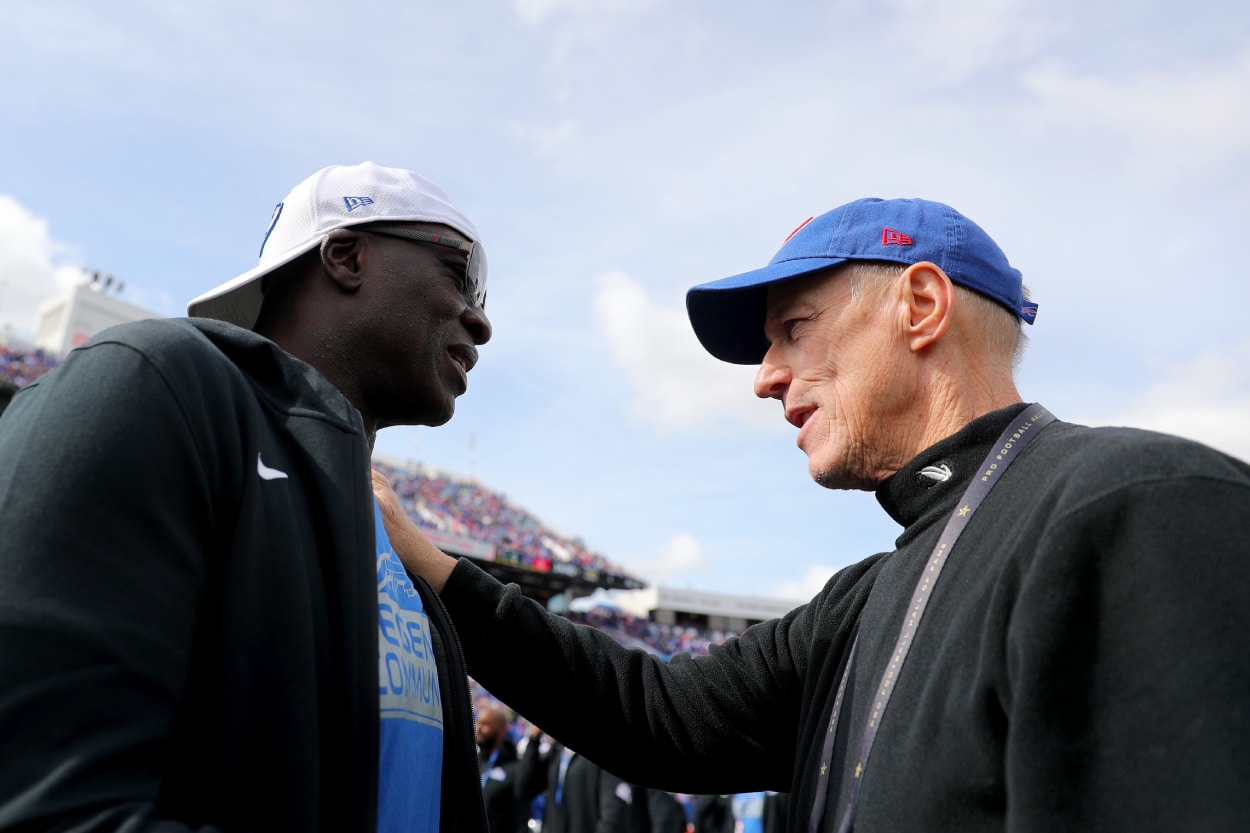 Coming out of the University of Miami, Jim Kelly had three wishes. He hoped the Bills, Green Bay Packers, and Minnesota Vikings passed on him in the 1983 NFL Draft. It looked like his wishes might come true after the Packers bypassed him at No. 11 and the Bills at No. 12. The Bills, however, had another first-round pick at No. 14. Sure enough, they scooped him up.
John Elway was the top pick by the Baltimore Colts, but the quarterback from Stanford immediately said he didn't want to play there. That generated a conversation between Kelly and his agent.
"My agent looked at me after Elway got picked and the problem that arose from it and he said, 'Hey Jim, is there anywhere that you don't want to play?' I said, 'Oh yeah, I don't want to play for the Minnesota Vikings,'" Kelly said, according to Chris Brown of BuffaloBills.com. "'I don't want to play for the Green Bay Packers and I don't want to play for the Buffalo Bills.'"
Kelly then opted for the USFL, but when the league folded, the Bills still owned Kelly's rights. Kelly suited up for the Bills beginning with the 1986 season. The rest is history.
After a 4-12 rookie season, Kelly made the first of his five Pro Bowls in his second year in the league. He led the Bills to six 10-plus win seasons and four straight Super Bowl berths. A guy who never wanted to play in Buffalo has turned into a guy who now never wants to leave.
Kelly and Smith help the Buffalo community come together after Saturday's tragedy
On Saturday, a mass shooting took place at the Tops Friendly Markets store in Buffalo, New York. Thirteen people were shot by a gunman who authorities say was fueled by racist hatred. Ten people died.
Five days after the tragic incident, Kelly and Smith were part of an effort to help heal the Buffalo community. The two icons were joined by fellow Bills and Buffalo Sabres alums, along with team executives to help ease the pain.
"That's who we are, and that's what this city is all about. That's Bills Mafia," Kelly said to WKBW7 in Buffalo. "We're all part of it, and these guys understand that we all need to pull together."
Smith admitted he, too, was hurting after Saturday's shooting.
"It feels like somebody just ripped the insides out of you and it hurts so bad," Smith said. "But we will make this community stronger, hopefully, put more smiles on these folks' faces, and spend some time with them and let them know that we love them."
Former Bills running back Thurman Thomas was also there, along with NFL Commissioner Roger Goodell and Bills owners Kim and Terry Pegula, among others.
"I bet you this racist did not count on this outpouring of love that's taking place right now, the strengthening of this community that's going on right now," Smith said. "We're gonna build upon that."
"I'm hurting for the city that I love," Thomas said, per The New York Post. "I'm hurting for the people on the east side, their families, our friends, and our community," Thomas said. "You read about stuff happening in other states, but when it's right here at home, it's tough. It really is tough and this is a time that we need to come together."