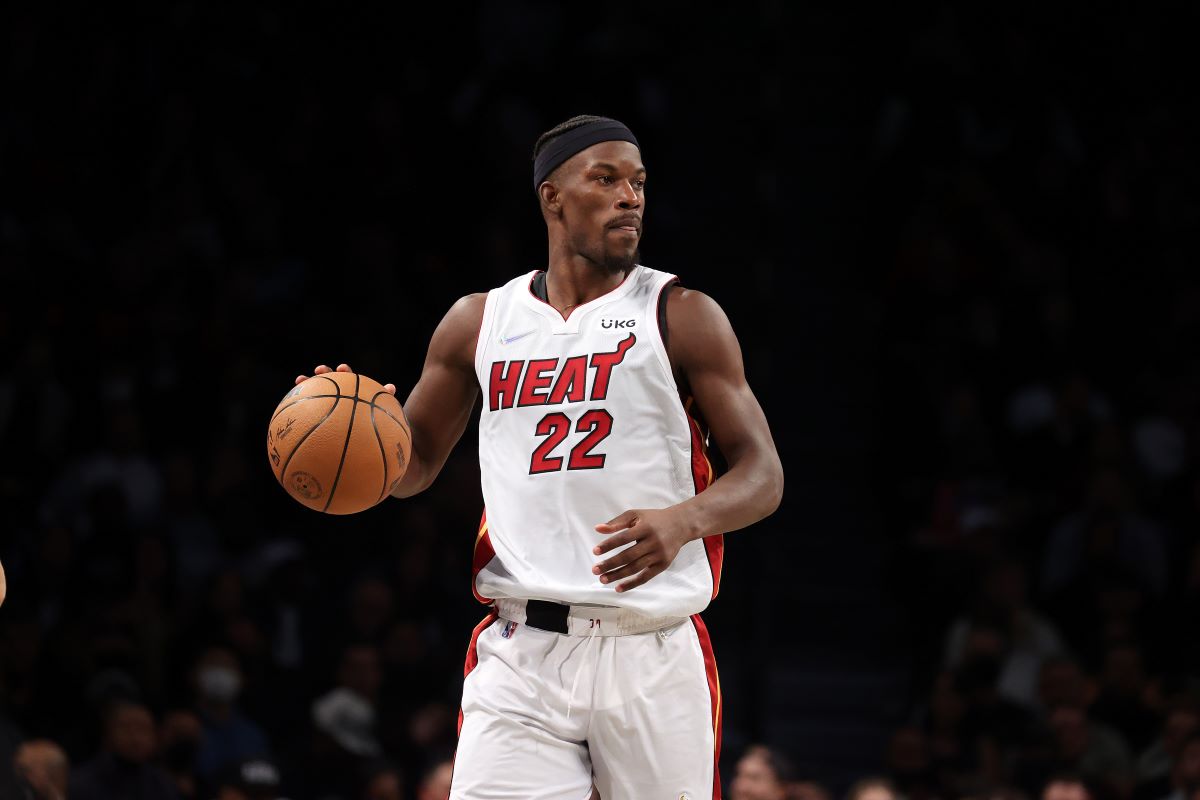 Jimmy Butler, Who Was Homeless at 13, Faxed His National Letter of Intent to Marquette From McDonald's While Playing Junior College Basketball: 'Jimmy Never Took an Official Visit to Marquette'
Miami Heat forward Jimmy Butler had an unlikely path to NBA stardom.
Miami Heat small forward Jimmy Butler is one of the best players in the NBA. He's a five-time All-Star who plays both sides of the floor at a high level and always gives it his all.
Butler has found a home with the Heat after playing for the Chicago Bulls, Minnesota Timberwolves, and Philadelphia 76ers. The four-time All-NBA swingman supposedly rubbed some of his teammates in his previous stops the wrong way for being too confrontational and hard on them.
However, given Butler's background, it makes sense why he is the way he is.
Jimmy Butler was homeless at 13
When Butler was 13, he was kicked out of his house by his mother. He stayed with friends as long as he could and usually moved into a new place every week.
The summer before his senior year of high school, Butler became friends with a ninth-grader named Jordan Leslie. Leslie began inviting Butler to his house to play video games and to stay the night, and once Leslie's mother found out that Butler didn't have a place to stay, she took him in for good.
"They accepted me into their family," Butler told ESPN in 2011 before the NBA Draft. "And it wasn't because of basketball. She was just very loving. She just did stuff like that. I couldn't believe it."
Butler was a superstar in high school. As a team captain his senior year, he averaged 19.9 points and 8.7 rebounds and was named to the all-district first team. However, he didn't receive any scholarship offers from Division 1 schools, so he enrolled at Tyler Junior College.
As a freshman, Butler was Tyler's leading scorer. By April 2008, the rugged defender had offers from Marquette, Kentucky, Mississippi State, Iowa State, and Clemson.
After his junior year at Tyler, Butler landed at Marquette with head coach Buzz Williams. However, it wasn't your typical recruiting process.
Jimmy Butler never visited Marquette, faxed his letter of intent from McDonald's
According to Williams, Butler never visited Marquette and actually faxed his letter of intent from McDonald's.
"Jimmy faxed his [national letter of intent] in from McDonald's," Williams told ESPN in 2014. "That's the truth. Jimmy never took an official visit to Marquette. That's the truth. Jimmy arrived at Marquette the day of the first day of classes. That's the truth."
Butler averaged 12.0 points and 5.5 rebounds in 106 games at Marquette. The Bulls drafted him with the 30th overall pick in the 2011 draft, and the rest is history.
Jimmy Buckets went from role player to All-Star
Butler averaged only 6.6 points through his first 124 games with the Bulls. However, everything changed in 2013-14. The do-it-all forward earned more playing time through his hard work in practice and put up 13.1 points per game.
The 2014-15 season was Butler's breakout year. Not only did he average 20.0 points, but he also made his first All-Star team and won the Most Improved Player of the Year Award. In the summer of 2015, Butler signed a five-year, $92.3 million contract with Chicago. It was certainly a life-changing day for the Texas native since he used to be homeless.
The Bulls traded Butler to the Timberwolves in 2017 after they decided to embark on a rebuild. Although the All-NBA defender led Minnesota to the playoffs in 2017-18 for the first time in 14 seasons, he didn't get along with Karl-Anthony Towns or Andrew Wiggins and requested a trade in the offseason.
The Sixers acquired Butler in 2018 and were hopeful he would stay with them long-term. However, the 6-foot-7 Marquette product only played 55 games with them before signing with the Heat in 2019 via a sign-and-trade deal.
In Butler's first season in Miami, he guided the franchise to the Finals. Jimmy absolutely loves playing for the Heat and will likely retire in South Beach. He signed a three-year, $136.4 million contract extension in August.
Now a father, Butler has enough money to buy his daughter all the McDonald's she needs.