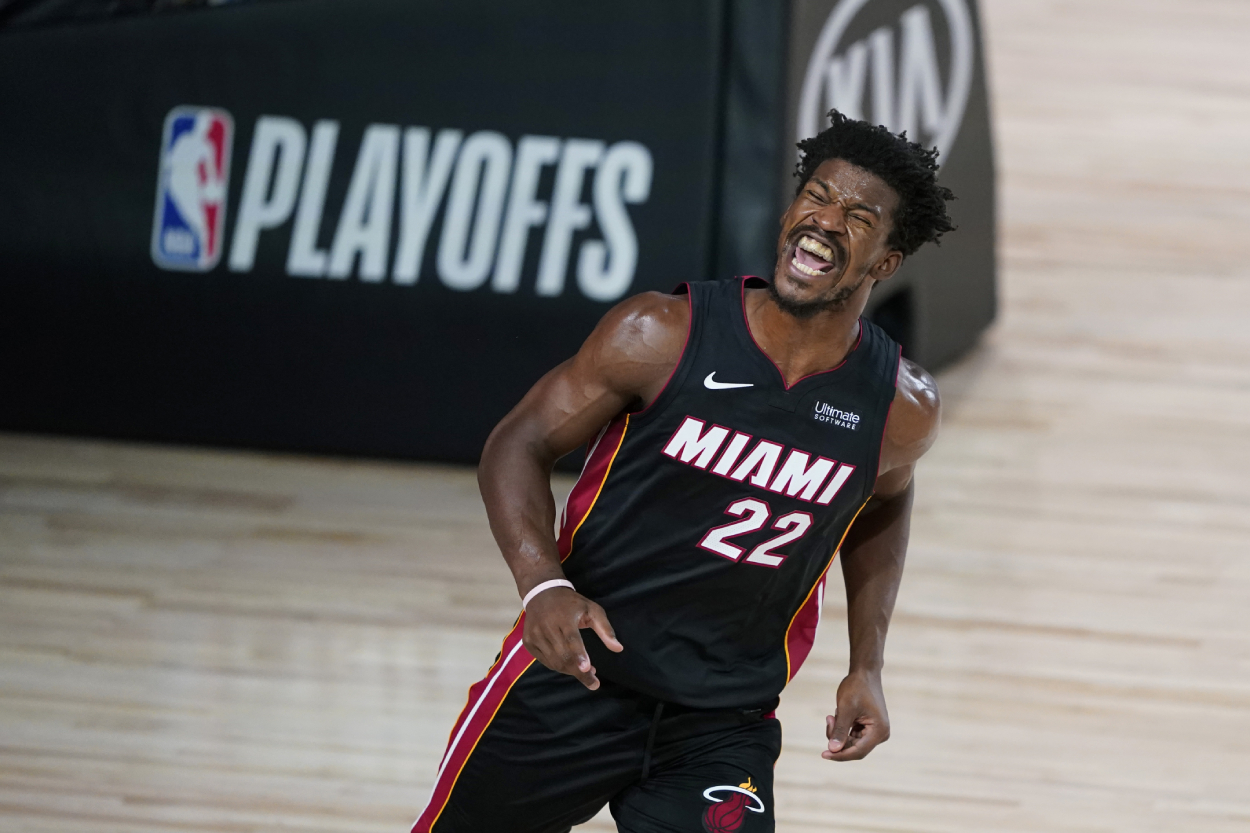 Jimmy Butler and a Former Miami Teammate Got 'Heated' During Practice, and Spewed 'Borderline Uncomfortable' Trash Talk
Miami Heat star Jimmy Butler is a fierce competitor. His intense work ethic is why he has become the great player he is today. However, he's so intense that he and a former Miami teammate got into an intense confrontation during practice, which played a part in the Heat going to the 2020 NBA finals.
Miami Heat star Jimmy Butler has been known to play with an edge his entire career; he has always been a guy who has an extra chip on his shoulder. So, when a former Heat teammate confronted him in practice during Miami's 2020 NBA finals run, Butler got into a "heated" war of words with the player, which ultimately resulted in some uncomfortable trash talk.
That former teammate was Jae Crowder.
Jimmy Butler and Jae Crowder played together at Marquette
Before their NBA playing days, Butler and Crowder played college basketball together at Marquette. 
Butler first started playing there in 2008-09 after playing at Tyler Junior College the year before. He only scored 5.6 points per game in his first season at Marquette, but, in 2009-10, Butler averaged 14.7 points and 6.4 rebounds.
In 2010-11, though, Crowder joined the team after playing at South Georgia Tech Junior College and then Howard College. Butler averaged 15.7 points and 6.1 rebounds that year, while Crowder put up 11.8 points and 6.8 rebounds.
The two stars then helped the 11-seeded Marquette get upset wins over six-seeded Xavier and three-seeded Syracuse in the NCAA Tournament to reach the Sweet 16. They, however, ultimately fell to North Carolina in that round.
Butler then entered the NBA in 2011 and played for the Chicago Bulls, Minnesota Timberwolves, and Philadelphia 76ers before joining the Heat in 2019-20. Crowder, on the other hand, entered the NBA in 2012 and played for the Dallas Mavericks, Boston Celtics, Cleveland Cavaliers, Utah Jazz, and Memphis Grizzlies before getting traded to the Heat in 2020.
Jimmy Butler and Jae Crowder got into a confrontation on the Heat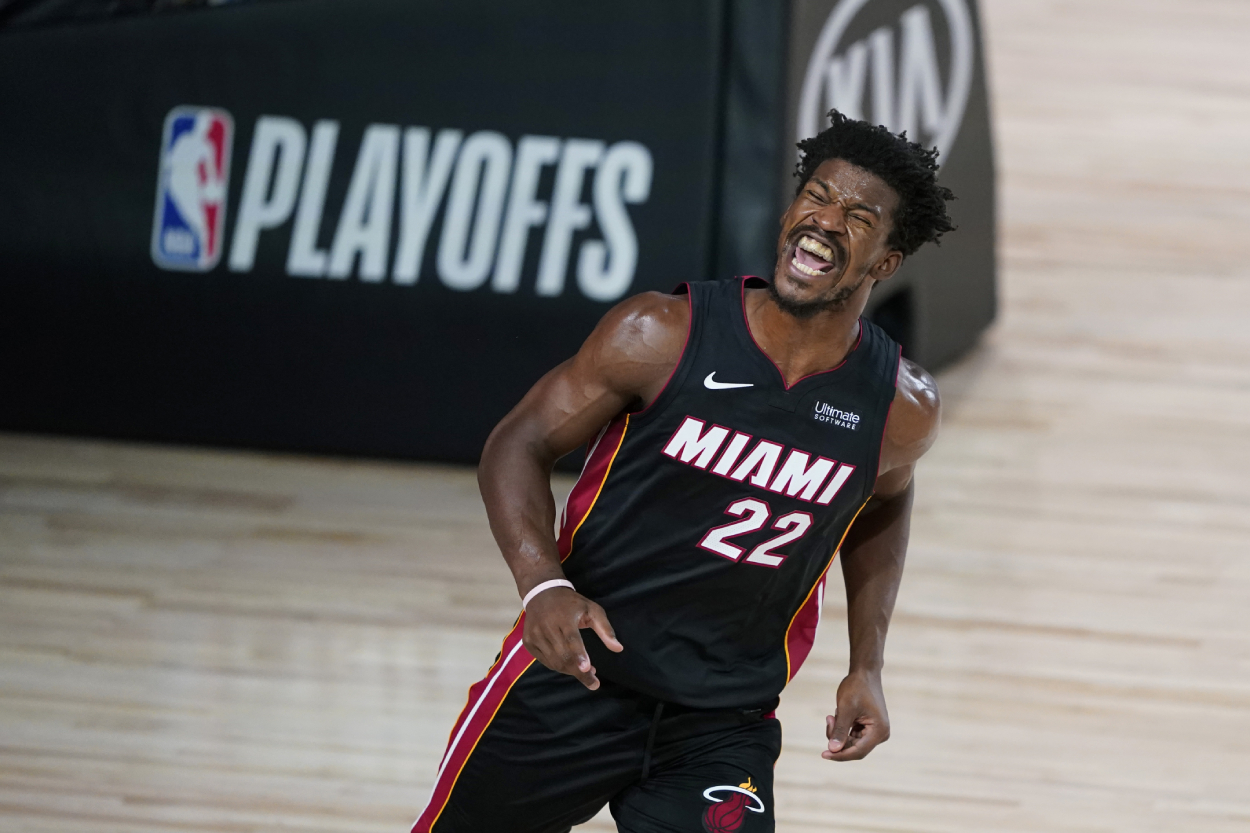 Together, as they did at Marquette, Jimmy Butler and Jae Crowder helped lead the Heat to some upset wins during the 2020 postseason. In fact, Miami shocked everyone and reached the NBA finals.
According to ESPN's Zach Lowe, though, a big moment for the Heat in the 2020 bubble came in practice.
Lowe reported that Crowder — who now plays for the Phoenix Suns — wasn't afraid to call Butler out when needed. Butler was clearly the team's best player, earning an All-Star selection after averaging 19.9 points, 6.7 rebounds, and 6.0 assists. So, when the two players started talking trash during a practice in the bubble, they got "heated," according to Lowe, and decided to clear the court to play some one-on-one games.
Their smack talk then reportedly got pretty bad.
"The trash talk became so profane, and so personal, it was borderline uncomfortable, team sources said," Lowe wrote.
Butler, of course, brought up their time at Marquette, saying, "'I've been busting your ass since school,'" according to Crowder. But that was a more PG comment of the ones they spewed.
Butler ultimately won the final game. Their Heat teammates, though, gained more respect for Crowder, which probably played a significant role in them going all the way to the Finals.
The incident also further proved that Butler isn't afraid to play with a chip on his shoulder, whether it's against his own teammates or other teams.
Butler is known for being a fierce competitor
Butler's run-in with Crowder wasn't the only time we've heard of him being a fierce competitor. He went from averaging 2.6 points in 8.5 minutes in his rookie season to becoming a five-time All-Star. Players who work that hard want other guys to match their work ethic.
"I'll get on guys when they're not doing their jobs and they'll cuss me out when I'm not doing mine," Butler said to NBA.com in 2020. "It's not personal. It may not always come out that way but I mean well."
There was also the infamous practice when he played for the Minnesota Timberwolves. According to Bleacher Report, Butler reportedly beat the starters with the third-stringers and verbally challenged players, coaches, and front office members while doing it, ESPN's Adrian Wojnarowski and Amin Elhassan reported in 2018. The Timberwolves made the playoffs for the first time in 14 seasons the previous year with Butler; they haven't been back since.
Throughout his career, Butler has proven he's relentless and a winning player. Together, he and Crowder gave the Heat the edge they needed to make the 2020 NBA finals.
Stats courtesy of Sports Reference and Basketball Reference