Jimmy Butler Owes Antonio Brown $30,000 After He Lost a Bet During a Workout
Most athletes are ultra-competitive by nature. Many believe that if they weren't at the highest level of their chosen profession, they could have excelled at another sport. This is exactly the type of thinking that got Miami Heat star Jimmy Butler in trouble with Tampa Bay Buccaneers wide receiver Antonio Brown.
The outspoken NBA veteran shared a story about making a massive bet with Brown, his occasional workout partner, and losing big time. While the story shows that Butler might now be making a transition to the NFL anytime soon, there are a few NBA stars who might be able to.
Jimmy Butler might be the most underrated superstar in the NBA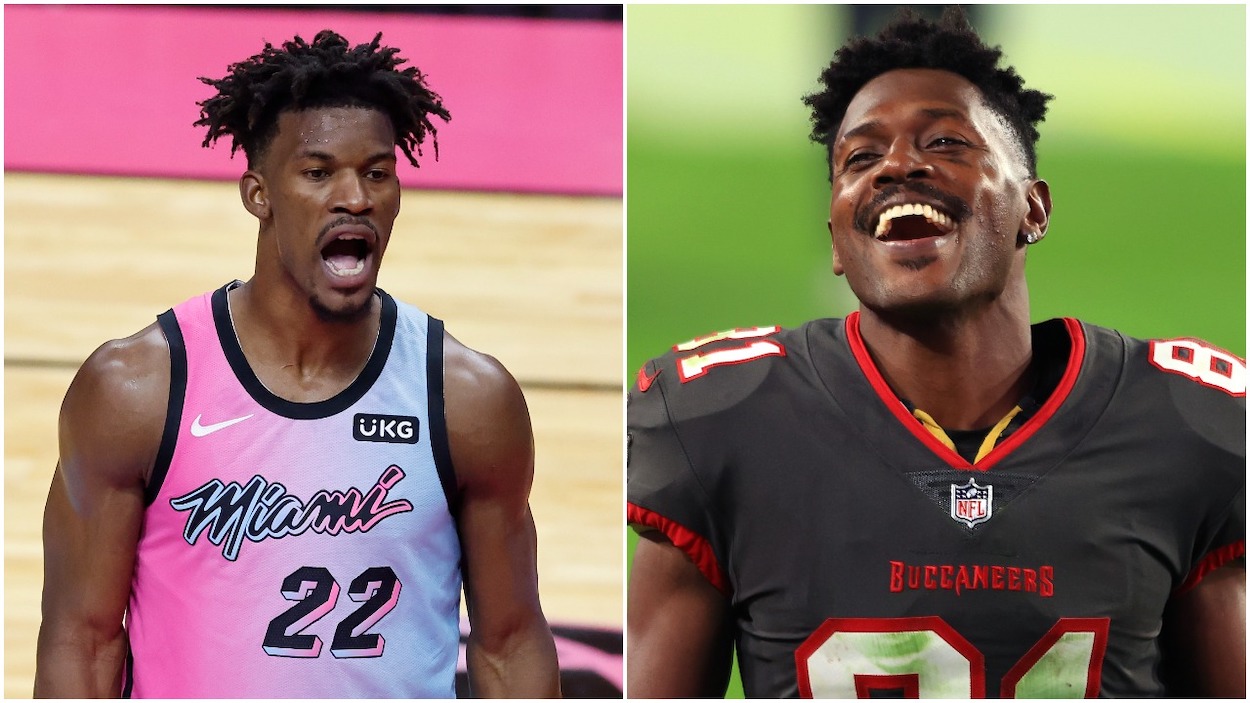 Despite what happened with Antonio Brown, no one can argue that Jimmy Butler isn't a great basketball player. Although most recognize his skill, he's not often mentioned in the same breath as the top players in the league like LeBron James, Kevin Durant, and Stephen Curry.
Many underrate Butler because his value comes as a two-way player, not just an offensive force. That is not to say he can't light up the scoreboard and the stat sheet. In 2021, he averaged 21.5 points, 7.1 assists, and 6.9 rebounds per game.
He also led the league in steals per game with 2.1, finished sixth in value over replacement (ahead of layers like Kawhi Leonard, James, and all three Brooklyn Nets stars), and third in win shares per 48 behind only MVP Nikola Jokic and Joel Embiid.
While he may not get the love that some of his higher-scoring contemporaries do, Butler simply does things that contribute to winning, and that should put him in the upper echelons of NBA stars.
Butler lost a $30,000 bet to Antonio Brown
On First We Feast's Hot Ones, host Sean Evans asked Butler what it was like to train with NFL stars like Brown and Russell Wilson, which he occasionally does in the offseason. Butler described working out with these world-class athletes in one word, "humbling."
He went on to describe an incident that illustrated exactly what kind of athletes NFL players are "I'm a competitor," Butler said. "I still think I owe [Antonio Brown] like $30,000 because I made a bet that I could stop him from catching the ball in the Red Zone."
Butler just shook his head while Evans asked if, "It didn't work out for ya?"
"You're talking about the best receiver in the league and then Russ at quarterback. I'm just saying, if the Raiders had me opposite of him, you never know where we could go," Butler joked.
It sounds like Brown won't actually try and collect on the bet, and it is also safe to reason that Butler's beloved Raiders won't be calling anytime soon either.
Several NBA stars could have had NFL careers
While Butler won't be lining up at corner in the NFL, there are several NBA players that maybe could have if they chose a different career path. The most recent example is the Orlando Magic's 2021 No. 5 overall draft pick, Jalen Suggs. Before his time at Gonzaga, he was both Mr. Football and Mr. Basketball in the state of Minnesota as a four-star dual-threat quarterback.  
Two New York Knicks guards had college football careers. Charlie Ward won a Heisman Trophy at Florida State before choosing to play on the hardwood professionally. Nate Robinson also starred in two sports at the University of Washington, playing wide receiver on the Huskies football team.
LeBron James was first-team All-State in his one year on the high school gridiron, and "Big Baby" Glenn Robinson played defensive line as well as tailback at 6-foot-9, 290-pounds, per Sports Illustrated. Allen Iverson also played QB in high school, leading his teams to both basketball and football State Championships.
On the other side of the equation, several prominent NFL players played big-time college basketball. Tony Gonzalez (Cal), Jimmy Graham (Miami), and Julius Thomas (North Carolina) all started or played significant minutes on NCAA Tournament teams.
All stats courtesy of Basketball Reference