Jalen Suggs Issues a Stern Warning to Teams Who Pass on Him in the 2021 NBA Draft
The NBA draft often brings out stale platitudes from young players selected into the league. They are all just happy to be there and glad to be chosen and excited to go to the city and team they are going to. That's not how Jalen Suggs operates.
In the days leading up to the draft, the former Gonzaga star and expected top-five pick isn't just happy to be here. He's already psyching himself up to enter the league and sending a warning shot to any team that passes him over.
Jalen Suggs led Gonzaga to the National Championship game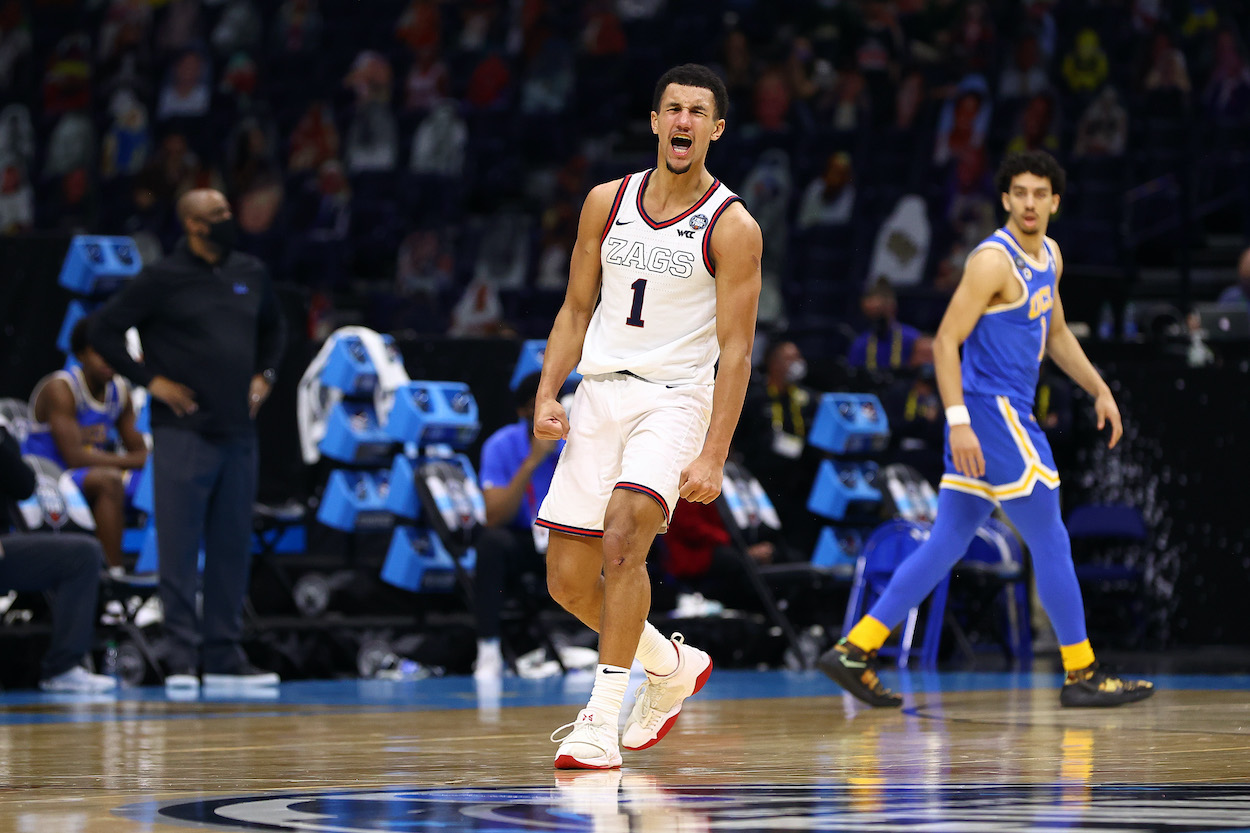 Suggs hails from West St. Paul, Minnesota, where he played ball at Minnehaha Academy, per GoZags.com. On the basketball court, he averaged 23.5 points, 7.3 rebounds, 5.1 assists, and 3.8 steals per game his senior season.
The 6-foot-4 guard excelled on the football field as well. As four-star dual-threat QB, he put up 2,213 passing yards, 978 rushing yards, and 37 total touchdowns. He became the first-ever Minnesotan to win the state's Mr. Football and Mr. Basketball awards in the same year.
As the No. 5 prospect on ESPN's Top-100 list in the Class of 2020, Suggs was the highest-ranked recruit ever to attend Gonzaga. In 30 regular-season games, Suggs averaged 14.4 points, 4.5 assists, and 5.3 rebounds a game. He also led the Zags to an appearance in the National Championship game vs. Baylor.
Suggs played one of the most memorable games in NCAA Tournament history to get the March Madness Final. In the National Semifinal, Suggs put up 16 points, six assists, and five boards. What he (and the game) will be remembered for, though, is his stunning buzzer-beater to beat UCLA.
Suggs says teams will regret passing him over
It's clear from his impressive resume that Jalen Suggs succeeds at almost everything he does. That's why most draft analysts expect him to be one of the best players in the draft class of 2021.
However, he likely won't be the No. 1 (or even No. 2 or No. 3) pick during Thursday night's selection show. This isn't sitting right with the ultra-competitive Suggs, and he has issued a warning to any team foolish enough not to take him if given a chance.
According to Sports Illustrated, Suggs issued his warning while also selling his accomplishments to prospective employers:
I will say the ones that do pass up on me and take another prospect, you know, it'll come back, it'd be to their detriment. You can look at my track record and what I've done and where I've been, you know, it's always win at a high level, at the highest level.

Jalen Suggs on the NBA draft
Some of the most successful athletes in professional sports – from Michal Jordan (drafted No. 3 behind Hakeem Olajuwon and Sam Bowie) to Tom Brady (sixth-round pick, No. 199 overall) – have used draft slights to drive themselves to the top of their sport. And to punish teams that didn't draft them.
The top tiers of the 2021 NBA draft
The 2021 NBA draft is both top-heavy with possible All-Stars or better and deep with potential starters and legit role players. I have the lottery picks ranked in four tiers as follows.
Cade Cunningham is my No. 1 overall prospect and may be in a tier by himself. He could be Luka Doncic 2.0. However, I have three other players in Tier One with Cunningham who could all be special talents. Jalen Suggs, Evan Mobley, and Jalen Green all have this incredible level of potential.
Tier Two are players who could be multi-time All-Stars or second- or third-bananas on NBA title teams. This group does have a lower floor and may take longer to get there than Tier One, though. Here you'll find Alperen Sengun, Scottie Barnes, and Jonathan Kuminga.
The third tier includes guys who may have All-Start ceilings but are likely solid starters or above-average role players. This group includes Moses Moody, Davion Mitchell, Franz Wagner, James Bouknight, Usman Garuba, Josh Giddney, Trey Murphy, Sharife Cooper, and Corey Kispert.
Tier Four has some serious upside but more bust potential than anything else. Teams should draft at their own risk. The players here are Chris Duarte, Ziaire Williams, Kai Jones, Keyon Johnson, and Jalen Johnson.
All stats courtesy of Sports Reference