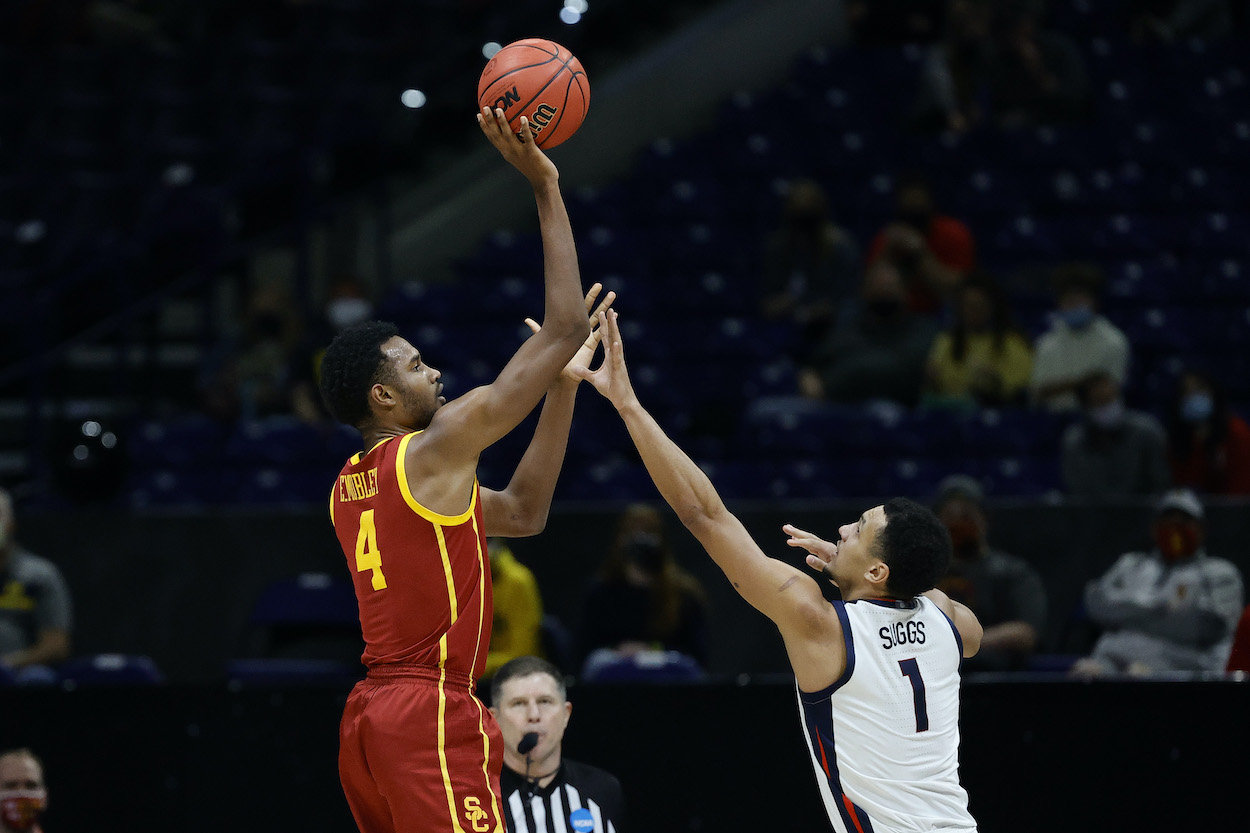 Post-Lottery NBA Mock Draft 2021: Pistons Win the Big Prize; Evan Mobley and Jalen Green Swap Spots
In this post lottery 2021 NBA mock draft, the Pistons win big with Cade Cunningham, No. 2 prospect Evan Mobley falls to No. 3, and Baylor's Davion Mitchell takes the biggest tumble. There are no trades in this mock draft and every team takes all it picks, even if a trade is likely.
The NBA Draft Lottery is now complete, and we know exactly which team has which pick. This dramatically changes mock drafts now that we can accurately match teams and players. In this first post-lottery NBA mock draft, team fit and need will help determine the selections, not just overall talent and potential. 
Also, this is a straight mock draft, picking the 14 lottery picks with no trades. With several teams owning multiple first-round picks in 2021 (Orlando Magic, Golden State Warriors, Oklahoma City Thunder), there will likely be a good deal of movement on draft night. For our purposes here, though, each team will use the pick it currently owns. 
1. Detroit Pistons – Cade Cunningham, G, Oklahoma State
Cade Cunningham is a franchise-changing player in the mold of Luka Doncic. He will be the No. 1 overall pick as expected even before the lottery. Detroit is an excellent fit for him with its young, talented core, including Saddiq Bey, Isaiah Stewart, Killian Hayes, Saban Lee, and Sekou Doumbouya. With Cunningham, Detroit could become an NBA superteam without cheating the system.  
2. Houston Rockets – Jalen Green, G, G League Ignite
Evan Mobley is the No. 2 prospect, but this is where knowing the actual team picking matters in an NBA mock draft. Houston has next to nothing in the way of long-term building blocks. Jalen Green is a one-man offense with an incredibly high ceiling. The Rockets need to give Green the ball in the 2021-22 season, let him cook, a la Anthony Edwards, and go from there.  
3. Cleveland Cavaliers – Evan Mobley, F/C, USC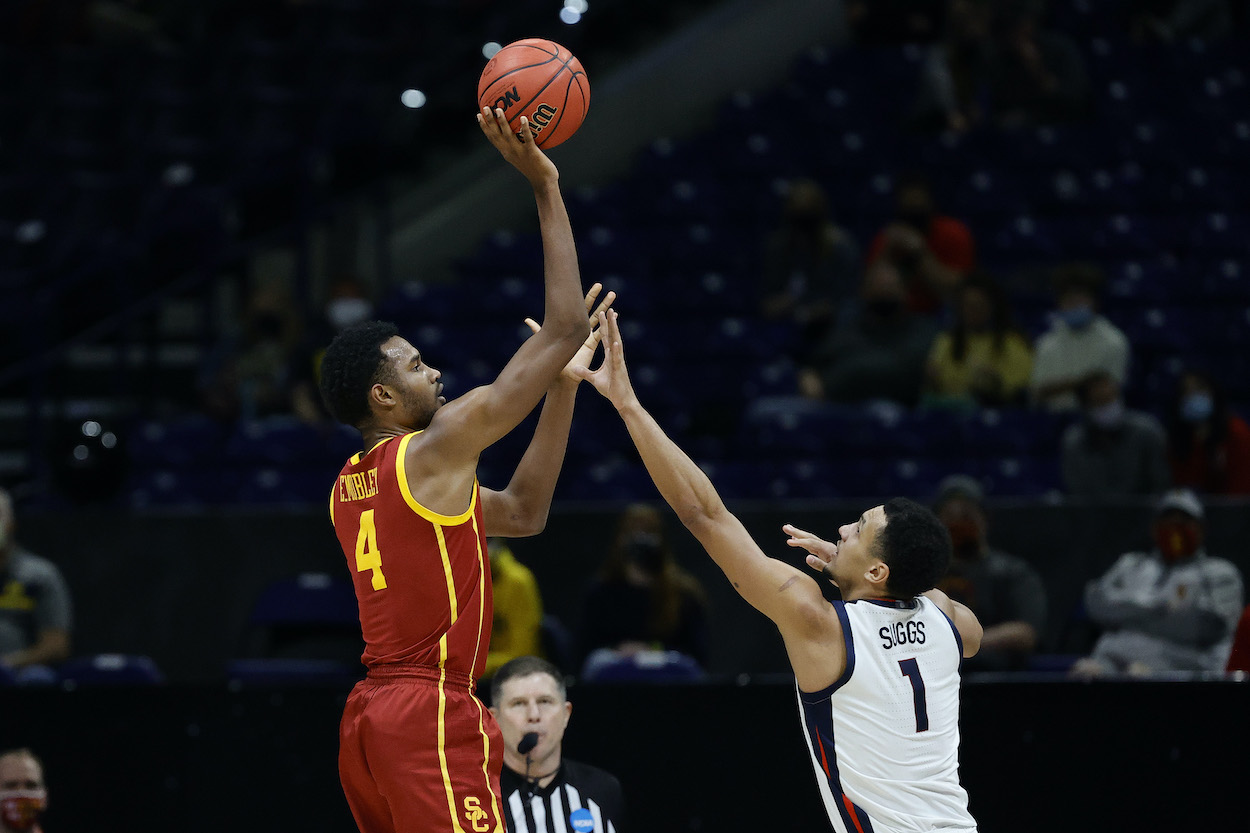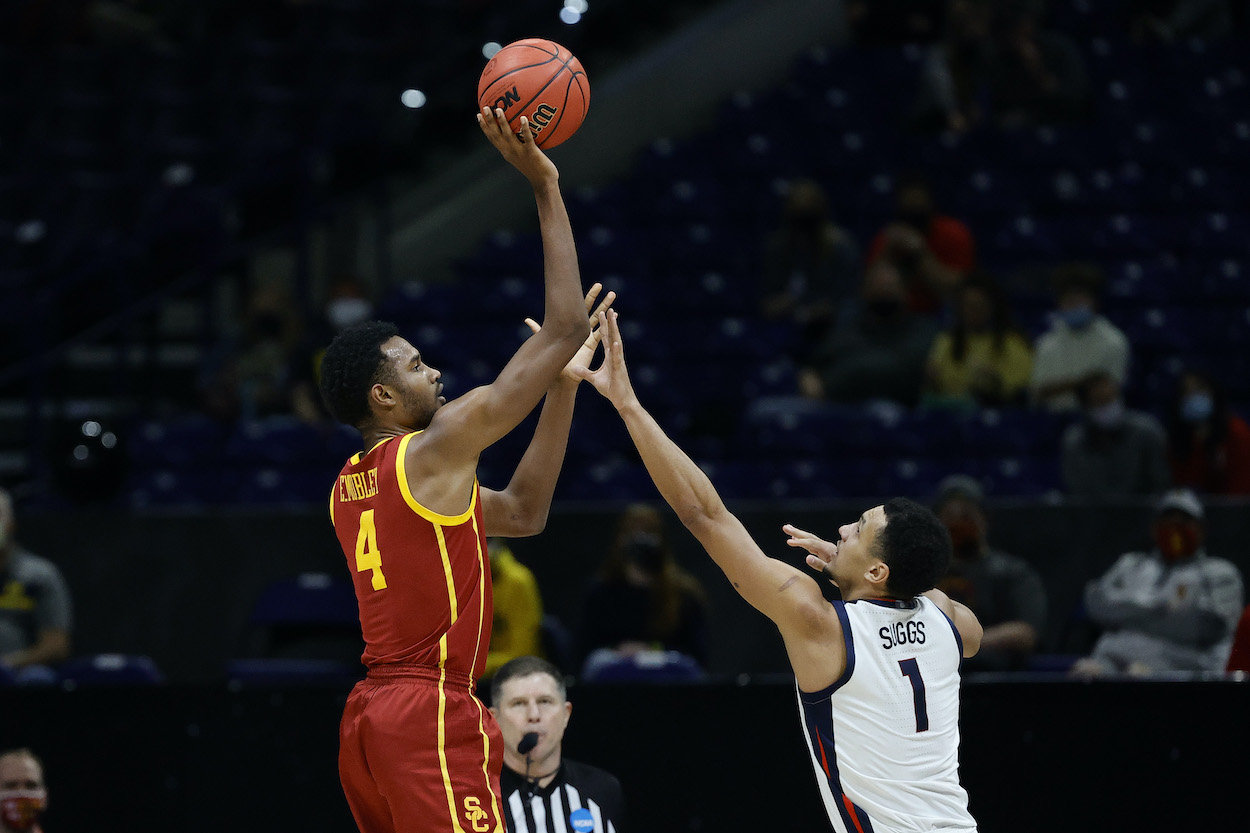 Mobley will be a perfect complementary piece for the Cavaliers' young guard rotation of Collin Sexton, Darius Garland, and Isaac Okoro. It also gives them the flexibility to get a quality asset back for big man Jarrett Allen, a desired piece for a contending team, or go big for stretches.
4. Toronto Raptors – Jalen Suggs, G, Gonzaga
The Raptors will likely lose Kyle Lowry to free agency in the offseason, and, lo and behold, they move from No. 7 to No. 4 and get a chance to draft Lowry 2.0. Suggs is the big-shot-making floor general that Lowry is, but with a higher upside. He can lead a team and carry an offense while also helping make Pascal Siakam, Fred VanVleet, and OG Anunoby better. 
5. Orlando Magic – Jonathan Kuminga, F, G League Ignite
The Magic have some talented young guards with Cole Anthony, R.J. Hampton, and Markelle Fultz. They also have bigs with upside in Jonathan Isaac and Mo Bamba. Orlando needs wings, and it was the time to wait for the wing with the most upside in the draft to develop into something special. That's why the pick in this NBA mock draft is the impressive but raw 6-foot-8 athlete, Jonathan Kuminga. 
6. Oklahoma City Thunder – Scottie Barnes, F, Florida State
Shai Gilgeous-Alexander, Luguentz Dort, and Theo Maledon (along with Kemba Walker now) make up a solid guard rotation. The Thunder's x-factor may be the 7-foot, 190-pound Aleksej Pokusevski, and he needs a smaller guy who can defend bigs next to him. Scottie Barnes — billed as the next Draymond Green — would be a great fit for this decidedly strange but possibly decent team. 
7. Golden State Warriors – Franz Wagner, F, Michigan 
Green recently told the Inside the NBA crew that rookies and All-Stars don't mix. So, the Warriors will ideally trade their two lottery picks for a vet to help with a title run. If not, taking a versatile 3-and-D wing shooter would make the most sense. Franz Wagner would be that guy here. He's a 6-foot-9 Swiss Army knife with a jump shot who may actually help a good team. 
8. Orlando Magic – Keon Johnson G/F, Tennessee
Here is another lottery pick for the Magic and another wing. Johnson is another raw athlete with the potential to develop into a star player. At worst, he should find a long-term home as an elite defender who can drive and get fouled. He can become a legit star 3-and-D wing if he can improve his shooting.  
9. Sacramento Kings – Alperen Sengun, C, Besiktas (Turkey) 
The Turkish big man has the potential to develop into a perfect modern center with athleticism, playmaking, shooting, and rim protection. His passing is so good that he could even get to the Nikola Jokic level, at which the offense runs through him. A Sengun/Tyrese Haliburton pick-and-roll combo could be an ideal start for the Kings' umpteenth rebuild. 
10. New Orleans Pelicans – Corey Kispert, G/F, Gonzaga
Corey Kispert was miscast as a star for the Gonzaga Bulldogs, but he is a ready-made 3-and-D wing in the NBA. If the Pelicans don't make another move in the offseason, Kispert could slot right in with Zion Williamson, Brandon Ingram, Lonzo Ball, and Steven Adams and make the Pelicans better than last year. 
11. Charlotte Hornets – Kai Jones, C, Texas 
The Hornets are interested in Kristaps Porzingis, but Kai Jones could be a nice consolation prize if that doesn't work out. The Texas center would make a fantastic athletic pick-and-roll partner for LaMelo Ball and has the natural shooting chops to develop into a Porzingis-type player down the line. 
12. San Antonio Spurs – Jalen Johnson, F, Duke 
Jalen Johnson is one of the most all-around talented wings in this NBA mock draft. However, he quit on his high school and his college team. If an organization and its coaches can figure out what makes Johnson tick, they could have the steal of the draft. If not, Johnson is as likely to be out of the league before his second contract as any player in the lottery. What's the answer? Gregg Popovich and the Spurs.  
13. Indiana Pacers – Davion Mitchell, G, Baylor 
Many post-lottery NBA mock drafts will have Davion Mitchell going higher, but so many of the teams above have solid, young two- or three-guard rotations. Mitchell can be the perfect Victor Oladipo replacement because a healthy Oladipo is a good comp for the Baylor star. He would fit nicely next to Malcolm Brogdon, and with Caris LeVert, Domantas Sabonis, and whoever the Pacers get back when the team inevitably trades Myles Turner, the Pacers may get out of the play-in next year. 
14. Golden State Warriors – Moses Moody, G/F, Arkansas
If the Warriors do pick twice, another athletic 3-and-D wing would be ideal. Moody isn't a guy who will take it to the hole and flush it often or create his own shot, but with Stephen Curry, (hopefully) Klay Thompson, and Green, he won't need to. If Moody can guard hard, hit some threes, and stay off Green's bad side, he'll be a good fit in the Bay Area. 
Like Sportscasting on Facebook. Follow us on Twitter @sportscasting19