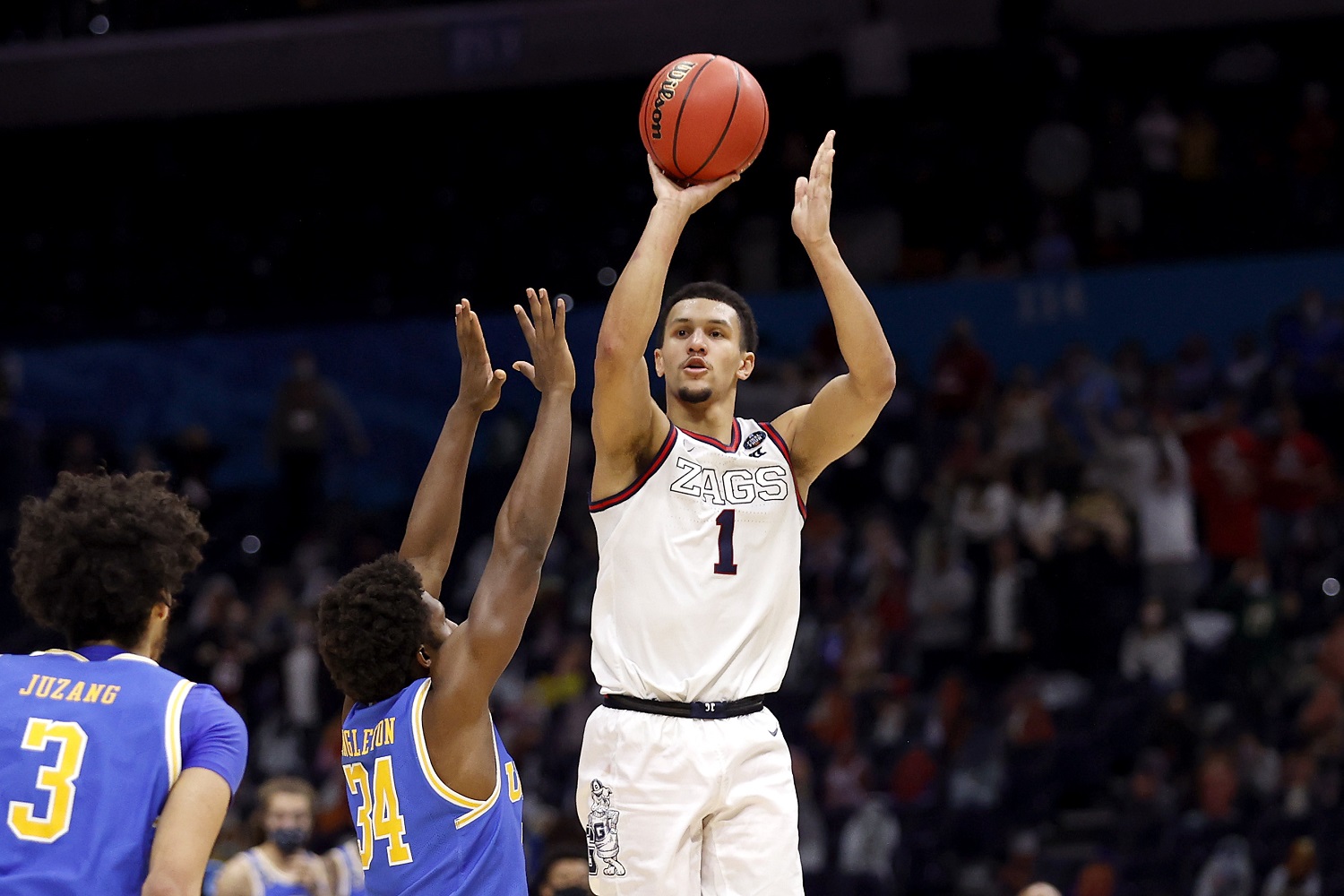 Jalen Suggs Danced With Paige Bueckers Before Playing in 'the Big Dance,' a/k/a the NCAA Tournament
Freshman Jalen Suggs, who has helped the Bulldogs to the NCAA Tournament championship game, is the highest-ranked recruit ever landed by the Gonzaga University men's basketball program.
Some dances are more important than others, and Jalen Suggs is attending the largest of them all if sports lingo is to be believed. The freshman basketball sensation will lead Gonzaga University onto the 94-foot dance floor April 5 in the NCAA Tournament – a/k/a "The Big Dance" — championship game against Baylor University.
It caps a season in which Suggs and close friend Paige Bueckers of UConn roared onto the national hoops scene.
Gonzaga and Baylor bring the NCAA Tournament to a close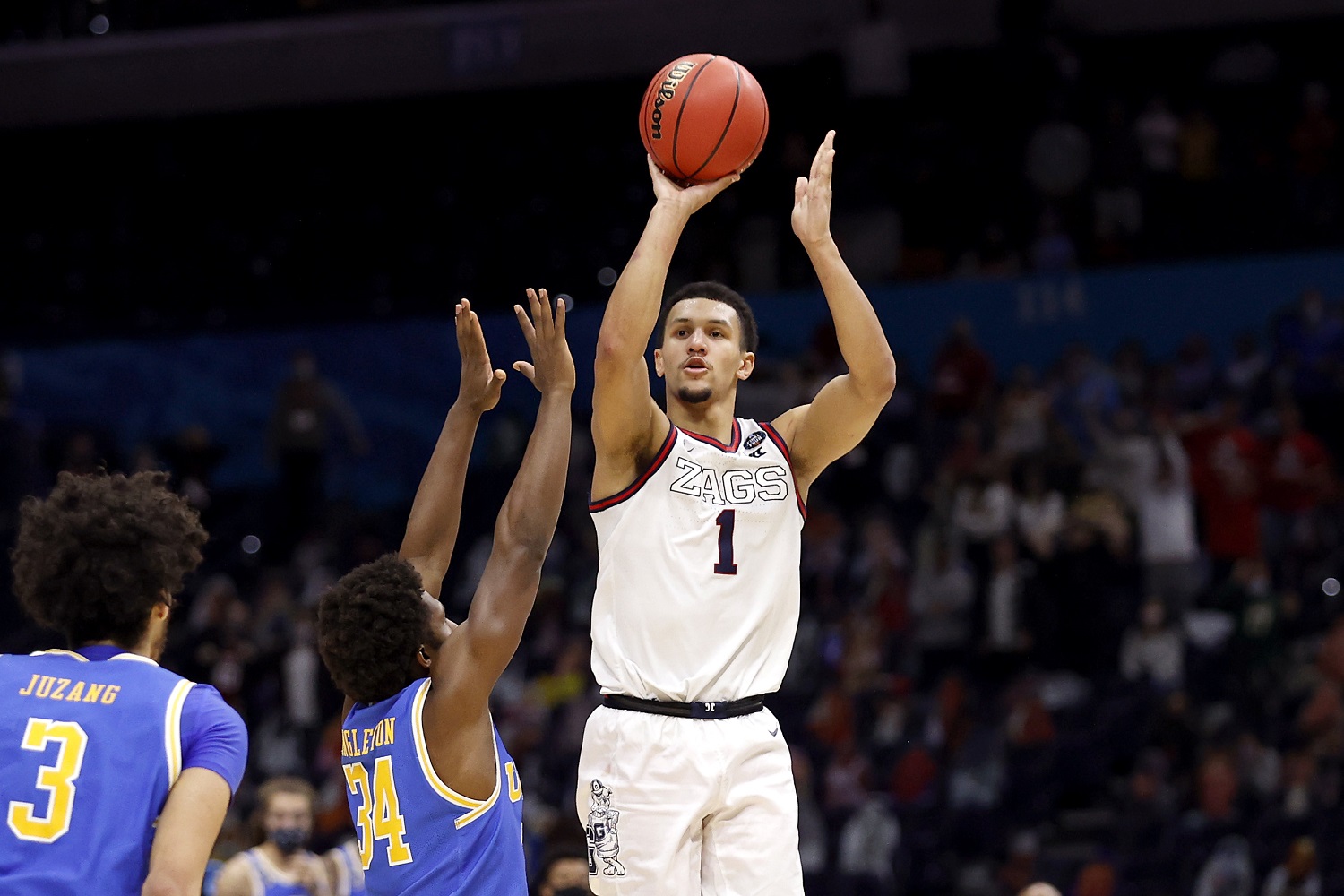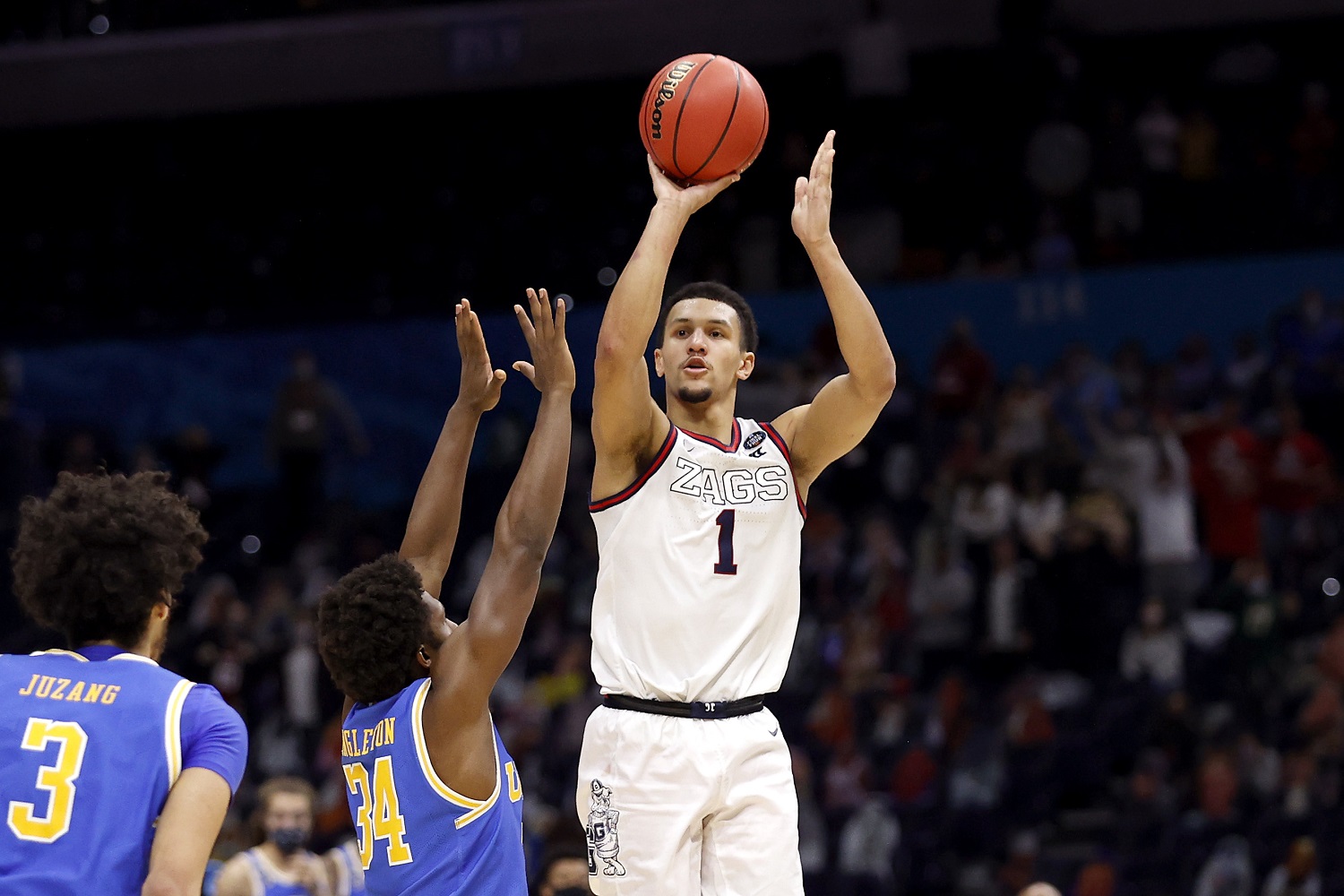 First, a fun fact: The NCAA Tournament owes its "Big Dance" nickname to one of its most beloved coaches. Marquette's Al McGuire wore a blue blazer during much of the Warriors' 1976-77 championship season. When asked if he planned to wear it during the NCAA Tournament, too, McGuire replied, "Absolutely. You gotta wear the blue blazer when you go to the big dance."
The 2021 edition of The Big Dance concludes in Indianapolis with Gonzaga taking on Baylor for the championship.
Gonzaga (31-0), coached by Mark Few, won the West Region and then reached the championship game with a 93-90 victory over UCLA on Jalen Suggs' buzzer-beating 3-pointer in overtime. Suggs, Drew Timme, and Corey Kispert are in pursuit of the perfect finish to a perfect season.
Baylor (27-2), coached by Scott Drew and playing in its first final since 1948, rolled into the final with a 78-59 victory over Houston. The Bears' guard trio of Jared Butler, MaCio Teague, and Davion Mitchell scored in double figures in the semifinals.
Jalen Suggs has had a strong freshman season
Landing Jalen Suggs out of West St. Paul, Minnesota, constituted a coup for the Gonzaga men's basketball program, which had never landed a player rated as high as No. 5 on ESPN's annual list of recruits. Suggs averaged 23.5 points and 5.1 assists as a senior at Minneahaha Academy, according to his Gonzaga profile.
He finished with 2,945 career points and three state titles on his way to becoming the first Minnesota athlete to win the Mr. Football and Mr. Basketball awards in the same year. Suggs also represented his country. Playing for Team USA, he won gold at the 2019 FIBA U19 World Cup, 2018 FIBA U17 World Cup, and 2017 FIBA Americas U16 Championship.
At Gonzaga, Suggs was everything the Bulldogs could have wanted from a freshman. Playing a touch under 29 minutes a game, he averaged 14.1 points and 4.6 assists. His heroic 3-pointer from 40 feet just ahead of the overtime buzzer gave Suggs 16 points in the 93-90 victory over UCLA in the NCAA Tournament semifinals.
Jalen Suggs attended a Sadie Hawkins dance with Paige Bueckers
Minnesota churns out a phenomenal number of hockey prospects each year thanks to its long winters and numerous facilities. The state had a bumper crop of national-level basketball talent in the Class of 2020, too. Three thousand miles apart, Jalen Suggs was starring for the Gonzaga men and Paige Bueckers was leading the UConn women to the women's NCAA Tournament semifinals.
They grew up near each other in Minnesota and met in fourth grade before excelling locally in AAU and high school ball and also representing the United States in international basketball.  Bueckers attended some of Suggs' football games and he often showed up at her basketball games. According to the Washington Post, Suggs even accepted Bueckers' invitation to a Sadie Hawkins dance in her junior year.
The paper also recounted the story of how their AAU teams got together for a scrimmage, with Suggs and Bueckers going head-to-head. Mia Curtis, Suggs' cousin and Bueckers's AAU teammate, said the trash talk was epic before, during, and after the contest. The action was even better.
"They would guard each other, so you'd get some of that one-on-one action," she said. "They were both coming to play. They both took over on their end of the floor. Sometimes you had to just stand by and watch. It was awesome."
Like Sportscasting on Facebook. Follow us on Twitter @sportscasting19.