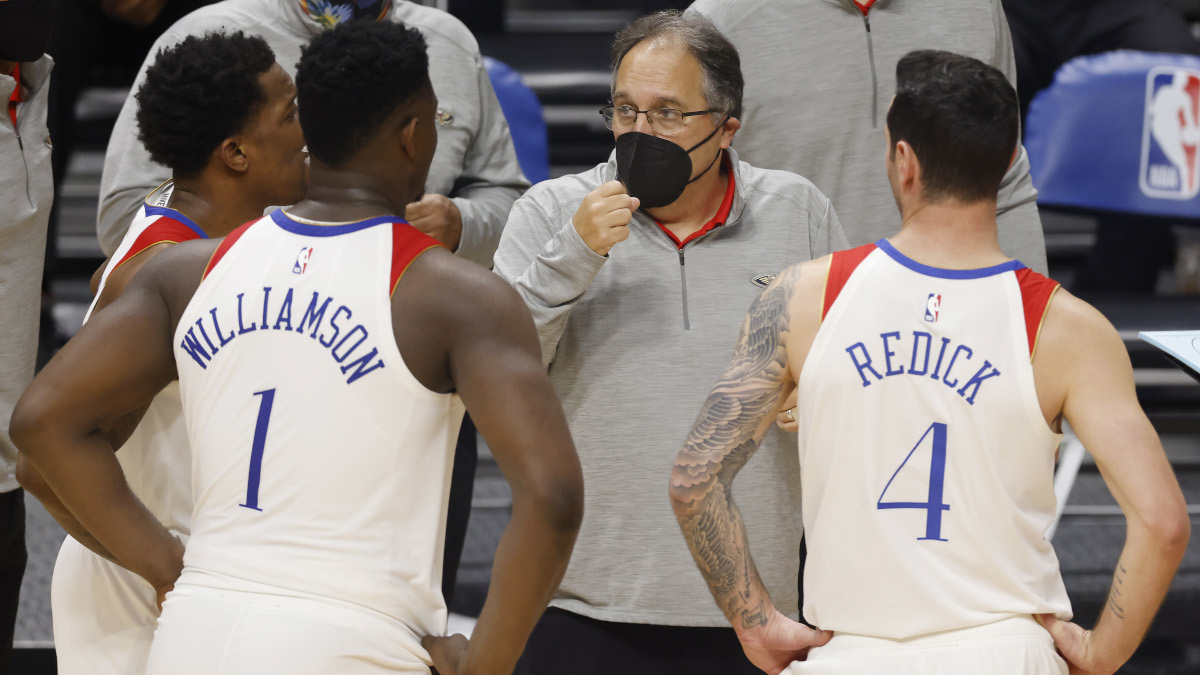 JJ Redick Blasts Former Teammate Zion Williamson for Being 'Detached' From Pelicans
JJ Redick blasted fellow Dukie Zion Williamson for his detached demeanor toward his teammates with the New Orleans Pelicans.
New Orleans Pelicans guard CJ McCollum was at All-Star Weekend in Cleveland. The 30-year-old guard represented the team he'd been with for less than two weeks in the Three-Point Shootout. McCollum stunned the NBA world when revealing he hadn't talked to presumed franchise player Zion Williamson. However, JJ Redick turned the volume to 11 when he roasted Williamson during a television appearance.
Redick and Williamson were teammates in the Big Easy for parts of two seasons. They are also part of the notoriously close-knit lineage of Duke University players to go onto the NBA.
Blue Devil-on-Blue Devil crime was not what anyone expected on Feb. 22. But here we are.
Zion Williamson reached out to his new teammate after the interview
According to a tweet from ESPN's Malika Andrews, Zion Williamson spoke to McCollum over All-Star Weekend.
That conversation took place after McCollum told TNT's NBA Tip-Off crew on Feb. 19 that he had yet to talk directly to the Pelicans' young star.
Per Christian Clark of NOLA.com via Twitter, McCollum said, "I know about as much as you do right now. But I'm going to get to the bottom of it."
It was 11 days after the trade that sent the eight-year veteran from the Portland Trail Blazers to New Orleans. Considering it was a high-profile addition, it is almost inconceivable that Williamson wouldn't have reached out sooner.
The first overall pick in the 2019 NBA Draft hasn't played this season after breaking a bone in his right foot during the offseason. Williamson left the team to rehab in Portland. Reports circulated before the All-Star break that the 21-year-old All-Star might require another surgical procedure to repair the foot.
But JJ Redick says it's more than just a recent development. He claims Williamson has always been distant.
JJ Redick put Zion Williamson on full blast
During an appearance on ESPN's First Take, longtime NBA guard JJ Redick couldn't believe that the star of the Pelicans, Zion Williamson, hadn't bothered to make contact with McCollum, a respected veteran who is also president of the National Basketball Players Association.
"This is something I addressed with Zion in front of the team," Redick said. "This is going back to his rookie year, … a pattern of behavior with Zion that we are seeing again and again. I was his teammate; I can describe him as a detached teammate, that is an accurate statement."
Not every player leads from the front. But Redick accused the young star of violating a vital tenet as a team member.
"There's a responsibility that you have as an athlete when you play a team sport to be fully invested," Redick said. "You're fully invested in your body, you're fully invested in your work, and you're fully invested in your teammates. That is your responsibility, and we have not seen that from Zion."
Williamson has played only 85 games in three seasons since the Pelicans tabbed him to replace Anthony Davis as the face of the franchise. In his one healthy campaign in 2020–21, he averaged 27.0 points, 7.2 rebounds, and 3.7 assists a game en route to his first All-Star selection.
Redick's message is troubling, considering New Orleans is working under a tight deadline regarding their star.
The Pelicans have a huge decision to make regarding their future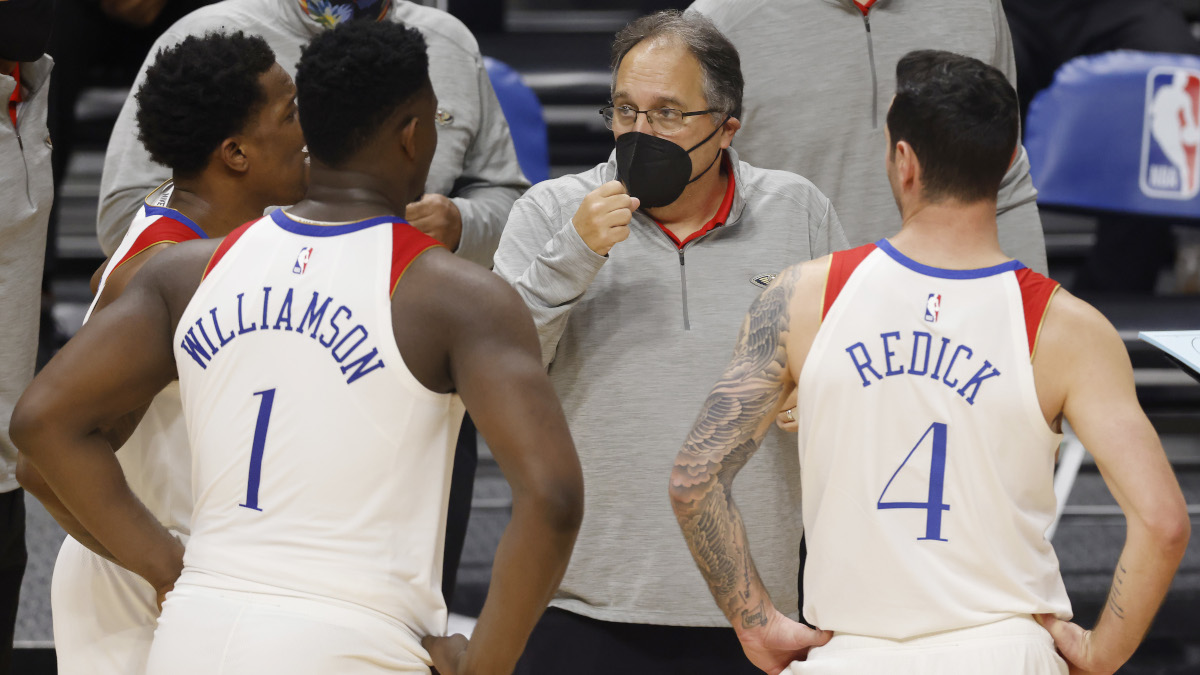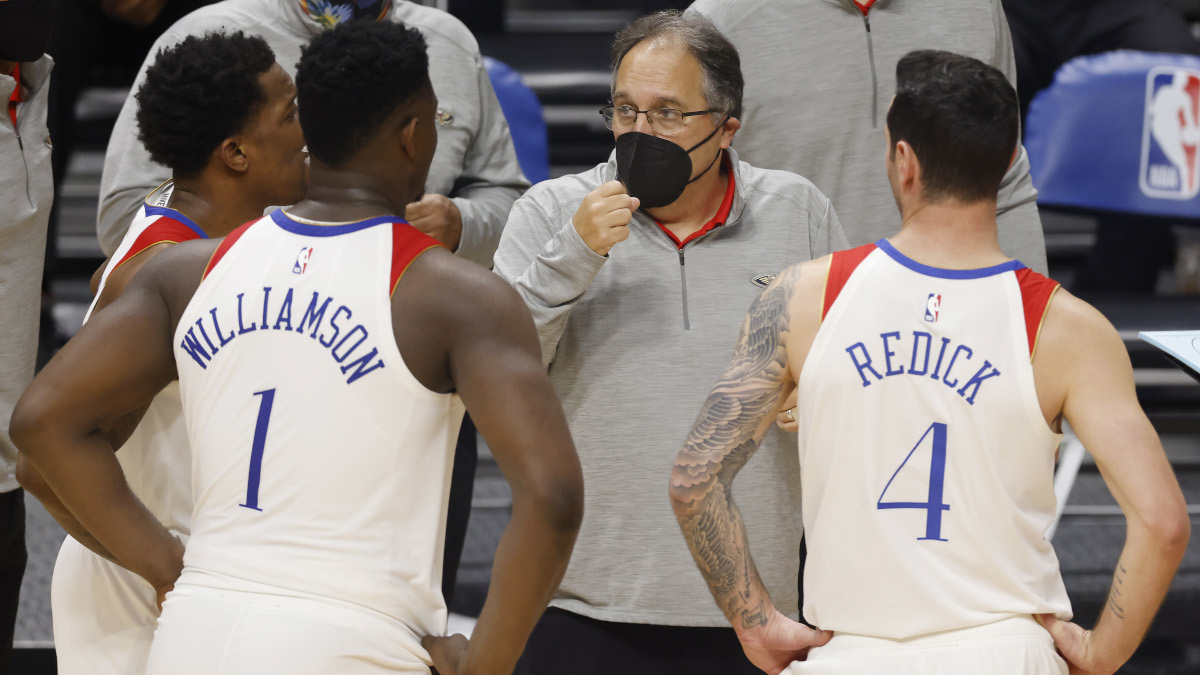 Zion Williamson is in the third year of his rookie contract. That means that come July 1, he's eligible for a rookie extension of up to $181 million over five years.
Since 2008, only two No. 1 overall picks didn't get an extension to their rookie contracts. Anthony Bennett, taken first overall by the Cleveland Cavaliers in 2013, didn't make it to the end of his rookie deal. Traded after his rookie year, the Minnesota Timberwolves waived Bennett before his third season began.
The other top pick snubbed was Phoenix Suns center Deandre Ayton. The clock ran out before the player at the top of the 2018 draft could reach a deal last fall with the Suns. The deadline for rookie extensions is the day before the player's fourth NBA season begins.
Without an extension in place, New Orleans can retain their rights to Williamson by extending a $17.6 million qualifying offer in 2023 to make him a restricted free agent.
If they can't entice him to remain with the Pelicans, the more likely scenario is a trade, either next summer or before the deadline in February 2023. The nightmare scenario for NOLA is to lose Williamson with nothing in return.
While Zion Williamson claims he loves New Orleans and wants to be there, his actions indicate otherwise. If it is a pattern of behavior, as JJ Redick claims, there will be some difficult conversations in the future for the Pelicans.
Statistics courtesy of Basketball Reference. Contract information courtesy of Spotrac.