JJ Redick Finally Plays Defense and Shuts Down Kendrick Perkins
Give JJ Redick credit. The former NBA guard speaks his mind, no matter the topic. A week after taking some serious heat for his comments on Larry Bird and 1980s basketball, Redick came out firing again.
On Tuesday, he battled with the big boys, challenging Kendrick Perkins for his comment that implied MVP voters in the NBA are racially biased. Redick had enough of the nonsense and called Perkins out in front of Stephen A. Smith during an episode of ESPN's First Take.
JJ Redick blasts Kendrick Perkins over racial bias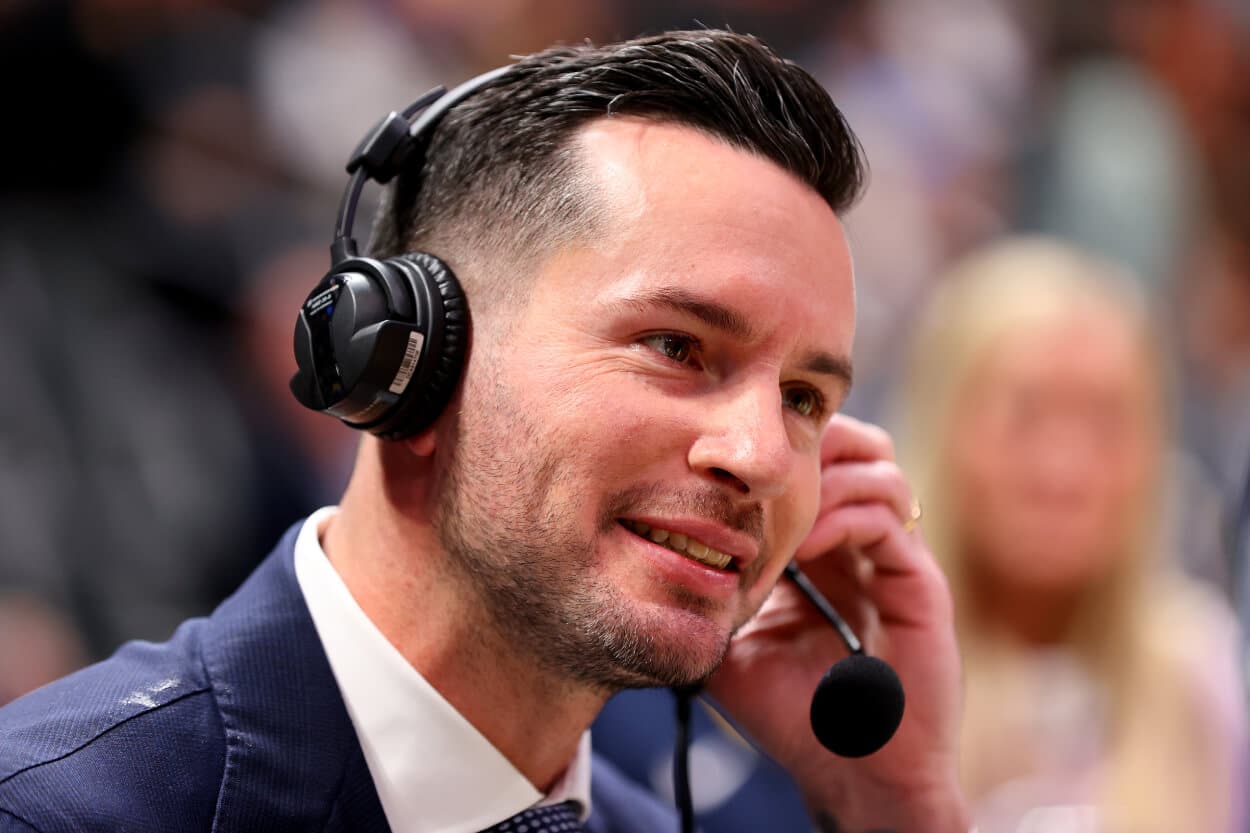 Redick has always had a way of getting under someone's skin. Arguably the most hated player to ever come out of Duke, Redick angered many last week when he said Bird can't be considered one of the greatest three-point shooters and that Bird's era was no more physical than today's game.
A 15-year NBA veteran who's considered a one-dimensional player with a solid three-point shot, Redick got defensive against Perkins' recent comments regarding white MVPs in the NBA. Last week on First Take, Perkins spoke about Jokic, the Denver Nuggets center in line for his third straight MVP. Perkins said Jokic, Dirk Nowitzki, and Steve Nash were the only players since 1990 to have won an MVP without finishing in the top 10 in scoring that season.
"What do those guys have in common?" Perkins asked. "I'll let it sit there and marinate. You think about it." 
On Tuesday, Redick didn't hold back and defended those voting for Jokic as MVP.
"Stephen A., I mean no offense to you," Redick said. "I mean no offense to First Take. Because I think this show is extremely valuable. It is an honor to be on this desk every day. It really is, but what we've just witnessed is the problem with this show — where we create narratives that do not exist in reality.
"The implication, what (Perkins is) implying, that the white voters that vote on NBA are racist. That they favor white people."
Perkins seemingly tried to deny that was his implication, but Redick wouldn't have it.
"You just said that," Redick yelled back. "Yes, you did."
All Perkins could do was repeatedly yell, "I stated facts."
Perkins happy Redick addressed the "elephant in the room'
It's hard to tell if Perkins was stunned or just didn't have an intelligent response. Maybe Redick just caught him off-guard by venting. Perkins later gathered himself and calmly addressed Redick.
"JJ, I appreciate you brother," he said, per Awful Announcing. "Real talk, I appreciate you for challenging me on this whole conversation
"Because guess what? It's an uncomfortable conversation, but it was something that needed to be had because for the simple fact is, is this: This is how a lot of former African-American players have been feeling for decades now. So yes, it was brought up and yes, we went at it, but it was a conversation that we had.
"Someone had to address the elephant in the room and that was a conversation that needed to be had. But I appreciate you, brother. I'm good, long as you good."
Redick stated his case and said he respects Perkins' experience.
"Perk, you know I respect your experience I respect every former player's experience. I can't speak on that," Redick responded. "I understand what you're saying. We're always good."
What started as an awkward moment may have been a learning experience for both former players.