Joe Biden Shows He Has a Soft Spot for 1 Particular Milwaukee Bucks Player
The Milwaukee Bucks spent some time celebrating during a stretch in which they've won once in their last six games. The Bucks have been plagued by injuries and hit by the COVID-19 bug recently and are off to a 4-6 start. The team took to the White House on Monday, where it was greeted by President Joe Biden, who appears to have a soft spot for one particular player.
Joe Biden honored the Milwaukee Bucks at the White House on Monday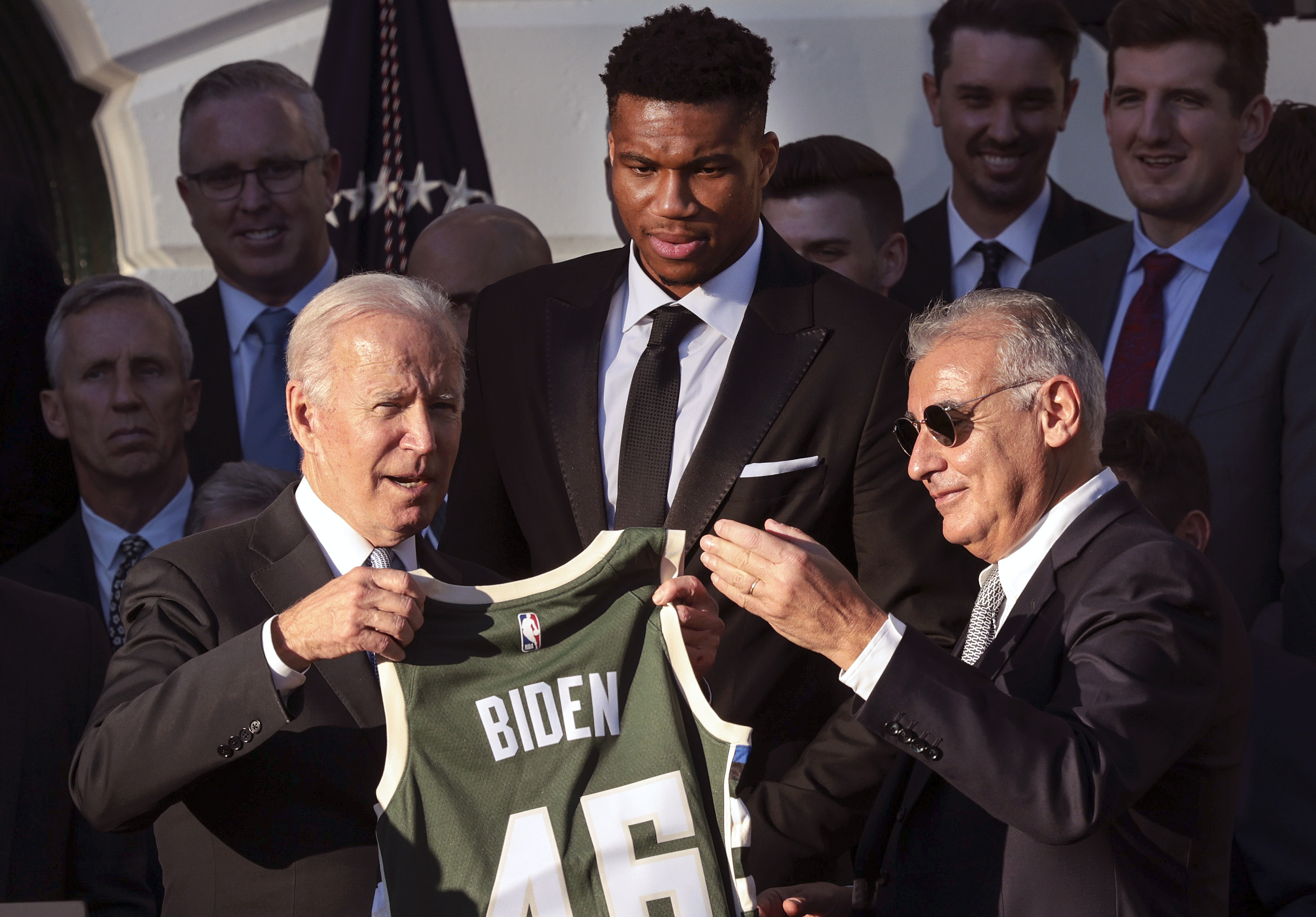 For the first time in five years, the NBA champions headed to the White House to celebrate their title. President Biden greeted the team with a warm welcome and praised the team both for its success on the court and for encouraging Americans to vote and get vaccinated.
"You represented yourselves and your families, your organization, and a great American city by staying true to who you are," Biden said. "You did the work in an offseason and during a grueling regular season."
Biden also acknowledged the team's perseverance after dropping the first two games in the NBA Finals. Milwaukee lost the first two games on the road against the Phoenix Suns only to win four straight. He also praised how well the Bucks worked together as a team.
"You never gave up," he said. "I watched. It was amazing how you came back. You always believed. Coach Bud (Mike Budenholzer), you got them to play as a team."
Joe Biden had a connection with Bucks guard Donte DiVincenzo
Biden joked around with the team during the ceremony. He pointed out that Bucks guard Jrue Holiday wasn't as good as his wife Lauren in the athlete department. Lauren Holiday is a former midfielder for the U.S. women's national soccer team.
Biden then singled out guard Donte DiVincenzo. Biden grew up in Delaware, as did DiVincenzo. DiVincenzo attended the Salesianum School in Wilmington and guided the team to two straight high school state championships. In 2015, he was named the state's player of the year.
The president spent extra time speaking about DiVincenzo, saying he must be used to these types of ceremonies because he won those two Delaware state championships.
"He won two state championships there," Biden said, according to ESPN. "So he's used to this stuff."
DiVincenzo was humbled by Biden's comments.
"It's a once-in-a-lifetime opportunity," DiVincenzo said. "It was a humbling experience, for one, to see somebody from Delaware in the presidency, and two, to be here with the team, win a championship, be here to celebrate that.
"To be singled out and talked about like that was a really humbling experience."
Biden also praised Bucks star Giannis Antetokounmpo
While Biden spent a few minutes solely on DiVincenzo, he certainly couldn't ignore the Bucks' two-time MVP Giannis Antetokounmpo.
Biden referenced Antetokounmpo's rise to stardom after spending his childhood as a poor child in Greece. The president spoke about the Greek Freak's hard work and determination that helped vault him into becoming one of the best players in the NBA.
"At just 26 years old, you're just getting started," Biden said of Antetokounmpo, per ESPN. "What makes it even more special is you won the title with your brother, who is here today. And you join another brother already with a ring. What a hell of a family.
"Sons living the dream of an immigrant family from Nigeria and then Greece in search of new opportunity. In struggles, they always dreamed. Brothers who once had to share the same basketball shoes, all five of them, before they got to the NBA."
No NBA team visited the White House since 2016 when LeBron James and the Cleveland Cavaliers went there with Barack Obama still in office. The Golden State Warriors and Toronto Raptors elected not to go. Last year, the pandemic caused problems for the Los Angeles Lakers.
In any case, the Bucks were happy to be there, and they're anxious to return.
"What the hell, why don't we come back for the next four years?" Bucks owner Marc Lasry said. "Let's do it for eight years."