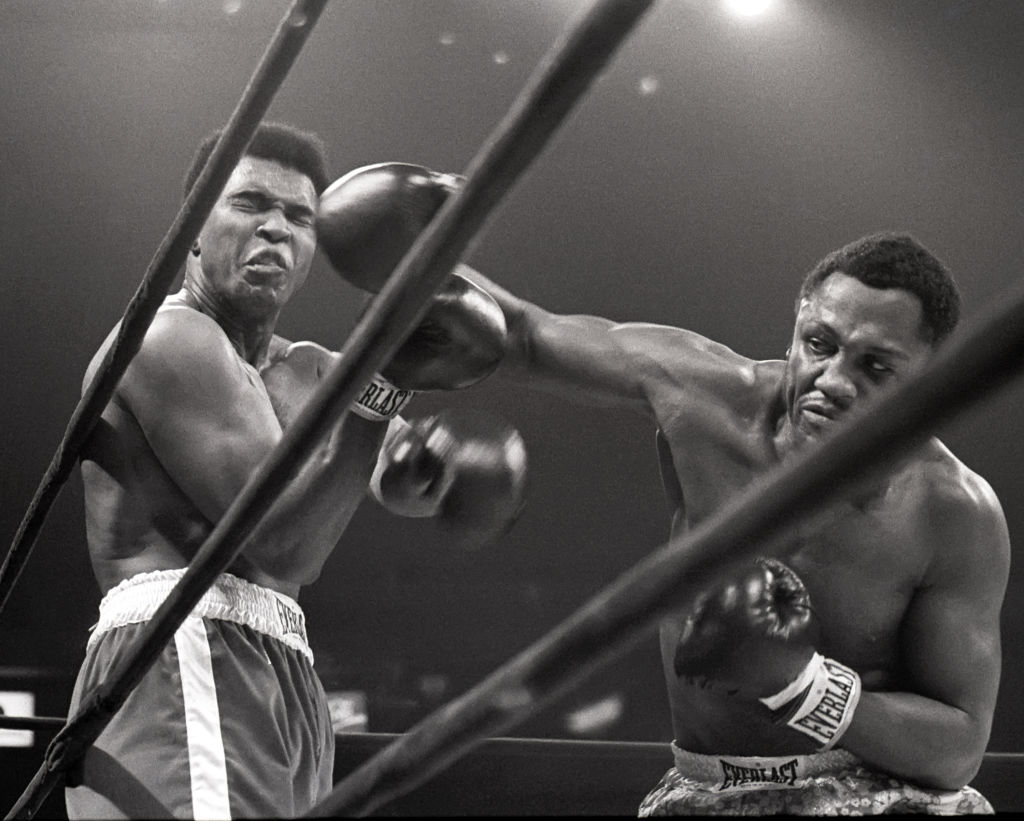 Joe Frazier Never Forgave Muhammad Ali for His Insulting Trash Talk
The rivalry between Joe Frazier and Muhammad Ali is legendary. Ali was known for his trash talk, but Frazier thinks he took things too far.
Joe Frazier is noted for being one of the most fearsome heavyweight boxing champions of all time. And, for people in his native South Carolina as well as his adopted home in Philadelphia, he was an immensely generous community figure. Yet it's impossible to mention him without also thinking of his primary rival: the trash-talking, in-ring genius that was Muhammad Ali.
Frazier and Ali's trilogy are still widely considered the greatest rivalry in the history of combat sports. Frazier was the mild-mannered, hard-hitting goldenboy. Ali was a pop culture heel, with ferociously unprecedented skills in the ring — especially for a heavyweight fighter. They butted heads as professionals, but their rivalry became personal, especially from Frazier's perspective. Let's explore how this came to be.
Who was Joe Frazier outside the ring?
"Smokin' Joe" Frazier was born in 1944 in Beaufort, South Carolina. This aligned with the period of the dire, systemically abusive circumstances of the Jim Crow south. He was food insecure to the point of malnourishment, and had only the most remote opportunities for economic mobility available to him.
Even a move to New York City to find work didn't do much to give Frazier hope. Opportunities for working-class African American men were nearly as limited.
According to Biography, he recognized boxing as one of the very few paths to something greater than a life of poverty. That was in 1959.
By 1964, his rapid development as a fighter landed him in the Summer Olympic Games. He remained quiet, humble, and respectful even as his outsized talents carried him to greater heights of success. But the other breakout heavyweight of his era, Ali, was his temperamental opposite.
How Muhammad Ali's cutting trash talk went beyond promotion for Joe Frazier
Ali had two distinct talents: a devastating defensive counter-punching style in the ring, and an even more brutal trash talk game everywhere else. At a time when African American public figures shied away from the heightened racial tensions of the era, Ali instead used every platform to highlight them. He regularly made talk show hosts squirm as he seemed to say exactly what was on his mind.
Frazier had a different approach. "We must save our people, and when I say our people, I mean white and black," Frazier once said at the South Carolina legislature. Ali reacted by calling Frazier an "Uncle Tom," and turned to pointed, political insults.
"I represent the truth," Ali said in response to Frazier's measured statements.
"The world is full of oppressed people, poverty people. They for me. They not for the system. All your black militants…all your hippies, all your draft resisters, they want me to be the victor."
Ali lost the first of his three legendary bouts with Frazier, but he came ahead in the next two. Those painful losses, as well as the major philosophical differences between the two fighters, led to a feud well beyond the confines of the ring. It hounded Frazier for the rest of his life.
The legacy of the Muhammad Ali/Joe Frazier rivalry
Frazier never let go of the deeply personal insults hurled at him by Ali. Up to his death in 2011, his bitterness toward his one-time rival only seemed to grow. Even as Ali softened, admitting that his bombastic style was all about promotion, Frazier only responded with increasing anger. The lines Ali crossed caused irreparable damage, as far as Frazier was concerned.
Ali nonetheless showed up to Frazier's funeral. "The world has lost a great champion. I will always remember Joe with respect and admiration," Ali said, as he lead the remembrances from non-family members. "My sympathy goes out to his family and loved ones."
Smokin' Joe might've exposed a darker side of his personality in response to Ali's nasty, personal promotional tactics. He held onto that bitterness until his final days. But the reliable gentleman, the prominent community figure, the generous soul who gave his time and money to total strangers, was the version of Joe Frazier that most people knew.