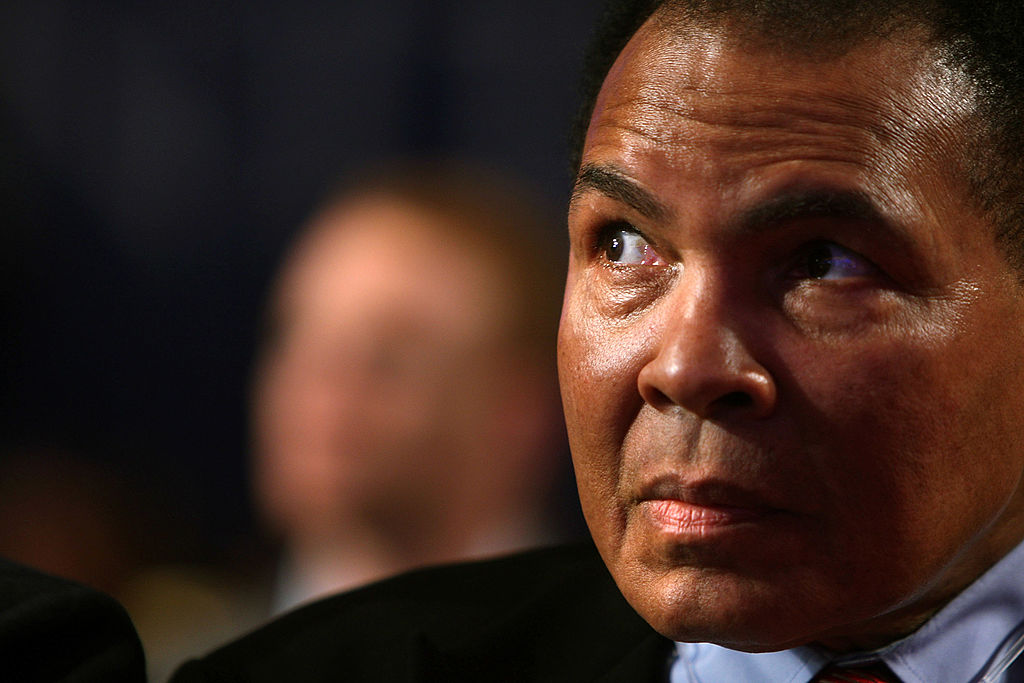 What Was Muhammad Ali's Net Worth at the Time of His Death?
Muhammad Ali is the most iconic boxer of all time. Ali's fascinating life was filled with ups and downs, but he wound up with an impressive bank account.
Muhammad Ali was probably the greatest boxer of all time. Not only was he a great boxer who fought and beat the likes of Sonny Liston and George Foreman, but he was also a prominent political activist as well. Here's a look at Ali's life as well as how much he was worth at his death.
Muhammad Ali's early boxing career
Like most heavyweight boxing greats, Ali's early career was marked by dominant wins and plenty of knockouts. Before he challenged Liston for the heavyweight title, Ali was undefeated at 19-0. He had racked up many knockouts but he also started distinguishing himself from other heavyweight boxers with his trash talk and his antics. 
Ali infamously annoyed Liston in public, asking him for a title fight. Eventually, they agreed to a fight and Ali beat Liston so badly that Liston threw in the towel in the sixth round.
Ali continued dominating his opponents up until 1967, when he was charged for dodging the draft for the Vietnam war. Ali was stripped of his boxing license, and so, he started working in other ventures instead.
Politics and bigger fights
Since Ali couldn't box professionally anymore, he started participating more heavily in the civil rights movement. Ali gave speeches and he talked to people and to the media about his thoughts and his beliefs. Ali used his natural charisma that he showed from his trash-talking to help convince others of his beliefs.
Eventually, his case was brought to the Supreme Court, which ruled in Ali's favor in a unanimous decision. Vindicated, Ali was free to fight professionally again, and so, he resumed his career. Ali continued to dominate until he fought Joe Frazier, who beat him in a unanimous decision. This was Ali's first loss, and it wouldn't be his last. 
After his loss to Frazier, Ali kept beating his opponents. That was until he fought Ken Norton, who beat him in a split decision. However, a few months later, the two men had a rematch, and Ali won that fight with a split decision. A few months after that, Ali had his rematch with Frazier, and Ali won with a unanimous decision. 
In his next fight, Ali fought George Foreman in one of the most famous boxing matches of all time, the Rumble in the Jungle. Foreman was a scary knockout artist at the time, and Ali had never been knocked out.
But, Ali floated like a butterfly and knocked Foreman out. From that point on, Ali continued beating everyone in his path, including the two men who had beat him before, Frazier and Norton. 
Muhammad Ali's retirement, death, and net worth
But eventually, Ali's career came to an end. He was almost 40 and he had lost against the top-ranked heavyweights of the day, Larry Holmes and Leon Spinks. Ali hung up his gloves and retired.
In his retirement, Ali pursued a life in showbiz but he also continued his work in politics and philanthropy. However, like many boxers, despite his elusive and defensive style, Ali took too many punches to the head. Ali suffered from brain injuries that would eventually kill him.
But, unlike many athletes who got rich and spent all of their money, Ali didn't die broke. Ali did have money problems, but he worked his way out of them. Ali's business ventures, as well as the millions that he made from his long and lucrative boxing career, helped keep him afloat in his later years. 
When Ali passed away in 2016 at the age of 74, Ali was estimated to have a net worth of about $50 million.