Joe Gibbs Responds to Kyle Busch Recent Remarks Critical of Him and Addresses How Driver's Time With Organization Is Coming to Sour End 
Kyle Busch didn't have very kind words to say about Joe Gibbs in a recent episode of Race for the Championship. Gibbs has responded to those comments in an unsurprising way.
Kyle Busch races for Joe Gibbs Racing one final time this weekend at Phoenix. In his 15 years with the organization, he's won 56 times, including a pair of championships, and made a lot of wonderful memories. 
But it's undeniable things are ending on a sour note. Busch admitted as much recently on the NASCAR docuseries Race for the Championship, where he was especially critical of the team owner. This week, the NASCAR Hall of Famer met with reporters to talk about the upcoming Championship 4 race in Phoenix, with Christopher Bell vying for the title. He was asked about how it's all ending with JGR's most successful driver and provided an unsurprising response. 
Kyle Busch critical of Joe Gibbs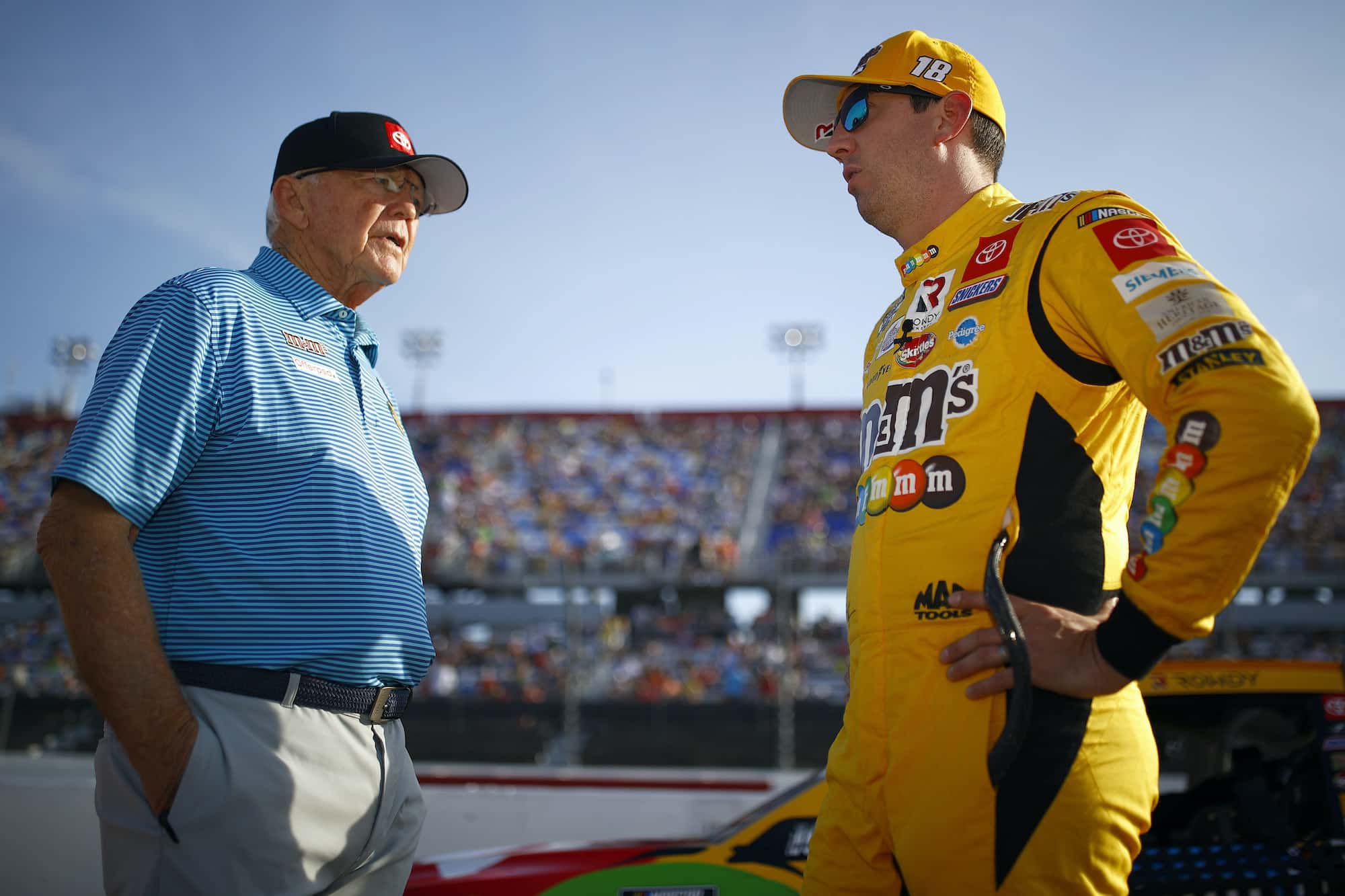 Since Kyle Busch announced that he had signed with Richard Childress Racing for 2023 in mid-September and was eliminated from the playoffs a few days later, he's remained relatively quiet. No more press conferences and answering questions about his future.
However, in a recent episode of Race for the Championship, fans got a behind-the-scenes glimpse of what it was like for Busch before he decided to join RCR. At one point in the show, Busch sat with his wife, Samantha, and the pair discussed the driver's future with Kyle Busch Motorsports president Mike Verlander, who told him he gets to decide where he wants to end his career.  
"It would be nice not to go through this again. This sucks," Busch said. 
"It's like beyond me that we're even going through this," his wife said. "I never thought we'd go through this."
"Not from all the words that we were given for years of 'You're our guy,' 'You're our franchise,' 'You're going to retire here,' all that sort of stuff," he said. "So those were a lot of — what do you call it — false promises or whatever. That's the scary piece."
The future Hall of Famer wasn't done. Several minutes later, he opened up about the disappointment of how it all ended and took a parting shot at the team owner. 
"Something is so disappointing to me and so hurtful about this whole situation with JGR is they were like family," Busch said. "For 15 years, Joe had my back in the stupidest of moments that Kyle Busch was, like he was there for me. And it's gone. Like it just flipped. And gone. And it's like nothing I've ever been a part of."
Gibbs responds to Busch
This week before the Championship 4 race in Phoenix, Joe Gibbs met with reporters to talk about the race and the chances of the No. 20 team to bring home the title. During that session, the 81-year-old former coach was asked about the rawness of Busch's comments from the show and when he thought the relationship between the pair might get back on better terms. 
"I think Kyle over this last year has really — we've had great times, we've had a great 15 years," Gibbs said. "Over this last year, it's really been hard on both sides. We tried extremely hard to get everything put together so we could stay together, and we just weren't able to get that done, and so that was a lot of work, stress, trying to go through that.
"This has really been a tough year, I think for him and us. So we hate that. I think he's found a good home, and I think he and Richard will get along great. I think he's going to — I don't want to race against him because he's going over there to a good car, and I know how talented he is. And so, really and truly, we experienced something really special, 15 years, and I wish him and Sam the absolute best as we go forward."
Gibbs's response can be viewed in one of two ways: either he's taking the high road, or he's avoiding the question and doesn't know if he and the driver will ever be on good terms after the way it all ended. In either case, you can be pretty sure how Busch views it all. 
Have thoughts on this topic? Keep the conversation rolling in our comments section below.