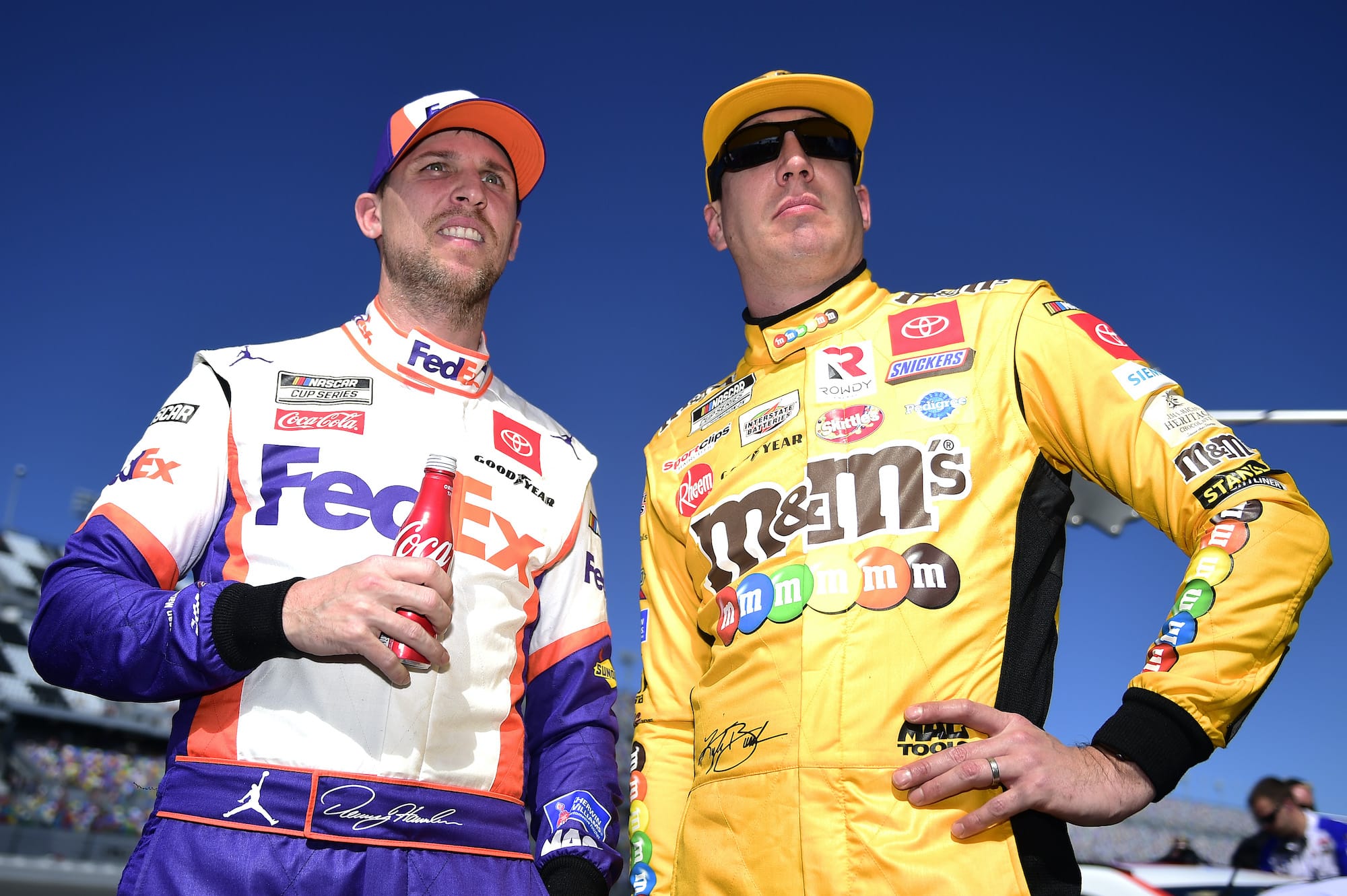 Denny Hamlin Makes Surprising Remark That Kyle Busch Breakup With Joe Gibbs Racing Is Due to Off-Track Behavior
Denny Hamlin bluntly admitted to Danica Patrick on her podcast that Kyle Busch isn't leaving Joe Gibbs Racing because of his on-track performance but his off-track antics.
Denny Hamlin knows Kyle Busch better than most drivers in the Cup Series garage. That happens when you've been teammates for 15 years at Joe Gibbs Racing. But that working relationship comes to an end in just a couple of races, with the two-time champion moving to Richard Childress Racing in 2023. 
During a recent appearance on Danica Patrick's podcast, the three-time Daytona 500 winner discussed the relationship with his soon-to-be-former co-worker and echoed what he had said in the past about how Busch had made him a better driver. However, at one point during the interview, Hamlin talked about Busch's attitude and made a revealing remark about how it was a reason for the breakup with JGR. 
Kyle Busch says Joe Gibbs flipped
Since Kyle Busch announced he was leaving for RCR in September, he's been quiet. No more weekly press conferences necessary to address his future. Interestingly, a recent episode of the NASCAR docuseries Race for the Championship featured the 37-year-old driver and provided a behind-the-scenes glimpse of what it was like during the middle of the negotiations.
"It would be nice not to go through this again. This sucks," Busch said to his wife Samantha and Kyle Busch Motorsports president Mike Verlander.
"It's like beyond me that we're even going through this," Samantha replied. "I never thought we'd go through this."
"Not from all the words that we were given for years of 'You're our guy,' 'You're our franchise,' 'You're going to retire here,' all that sort of stuff," the driver said. "So those were a lot of — what do you call it — false promises or whatever. That's the scary piece."
Surprisingly, that wasn't all Busch had to say. Several minutes later, he discussed the disappointment of how it all ended, and specifically called out Joe Gibbs.
"Something is so disappointing to me and so hurtful about this whole situation with JGR is they were like family," Busch said. "For 15 years, Joe had my back in the stupidest of moments that Kyle Busch was, like he was there for me. And it's gone. Like it just flipped. And gone. And it's like nothing I've ever been a part of."
Denny Hamlin confirms JGR tired of Busch's off-track behavior
Denny Hamlin has been a teammate with Kyle Busch for 15 years. In a recent appearance on Danica Patrick's Pretty Intense podcast, he talked about their relationship and addressed Busch's pending departure from the organization. During that interview, the 41-year-old made an interesting comment that confirmed, as Busch had suggested in the docuseries, Gibbs had changed his mind.  
"No one hates Kyle on the race track. No one is like, 'He's a dirty driver.' Everyone loves Kyle and what he brings to our sport on the race track," Hamlin told Patrick. "It's just off the race track that has been challenging for Kyle. I think that, honestly, this is why he's making probably another team move. The relationship with Hendrick and then with Gibbs didn't end because of his on-track performance. It really started to take its toll off the race track, I think for the race teams. It was tough." 
Kyle Busch has won four races in the last three seasons since he won the championship in 2019. That's a dramatic dropoff in performance. While Hamlin's suggestion that Busch's on-track results weren't the main reason for him leaving JGR, they certainly didn't help.
Moving to RCR gives the future NASCAR Hall of Famer an opportunity for a fresh start. And you can bet it will provide him with plenty of motivation to prove that he's still got the ability win races and, more significantly, that JGR officials made the wrong decision. 
Have thoughts on this topic? Keep the conversation rolling in our comments section below.