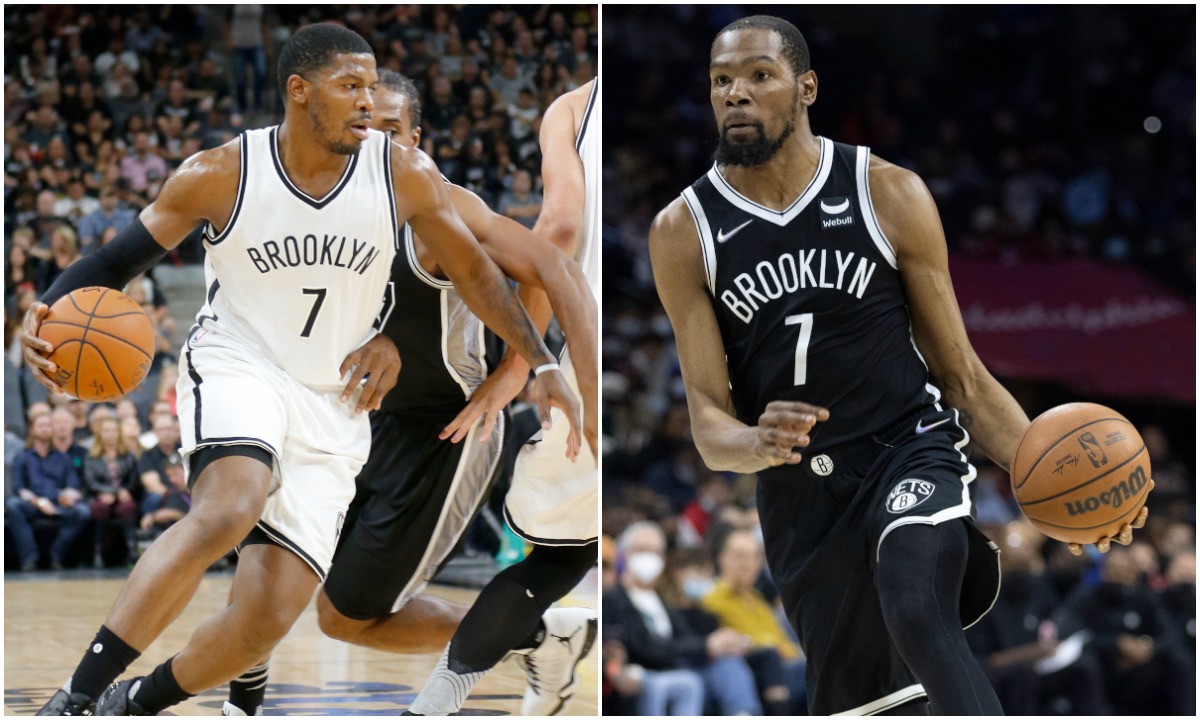 Joe Johnson Has a Hilarious Message for Kevin Durant About Their Shared Jersey Number
Joe Johnson doesn't want to be forgotten when the Brooklyn Nets invariably retire the No. 7 jersey of Kevin Durant. Johnson also donned No. 7 while he was in Brooklyn from 2013-16.
The Brooklyn Nets have been around in some form since 1967. Over those 54 years, they've retired only six jersey numbers. None of those are players from their Brooklyn era, which is understandable considering it only began in 2012. But one player who had a nice, if short, run with the Nets after the move to Brooklyn is already conceding his number will go into the rafters. Just not for him. No, Joe Johnson is already making requests of Kevin Durant about their shared No. 7.
Three of the six numbers retired honor players from the franchise's early days in the American Basketball Association. The Nets won ABA titles in 1974 and 1976 and honored three players from those teams. Julius Erving won or shared the last three ABA MVP awards, and his No. 32 is out of circulation despite spending only three seasons with the franchise. Bill Melchionni and John Williamson are the others. From their 45 NBA seasons, the Nets have honored Drazen Petrović, Jason Kidd, and Buck Williams.
Joe Johnson earned All-Star status for the Nets
The Brooklyn Nets swung a massive trade to land Joe Johnson before their inaugural season in Brooklyn back in 2012. Brooklyn sent five players and two draft picks to the Atlanta Hawks to get Iso Joe, an All-NBA selection in 2009–10.
Johnson was an All-Star for the Nets in 2014, when he averaged 17.4 points per game. His numbers fell off after that, and Brooklyn sent him packing with a buyout. In four seasons with Brooklyn, Johnson averaged 14.7 points, 3.8 rebounds, and 3.4 assists in 34.5 minutes per game, shooting 43.2% overall and 37.8% from 3-point range.
It's hardly the stuff of jersey retirement. Then again, the Nets franchise hasn't had many opportunities to celebrate great players. At least until recently. The arrival of Kevin Durant is part of a new era for the franchise.
Kevin Durant is the best player to come to Brooklyn
Since entering the NBA in 1976, no Brooklyn, New Jersey, or New York Net has won NBA MVP honors. In fact, of the 510 players to appear in at least one game in a Nets jersey, only five have MVP credentials. Kevin Durant is one of those, winning with the Oklahoma City Thunder in 2013–14. The others are James Harden (Houston Rockets, 2016–17), Kevin Garnett (Minnesota Timberwolves, 2003–04), Erving (Philadelphia 76ers, 1980–81), and Bob McAdoo (Buffalo Braves, 1974–75).
Durant still has more to do before his No. 7 hangs in the Barclays Center with the other retired jerseys. His out-of-this-world playoff performance in 2021 aside, he's played only 35 games and 1,157 minutes in the regular season for the Nets (ranking tied for 305th and 227th, respectively, in franchise history).
But Joe Johnson already has a request for the Nets and Durant regarding the future date when KD's jersey heads toward the ceiling, per a tweet retrieved by Billy Reinhardt of Nets Daily:
"When that (No. 7) go up in the rafters, tell them to put Big ISO in the tag or summin' … naw fr tho. …"

Joe Johnson
Johnson is 40 and is still hooping. In 2021, he led the Big 3 in scoring for a second time while also earning MVP honors. It was a second consecutive scoring title-MVP double for Johnson, who also won both in 2019 (the league did not play in 2020 due to the pandemic). His success in 2019 led to a preseason look from the Detroit Pistons. Johnson was the team's final cut before the regular season.
Joe Johnson had some playoff success in Brooklyn, but nothing like Kevin Durant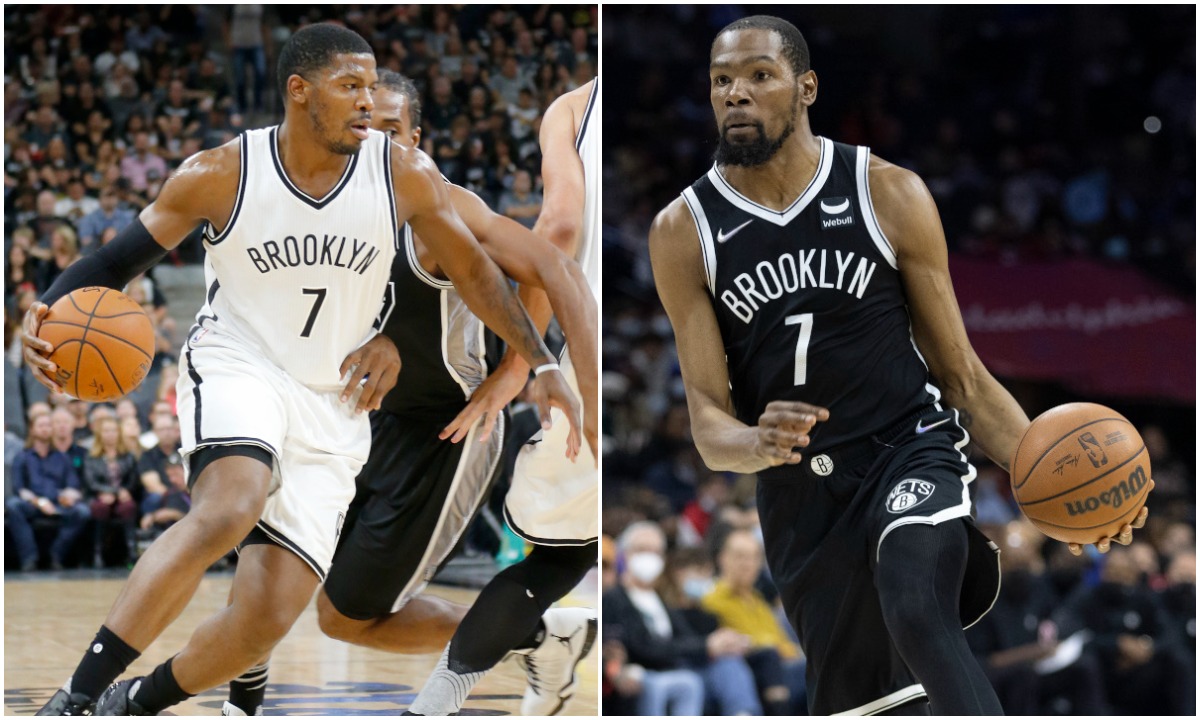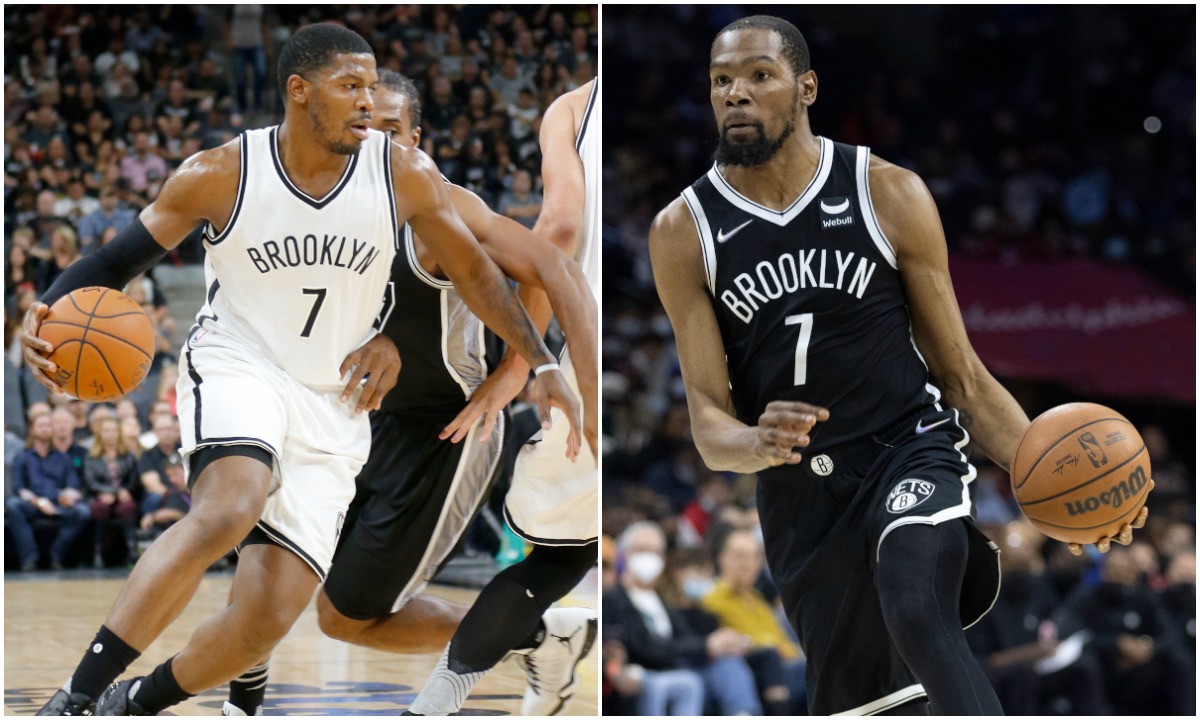 In four playoff series with the Nets from 2013–15, Johnson did his best work in 2014. He averaged 21.9 points in a seven-game victory over the Toronto Raptors in the first round. He then managed 20.2 a night as the defending champion Miami Heat dismantled Brooklyn in the Eastern Conference semifinals.
But in 2021, Kevin Durant set a playoff career-high by averaging 34.3 points per game in 12 postseason contests for the Nets. He added 9.3 rebounds, 4.4 assists, 1.6 blocks, and 1.5 steals on a shooting split of .514/.402/.871. So he was reasonably OK overall.
In a losing effort against the Milwaukee Bucks in the conference semis, Durant went supernova, with averages of 35.4 points, 10.6 rebounds, 5.4 assists. 1.6 steals, and 1.1 blocks in 42.7 minutes per game.
Durant's contract with the Nets runs through 2025–26, so he'll have time to assemble a jersey-retirement-worthy resume. While Joe Johnson had his moments in Brooklyn, when No. 7 rises o the rafters, it will be an isolated event for Kevin Durant alone.
Statistics courtesy of Basketball Reference. and Big3.com. Contract information courtesy of Spotrac.