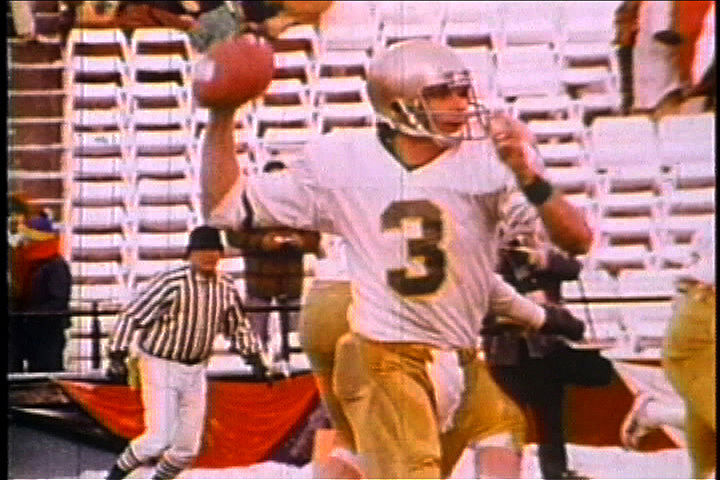 Joe Montana Will Never Join the College Football Hall of Fame
Joe Montana was a two-year starter at Notre Dame whose college career ended with a memorable comeback, but he's been denied an honor that many fans likely assumed he received long ago.
The older that football fans get, the better Joe Montana was in their minds as a quarterback at Notre Dame, the most fabled college football program in the land.
The reality, however, is that several comebacks early in his career and then one crazy game at the end contributed heavily to the perception that Montana was an NCAA great rather than just a very good signal-caller for the Fighting Irish.
Still, it seems odd that one very specific rule holds Montana back from an honor that fans likely assume he received years ago.
Joe Montana arrives at a program in transition
Joe Montana was recruited to Notre Dame out of Western Pennsylvania by legendary Fighting Irish coach Ara Parseghian and arrived on campus on the heels of the program's 1973 national championship. He sat out his first season in South Bend, after which Parseghian announced his retirement from coaching and was replaced by Dan Devine.
Rick Slager was the starting quarterback in 1975, but Montana showed flashes of brilliance in several relief appearances, including rallying Notre Dame from three touchdowns behind to edge Air Force, 31-30. Had it not been for a preseason shoulder injury that resulted in Montana redshirting, he could have challenged Slager for the starting job in 1976.
Montana was called upon to relieve Rusty Lisch in the third game of the 1977 season and rallied Notre Dame to a 31-24 victory over Purdue by throwing for 154 yards in the fourth quarter. That was enough to earn him the starting job the rest of the way. He would throw for 1,604 yards with 11 touchdowns and eight interceptions, but the key statistic was that the program posted just its second 11-win season ever.
A big finish for Joe Montana at Notre Dame
Joe Montana led Notre Dame to an 8-3 regular-season record in 1978, but the campaign was all but ruined by losses to Missouri and Michigan at the start of the schedule. Despite a last-minute loss to USC at the end of the regular season, the Fighting Irish were invited to play the University of Houston in the Cotton Bowl.
Without a doubt, Montana's farewell game is the one most college football fans remember. New Year's Day in Dallas was cold and windy, and Montana was being treated for symptoms of hypothermia at halftime. The medical staff warmed him with blankets and fed Montana chicken soup before allowing the fifth-year senior to return to the sideline late in the third quarter.
Montana rallied Notre Dame from a 34-12 deficit with 7:37 to play to a 35-34 victory by hitting Kris Haines for a touchdown as time expired. Joe Unis kicked the extra point, and the game would come to be labeled the "Chicken Soup Game."
Montana finished that season 141 of 260 for 2,010 yards. He threw for 10 touchdowns and was intercepted nine times.
Montana doesn't meet the College Football Hall of Fame standards
Joe Montana was an easy pick for the Pro Football Hall of Fame after quarterbacking the San Francisco 49ers to four Super Bowl championships and leading the NFL in completion percentage five times.
But the criteria for enshrinement in Canton, Ohio, differs from the standards of the College Football Hall of Fame, now located in Atlanta. Aside from boilerplate language, such as being out of the college sport for a decade and having a solid post-football record as a citizen, the College Football Hall of Fame requires candidates to have received major first-team All-America recognition in order to be considered.
And that's the stumbling block for Joe Montana. Though he went on to become one of the greatest NFL players ever, Montana was stuck behind a list of 1978 college quarterbacks who racked up big numbers and generally went on to obscure pro careers afterward.
Penn State's Chuck Fusina collected most of the major first-team honors that season, including selections by The Associated Press, United Press International, and the Football Writers Association of America.
Fusina shared the top QB honor from the American Football Coaches Association with Rick Leach of Michigan, and Washington State star Jack Thompson was the pick of The Sporting News.
Despite their first-team credentials, Fusina, Leach, and Thompson also have not been inducted.