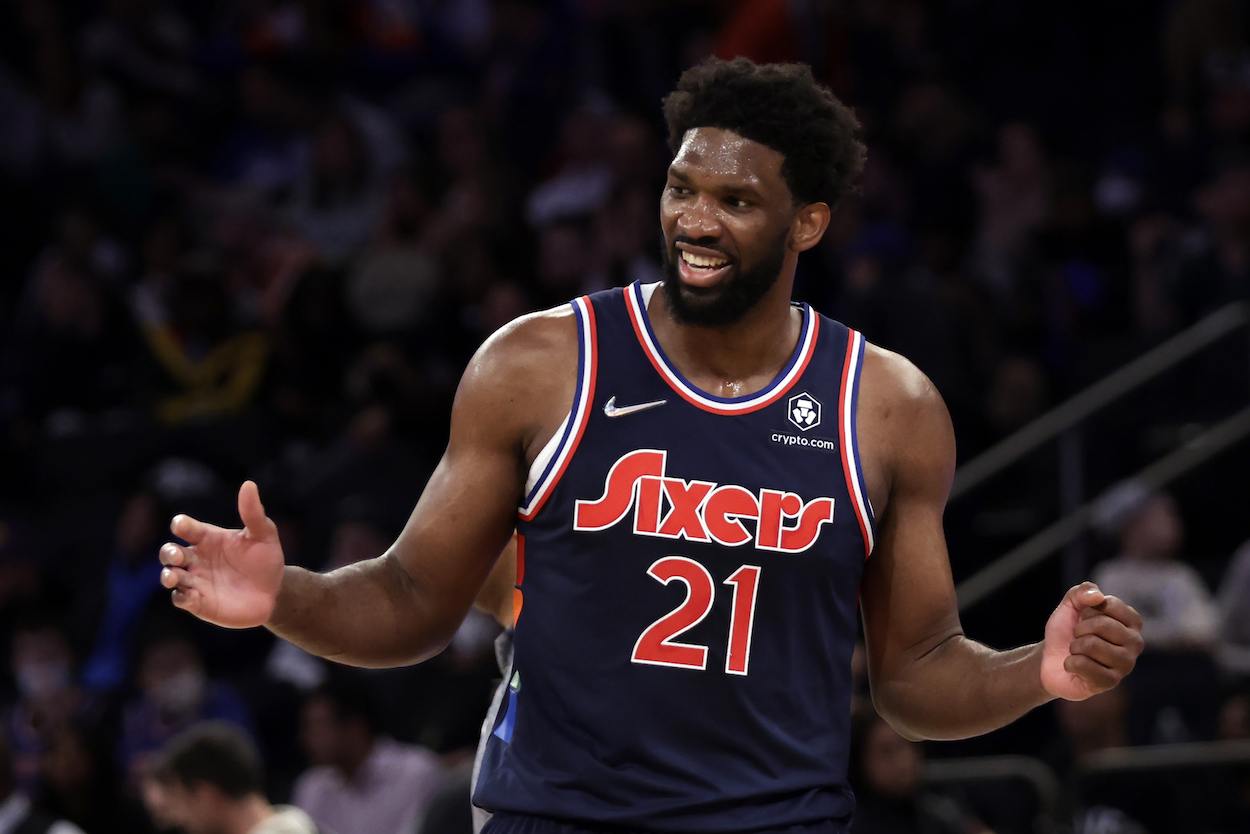 Joel Embiid Thought the 76ers Were Idiotic to Offer Him a $148 Million Contract
Joel Embiid is underpaid by every metric, but he thought the 76ers were crazy to offer him $147.7 million.
Joel Embiid has become a mega superstar in the NBA, but he's still the same quiet kid who came from humble beginnings in Cameroon. Growing up in Africa, Embiid never even dreamed of making millions of dollars as a professional basketball player.
The Philadelphia 76ers center has now made $132 million in the NBA, and he'll surpass $360 million in earnings by 2027. Embiid is still underpaid for how much he means to the franchise, but when the Sixers first offered him his $147.7 million contract in 2017, he thought they were "dumbasses."
Joel Embiid's life changed overnight in 2017
It wasn't smooth sailing for Embiid immediately after being drafted by the 76ers in 2014. The tantalizing prospect broke his foot in the same place two separate times and missed the first two seasons of his career.
At that point, the Sixers were worried they may have wasted a No. 3 overall pick. Pressure started to build leading up to Embiid's third year in the league. If he couldn't prove he was worth the risky draft selection while still under his rookie deal, his career could've taken a turn for the worst.
But in 2016-17, Embiid proved he was worth the wait. In just 33 games played that season, he convinced the 76ers to take yet another chance on him. The following October, he signed a five-year, $147.7 million contract extension to remain in Philadelphia until 2023.
Embiid had never even dreamed of that kind of money before, so when it hit him that he now had more money than he could spend in two lifetimes, he thought the Sixers were idiots for forking over that much cash.
"These dumbasses are going to give me $150 million?"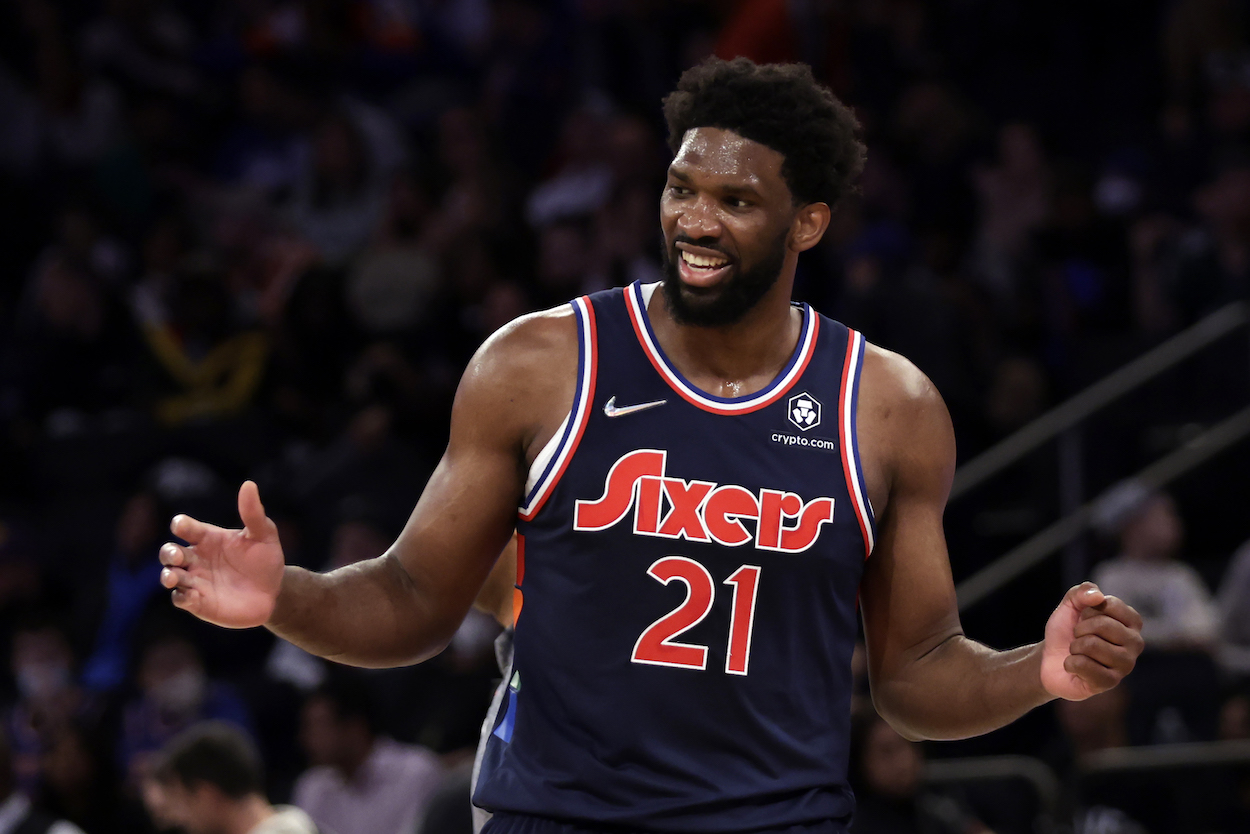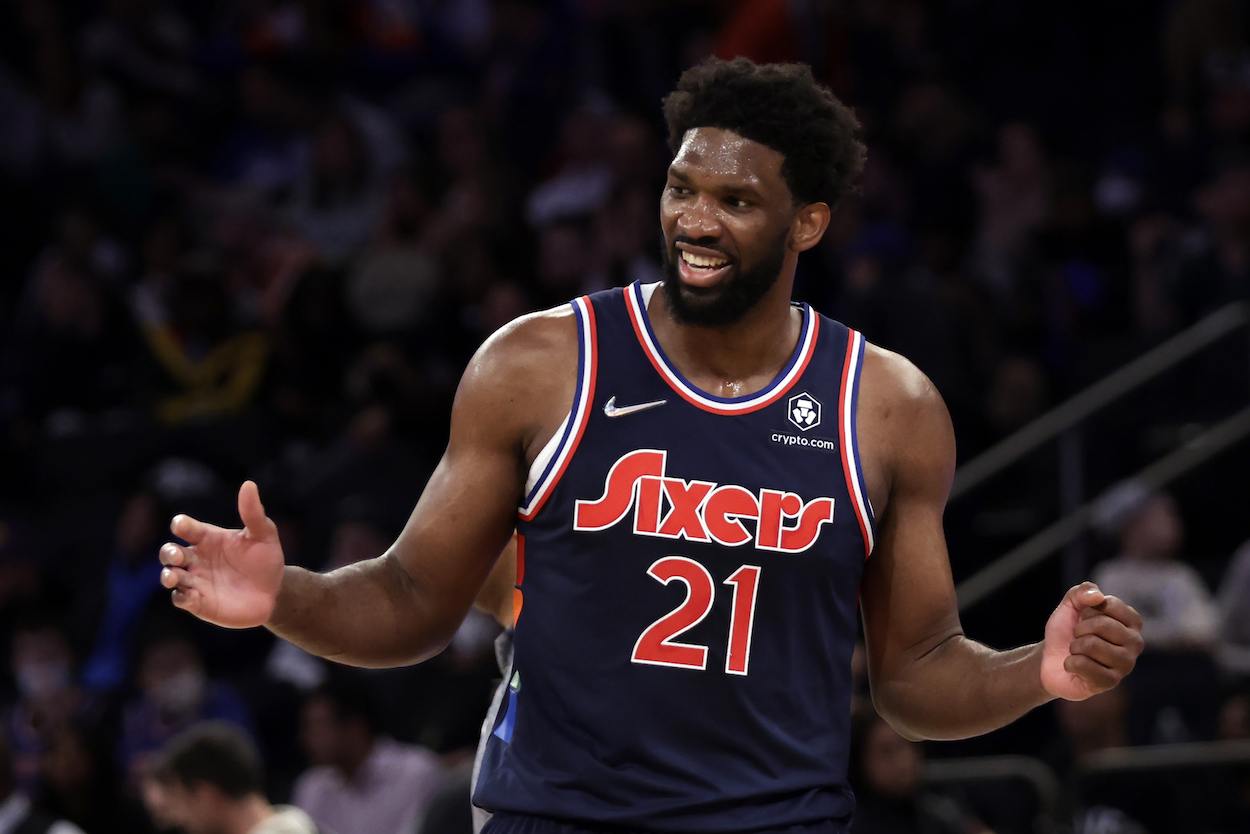 Embiid recently spoke to Chris Mannix of Sports Illustrated and reflected on the $147.7 million contract that changed his life forever. What he remembers most about that day is thinking the 76ers were making a grave mistake by giving him all that dough.
"I was like, 'These dumbasses are going to give me $150 million?'" Embiid said. "S***, I'll take it."
Embiid admitted to Mannix that he's still "embarrassed" by his massive contract, and he has no idea how he's going to spend it all.
"It's an insane amount of money," he said. "Not being from here, not growing up with all this, it's just kind of wild. I don't know what to do with it."
No matter what Embiid thinks, he's still underpaid
Embiid might not be able to comprehend the money he makes now, but by NBA standards, he's actually underpaid. At $31.6 million, Embiid's salary for the 2021-22 season is tied for the 25th-highest mark in the league. James Harden and Tobias Harris will both make more money than Embiid this season.
Considering he's a top-three MVP candidate and very well might win the award, Embiid's $147.7 million contract is really a bargain for the Sixers.
In 2023-24, Embiid's salary will jump to $43.7 million thanks to the $196 million contract extension he signed last year. The five-time All-Star will have a chance to pass $500 million in earnings by the end of his career.
No matter how much money he makes in the NBA, he'll be worth every last dime if he continues this level of play.
Like Sportscasting on Facebook. Follow us on Twitter @sportscasting19.