The Highest-Paid Player on the Philadelphia 76ers Surprisingly Isn't Ben Simmons or Joel Embiid
There's no question Ben Simmons and Joel Embiid are the two most valuable players on the Philadelphia 76ers roster. The two stars have combined for seven All-Star appearances and five All-Defensive Team nods, and the Sixers wouldn't be the perennial Eastern Conference contenders they are today without both players.
However, neither Simmons nor Embiid is the highest-paid player on Philadelphia's roster this season.
Ben Simmons and Joel Embiid are due more than $64 million this season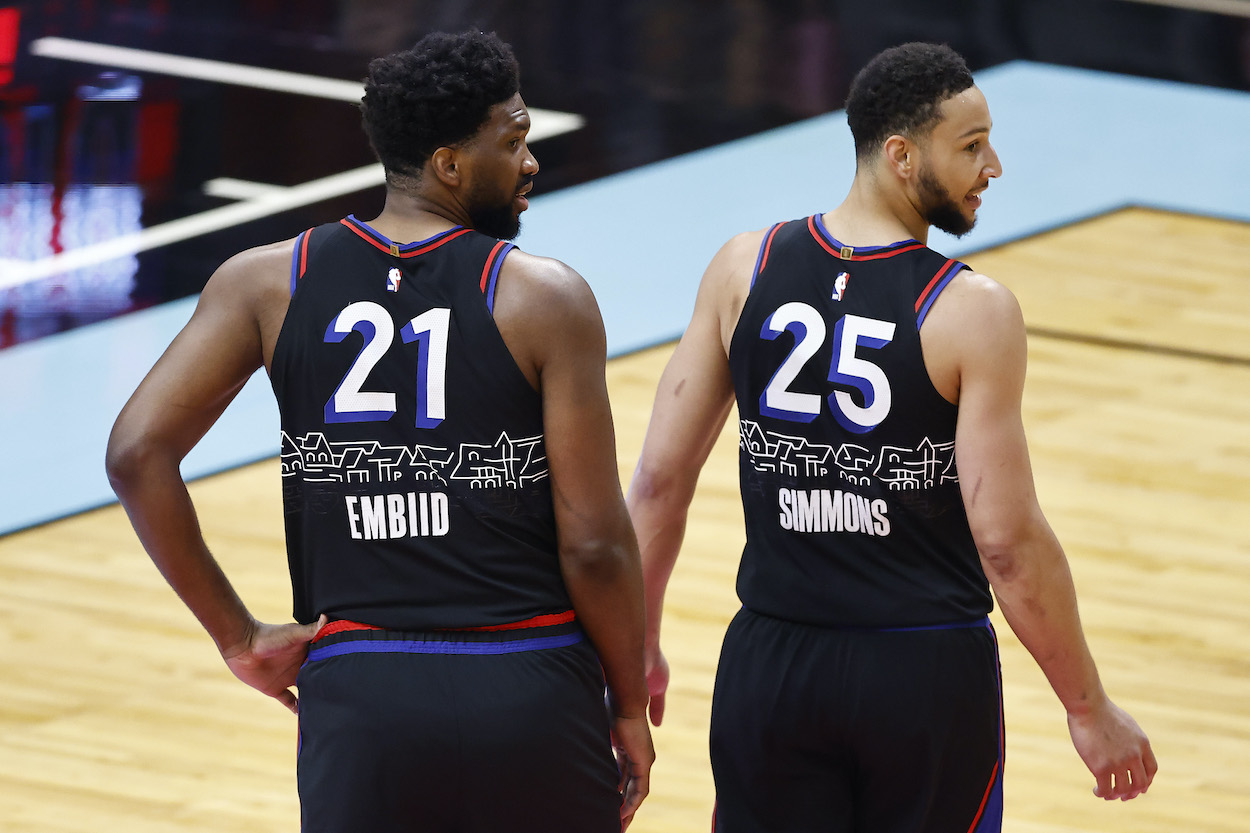 The long and dreary days of The Process yielded two superstars in Simmons and Embiid. Because the 76ers didn't want to let all those years go to waste, they recently signed both to massive contract extensions.
Simmons signed a five-year, $177 million max extension with the team in 2019. He's only in the second year of that deal, and the remaining three years are very much in question after an eventful offseason that included a trade demand, a holdout from training camp, and much more turmoil we probably don't even know about.
Still, Simmons is set to earn $33 million this season despite showing no interest in suiting up for the Sixers. He hasn't appeared in a game yet this year because he isn't mentally ready to get back on the court.
As for Embiid, he signed a four-year, $196 million supermax extension in the offseason that will kick in at the start of the 2023-24 season. The superstar center is still playing under the first max contract he signed in 2017, and he'll make a little more than $31.5 million this year.
That's more than $64 million getting paid to the 76ers' two All-Stars this season, which really is a bargain compared to some of the other gargantuan contracts being thrown around nowadays.
Tobias Harris is the highest-paid player on the 76ers this season
Early in 2019, the Sixers made a surprising move to trade for Tobias Harris in hopes of making an NBA title run with Simmons, Embiid, and Jimmy Butler. Philadelphia fell short in agonizing fashion when they lost to Kawhi Leonard and the Toronto Raptors, but they saw enough out of Harris to keep him around for a while.
In the following offseason, the Sixers signed Harris to a five-year contract worth $180 million. Now in the third year of that deal, Harris will earn $35.9 million, which makes him the 13th-highest-paid player in the NBA this season.
Crazy, I know.
But what's even crazier is that the veteran forward who has never made an All-Star team in his career will earn more money from the 76ers this year than both Simmons and Embiid.
76ers are No. 1 in the East even with their three highest-paid players out of the lineup
Not many NBA fans expected much out of the 76ers coming into the season. With the Simmons drama hanging over their heads, it seemed unlikely they could push that distraction to the side and focus solely on basketball.
But that's exactly what they've done.
The Sixers currently stand at 8-3 through 11 games and hold the No. 1 spot in the Eastern Conference standings. And they've done so without their three highest-paid players in the lineup for much of the year. Simmons is still out with no timetable on a return, Embiid is out for the next several games after testing positive for COVID-19, and Harris has missed the last five games due to a positive test of his own.
Philadelphia has performed admirably without their three biggest stars all on the court, but the team won't be able to survive much longer with more than $100 million watching from home.
All contract figures courtesy of Spotrac.
Like Sportscasting on Facebook. Follow us on Twitter @sportscasting19.