LeBron James Shockingly Isn't the Highest-Paid Player on the Lakers This Season
LeBron James might be the most important player to his respective team of anyone in the NBA today. He's the reason why Anthony Davis, Russell Westbrook, and Carmelo Anthony all wanted to come to Southern California, and the Los Angeles Lakers would most likely still be bottom-dwellers in the Western Conference without him.
However, despite all that, James isn't even the highest-paid player on his own team this season.
Wait, what?
LeBron James will earn $41.2 million in salary this season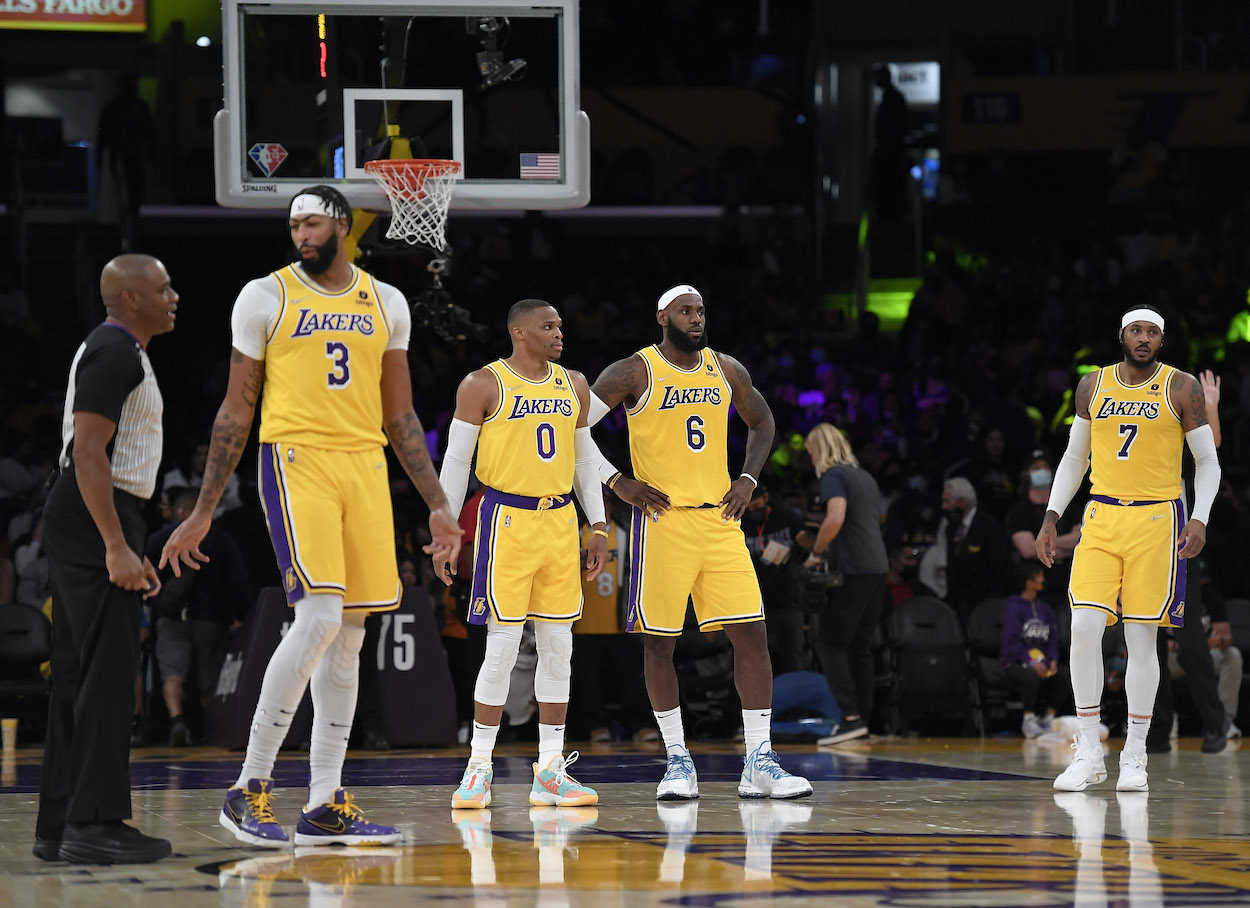 James has never really been in a position to complain about money. The 36-year-old has earned more than $387 million in salary alone throughout his NBA career, which makes him the richest player in league history in terms of on-court earnings.
Incredibly, LeBron has earned more than $30 million in each of the last five seasons. But he took it to another level with his most recent contract.
Over the offseason, James agreed to a two-year contract extension with the Lakers worth $85.6. He'll earn $41.2 million this season and another $44.4 million next season in LA.
Even with more than $41 million going into his pocket, LeBron is only the sixth-highest-paid player in the NBA this season. And if you can believe it, one of his Lakers teammates is actually higher than him on that list.
LeBron James isn't even the highest-paid player on the Lakers
No amount of money is too much for James. The impact he brings to a team is immeasurable, so $41.2 million is really a bargain for the Lakers. But somehow, LeBron isn't even the highest-paid player on LA's roster this season.
That title belongs to Russell Westbrook.
Westbrook signed a five-year, $206.8 million contract with the Oklahoma City Thunder in 2018, which was the largest contract in NBA history at the time. The star point guard is now in his fourth year of that contract, and he'll earn a staggering $44.2 million from the Lakers this season alone. Next year, that number climbs to $47.1 million.
Stephen Curry, James Harden, and John Wall (huh?) are the only players in the league who will earn more money than Westbrook in 2021-22.
LeBron won't be too worked up
Despite being just the second-highest-paid player on his own team, James won't be too worked up considering the massive wealth he's accumulated over his career. Not only has he racked up nearly $400 million in on-court earnings, but he's also earned nearly $600 million off the court.
As of this year, James' net worth has climbed to a whopping $850 million, according to Forbes. That number is likely to exceed $1 billion soon, and if he keeps excelling on the business side, he'll have a chance to catch Michael Jordan and his $1.6 billion net worth.
So yeah, LeBron can't be too upset.
All contract figures courtesy of Spotrac.
Like Sportscasting on Facebook. Follow us on Twitter @sportscasting19.