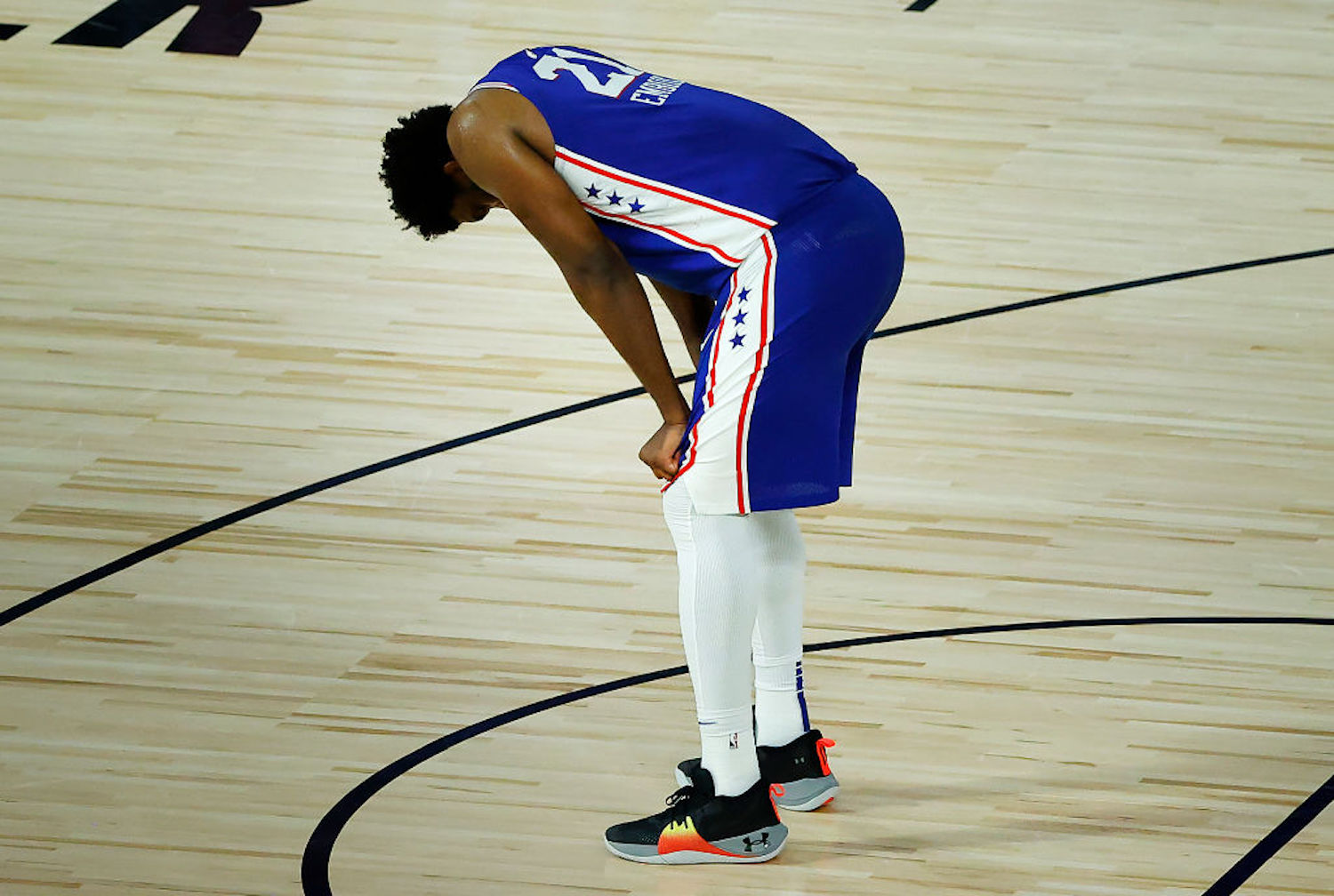 Joel Embiid Almost Quit Basketball After His Brother's Tragic Death
Joel Embiid is one of the biggest superstars in the NBA today, but he almost retired from basketball after his brother passed away in 2014.
Joel Embiid is one of the brightest young stars in the NBA today. The 7-footer has averaged over 20 points per game in every season as a pro, and he's made three straight All-Star games.
Embiid is already one of the most dominant big men in the league at 26, but he almost never played a single game in the NBA. After he was drafted in 2014, Embiid contemplated quitting basketball following the shocking death of his 13-year-old brother, Arthur.
Joel Embiid went from a childhood in Cameroon to NBA stardom
Joel Embiid's path to the NBA was as unique as you'll ever find. He was born in Yaounde, Cameroon in 1994. By the age of 15, Embiid was 6-foot-9.
Embiid didn't use his immense height for basketball at first, though. He played volleyball and soccer growing up until a high school basketball coach gave him a video of Hakeem Olajuwon. Immediately after watching it, Embiid was hooked.
He was first discovered at a Luc Mbah a Moute basketball camp in Cameroon. Mbah a Moute saw Embiid's potential right away, and he encouraged him to pursue the sport in America. So, that's exactly what he did, and boy did it work out.
Embiid and his brother Arthur were best friends growing up
In The Players' Tribune story titled The Only Way Is Through, Embiid details his relationship with his brother Arthur and how it molded him into the man he is today.
Embiid said the two were inseparable growing up in Cameroon. So much so, Embiid skipped the first day of Mbah a Moute's basketball camp to play FIFA with Arthur. His talent was almost never discovered because of his relationship with his brother.
I think we all got that one person in our life who is just always giving off positive energy. That person who is just fun to be around, you know? And who is always rooting for you, no matter what. For me, that was Arthur. Everything always comes back to him. Even if you asked me to go back to the very beginning of this crazy journey from Cameroon to the NBA, it would start with Arthur. 

Joel Embiid
Embiid and Arthur weren't just brothers. They were best friends. That's why Arthur's death in 2014 almost led Embiid to make a career-ending decision.
Joel Embiid nearly quit basketball after his brother Arthur's tragic death
In 2014, Embiid had the best day of his life when he was taken No. 3 overall in the NBA draft. Later that year, he endured his worst.
Four months after draft day, Arthur Embiid was struck by a truck on his way back from school and died from his injuries. He was just 13 years old. Embiid went back to Cameroon for his brother's funeral, and when he returned to America, he couldn't get over his loss.
When I came back to Philly, I kept rehabbing, trying to get better … but I was in a really bad place. With Arthur gone, I felt like I had lost my purpose in life. I really just wanted to quit the game and go back home to Cameroon to be with my family. And, you know, it's not like a movie where someone sat me down and had some conversation with me, or I picked up a basketball and all of a sudden everything was O.K. I really had to look inside myself to find that joy again. Every single morning, when I woke up, I would tell myself that I had a choice. I could give up, or I could keep trying to take another step forward. I really had to remind myself why I loved the game in the first place.

Joel Embiid
Embiid seriously considered retiring from basketball before he even played in a single NBA game. Thankfully for Philadelphia 76ers fans, he didn't. Six years later, he's established himself as one of the best centers in the NBA.
Embiid finished his Players' Tribune piece with a single phrase that defines why he still plays today.
"I'm trying to win a f***** title."