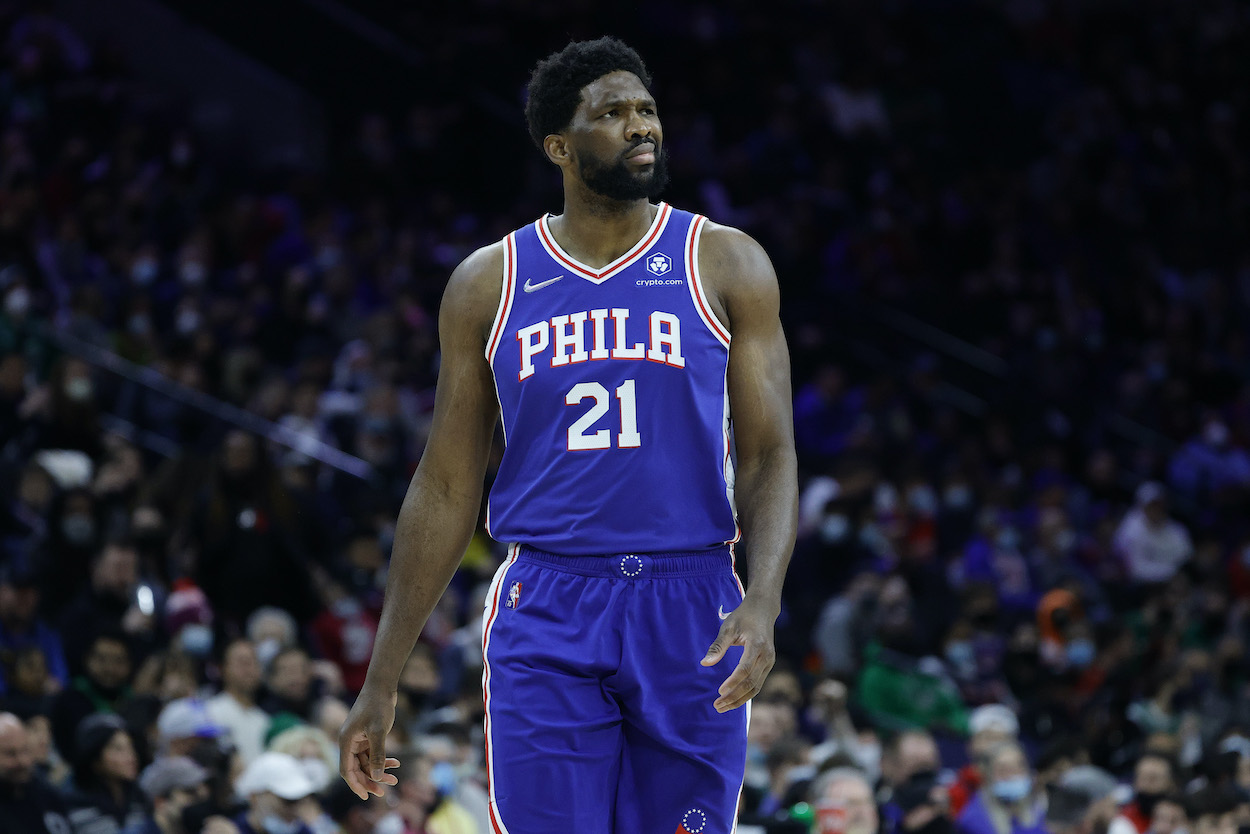 Joel Embiid Sends a Veiled Shot at Ben Simmons as the 76ers Continue Their Hot Streak: 'We Got Everything We Need'
Philadelphia 76ers fans want Ben Simmons out of town as soon as possible, but Joel Embiid seems content with the current roster.
Philadelphia 76ers fans are still holding out hope that Ben Simmons will be shipped out of town before the NBA trade deadline next month. The team is actively shopping the disgruntled point guard on the open market, but it doesn't seem as if it will receive a trade offer juicy enough to pull the trigger by February 10.
According to Joel Embiid, though, the Sixers would be just fine holding onto Simmons and letting the current roster ride for the rest of the season.
The 76ers have stayed afloat without Ben Simmons
Most NBA teams would fall apart without their second-best player on the court for an extended period of time, but the 76ers have been just fine without Simmons all season.
Despite the absence of their starting point guard and a litany of injuries and COVID-19 issues, the Sixers are 24-17 through 41 games. Philadelphia currently sits in fifth place in the Eastern Conference, just 3.5 games back of the first-place Chicago Bulls.
And that's with Embiid missing 11 games. With big No. 21 in the lineup, the Sixers are 21-9.
Now that the roster is starting to get healthy, the 76ers are starting to look like the No. 1 seed they were last season. Philly is 9-1 in its last 10, winning by an average of 12.8 points per game.
Fans are calling for the front office to trade Simmons now to bring in some more help for Embiid, but the center doesn't believe he needs any.
Joel Embiid: "We got everything we need"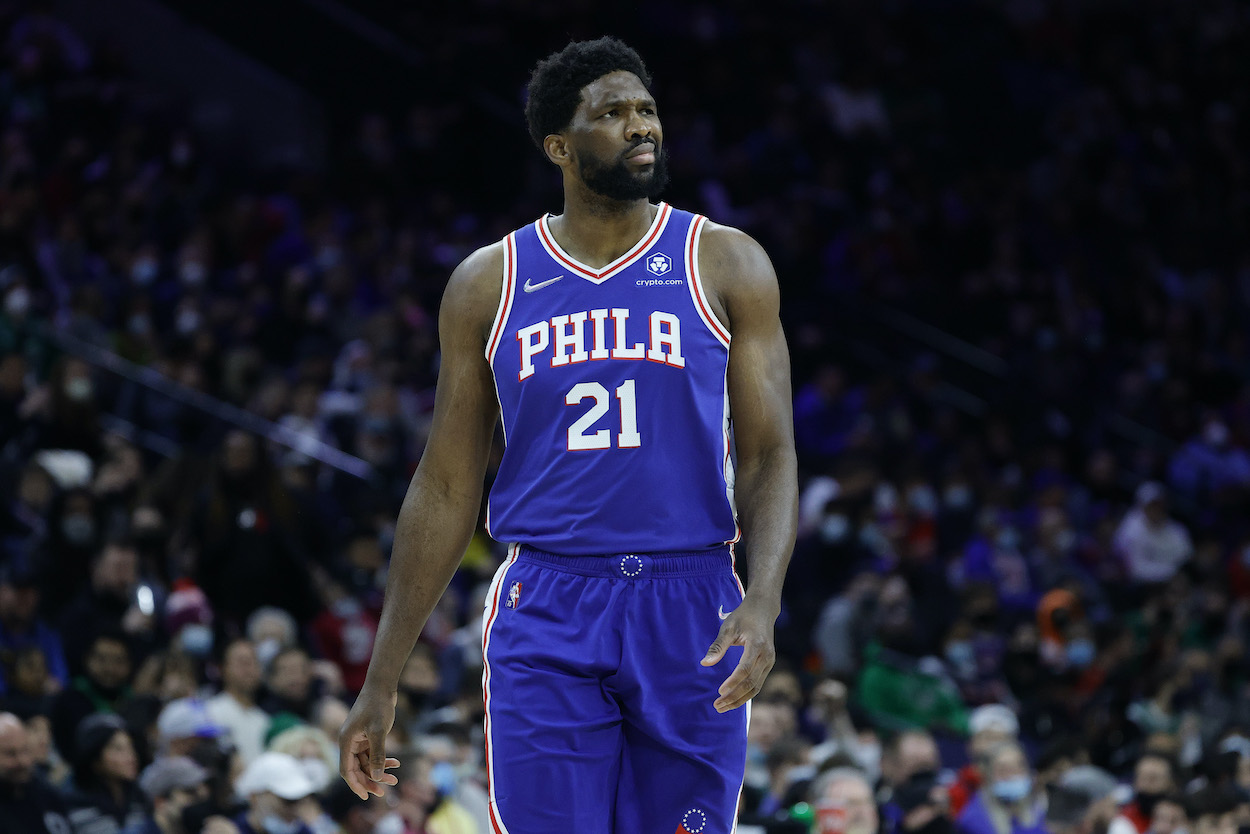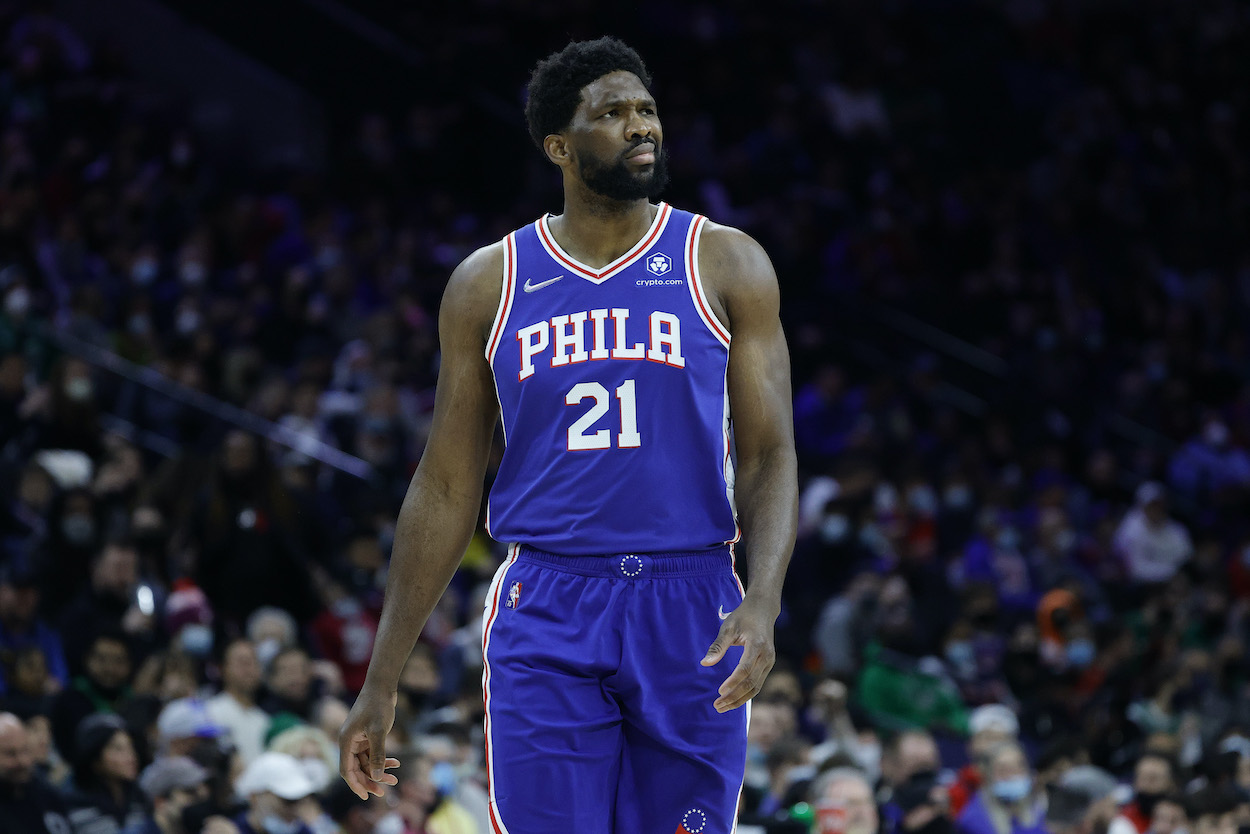 It will be fascinating to watch the 76ers as the trade deadline approaches. Teams will undoubtedly be calling about Simmons over the next month, but it's going to take a hefty offer to move the needle.
But if you ask Embiid, this team is fine how it is.
I feel pretty good, and I don't think we've played our best basketball yet. We still got a long way to go. We're missing guys here and there that could really help us. There's really no urgency to change anything. I think we got everything we need. We're gonna keep on going and I'm happy.

Joel Embiid
It's clear this Sixers team is a tight-knit group, and the front office shouldn't want to jeopardize that by shaking up the roster.
"When I look at where we are when we got most of the team in the lineup, especially me in the lineup, then we are 21 and 9," Embiid told reporters after Philly's win against the Boston Celtics on Friday, per ESPN. "That's not bad. That's up there with the best records in the NBA. So, all that tells me is that we just got to stay healthy, keep doing what we've been doing."
Are the 76ers title contenders without Simmons?
The 76ers have exceeded expectations without their star point guard this season, but is this current roster good enough to compete for a championship?
"I think so," Embiid admitted. "I think we all gotta be our best. And when we are at our best, I think we can beat anybody. We've seen it a couple of times this year. So, I just think we need to, I need to keep doing what I've been doing, and then obviously we need consistency from everybody, not just Tobias [Harris] or Tyrese [Maxey] or Seth [Curry] or Danny [Green]. Guys coming off the bench, getting Shake [Milton] back.
"We need consistency, and everybody coming in every single night with the goal of just doing their job and chipping in offensively and defensively and just playing together and we'll be fine."
Fine is better than many expected, but it isn't enough to get them to the NBA Finals.
All stats courtesy of Pro Basketball Reference.
Like Sportscasting on Facebook. Follow us on Twitter @sportscasting19.