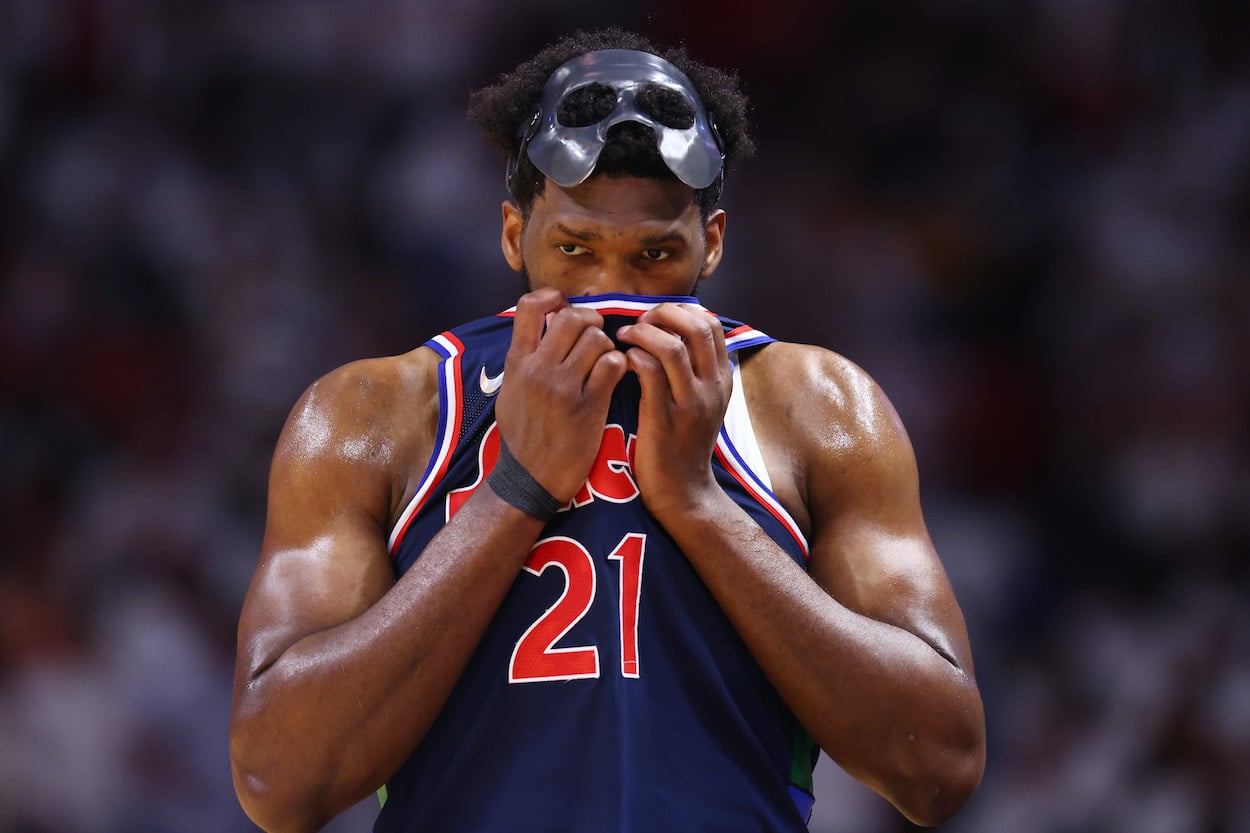 Joel Embiid Spent More Effort on His Whiny MVP Rant Than He Did Against the Heat in Game 5
Joel Embiid is far too worried about losing the MVP race with the 76ers on the brink of elimination.
Joel Embiid is one loss away from suffering yet another second-round playoff exit, but that wasn't at the forefront of his mind after the Philadelphia 76ers' embarrassing Game 5 performance against the Miami Heat.
Instead, the five-time All-Star went on a long postgame rant about losing out on the MVP award to Nikola Jokic for the second straight season. If Embiid can't get his priorities straight — and quickly — he's going to miss out on the Eastern Conference Finals yet again.
Joel Embiid can't stop thinking about the MVP award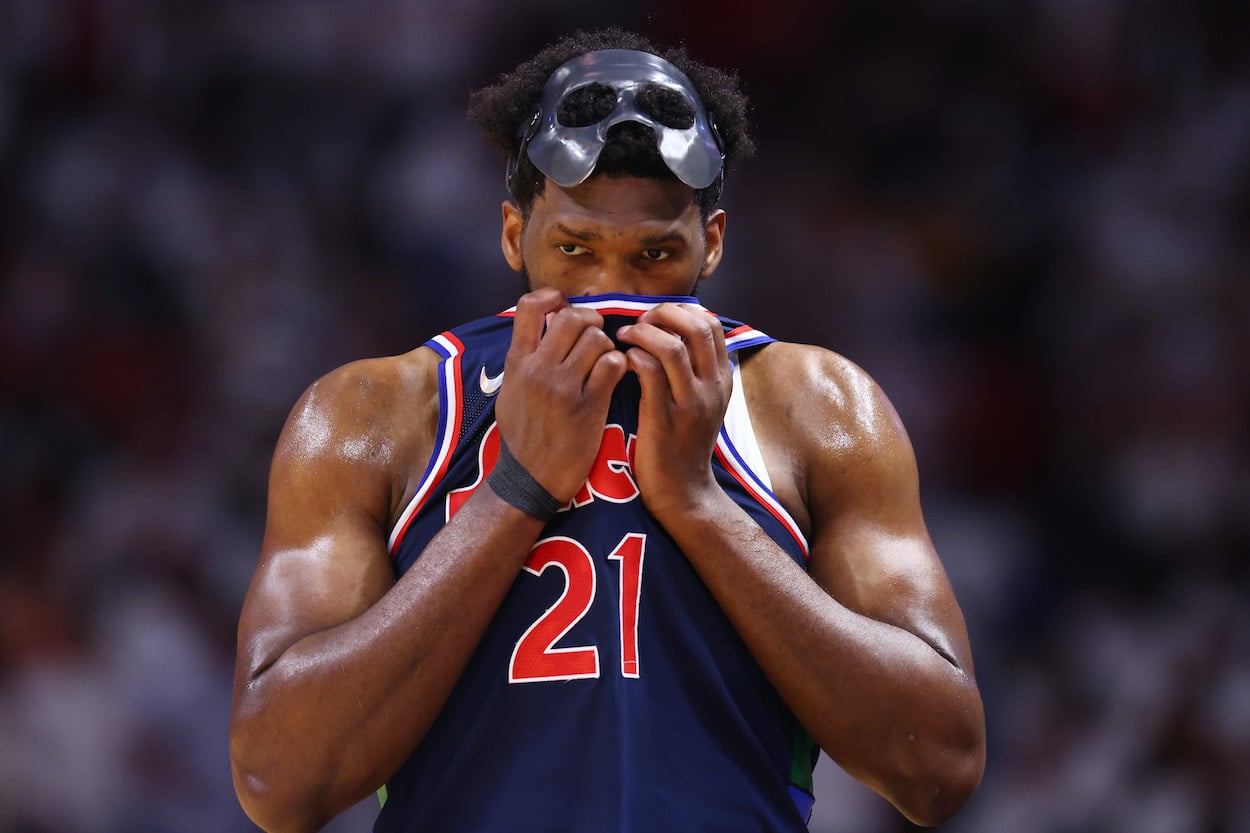 Tuesday night was a golden opportunity for Embiid and the Sixers to take control of their second-round playoff series against the Heat. A road victory would've given them a chance to close out the series in front of a raucous home crowd to advance to the ECF for the first time in the Embiid era.
But, somehow, they didn't even bother to show up.
Philadelphia was outplayed and outhustled directly from the opening tip. There was no heart. No passion. No sense of urgency from a team that's supposed to be desperate to make it past the second round.
Surprisingly, the lackadaisical performance stemmed from Embiid. The NBA's scoring champ attempted just six shots in the first half as he watched Miami cruise to a 12-point lead at the break. He finished the game with 17 points on a meager 12 field-goal attempts. In 33 minutes on the court, he managed to grab only five rebounds. Backup center Paul Reed pulled down eight in just 15 minutes off the bench.
It's fair to blame Embiid's unenthusiastic performance on the right orbital fracture that he aggravated in Game 5, but if he's going to play through injuries, he's only going to hurt the Sixers by playing with no aggression whatsoever.
Based on his postgame comments, though, there might've been another factor distracting Embiid on the court.
"I just knew it wasn't gonna happen," Embiid told reporters regarding Jokic beating him out for MVP. "Obviously, congrats to Nikola. He deserved it. He had an amazing season. There's no right or wrong, there was a lot of candidates. It could've gone either way. Giannis (Antetokounmpo), Devin Booker being on the best team in the league by far. I guess every year, it's all about whatever you guys (the media) decide. Whatever fits the narrative as far as who's gonna win.
"The only thing I'll say about these awards is that, I don't know how to explain it, but I go back to what I heard on the podcast about Bill Simmons basically saying, it sounded like he had a grudge against somebody saying 'F Jalen Green.' If we're gonna allow these types of people to vote for these awards, that's not fair," he continued. "What if Jalen Green was in a position to earn a supermax or, I don't know, an All-Star appearance, you got someone sounding like that and he has a lot of power. He can sway other media members and you got someone saying this type of stuff. I don't think it's fair, I don't think it's OK, so that's really the only thing I'll say about those awards."
So, after one of the most uninspiring playoff performances of his career in a pivotal Game 5, Embiid decided to go on a rant about losing the MVP and who gets to vote on those awards. Sixers fans can't be feeling too confident about the rest of the series.
Embiid needs to get his priorities straight
Everyone who's followed Embiid's career knows how badly he wants to win an MVP award. There's nothing wrong with that, but when the disappointment of losing an individual award starts to affect your team in the playoffs, it becomes a problem.
Embiid should've used the snub as fuel to dominate the Heat in Game 5 and emphatically prove he deserved the award. Instead, he couldn't wait to bash the voting process after the game.
"I'm not mad, but that's two years in a row," he said. "I put myself in that position, it didn't happen, it's almost like at this point, it's whatever. Whatever happens, happens. Last year, I campaigned about it. This year, I answered questions when I was asked, and the next, you know, few years until I retire, it's almost like to me, it's just, I don't know. I don't know what else I have to do to win it and to me, it's just at this point, it's whatever. It's all about focusing, not that I wasn't focused on the bigger picture, but it's really time to really put my energy into the bigger picture which is to win the whole thing."
Hopefully, Embiid did have that realization after getting blown off the court in Game 5. As much as Embiid wants to win an MVP, he wants to win a title for the city of Philadelphia more.
It's time to prove it.
Like Sportscasting on Facebook. Follow us on Twitter @sportscasting19.