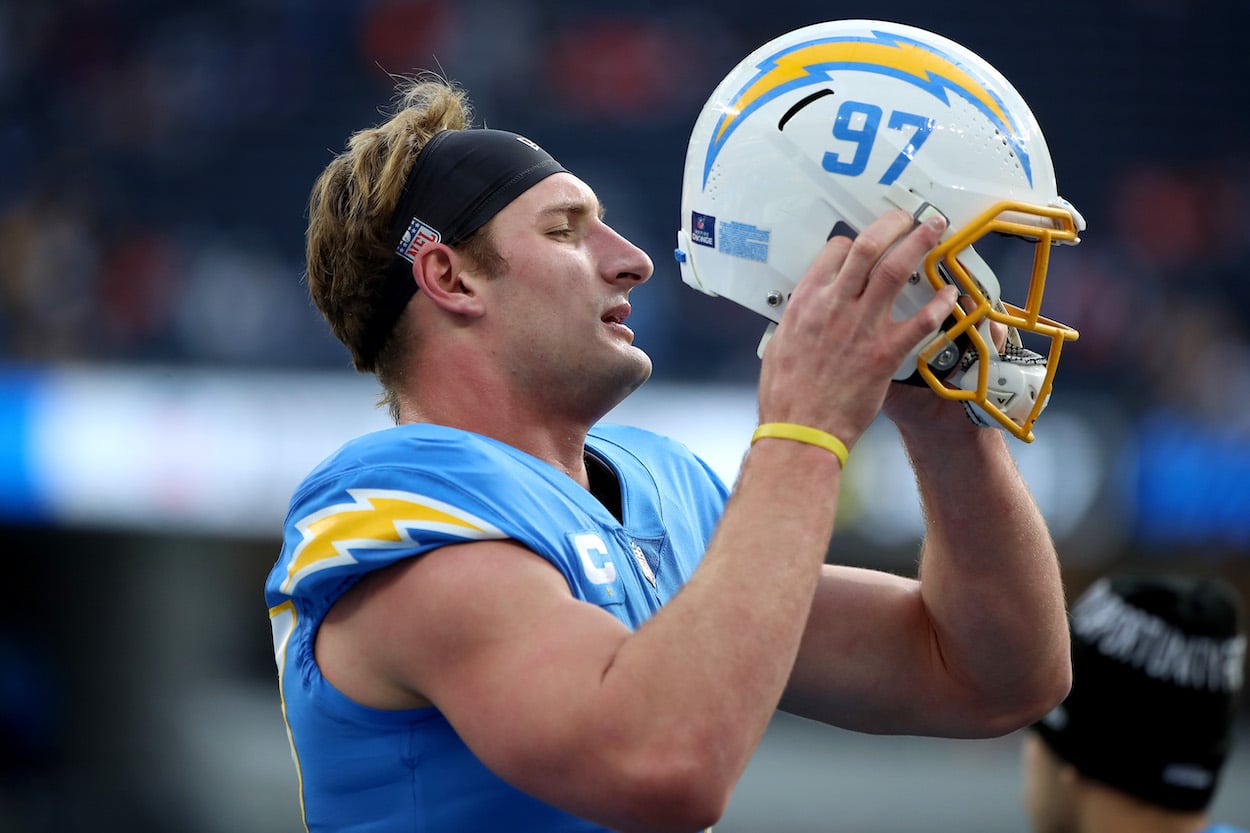 Joey Bosa and Rashawn Slater Just Confirmed the Los Angeles Chargers Are the Most Cursed NFL Team
Joey Bosa and Rashawn Slater confirmed what we already knew.
Unfortunately for Los Angeles Chargers fans, their favorite NFL franchise has made it an annual tradition to enter the season with plenty of promise only to watch injuries derail the team's chances of capturing the Lombardi Trophy. 
Old habits never die. And this year is no different. 
In what seems like a blink of an eye, Brandon Staley's squad has gone from being viewed as a legitimate Super Bowl contender to facing an arduous path to earning a playoff spot. While it's still early, the Chargers' odds of winning their first title look significantly slimmer than they did just a few weeks ago. 
In fact, with two of their biggest stars suffering serious injuries, it's clear they're the most cursed team in the league. 
The Los Angeles Chargers have to get by without Joey Bosa and Rashawn Slater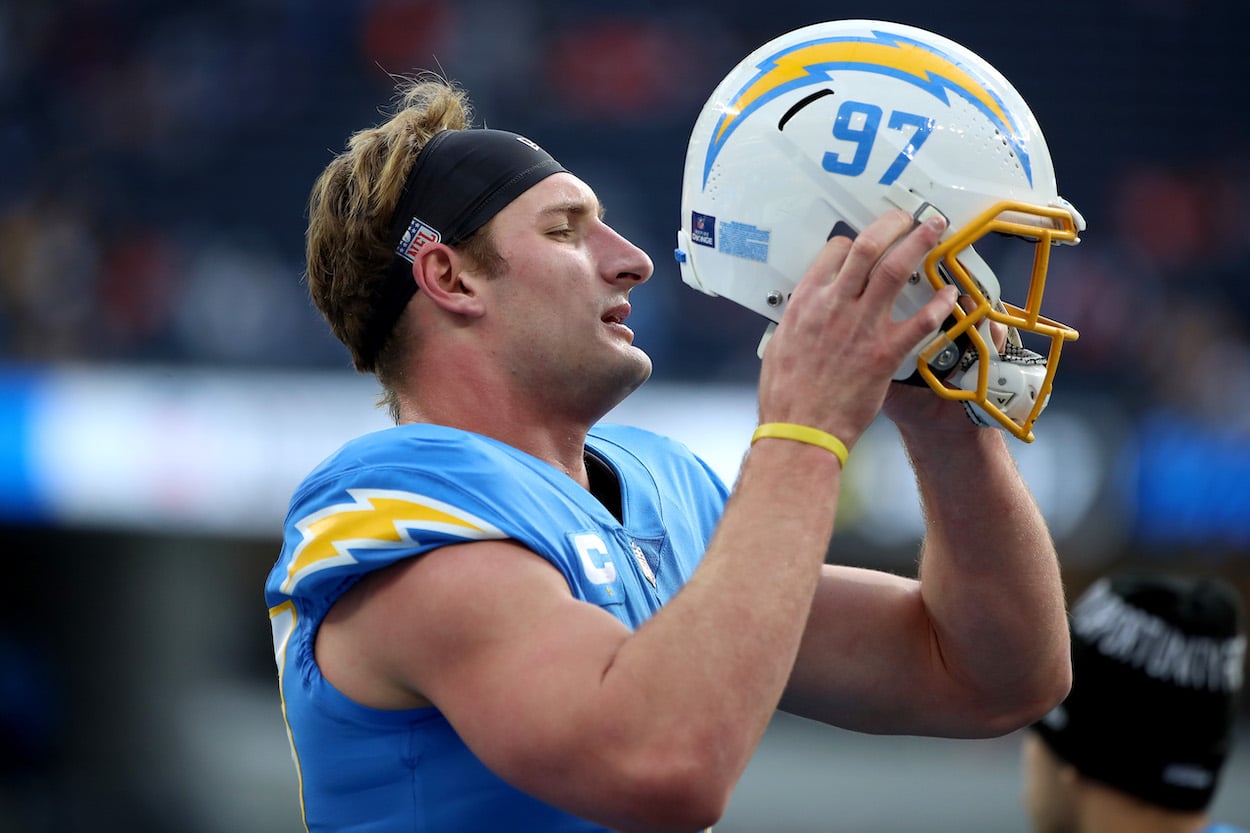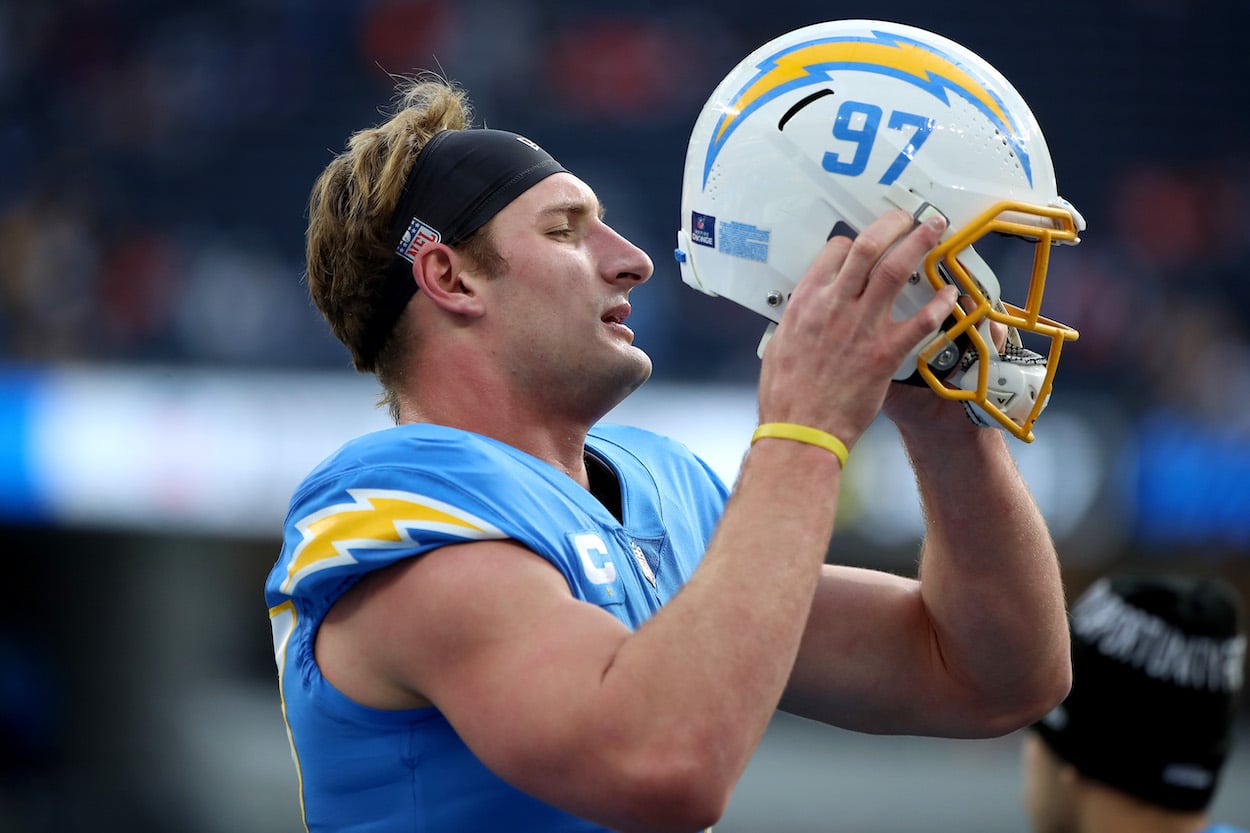 LA's other NFL franchise sustained two brutal blows in a shockingly bad Week 3 loss to the Jacksonville Jaguars. Not only did star defensive end Joey Bosa hurt his groin, but left tackle Rashawn Slater also watched his season end almost as soon as it began. 
Justin Herbert's blindside protector tore his left biceps tendon in the 38-10 defeat. Slater, the 13th overall pick in the 2021 NFL Draft, will have to wait until 2023 to showcase his Pro Bowl skill set again. 
"It's going to be a tough loss for us," Staley said after the game. "We're going to make sure over the next couple of days that we put good contingency plans in place." 
In addition to losing their best offensive lineman, the Los Angeles Chargers lost their most decorated defensive player for the foreseeable future. According to Staley, Bosa, a talented pass-rusher who's struggled to stay healthy since he entered the league in 2016, will be sidelined indefinitely due to a groin ailment. 
Of course, Chargers fans are used to Bosa missing time. The four-time Pro Bowler has only played a full season twice in his NFL career. Based on Staley's comments, the chances of him breaking the double-digit sack mark for the fifth time in seven seasons don't look promising. 
Moving forward, the Chargers have to find a way to string together victories without their most important offensive player outside of Herbert (who's also hurt). Plus, they'll have to figure out a way to dial up pressure without the services of someone who's racked up 59.5 sacks in 77 starts. 
Looking back, though, it's impossible to ignore the team's history of dealing with injuries. And when you consider just how many key players have been forced to miss big games or long stretches of time, it's obvious the Chargers are the most cursed team in the NFL. 
A brutal history of bad injury luck
How many more bad breaks can Los Angeles Chargers fans endure? 
Dial the clock back to the glory days of Philip Rivers and LaDainian Tomlinson and you'll find a stunning history of stars suffering injuries. And when you delve deep into the last two decades, it's hard to ignore the persistent pattern of players being sidelined. 
While Rivers and Tomlinson mostly stayed healthy throughout their Chargers careers, let's not forget the former played through a torn ACL during a 21-12 loss to the New England Patriots in the 2008 AFC Championship. Meanwhile, Tomlinson spent most of that game sitting dejectedly on the bench due to a sprained MCL. 
Antonio Gates, arguably the Chargers' next-biggest star from that era, went from playing all 16 games every year from 2006-09 to missing 10 games over the next three seasons. 
Fast forward to the last decade and it's been more of the same health woes for the AFC West franchise. 
Although he's earned five Pro Bowl selections since entering the league as a third-round pick in 2013, Keenan Allen has experienced plenty of injury problems during his career. From missing the second half of the 2015 season because of a kidney injury to tearing his ACL in the team's 2016 season-opener, the sure-handed wideout has had to overcome several setbacks.
Allen has already missed two games with a hamstring problem, so it'll be interesting to see if he can make it through the rest of the season unscathed. 
The Los Angeles Chargers are clearly cursed
A year after they selected Allen, the Los Angeles Chargers used their top pick on talented cornerback Jason Verrett. However, the skilled defensive back only appeared in 25 games due to a laundry list of injuries before the team moved in a different direction. 
Two years later, after using the No. 3 overall pick on Bosa, the Chargers took Hunter Henry at the top of the second round. The big-bodied tight end missed the entire 2018 season with a torn ACL, and he never made it through a full season during his five-year stint with the team. 
It's also critical to highlight the Chargers' decision to end Derwin James' draft-day slide in 2018. As much excitement as he's brought when he's been on the field, the ex-FSU star has only played 39 games since he became the 17th overall pick. 
Of course, that didn't stop the Chargers from handing the physically gifted safety a record-setting contract extension this offseason. 
Still, it's undeniable that LA continues to suffer from an almost inexplicable run of bad luck.
Besides losing Slater for the season and Bosa for an extended stretch, the team has watched Herbert hurt his ribs and have to operate at less than 100% before October hits. High-priced free agent J.C. Jackson has barely contributed after being incredibly durable in New England. Starting center Corey Linsley has been limited by a knee injury, and wide receiver Jalen Guyton recently landed on injured reserve after tearing his ACL against the Jaguars. 
Needless to say, it's been a rough start to the 2022 season for a Chargers team that entered Week 1 as one of the favorites to represent the AFC in Super Bowl 57. 
And if history continues to repeat itself, it'll be another lost year for a franchise still searching for its first championship. 
Like Sportscasting on Facebook. Follow us on Twitter @sportscasting19 and subscribe to our YouTube channel.