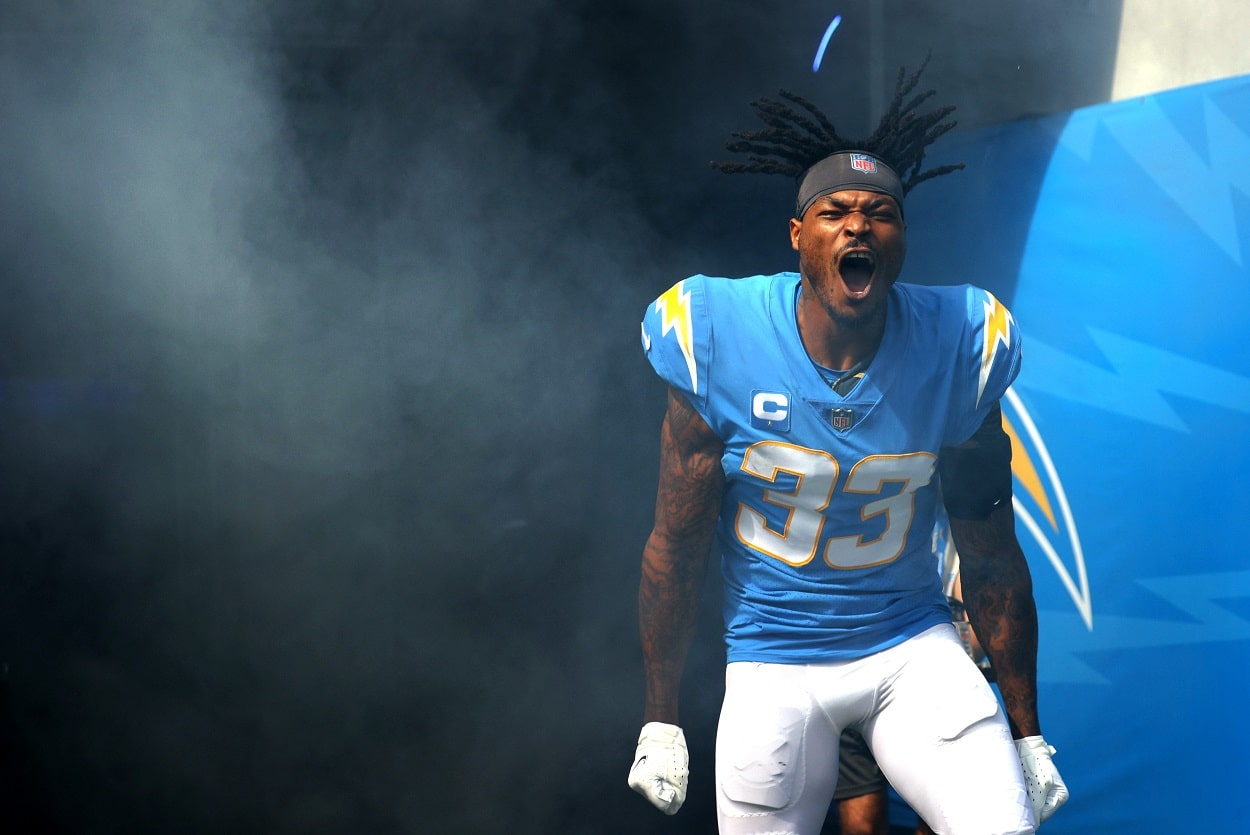 The LA Chargers Are Playing an Expensive, High-Risk, High-Reward Game With All-Pro Safety Derwin James
Signing All-Pro safety Derwin James to a long-term extension could be a risky move for the Los Angeles Chargers.
There's no question about it: When healthy, Derwin James is one of the best defensive players in the NFL. However, betting on the big-bodied, hard-hitting safety to play an entire season is a risky proposition. After all, dating back to his days at Florida State, James has missed significant chunks of time due to injury. 
Yet his ability to cover, punish ball carriers, and even put pressure on opposing quarterbacks makes him a rare breed. And with their star safety set to hit free agency next spring, the Los Angeles Chargers face the stark reality that they'll have to make a record-breaking investment that'll ultimately make them look like geniuses or fools.
Derwin James looks poised to break the bank in record-setting fashion
Considering he's only made $12.4 million since entering the league as the 17th overall pick of the 2018 draft, Derwin James should be quite pleased about his 2022 payday. Then again, even with his salary quadrupling to $9 million, the soon-to-be 26-year-old still has a sizable leap to make before he can call himself the league's highest-paid safety. 
According to ESPN, though, James may not have to wait much longer to take over the No. 1 spot. 
"The Chargers are optimistic a long-term deal will be reached, perhaps as soon as when players report Tuesday," Lindsey Thiry reported this past week.
Furthermore, fellow ESPN reporter Jeremy Fowler said the expectation from those around the NFL is that James will be the league's highest-paid safety "soon enough." 
With two first-team All-Pro selections on his resume, the 6-foot-2, 215-pound defensive back certainly has strong credentials that would seem to warrant a record-setting extension. And after putting together arguably his best season in his first year playing for ex-Los Angeles Rams defensive coordinator Brandon Staley, James appears to have a bright future ahead of him. 
Yet that doesn't necessarily mean the Chargers should feel completely confident about giving one of their best players a historic deal.
The Chargers will assume plenty of risk by making the two-time All-Pro the highest-paid player at his position
Is James elite? No doubt. Is he a safe investment? That's where things get dicey. 
On the one hand, it's impossible to ignore what the dynamic defensive back brings to the table. Capable of doing just about anything that's asked of him, James provides the Chargers with the ultimate Swiss Army knife…when healthy. And that last part makes the front office's impending decision a little more difficult. 
Before becoming a first-round pick, James essentially missed his sophomore season with the Seminoles due to a left lateral meniscus tear. After earning All-Pro and Pro Bowl honors as a rookie, he only appeared in five games due to a stress fracture in his right foot. Then, James proceeded to miss the entire 2020 season because of a torn meniscus in his right knee. Plus, his 2021 campaign included two missed games because of shoulder and hamstring ailments. 
James' injury history–which includes offseason surgery to repair his labrum–makes him a risky candidate for an extension. After all, how can you ignore the fact that he's missed 29 games across his first four years in the league? 
Ultimately, though, the Chargers look poised to give James an extension that tops the four-year, $73.6 million deal Minkah Fitzpatrick recently signed with the Pittsburgh Steelers. Don't ignore, however, that Pittsburgh's playmaking safety has only missed one game since he went six picks ahead of James in the 2018 draft. Meanwhile, durability is a valid concern that comes into play with LA's own star defensive back. 
But if the Chargers want to keep James around for years to come, they better be prepared to pay him somewhere in the range of $19 million annually. Suppose he can put his injury issues behind him and continue wreaking havoc from all over the field. In that case, James will make general manager Tom Telesco look smart for locking up a player who can do much more than the average safety.
However, the Chargers also risk looking foolish if James can't stay on the field consistently–especially if he's making low-end quarterback money.
A healthy version of James gives LA a legitimate shot at having the NFL's best defense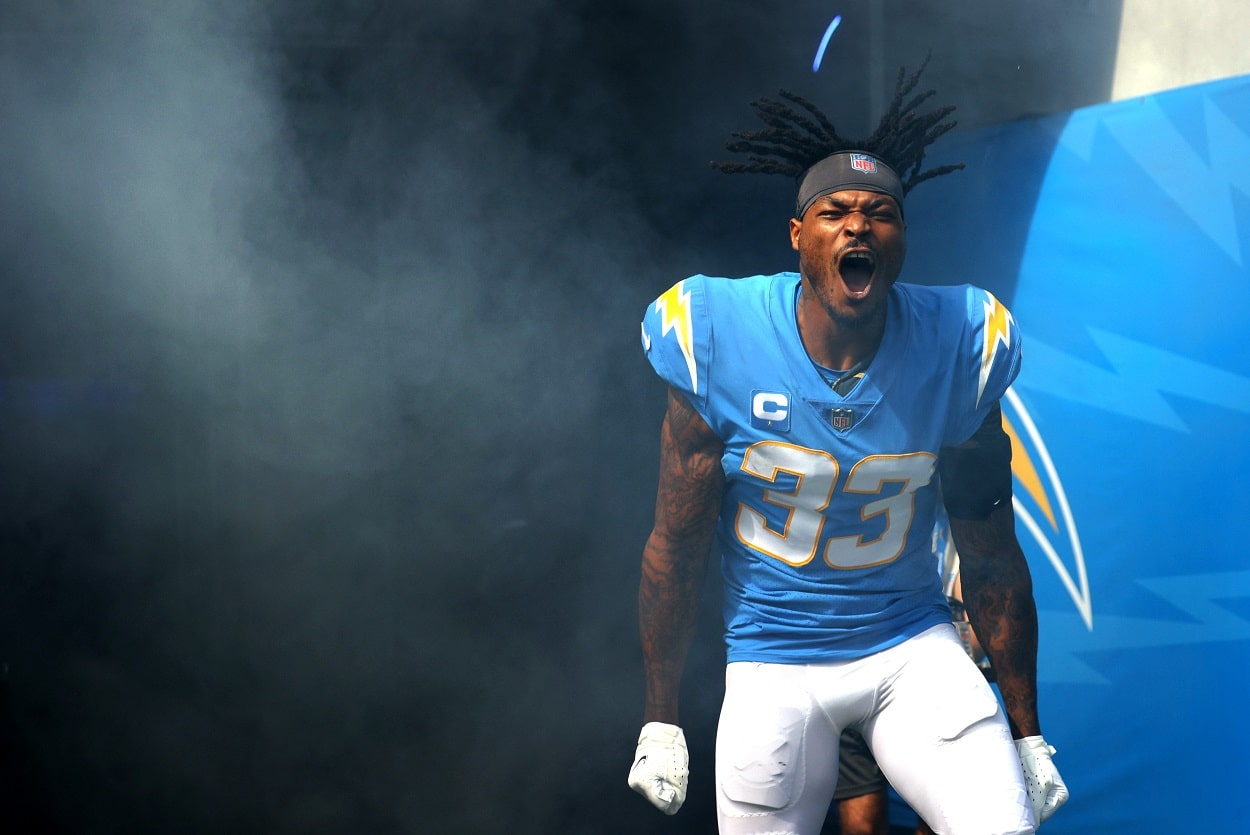 Could LA host another Super Bowl parade next February? If things unfold the Chargers' way, it's not out of the realm of possibilities that Justin Herbert and Co. could hoist the Lombardi Trophy at season's end. 
While it's easy to get excited about the team's dynamic quarterback, it's equally easy to get excited about the team's potentially dominant defense. In fact, don't be surprised if the Chargers make a substantial leap up the rankings in 2022. 
Coming off a season in which they ranked 29th in points and 23rd in yards allowed, Staley's squad now has the pieces needed to finish as a top-10 defense. Not only do the Chargers have one of the NFL's most dynamic pass rushers in Joey Bosa, but they also traded for six-time Pro Bowler Khalil Mack and signed veteran outside linebacker Kyle Van Noy. In addition, they made a huge splash in free agency by signing ball-hawking corner J.C. Jackson to a five-year, $82.5 million contract. 
With star power on every level of their defense, the Chargers have the firepower to combat the likes of Patrick Mahomes, Lamar Jackson, Josh Allen, and Joe Burrow in the AFC. Of course, how far they go this season rests largely on whether Bosa and James remain in the lineup and out of the trainer's room.
Stats courtesy of Pro Football Reference, Contract info courtesy of Spotrac
Like Sportscasting on Facebook. Follow us on Twitter @sportscasting19 and subscribe to our YouTube channel.