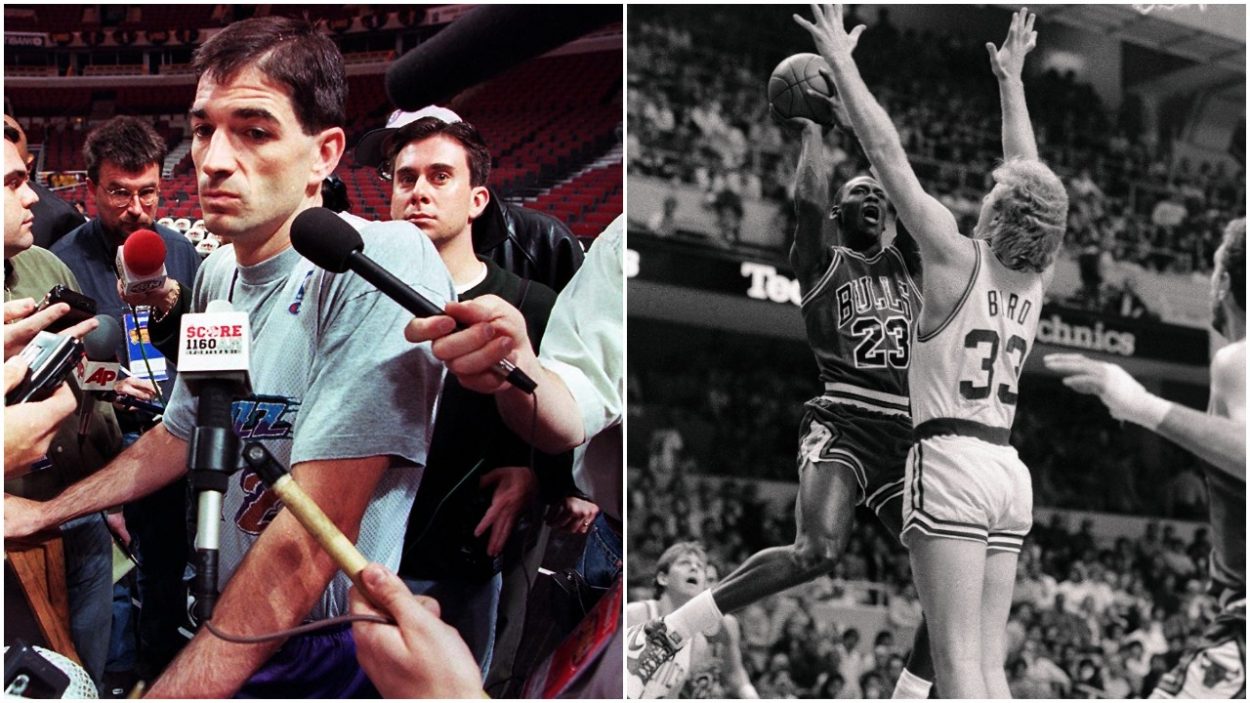 John Stockton Did Not Want Any Part of a Michael Jordan 'Puff Piece" but Took No Issue Telling a Fake Story Glorifying Larry Bird
John Stockton didn't want to appear in a Michael Jordan "puff piece" yet loved repeating a fake story about Larry Bird.
When Last Dance director Jason Hehir approached Utah Jazz legend John Stockton about appearing in his 10-part documentary about Michael Jordan and the Chicago Bulls dynasty, Stockton hesitated.
Although the Hall of Fame point guard developed a respect for Jordan and the Bulls during numerous battles through the years, he expressed reservations about another series propping up MJ's legendary status. On its face, Stockton's skepticism does not sound overtly strange. After all, Scottie Pippen's memoir turned into a vindictive recollection, in large part because of the Last Dance.
However, Stockton's uncertainty about lending his voice to the ESPN docuseries looks even stranger when considering he has, on multiple occasions, told a fake story elevating one Larry Bird.
John Stockton initially declined to be featured in the Last Dance
Jason Hehir tried to track down John Stockton for years in the interest of getting his voice for the Last Dance. However, when he finally did reach the former Jazz star, the all-time assist leader offered a response that likely wasn't music to Hehir's ears.
According to Hehir (h/t KSL), Stockton initially declined to participate in the docuseries. Having suffered a pair of painful defeats at the hand of Michael Jordan, he preferred not to speak about His Airness.
"I finally got [Stockton] on the phone after like two years of chasing him. He said, 'I don't want to be a part of a Michael Jordan puff piece.'"
Hehir eventually did convince Stockton to be in the docuseries. But as viewers who have seen the Last Dance will remember, his cameos focused more on the Jazz and not feeling an "aura" about MJ or the Bulls.
The fact that Stockton was so adamant about not showing admiration for Jordan's gifts and his early refusal to be involved are a bit befuddling since he's gone to great lengths to praise Larry Bird. He actually likes to tell a bald-faced lie about a memory of the Boston Celtics legend from his rookie season in Utah.
Stockton repeatedly told a fabricated story praising Larry Bird
John Stockton added to the growing list of Larry Bird trash-talk stories on the Dan Patrick Show in 2018. Or so it seemed.
Patrick asked the Spokane native whether Bird ever said anything directly to him during his playing career. Stockton responded with a story about Bird calling his shot one game in Salt Lake City during the former Jazz guard's rookie season.
I remember as a rookie, [Bird] walked by our bench at the Salt Palace and said, 'I feel like 43 tonight.' And he came out and scored 43 in the third quarter and checked himself out with a 20-point victory.

–John Stockton (2018)
Pretty incredible story, right? It has all the bravado and braggadocio Bird was known for in his career. But there's a problem: It's not true.
The Celtics played one game in Salt Lake City during Stockton's rookie season in 1984-85. Bird had an incredible game, to be sure. He nearly had a quadruple-double. But he scored 30 points, not 43.
Maybe there wouldn't be anything to this tall tale if Stockton didn't tell it so often. As this YouTube clip shows, he's elaborated on it three different times.
So, Stockton didn't want to be in a "puff piece" about Jordan but loves to tell fake stories about Larry Bird? What gives?
Does Stockton have a Michael Jordan grudge?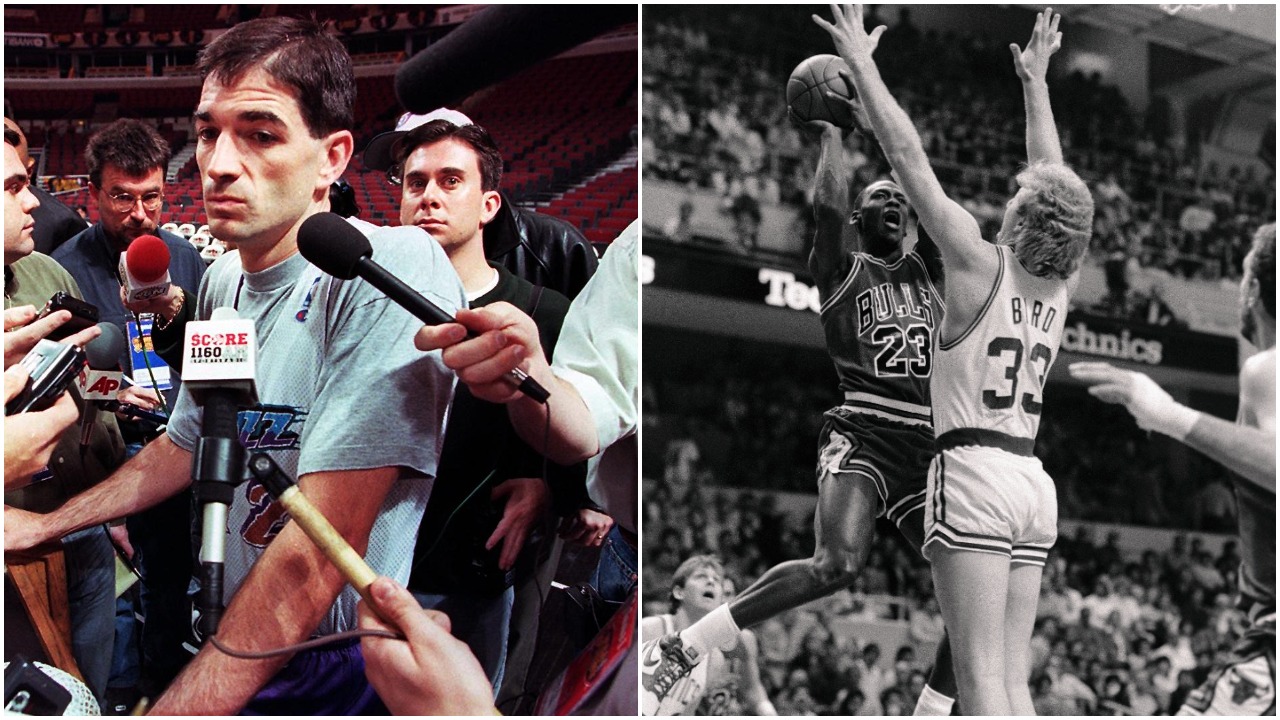 John Stockton and Michael Jordan share a lot of similarities. Both were fiercely competitive as players. They each played on the 1992 Dream Team and entered the Naismith Memorial Basketball Hall of Fame as members of the Class of 2009.
Still, the contrast between Stockton's approach to appearing in a Michael Jordan docuseries and his counterfeit Larry Bird stories begs the question: Does he have a grudge against MJ?
In terms of basketball, one could understand the animosity. Jordan prevented Stockton from winning an NBA championship, leaving Stockton's Jazz teammates awestruck in 1998. But the two seemed to share mutual respect and admiration. Has something changed through the years?
Perhaps there's nothing to the discrepancy in how Stockton responds to Jordan-related subjects as compared to Bird. However, it's a bit strange, to say the least.
Stats courtesy of Basketball Reference.