Co-Author Drops the Truth: 'The Last Dance' Turned Scottie Pippen's Memoir From a Triumphant Tale to a Defense Against Michael Jordan's Slights
Scottie Pippen was an all-time great defensive player. But he never imagined he'd have to go on defense while writing his memoir, Unguarded. However, according to the book's co-author, Michael Jordan's film opus, The Last Dance documentary series, painted Pippen into a corner where he felt he had to defend himself.
Aired on Netflix in 2020, The Last Dance was an eight-part docuseries about Jordan's final season with the Chicago Bulls in 1997–98. It was also the final run in Chicago for Pippen, who was there for all the team's six championships in eight seasons from 1991–98. The documentary ripped open some old sores for Pippen, which the book has revealed.
Scottie Pippen wasn't the Bulls' best player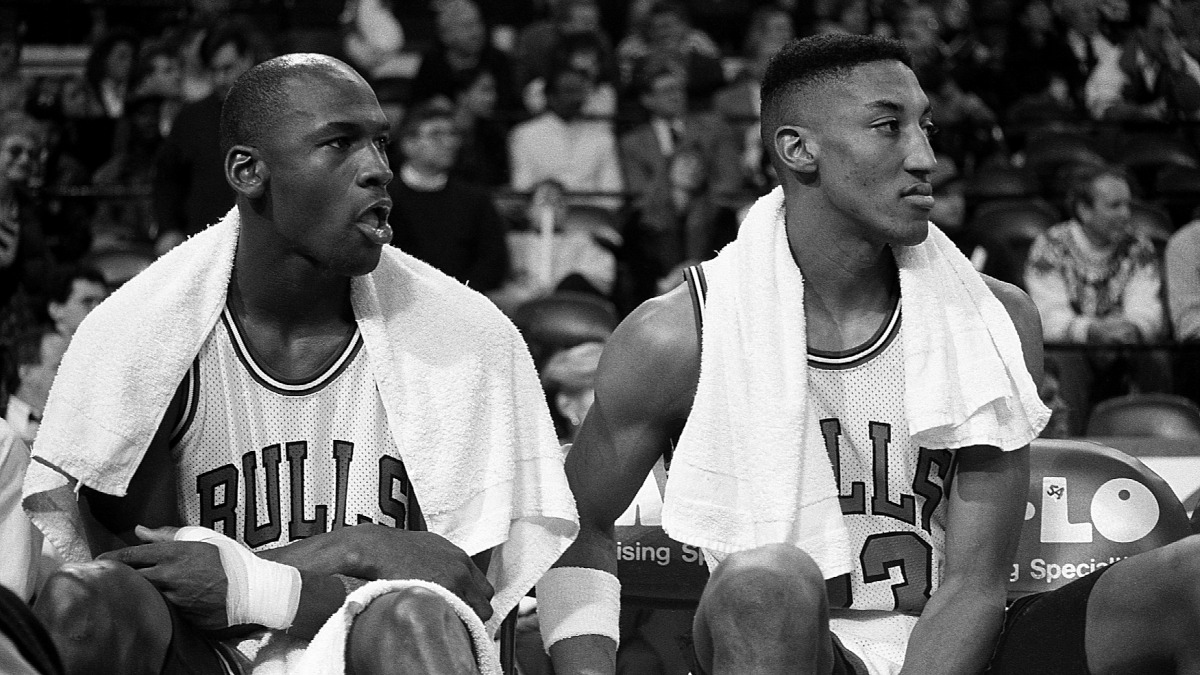 Scottie Pippen's journey to the NBA was remarkable. The youngest of 12 children growing up in poverty in rural Arkansas, Pippen played collegiately at then-NAIA Central Arkansas. He grew six inches after enrolling and was a top NBA prospect when he left the Bears in 1987.
The Bulls swung a draft-day deal to get Pippen's rights from the Seattle SuperSonics. Acquiring Pippen was a key piece of what would be a dynasty. The dynasty was unquestionably led by Michael Jordan, though.
That's a point Pippen seems willing to concede. However, for all his greatness as a player, Jordan was demanding of teammates. Often that crossed the line into abuse. Many of Pippen's comments in his book regarding Jordan's documentary revolved around one key issue.
Pippen felt His Airness dismissed the contributions of his teammates. Worse, Pippen believed Jordan was dismissive of his role in the rise of the Bulls dynasty.
So says the book's co-author
'Unguardable' became a hit piece against Michael Jordan
According to William C. Rhoden of The Undefeated, Unguardable began as a story about Scottie Pippen's rise from nowhere to NBA superstardom.
Co-author Michael Arkush told Rhoden the book began from that premise.
"The Last Dance didn't really bring out who the Chicago Bulls were and how they accomplished everything as a team," Arkush said. "That's what Pippen wanted people to take away."
But the documentary series changed the narrative of the book. What began as an inspirational story of beating long odds became an effort to correct what Pippen perceived as a film entirely devoted to paying tribute to Michael Jordan at the expense of the rest of the Bulls from that era. Arkush remembered the shift:
"It certainly brought a whole new narrative to what we were talking about. He really cherished his role as a facilitator for the offense and an anchor for the defense, and he really loved being in that position and being a part of the whole team.

"He really felt he wanted to get across the idea of team basketball. And then when he saw The Last Dance, he saw ways in which he felt he should have been better represented."

Michael Arkush
A first-ballot Hall of Famer, Pippen made the NBA's 75th-anniversary team. He was All-NBA seven times, All-Defensive on 10 occasions, and was the All-Star Game MVP in 1994, while Jordan was playing baseball.
Unfortunately for Pippen, the entire book reads as a takedown of Jordan, the jealous rantings of the co-star who felt ignored. Arkush believes it's deeper than that.
Scottie Pippen obscured his message with the Michael Jordan dialogue
Arkush says Scottie Pippen is comfortable with who he is, where he came from, and what he accomplished. But his comments about Michael Jordan are the only takeaway people are getting from his book.
"I think he has great appreciation for the journey he took and how difficult it was," Arkush said. "I think he really wanted people to understand that and to inspire other people that their dreams are possible if they believe in themselves and put in the work. That's a big part of what he wanted to get across."
The inclusion of in The Last Dance of the decision he made to sit out the last 1.8 seconds of a 1994 playoff game. Pippen reacted poorly when coach Phil Jackson drew up a final shot for Toni Kukoč rather than for him. That play wasn't part of the dynasty's last season, so Pippen questioned Jordan's motivation for having it included.
"That was his team, that was his moment to shine, to be the hero," Arkush said. "He wasn't rewarded with his moment."
Pippen felt the inclusion of the play was a pointed insult from Jordan.
Still, it's worth pointing out that Jordan wasn't exactly a world-beater without Pippen by his side. Chicago was 1–9 in the playoffs before Pippen joined the Bulls. Even Jordan's remarkable 63-point game against the Boston Celtics came during a series sweep.
Pippen felt Jordan's documentary did him wrong. But in the effort to try and right that wrong, he obscured his story. Instead of inspiration, Pippen's book projected unintended pettiness. Like Michael Jordan or not, at some point, Scottie Pippen would have been better off to let bygones be bygones and tell his story his way. Defense was the wrong strategy in this case.
Statistics courtesy of Basketball Reference.