Scottie Pippen Blasts the Way Michael Jordan Treated Bulls Teammates, Says They Won 'in Spite' of His Actions: 'I Was a Much Better Teammate Than Michael Ever Was'
Who would've ever thought that in the year 2021 the biggest feud in sports would currently be between Scottie Pippen and Michael Jordan? But here we are. Pippen has made his feelings about Jordan and The Last Dance known in recent months, and even more so within the past couple of weeks while promoting his memoir Unguarded.
In fact, within that book, Pippen attacked how MJ was a teammate and even said the Chicago Bulls won "in spite of" his actions.
Scottie Pippen has been critical of Michael Jordan in recent months
Scottie Pippen has essentially been critical of Michael Jordan ever since the release of The Last Dance. But the Hall of Famer has had a lot to say within the past couple of weeks.
In an excerpt from Unguarded, Pippen revealed his displeasure with how the documentary "glorified Michael Jordan while not giving nearly enough praise" to him and his teammates.
"Michael deserved a large portion of the blame. The producers had granted him editorial control of the final product. The doc couldn't have been released otherwise. He was the leading man and the director," Pippen wrote, per CBS Sports. "… Except Michael was determined to prove to the current generation of fans that he was larger-than-life during his day—and still larger than LeBron James, the player many consider his equal, if not superior."
Then in an interview on Sirius XM NBA Radio, he downplayed Jordan's "flu game" in the 1997 NBA Finals.
"Is it easier to play with a herniated disc or to play with the flu?" Pippen said, referring to his back injury in the 1998 NBA Finals. "… I don't see many 'bad back games,' but I do see 'flu games.' Flu; come on."
Of course those comments aren't the only issues Pip has with MJ.
Scottie criticized how Michael treated their Bulls teammates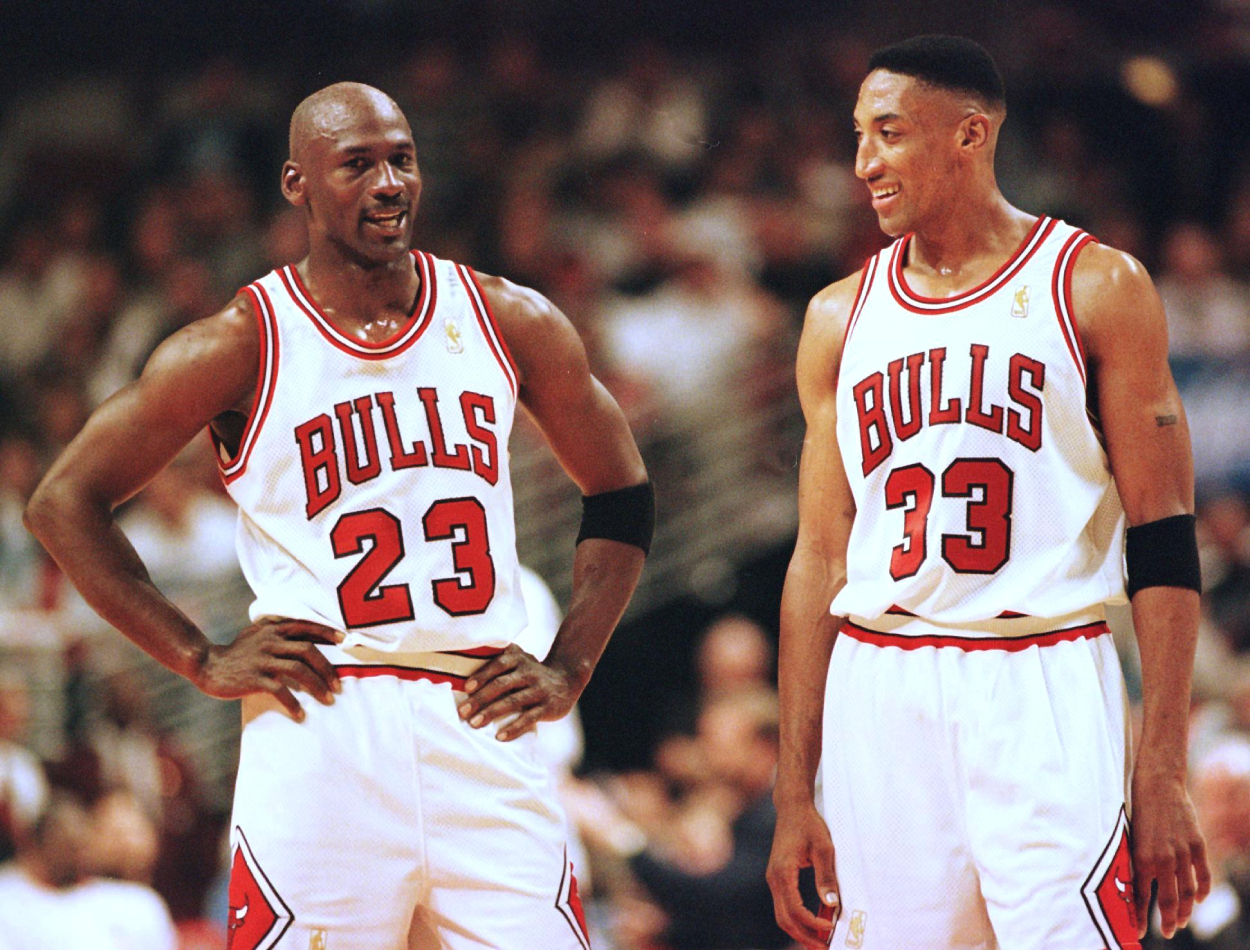 While The Last Dance likely brought back good memories for Pippen, it also reminded him of some unpleasant ones.
"In the doc, Michael attempted to justify the occasions in which he berated a teammate in front of the group," he wrote, per CBS Sports. "He felt these guys needed to develop the toughest to get past the NBA's more physical teams. Seeing again how poorly Michael treated his teammates, I cringed, as I did back then."
Pippen believes Jordan's berating had nothing to do with the Bulls winning six titles.
"Michael was wrong. We didn't win six championships because he got on guys. We won in spite of his getting on guys," Pippen wrote, per CBS Sports. "We won because we played team basketball, which hadn't been the case my first two seasons, when Doug Collins was our coach. That's what was special about playing for the Bulls: the camaraderie we established with one another, not that we felt blessed to be on the same team with the immortal Michael Jordan."
The boldest comment he made, though, was that he believed he was a better teammate than Jordan.
"I was a much better teammate than Michael ever was," he wrote, per CBS Sports. "Ask anyone who played with the two of us. I was always there with a pat on the back or an encouraging word, especially after he put someone down for one reason or another. I helped the others to believe in and stop doubting themselves."
So, is Pippen right? Was he actually the better teammate?
Other Bulls players have said Scottie Pippen was a great teammate
While some may think Scottie Pippen is pretty cocky to say he was a better teammate than Michael Jordan, his comments seem to be justified.
Bill Wennington, who played for Chicago during its second three-peat, said Pip was his "favorite Bulls teammate," per ESPN. Steve Kerr, on the other hand, said he and MJ complemented each other perfectly.
"He was a perfect complement to Michael," Kerr said on The Lowe Post podcast, per ESPN. "Michael was the hard ass. You had to be ready every day for his criticism. Scottie would put his arm around you and make sure you were OK. He is a kind soul."
Stacey King, who played with the Bulls during their first three titles, also praised Pippen as a teammate
"I tell people all the time, Scottie was the best teammate I ever played with," King said, per ESPN. "MJ would get on you, and Scottie would say, 'Don't worry. Don't listen to him. You're gonna be OK.'"
So, all in all, Michael Jordan is remembered as the best player of all time, which, in turn, made him tremendous to work with on the court. But maybe Scottie Pippen was, in fact, the greatest person to have as a teammate.