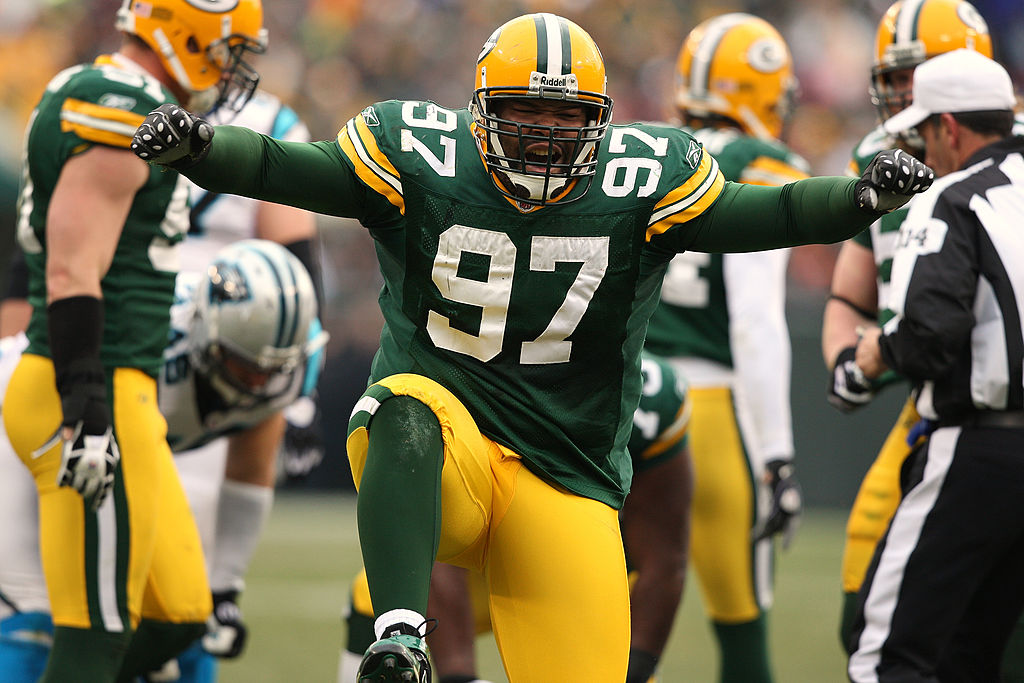 Johnny Jolly's Drug Addiction Cost Him His NFL Career and His Freedom
Johnny Jolly had a promising start to his NFL career, but his addiction to codeine derailed his life on and off the field.
Johnny Jolly didn't come into the NFL as a superstar, but he quickly made a name for himself in the league. Jolly was a sixth-round draft pick in 2006 out of Texas A&M. Many sixth rounders never even make the team, let alone become a starter in their second season. Jolly did just that, but after three solid years plugging up the defensive line for the Green Bay Packers, he threw it all away. After a series of drug charges, Jolly found himself in prison just five years removed from making his NFL dreams come true. His addiction cost him his career and his freedom all in one.
Johnny Jolly's NFL career
Johnny Jolly wasn't just a fan favorite in the NFL because of his Santa Clause-like name. He was an effective defensive tackle for the Packers for over two seasons.
After a rookie season that featured him riding the bench for most of the year, Jolly impressed his defensive coaches in the offseason and went on to start seven games in his sophomore campaign. He recorded his first career sack in 2007 and totaled 21 combined tackles in his second year in green and yellow.
Jolly only improved from there. He recorded 49 combined tackles in 2008, including 36 solo stops. The DT followed that up with another 40 tackles a year later. He even recorded his first career interception in 2009.
Jolly had grown into a run-stuffer every NFL team would love to have on their side, but his codeine addiction reared its ugly head right as he was playing his best football.
Jolly was arrested multiple times for codeine possession
As effective as Jolly had become on the field, his drug addiction was also growing worse by the day. Jolly was addicted to prescription cough syrup. He started using codeine and promethazine when he was just a sophomore in high school, and he continued the use through his NFL days.
In July 2008, Jolly was arrested for the first time for possessing at least 200 grams of codeine. He was outside a Houston nightclub when authorities caught the Packers DT.
Jolly later tested positive for codeine during an NFL test, and he was suspended for one season by the league. The Packers went on to win the Super Bowl in 2010, the first season Jolly missed due to his suspension.
He was on track to return to the field in 2011, but Jolly was arrested again in March. Then, Jolly was arrested for a third time in October of the same year. Jolly was sentenced to prison a month later for violating his parole.
Jolly was sentenced to 6 years in prison in 2011
Jolly thought getting suspended by the NFL was the worst thing that could happen to him, but he was proven wrong shortly after. In November of 2011, Jolly was sentenced to six years in prison for violating the terms of his probation for a drug conviction.
In May of 2012, Jolly was released from prison and given 10 years of "shock" probation by a judge. This unique probation is handed out to criminals who couldn't stand the shock or trauma of being in prison. He's able to live happily with his family today and be a present father to his young daughter.
On paper, Jolly might be considered a criminal. But in reality, he's just an addict who needed help and doesn't deserve to be in jail. Jolly is finally getting the help and support he needs, but he could still be in the NFL today if he received it earlier.
All stats courtesy of Pro Football Reference