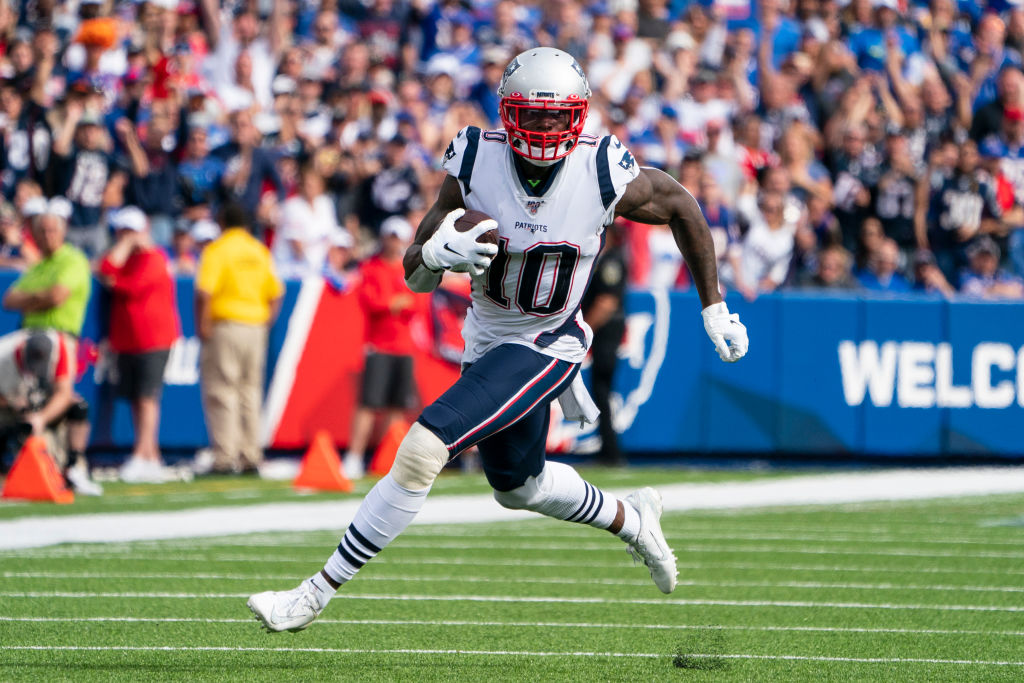 Troubled Wideout Josh Gordon Hopes to Return in 2020
Since Josh Gordon first played in the NFL, he's been suspended six times in eight years. Gordon hopes to return in 2020 in what will likely be his last chance.
Talented but troubled wide receiver Josh Gordon has indicated he plans on returning to action for the 2020 NFL season after receiving an indefinite suspension in December for violating the league's policies on performance-enhancing substances and substances of abuse. Whether or not he returns is up to commissioner Roger Goodell.
Josh Gordon's numbers
After a solid rookie season with the Cleveland Browns in 2012, Gordon burst on to the scene in 2013 hauling in 87 receptions for a league-leading 1,646 yards and nine touchdowns in just 14 games. He missed the first two games due to suspension. For his efforts, the second-year receiver earned his first trip to the Pro Bowl and a selection as a first-team All-Pro.
Since that spectacular season, Gordon hasn't lived up to any of the expectations. If anything, his career has been consistently inconsistent. Since the 2013 season, Gordon has missed two entire seasons (2015-16) due to suspension and bounced around the league.
In 2018, he returned from suspension and split time between Cleveland and New England. Gordon finished the season with 737 yards and four touchdowns and won a Super Bowl title.
Gordon started the 2019 season with New England, where he had 20 receptions for 287 yards and a touchdown before the Patriots waived him after the sixth game.
A few weeks later, Seattle claimed him off waivers and he became the No. 3 target for Seahawks quarterback Russell Wilson finishing with seven catches for 139 yards in five games. In December, the league announced his indefinite suspension. 
A history of trouble
Gordon has admitted in numerous interviews that he's had an addiction to drugs and alcohol. He said it all started in middle school when he first started self-medicating with Xanax, marijuana, and codeine. 
Gordon continued using drugs in high school and at college, where he attended Baylor University. It was in Waco, where he started dealing drugs. He estimated that he earned approximately $10,000 a month selling weed up and down the IH-35 corridor in Austin, San Antonio, and Dallas.
During his sophomore year in 2010, Gordon and a teammate were found asleep in a Taco Bell drive-through lane. Police found marijuana in the vehicle. Baylor head coach Art Briles suspended him. Several months later, Gordon received an indefinite suspension when he failed a drug test testing positive for marijuana.
Despite his troubles, the Browns selected him in the second round of the 2012 Supplemental Draft. Since being drafted, the NFL has suspended Gordon six times in eight years. 
Could this be the time Gordon stays?
Whether or not Goodell will reinstate Gordon is still unclear. If he does, it would be the first time in his career where he will be an unrestricted free agent. 
According to various reports, Gordon could return to a familiar setting, the place he played before his last suspension, in Seattle. 
Russell Wilson said he would welcome him back to Seattle because he believes Gordon could add value to the team, and more importantly, the organization would provide a positive environment with a strong support system that could help him navigate any challenges he might face. 

"I think this environment has been great for him, to be honest with you. He really fit in—in terms of just the everyday part of the process. Since day one, he was studying and working and highlighting and doing all the extra work. He had the biggest smile on his face."

Seattle Seahawks quarterback Russell Wilson
All of it is still a big question mark and up to Goodell's "sole discretion" as to whether or not he reinstates Gordon. If it does happen, the new collective bargaining agreement rules that apply to all other players (no suspension for positive marijuana tests) will not apply to him. Any violations of the policy committed by a player who has been reinstated can result in another indefinite suspension.
Josh Gordon's possible return to the NFL remains in doubt. If he is granted reinstatement, you hope he's turned his life around and makes the most of his opportunity, because it will likely be the last one he gets.