Is Josh Allen Already the Best QB in Bills History?
Josh Allen has the Buffalo Bills at 5-1 heading into Week 8. He is the MVP frontrunner, and the Bills are the favorites to win the Super Bowl. After a 60-plus-year history with mostly mediocre or flat-out bad quarterback play, it's not outlandish to say that Allen — after just 73 games at QB — might be the best signal-caller in franchise history. However, Bills legend Jim Kelly might have something to say about that.
The Bills have a rough history at quarterback 
Since Ralph Wilson founded the franchise in 1960, the Buffalo Bills have mostly struggled at the quarterback position.
Jack Kemp had a few good years in the 1960 but finished with a pedestrian 43-31-1 record as a starter. After that, Joe Ferguson started for 13 seasons in the 1970s and 80s but posted an even worse 77-86 record, although he did lead the NFL in passing yards in 1977 with 2,803 yards.
Jim Kelly followed Ferguson, put together a Hall of Fame career, and famously took the Bills to four Super Bowls in four years. Kelly and company could never win the big one, but he easily took the torch as the best QB in franchise history.
Between Kelly's retirement after the 1996 season and the Bills drafting Josh Allen in 2018, the QB position was a rough situation in Western New York. The uninspiring Kelly replacements included Todd Collins, Rob Johnson, Doug Flutie, Alex Van Pelt, Drew Bledsoe, Kelly Holcomb, J.P. Losman, Trent Edwards, Ryan Fitzpatrick, EJ Manuel, Kyle Orton, and Tyrod Taylor.
According to the Sports Math Network, of all the QBs in Bills franchise history, only seven out of 59 QBs have a positive Total Yards Added (TYA) in their career (Allen, Kelly, Flutie, Taylor, Johnson, and Bill Munson.
TYA is a stat that "relies on basic box-score statistics relative to the league average during the year in question. It's broken into two components — Rushing Yards Added (RYA) and Passing Yards Added (PYA) — that are added together for the resulting TYA metric. Zero is always the league average, and positive scores indicate above-average."
Translation: Bills quarterbacks have been sub-par over the years
Josh Allen vs. Jim Kelly
With apologies to Jack Kemp, Joe Ferguson, Doug Flutie, and a few others, the best quarterback in Bills history comes down to Jim Kelly and Josh Allen.
While you can't compare 66 regular season games of Allen to 160 of Jim Kelly, here's how their careers look head-to-head right now.
Jim Kelly: 101-59 record, 4,779 pass attempts, 2,874 completions, 60.1 completion rate, 35,467 passing yards, 237 touchdowns, 175 interceptions
Josh Allen: 44-22 record, 2,238 pass attempts, 1,405 completions, 62.8 completion rate, 16,094 passing yards, 120 touchdowns, 50 interceptions
The playoffs are where Kelly made his name, though, and where Allen will ultimately make his. Right now, here's how their career playoff numbers match up.
Jim Kelly: 9-8 record, 545 pass attempts, 322 completions, 59.1 completion rate, 3,863 passing yards, 21 touchdowns, 28 interceptions
Josh Allen: 3-3 record, 228 pass attempts, 149 completions, 65.4 completion rate, 1,718 passing yards, 14 touchdowns, one interception
As you can see, Allen stacks up favorably against Kelly in the regular season and even better in the postseason.
It is hard in some ways to judge, though, because of the much more pass-heavy era these days. However, Total Yards Added can help with that because it's based on the league average of the time. Through 73 total games with the franchise, Allen has 1649.856 TYA (22.601 per game), while Kelly comes in at a slightly better 1740.496 TYA (23.842 per game).
The Verdict: Who's the best Bills QB?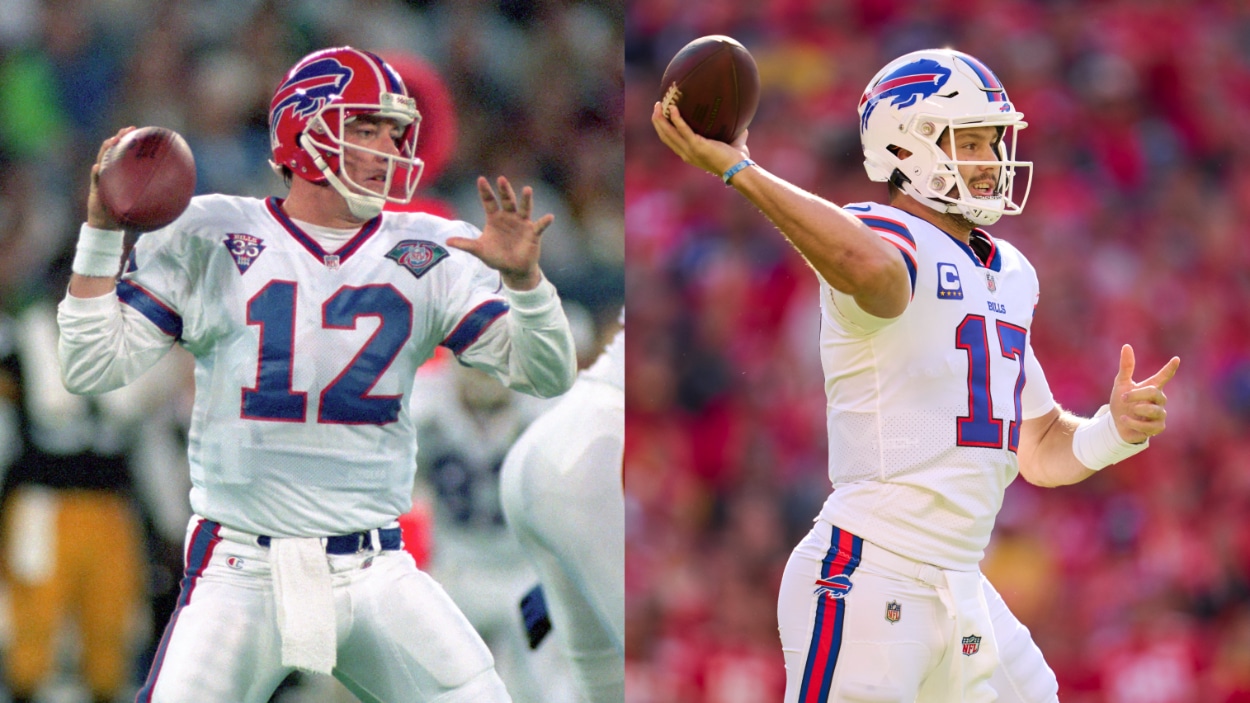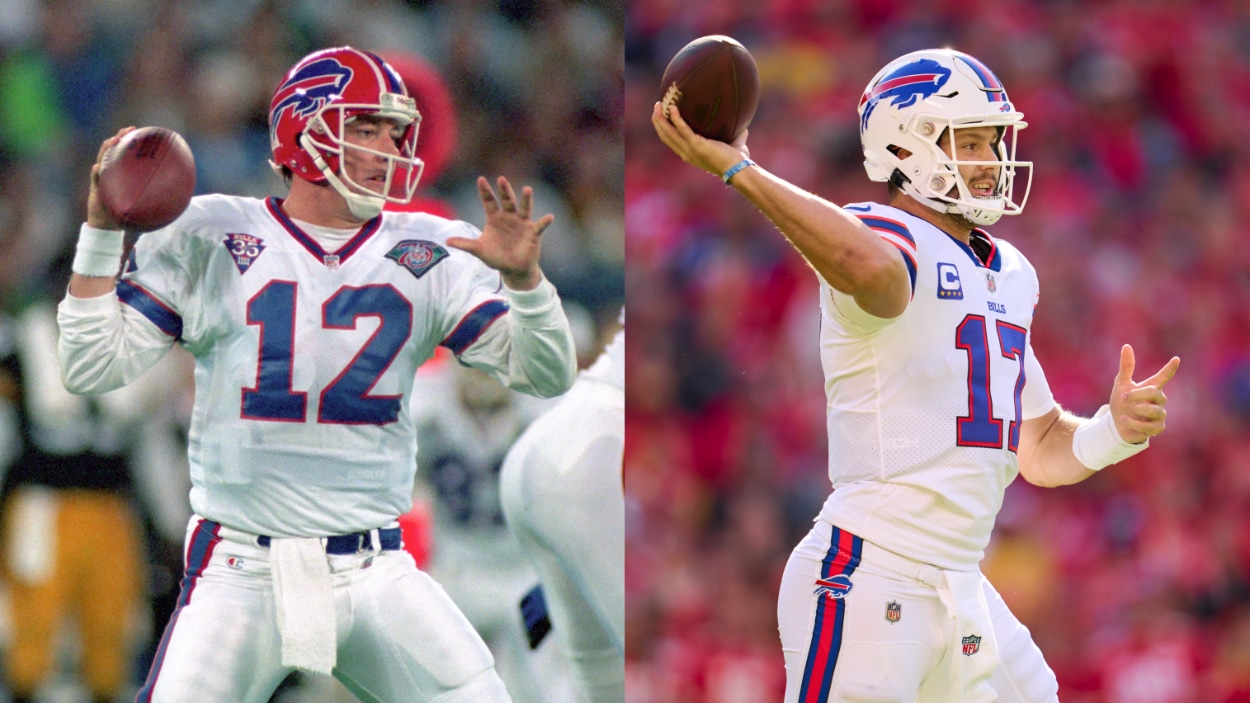 RELATED: Where is Buffalo Bills Quarterback Josh Allen From?
In his day, Jim Kelly was big, tough, and athletic and could throw it all over the field. Josh Allen, in many ways, is simply the evolutionary Kelly.
Allen has more arm talent, more athleticism, and is more accurate than Kelly. However, when it comes to moving the offense and winning games, Kelly still has the edge. He may not have won a Super Bowl, but bringing a team to four straight is an incredible accomplishment that may never be duplicated.
If you have to answer this question today, Kelly is the best Bills QB of All-Time.
However, if Allen keeps up with this pace and ever (or as soon as February 2023) wins a Super Bowl, that answer will flip, and No. 17 will jump ahead of No. 12 as the best QB in Bills history.
Have thoughts on this topic? Keep the conversation rolling in our comments section below.