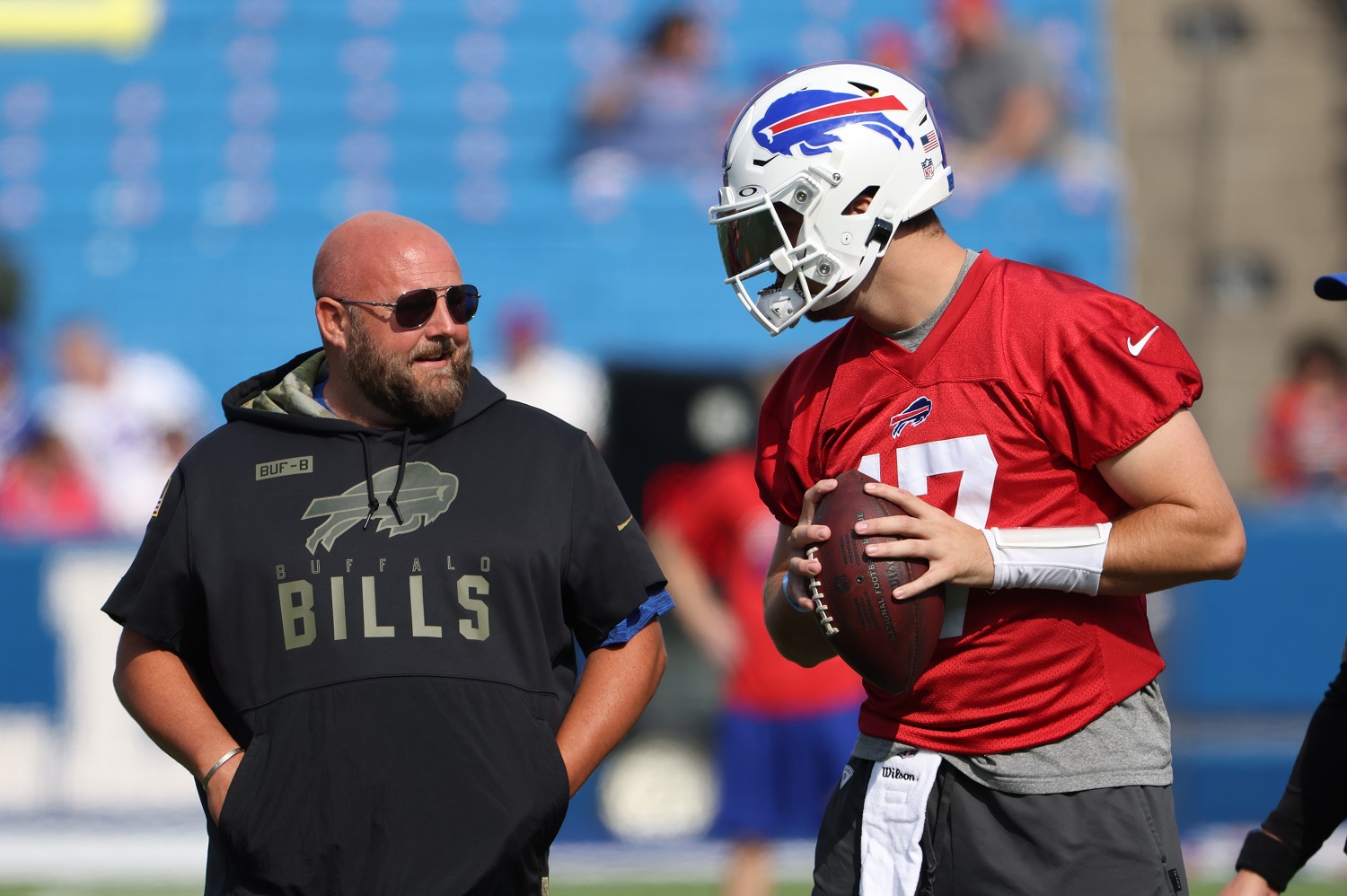 Josh Allen and the Buffalo Bills Battle 2 Unnecessary Distractions While Prepping for Kansas City
The Buffalo Bills are preparing for their playoff game in Kansas City while facing the prospect of potentially losing a pair of coordinators this offseason.
The Buffalo Bills poked the proverbial bear back on Oct. 10 when they beat the Kansas City Chiefs, 38-20, to send the two-time defending AFC champions to their third loss in five games. The Chiefs come into their rematch having gone 12-2 since, and the Bills find themselves with challenges extending beyond handling the likes of Patrick Mahomes, Travis Kelce, and Chris Jones.
Every time Josh Allen, Stefon Diggs, and Micah Hyde turn around these days, someone is playing poach the coach with their coordinators. It's an unnecessary distraction while Buffalo is just two wins away from going to the fifth Super Bowl in franchise history.
Buffalo Bills QB Josh Allen potentially faces football life without Brian Daboll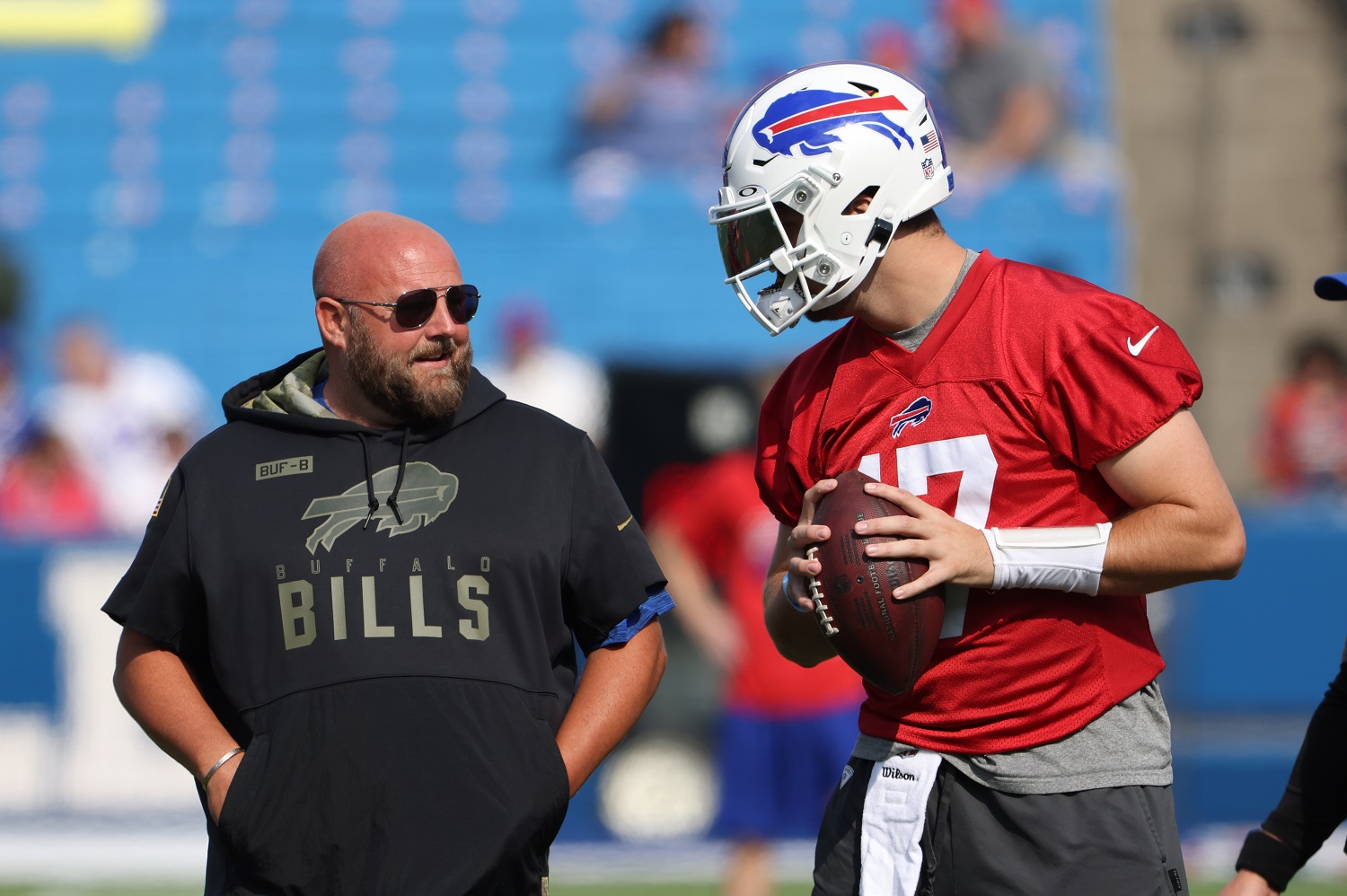 Brian Daboll has spent four seasons as the offensive coordinator for the Buffalo Bills, having arrived at the same time as quarterback Josh Allen. There is a growing consensus that he will not be back for a fifth. That's because Daboll is in demand as a potential head coach.
Daboll interviewed Sunday with the Miami Dolphins and Chicago Bears. The New York Daily News reported Saturday that the Giants are also interested. That sentiment picked up steam Wednesday with a New York Post story that Bills assistant general manager Joe Schoen went through a second interview for the team's GM vacancy. The implication is that Schoen and Daboll could turn into a package deal in New York.
But amid the intrigue is the fact that the Bills, led by hard-nosed quarterback Josh Allen, are preparing to play at Kansas City on Sunday night, with the winner advancing to the AFC Championship Game. Ideally, the entire coaching staff is focused on planning for the Chiefs rather than lining up new jobs. It's a dilemma multiple playoff teams endure each January.
"You've got to be able to compartmentalize some of that stuff," Bills head coach Sean McDermott said. "I think it's just one of those things you're going to have to be a professional about it, and be smart with your time, efficient with your time. Also, the prep for things like that happens in the offseason. That's when you should be prepping anyway, at least the bulk of it. … But the focus needs to be on our game this week and on the Chiefs at this point."
Leslie Frazier is another head coaching candidate
The Bears and Dolphins also interviewed Buffalo Bills defensive coordinator Leslie Frazier. Though the Bills had an extra day coming off Saturday's thorough domination of the New England Patriots on NFL Super Wild Card Weekend, having two coordinators doing anything other than reviewing film and game-planning for the Chiefs has to be worrisome.
Frazier is in his fifth season with the Bills. He went 3-3 as the interim head coach for the Minnesota Vikings in 2010, which resulted in a contract. The Vikings fired him in 2013 after one playoff appearance and a 21-32-1 record.
"It's hard to look at another team for me personally and stay focused on what I have to get done," Frazier admitted. "So, for me, it's all about this opponent and then you shift gears once that time comes. But, for me, it's been locking in on the Kansas City Chiefs."
Every victory by the Bills in the postseason raises the possibility of second interviews for Frazier and Brian Daboll, as well as other teams with vacancies seeking an interview. Thus, the potential distractions could continue right through the Super Bowl.
The Buffalo Bills sought a related rule change last year
Winning teams are always at risk of turnover on the coaching staff since close to a quarter of the league's teams make coaching changes each offseason. Coordinators from playoff teams frequently move up to the position of head coach, and assistants slide into coordinator roles.
After Brian Daboll and Leslie Frazier attracted some interest a year ago, the Buffalo Bills proposed a rule change closing the interview window for coaching and front-office positions until after the AFC and NFC title games. Additionally, teams wouldn't be able to hire until after the Super Bowl.
The proposal wasn't entirely self-serving. Some coaches who deserve the opportunity to explore promotions turn down interview requests because they do not want distractions ahead of playoff games.
NFL owners not only rejected the proposal but also actually loosened restrictions. It received little notice, but they voted to allow interviewing to begin during the final two weeks of the regular season. That makes the coaching carousel even more alarming for top teams in future seasons.
Like Sportscasting on Facebook. Follow us on Twitter @sportscasting19.