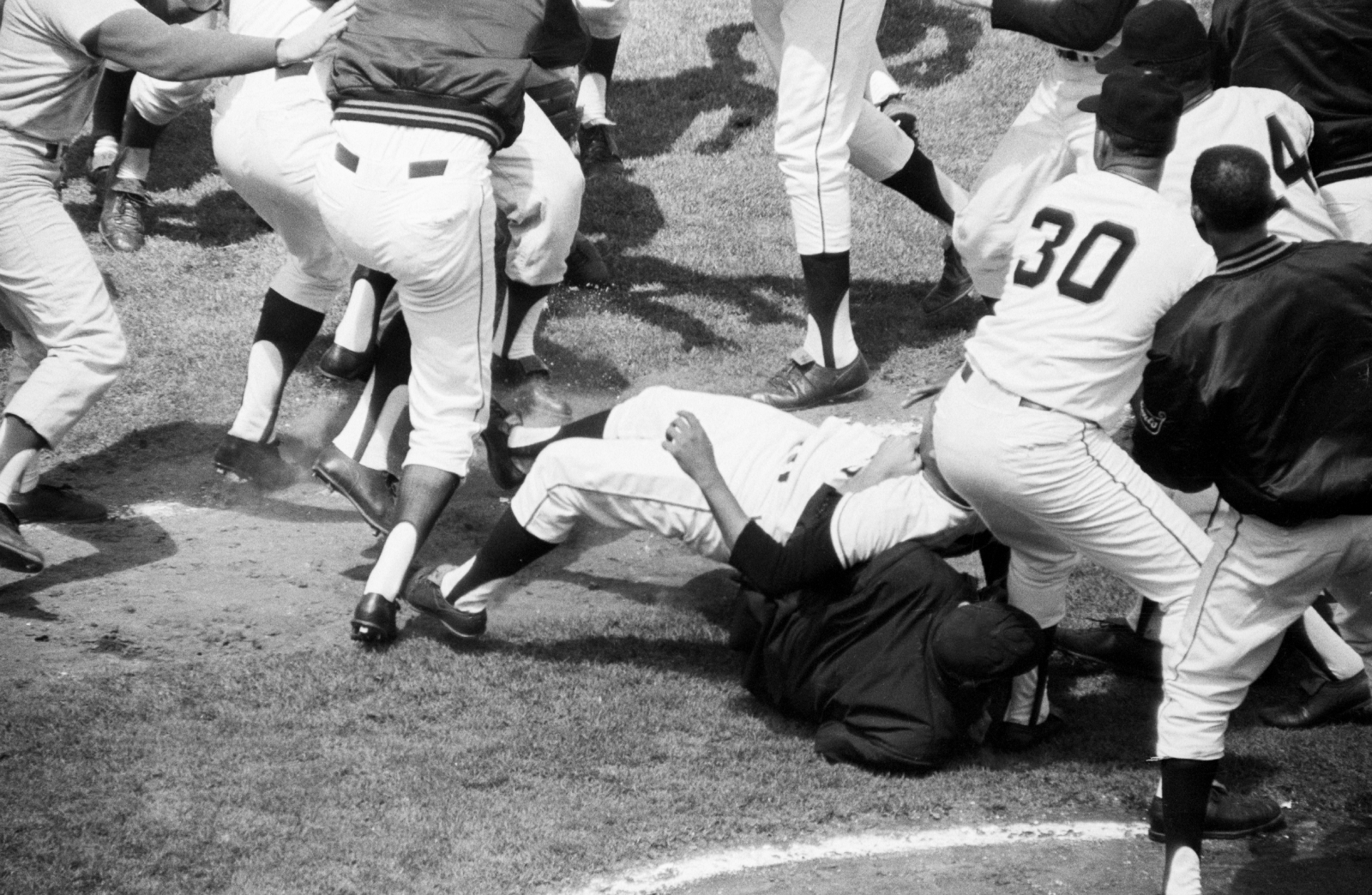 Juan Marichal Ignited What Might Be the Most Horrific Brawl in MLB History
Former San Francisco Giants pitcher Juan Marichal ignited what might be the most horrific brawl in Major League Baseball history.
It doesn't quite rival the Malice at the Palace, but it probably goes down as the most horrific brawl in Major League Baseball history. It all went down 55 years ago, Aug. 22, 1965, to be specific. The San Francisco Giants, led by pitcher Juan Marichal, were hosting the rival Los Angeles Dodgers and things got heated quickly.
The Dodgers vs. Giants rivalry
Some have said it goes down as the greatest rivalry in baseball, if not all of sports. It began in the late 19th century when both teams were playing in New York and continued when both teams left New York and headed to California. In 1957, the Dodgers moved to Los Angeles and owner William O'Malley convinced Giants owner Horace Stoneham to move to California. Stoneham had been targeting Minnesota, according to MLB.com.
Not only has the rivalry been heated at times, but it's also been extremely close. The teams have met 2,506 times in total and the Giants own the series lead by a mere 23 games. The Giants' record against the Dodgers is 1,256-1,233-17.
The Dodgers have won the National League pennant 23 times – 11 times in Los Angeles and 12 when in New York. The Giants have also won the NL pennant 23 times. the won 17 of them when they were in New York. In the last 20 years, the Giants have been to the World Series four times, winning three. During that span, the Dodgers have gone twice, losing both times.
Marichal ignites wild brawl
In a highly anticipated pitching duel between Juan Marichal of the San Francisco Giants and Sandy Koufax of the Los Angeles Dodgers, things got ugly early. It was a late-season meeting with both teams fighting for playoff spots. Marichal knocked down Dodgers shortstop Maury Wills with a high fastball in his second at-bat after Wills reached on a bunt single in the first.
According to ESPN, Koufax returned the favor by sailing a pitch over the head of Willie Mays. Again, Marichal threw an inside pitch to Ron Fairly that knocked him to the ground in the third inning. That prompted the umpire to issue a warning to each team. In the bottom of the third, with Marichal at the plate, Koufax threw a pitch that was dropped by Dodgers catcher John Roseboro. Roseboro fired the ball back to Koufax, buzzing the ball right past Marichal's ear. Marichal later said it clipped his ear.
Marichal confronted Roseboro and words were exchanged. As Roseboro came toward Marichal, Marichal took his bat and clubbed Roseboro over the head. That blow caused a wild scene at Candlestick Park. Both benches immediately cleared. Marichal kept swinging his bat and was tackled by home-plate umpire Shag Crawford. A heated Roseboro went after Marichal but was stopped by Willie Mays, who stopped the 14-minute brawl from getting well out of hand. "They can thank Mays that there wasn't a real riot out there," Dodgers outfielder Lou Johnson told the Los Angeles Times. "If it wasn't for Willie Mays it could have been a lot worse. Willie did a hell of a job stopping the battle."
The after-effects of the brawl
John Roseboro needed 14 stitches to close the gash in his head and Juan Marichal was ejected and suspended 10 games. Marichal was fine a then-record $1,750 for his role. Roseboro sued Marichal for $110,000, but the case was settled with Roseboro receiving $7,500, according to ESPN.
Marichal struggled the rest of the season. He went 3-4 in his final nine appearances. Before the fight, his ERA was 1.78. After the brawl, it ballooned to 3.55. The San Francisco Giants went on to win that game 4-3 as the bullpen came through.
Roseboro and Marichal later became friends. Although that incident was almost always brought up in conversation, the two seemed to put it behind them. "There were no hard feelings on my part. I thought if that was made public, people would believe that this was really over with," Roseboro told the Los Angeles Times in 1990. "So I saw him at a Dodger old-timers' game and we posed for pictures together and I actually visited him in the Dominican." When Roseboro died in 2002, Marichal was an honorary pallbearer and spoke at his funeral.