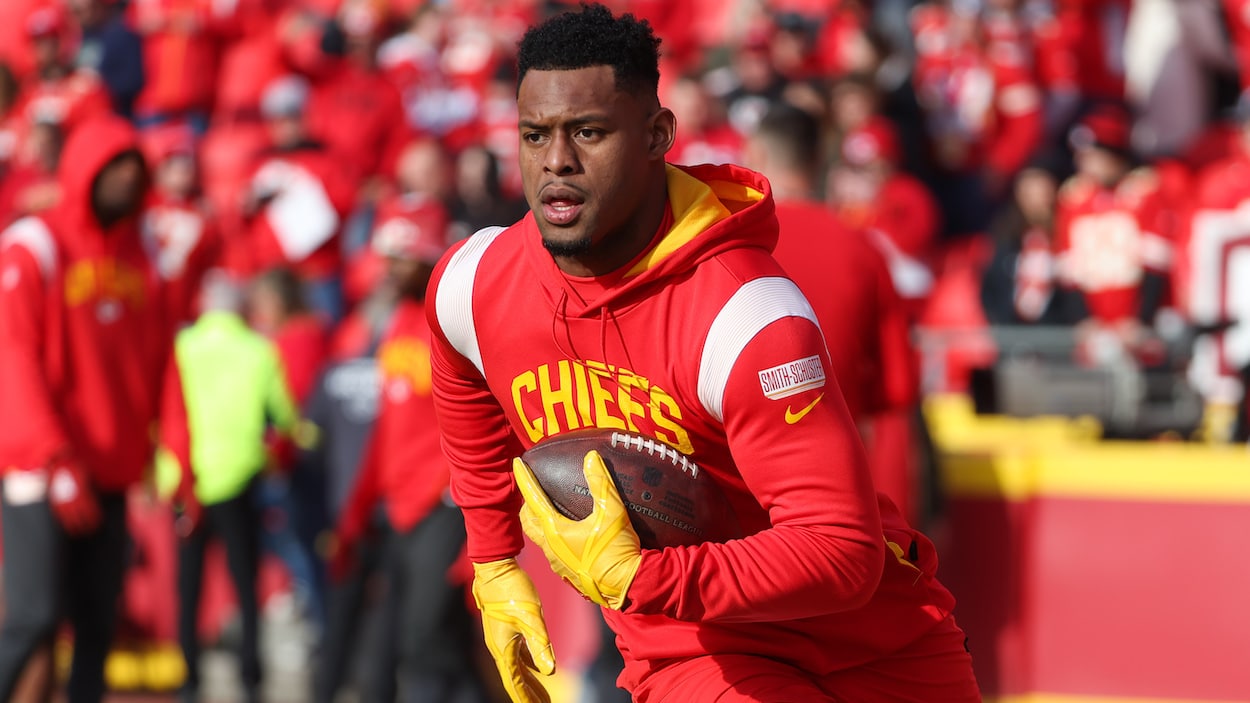 JuJu Smith-Schuster Contract: Free Agent WR Bet on Himself and Pushed
The JuJu Smith-Schuster contract could top the free-agent WR market this offseason, but that isn't really saying all that much.
Kansas City Chiefs wide receiver JuJu Smith-Schuster has always been a bit of an enigma. Sometimes he looks like a true No. 1 wideout, and other times he doesn't. Sometimes he seems like a good teammate and a winning player, and other times he acts like a diva WR. As a free agent WR last offseason, Smith-Schuster took a team-friendly, one-year deal with the Chiefs to prove his worth. And after a solid, if unspectacular, season, the pass-catcher is right back where he started from as he heads out on the free-agent WR market this offseason to look for the next JuJu Smith-Schuster contract.
The JuJu Smith-Schuster contract   
Still just 26, JuJu Smith-Schuster has had a fascinating football career already. The Long Beach, California native grew up playing football for a coach named Calvin Broadus. You may know him better as Snoop Dogg.
He then went to USC and had a solid career before the Steelers used a late second-round pick on him in the 2017 NFL Draft. As the team's No. 2 option next to Antonio Brown, Smith-Schuster was excellent, racking up 58 catches for 917 yards and seven touchdowns in his rookie season. He followed that up with a team-leading 111 receptions for 1,426 yards and seven TDs (plus a Pro Bowl nod) in Year 2.
In 2019, Brown left, and Smith-Schuster regressed. Dionte Johnson and James Washington outperformed the former Trojan, and he never again crested 100 catches or 1,000 yards with the Steelers.
As a second-round pick, the initial JuJu Smith-Schuster was a four-year, $4,195,779 contract with $1,847,192 guaranteed. When that deal expired after the WR's injury-shortened 2021 season, the team and player decided to part ways.
In an offseason where true No. 1s (Davante Adams, Tyreek Hill, A.J. Brown) got massive, long-term, eight-figure deals, there wasn't that type of JuJu Smith-Schuster contract available. Instead, the free-agent WR signed a one-year, $3,760,000 contract with the Chiefs that included a $1,455,000 signing bonus, $2,490,000 guaranteed, and had an average annual value of $3,760,000.
Smith-Schuster had a solid year in KC, putting up 78 catches for 933 yards and three TDs. However, he again hits the free-agent WR market in almost the same position he did last year.
The 2023 free-agent WR market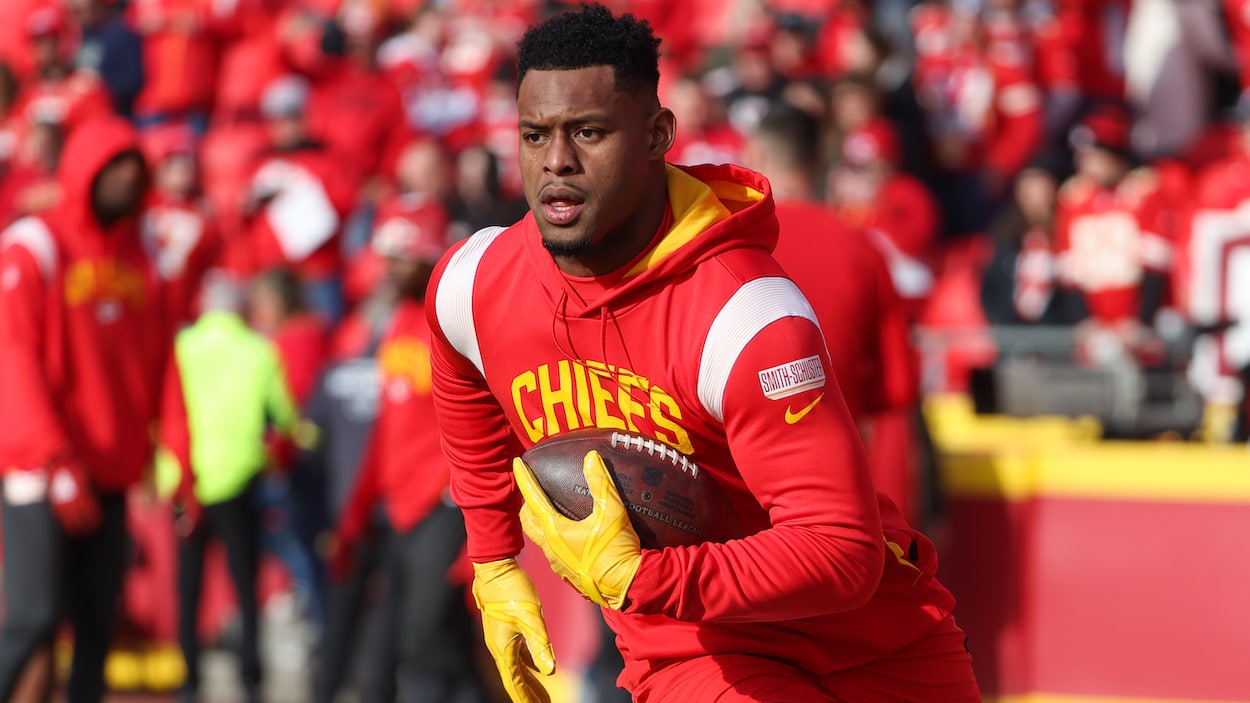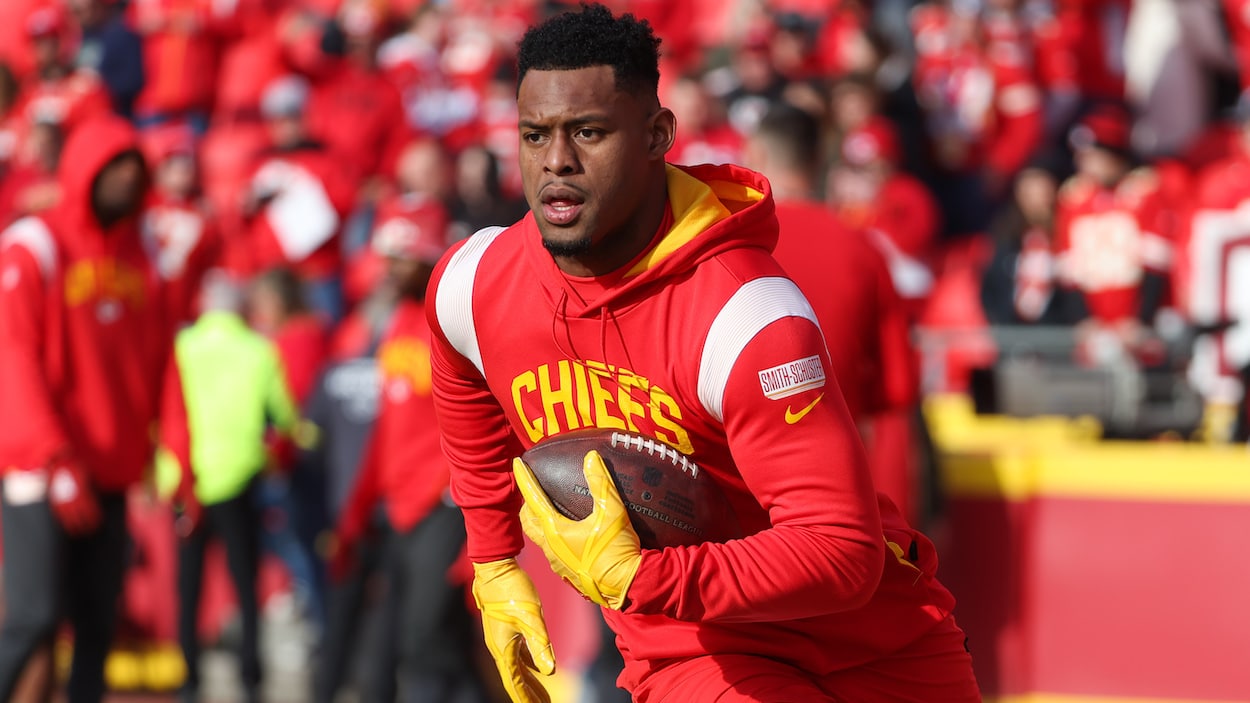 If your favorite team is in need of a star wide receiver, they'll have to draft or trade for one this offseason. That is because the 2023 free-agent WR market isn't great.
The fact that JuJu Smith-Schuster is one of the three best players available speaks to that. The top 10 free-agent WRs this offseason (with their 2022 stats) are:
Jakobi Meyers — 67 catches, 804 yards, six TDs
JuJu Smith-Schuster — 78 catches, 933 yards, three TDs
Allen Lazard — 60 catches, 788 yards, six TDs
Parris Campbell — 63 catches, 623 yards, three TDs
Marvin Jones— 46 catches, 529 yards, three TDs
Mack Hollins — 57 catches, 690 yards, four TDs
D.J. Chark — 30 catches, 502 yards, three TDs
Mecole Hardman — 25 catches, 297 yards, four TDs
Olamide Zaccheaus — 40 catches, 533 yards, three TDs
Darius Slayton — 46 catches, 724 yards, two TDs
Not exactly a franchise-changing list of players here. So, while the JuJu Smith-Schuster contract this offseason might be the biggest of any players' on this list, it won't reach the $20-$30 million a year heights that the top pass-catchers in the league get.
That means despite betting on himself and having a good (though not great) season, Smith-Schuster is back in basically the same spot he was last offseason, as a No. 2 WR who will get WR2 money in free agency.