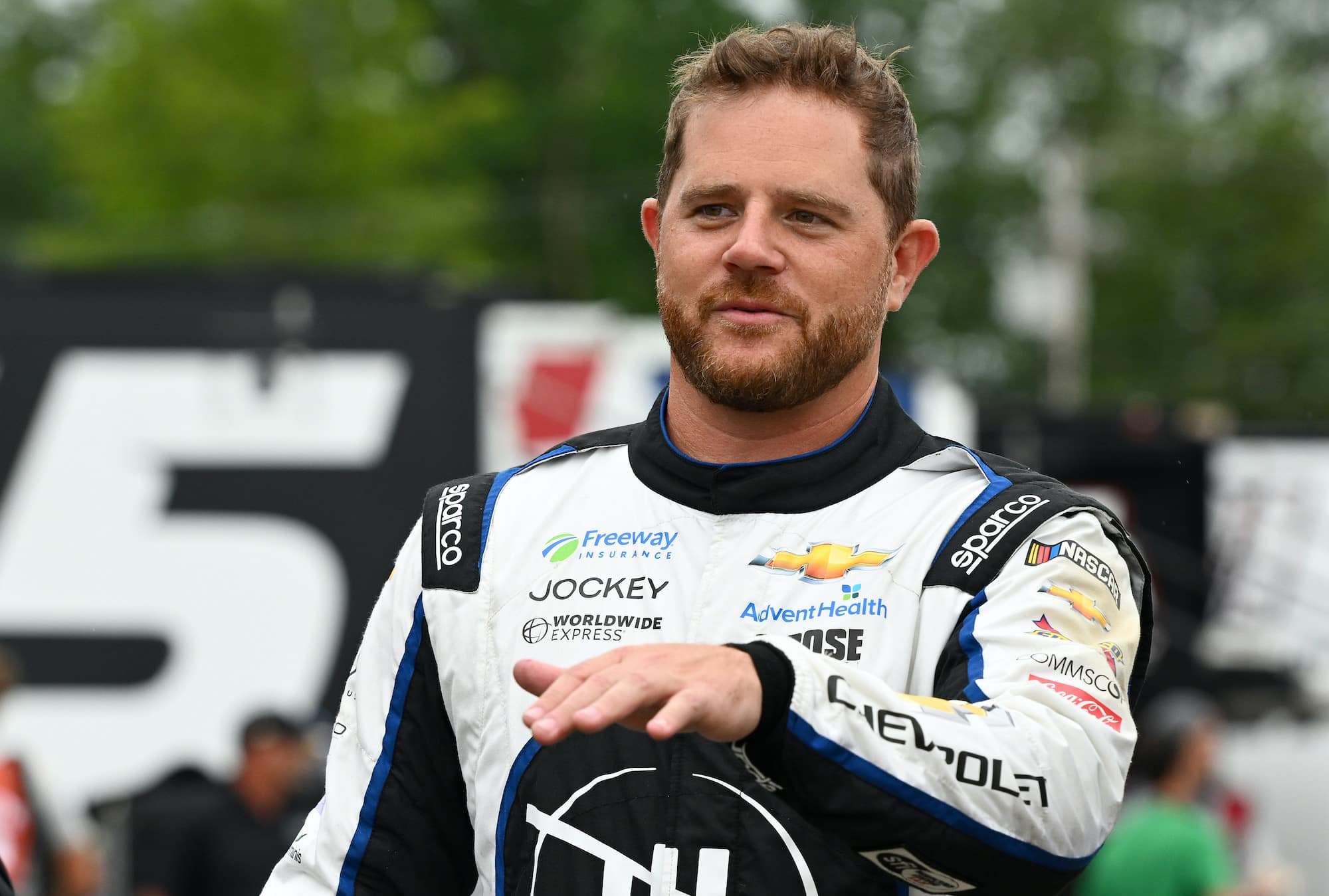 Justin Marks Suffers Scary Crash During Truck Series Race at Mid-Ohio After Losing Brakes on Fastest Part of Track, Bringing Back Terrifying Memories of Jimmie Johnson 
Justin Marks returned to NASCAR with the Truck Series at Mid-Ohio and ended his day early in a scary crash that brought back images of Jimmie Johnson.
After a modest career as a part-time driver, Justin Marks has skyrocketed to the top of the NASCAR headlines this year as the co-owner of Trackhouse Racing, unquestionably the biggest story of the 2022 Cup Series season with three wins by two drivers, Ross Chastain and Daniel Suarez.
This weekend, Marks returned to his roots behind the wheel with the Truck Series and did so at the track where he achieved his career highlight, an Xfinity Series win at Mid-Ohio in 2016. This time around, however, it didn't end in celebration and hoisting the trophy. Instead, his day ended in frightening fashion when he lost his brakes on the fastest part of the track, slid across a huge gravel pit, and slammed into the protective tire barrier. It all evoked images of Jimmie Johnson in 2000.
Justin Marks and Trackhouse skyrocket to success in 2022
Justin Marks watched Daniel Suarez earn four top-10 finishes in the first year of Trackhouse Racing, a solid finish in the team's inaugural season. The co-owner was among many excited about the possibilities of the Next Gen car and NASCAR's promise that it would level the playing field and give smaller teams a chance.
Boy, has it ever.
Incredibly, in the organization's sophomore campaign, Trackhouse has produced a pair of first-time Cup winners and three total victories. It could have been more, as both Suarez and Chastain have run near the front on an almost-weekly basis. As a result, Chastain is considered a legitimate contender for the championship at the halfway point of the season. 
Justin Marks suffers scary crash at Mid-Ohio
Justin Marks last raced with NASCAR in 2018. While he's become a high-profile personality as a team owner, he's still a racer at his core. That's why when presented with an opportunity to compete in a Truck Series race at the site of his lone win, the 41-year-old jumped at the chance. 
Riding in the Niece Motorsports No. 41, the same truck Chastain won in earlier this year at Charlotte, Marks ran in the top 15 for much of the race. A spin in stage 3 dropped him back in the pack and ruined any chances of a top-10 finish. Unfortunately, that was just the beginning of his problems.
Later in the stage, racing down the longest straightaway and fastest part of the track at speeds nearing 160 MPH, Marks lost his brakes. He went off the track, turned sideways, then slid backward through the large gravel pit known as China Beach before smashing passenger side into the tire barrier.
"We were having a really good race," Marks said after a visit to the infield care center. "The truck was, you know, we were one change away from I think having a really solid top-10 truck. Got spun for some really odd reason, and then we had a brake failure going into five. 
"It's a bummer. Didn't want to give these guys more work, but I appreciate the opportunity to come race here. It was fun dicing it up with some of these guys. It's just a bummer we ended early."
Strange coincidence and flashback to Jimmie Johnson
A brake failure on a long straightaway at a road course is a driver's worst nightmare. Jimmie Johnson revealed that in 2000 at Watkins Glen when he lost his brakes heading into Turn 1, cut across the grass, got airborne before heading into the gravel trap, and slammed violently into the tire barrier. 
"One of the very few times in a race car I thought it was over," Johnson said in an interview. "I thought that was it."
Oddly, just last week, during Cup Series qualifying at Road America, the NBC broadcast team revisited Johnson's terrifying crash because — you guessed it — Ross Chastain's car was having brake issues. The crew discovered tiny cracks in the brake rotor, which turned out to be a concern for multiple teams. Fortunately, the teams resolved the issue, and no one had problems during the race.
On Saturday, Marks wasn't as lucky as his driver and suffered a serious scare in Ohio. Now with that behind him, he can return to running the business, being a cheerleader, and continue writing an improbable chapter in the NASCAR history books about the little team that could.
Like Sportscasting on Facebook. Follow us on Twitter @sportscasting19 and subscribe to our YouTube channel.