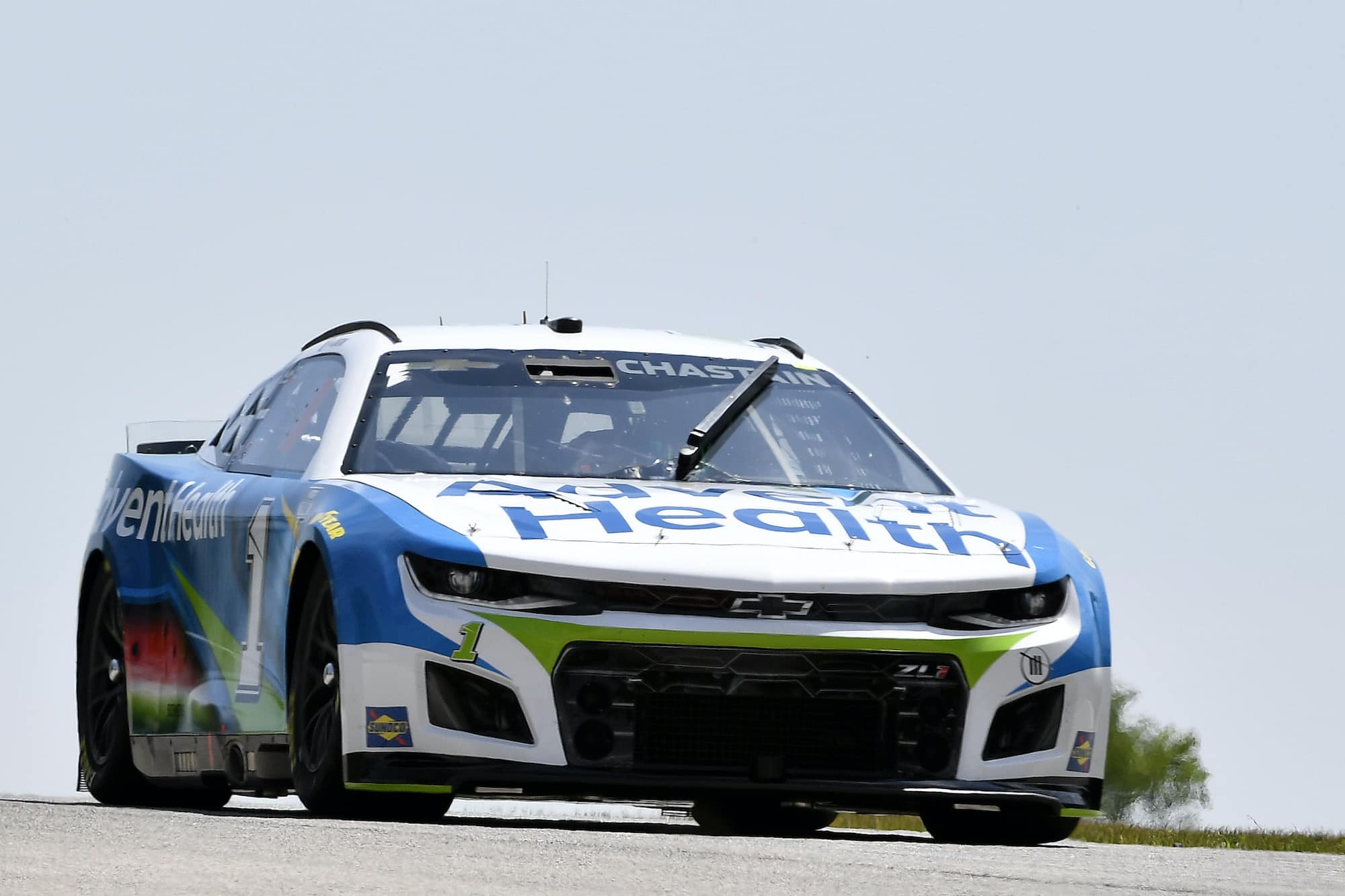 Kyle Larson Gives Ross Chastain Dose of Own Medicine at Road America and Sends Message From Rest of the Field
Ross Chastain has upset several drivers by his aggressive driving this season and Kyle Larson returned the favor on Sunday at Road America.
Kyle Larson is the reigning NASCAR Cup Series champion. He's known as a clean driver. Ross Chastain is, well, Ross Chastain. He's had a breakout season, earning his first two career Cup wins, but he's ruffled a few feathers along the way with his aggressive driving style.
On Sunday at Road America, Kyle Larson turned the tables and gave Chastain a dose of his own medicine, sending him off the track and, more importantly, sending a message to the Trackhouse Racing driver about what he might expect for the rest of the season.
Ross Chastain apologizes for aggressive driving
Ross Chastain won his first-ever Cup Series race at Circuit of the Americas with an aggressive move on the final lap that sent Alex Bowman and AJ Allmendinger off the track and allowed him to charge by and cruise to victory. Everyone knew it was an aggressive move but justified it for a couple of reasons, including it was a response to how Allmendinger had raced Chastain a few turns before, and he was doing whatever it took to claim his first Cup trophy.
After Austin, those excuses were gone. However, Chastain's driving style remained. 
And that style has agitated numerous drivers since, including Denny Hamlin and Chase Elliott at World Wide Technology Raceway last month. That's where the 29-year-old watermelon farmer got a two-for-one special in Stage 2, first severely damaging the Joe Gibbs Racing No. 11 car by driving into the rear and sending it into the wall, and then just laps later, making it three-wide on a restart and getting into the left rear of the No. 9 Hendrick Motorsports car and turning him sideways. 
Following the race, both drivers were unhappy and Chastain profusely apologized. 
"I owe half the field an apology," he told Fox's Jamie Little. "Words aren't going to fix it so I'll have to pay for it on the track. Almost did today and I deserve everything that they do."
Kyle Larson gives Ross Chastain dose of own medicine
Kyle Larson is HMS teammates with Chase Elliott. He's good friends with Denny Hamlin. On Sunday, the defending Cup champion was battling with Chastain for third place in Stage 3. 
With passing a challenge and Larson's patience growing thin, he channeled his inner Chastain and closed in on the rear of the Trackhouse car and gave it a nudge going into the corner. The No. 1 car went off track, allowing Larson to cruise by and claim the third position. 
"Ready to get that pass over with, so he made it happen," Dale Earnhardt Jr. said on the broadcast.  
To Chastain's credit, he quickly returned to the track and only lost one position. Both drivers held those positions to the checkered flag.
Denny Hamlin and Chase Elliott still owe him
Ross Chastain and Kyle Larson haven't had any incidents this season. What happened on Sunday wasn't payback for anything and wouldn't be classified as an incident but just racing.
But make no mistake about it, that move by Larson sent a clear message to Chastain that what he's done this season, including Bowman at COTA and both Hamlin and Elliott at WWT Raceway, he can expect it to come back around to him in some form. 
Larson was professional in his delivery, as you'd expect from the champ who most consider a clean driver. Whether or not Hamlin, who admitted he owes Chastain, Elliott, or anyone else, for that matter, is as respectful in their approach is very much in question.  
If nothing else, Chastain learned on Sunday that he might have to start mirror-watching a little more as the races tick off and we get closer to the playoffs. And he doesn't know who it might be coming from. 
Like Sportscasting on Facebook. Follow us on Twitter @sportscasting19 and subscribe to our YouTube channel.