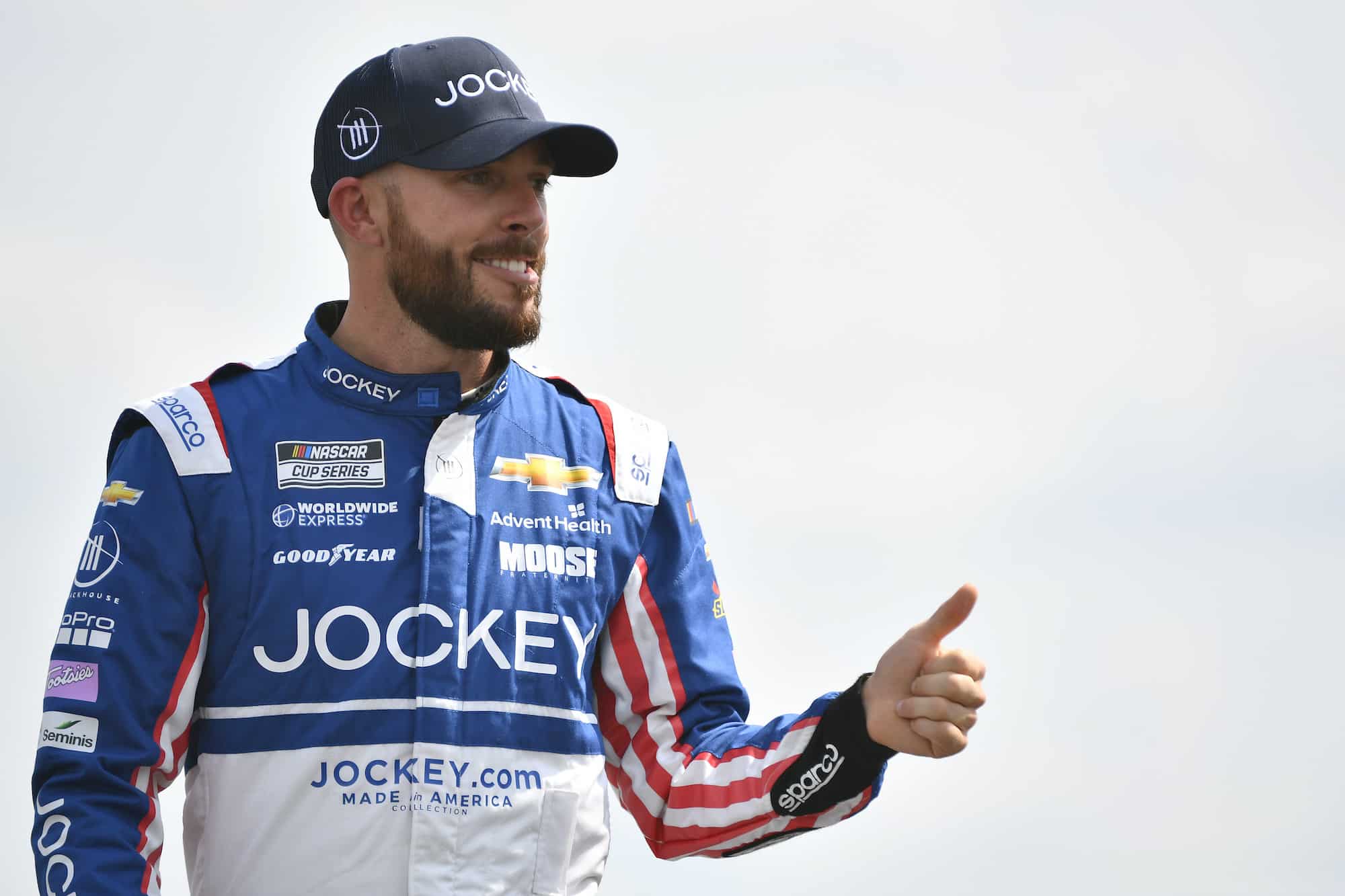 Ross Chastain Raises Red Flag at Road America and Brings Back Haunting Memories of Jimmie Johnson's Terrifying Road Course Crash in 2000
Ross Chastain had a problem crop up during Saturday's qualifying session at Road America and it was a frightening reminder of Jimmie Johnson's horrific road course crash back in 2000.
Ross Chastain has had a memorable 2022 NASCAR Cup Series season. It's been a mix of good and bad. The positives have been plentiful as he's had one of the best cars all year, allowing him to earn his first career Cup win and follow it up with a second several weeks later.
On the flip side, the Trackhouse Racing driver has come under fire from several of his fellow competitors who regularly run up front and have taken exception to his aggressive driving style. This weekend at Road America, Chastain is considered a favorite after winning earlier in the year on another road course at Circuit of the Americas. 
While the 29-year-old watermelon farmer is understandably excited about the opportunity to claim another victory, he also comes in cautious after he had an issue during Saturday's practice and qualifying session that brought back haunting memories of Jimmie Johnson and his terrifying accident at the turn of the century. 
Ross Chastain has brake issues
On Saturday at the four-mile Road America course, Ross Chastain posted one of the fastest times in practice. Unfortunately, the excitement from having yet another fast race car was dampened during qualifying when the No. 1 team realized that small cracks were developing in the brake rotors due to the fluctuating heat cycles. 
"I saw everybody running around, and they were looking, 'They were like, alright, you're good,' and I was like, 'OK, I don't want to ask. I don't want to know what's happening,'" Chastain said to NBC's Kim Coon. "When I came back in they told me they were going to change a rotor, and I was like, 'Oh boy.' And they changed it in a few minutes, which is incredible.
"Hats off to Trackhouse and these mechanics to get that done and thank you NASCAR for letting us do that for safety. I don't want to be breaking a brake rotor out here. Hopefully, we'll all figure out what's going on before the race, right. We don't want to have failures. This Next Gen car has such good momentum behind it we don't want silly things like brake rotors to be a cause for concern."
Jimmie Johnson suffers terrifying accident after losing brakes
Jimmie Johnson knows all too well how brakes can be a cause for concern. Before Johnson became one of the all-time Cup Series greats, he was making his way up the ranks in the Xfinity Series. In 2000, he was racing at Watkins Glen when he encountered the biggest fear of any race car driver — brake failure. 
Heading into Turn 1 at a high rate of speed, Johnson was totally helpless when he lost his brakes, cut across the grass, caught some air before heading into the gravel trap, and slammed violently into the barrier.  
"One of the very few times in a race car I thought it was over," Johnson said in an interview. "I thought that was it."
Fortunately, Johnson was saved because the wall was lined with foam and absorbed the impact. He exited his car and climbed on top of it, raising his arms in triumph, realizing he had just defied serious injury and possibly death. 
Chastain watches Cole Custer experience brake issues
After Chastain and the Cup drivers finished their qualifying session, the Xfinity Series cars took the track for their race. Cole Custer was among several Cup drivers participating and had a fast car, running near the front with Kyle Larson and Ty Gibbs. 
Unfortunately, Custer's day ended with just two laps remaining when he blew a brake rotor and crashed violently into the fence. 
"We just exploded a brake rotor on the backstretch," Custer said. "Couple of laps before that I started backing it way down because I was so far back. I could see my brakes were fading so I backed it way down but it still just exploded on the backstretch and just couldn't do anything into (Turn) 5."
You can be sure Chastain and the rest of the Cup drivers were paying attention when Custer lost his brakes. And you can also be certain it's something — no matter how hard they try — that will be in the back of their minds each time they get up to speed and head into a heavy braking zone on Sunday.
Like Sportscasting on Facebook. Follow us on Twitter @sportscasting19 and subscribe to our YouTube channel.