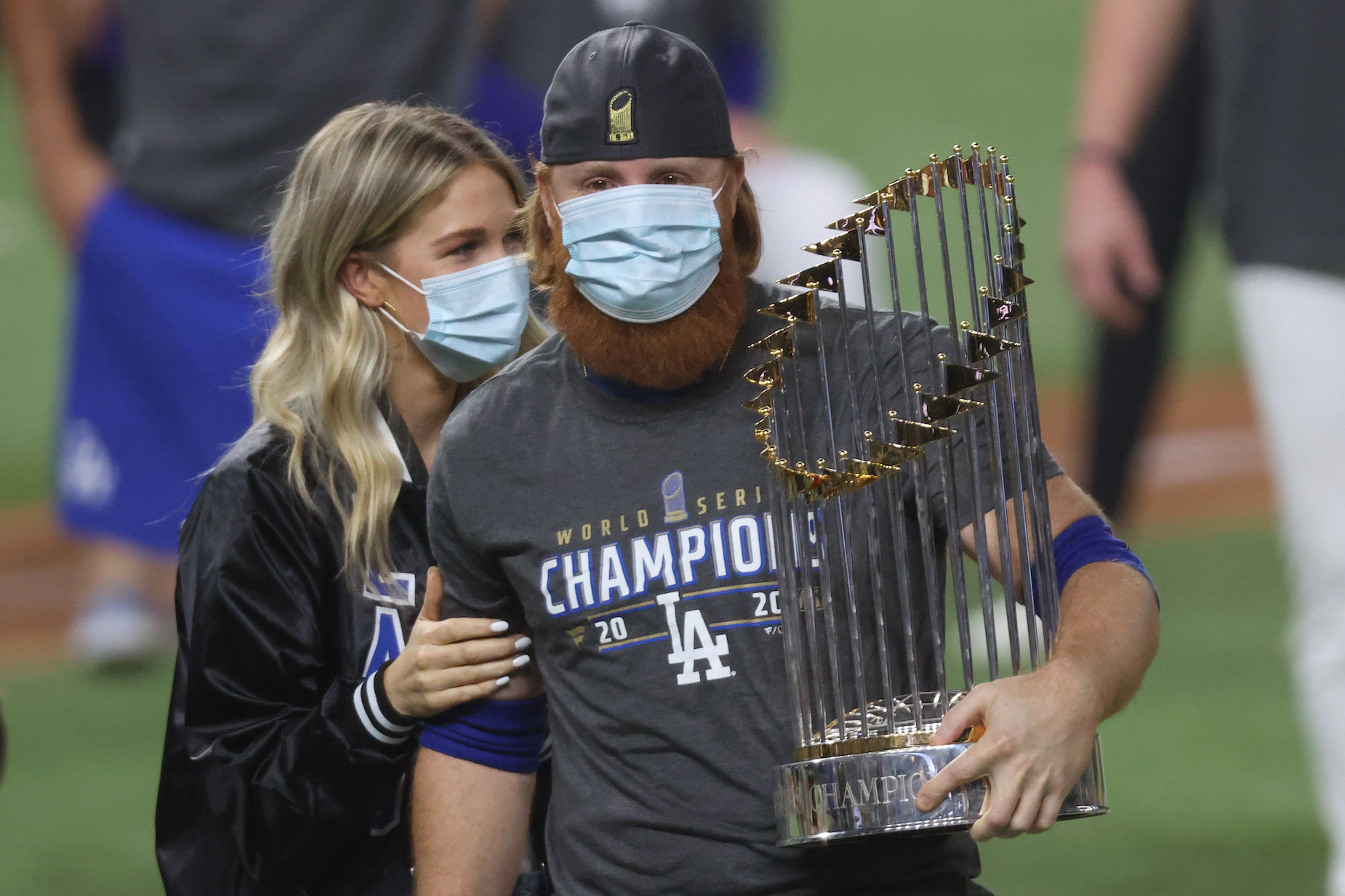 Justin Turner's Positive COVID-19 Test Just Started Sports' Newest Conspiracy Theory
After a controversial pitching change and Justin Turner's postive COVID-19 test, the 2020 World Series is wrapped up in a new conspiracy theory.
The world of sports is no stranger to a good conspiracy theory. From Patrick Ewing's froze draft envelope to Sonny Liston and the "phantom punch," fans can't help but speculate about some nefarious goings-on behind the scenes. Unfortunately for Major League Baseball, Justin Turner's positive COVID-19 diagnoses just created another one.
On Tuesday night, Turner and the LA Dodgers topped the Tampa Bay Rays in Game 6 to claim the 2020 World Series title. Shortly after the game ended, though, some fans began stringing together a suspicious chain of events.
Blake Snell's early exit set the stage for the Dodgers' World Series win
Heading into Game 6, the Tampa Bay Rays needed a strong performance to keep their World Series hopes alive. It seemed like pitcher Blake Snell was ready to provide that lifeline.
In the bottom of the sixth inning, Snell gave up a hit to Austin Barnes, the ninth batter in the Dodgers' lineup. While that seemed like a minor bump in the road—Snell had been dealing up to that point, striking out nine batters and allowing only one previous base hit—Rays manager Kevin Cash headed to the mound and pulled his starting pitcher from the game.
That decision, however, immediately backfired. Nick Anderson came in from the bullpen and, after a double, a wild pitch, and a ground ball, the Dodgers had taken the lead. A few innings later, LA had clinched another World Series title.
"Well, yeah, I regret the decision because it didn't work out," Cash later explained, according to ESPN's Jesse Rogers. "But you know, I feel like the thought process was right. … If we had to do it over again, I would have the utmost confidence in Nick Anderson to get through that inning."
Justin Turner's positive COVID-19 test changed the tone of the night
Blake Snell, however, wasn't the only player to leave Game 6 prematurely. Dodgers third baseman Justin Turner also departed, albeit for different circumstances.
When the Dodgers took the field at the start of the eighth inning, Turner was nowhere to be seen. While it seemed like the Dodgers could simply be making a defensive substitution at the time, it was later revealed that the infielder had tested positive for COVID-19.
"Sources told [ESPN's Jeff ]Passan that, in the second inning, the lab doing COVID-19 tests informed MLB that Turner's test from Monday came back inconclusive," an ESPN News Services story explained. "It is unclear why the results of the test arrived after the game began, as they typically do beforehand. Samples taken from Tuesday arrived at the lab and Turner's was run immediately, sources said. When it showed up positive, the league called the Dodgers and said to pull Turner."
Despite his removal from the game, Turner still joined his teammates on the field for pictures and other celebrations. Unsurprisingly, that behavior drew plenty of criticism on social media.
Blake Snell and Justin Turner are at the heart of a new conspiracy theory
On paper, it seems like a single decision—Kevin Cash pulling Blake Snell—changed the course of the World Series. After the game ended, however, an alternate theory began to circulate on social media.
According to that hypothetical chain of events, Major League Baseball knew that Justin Turner had tested positive for COVID-19 and realized that a potential Game 7 would have to either be postponed or played under the shadow of the virus. That (again hypothetically) prompted the league to make Kevin Cash pull Blake Snell, prompting the Dodgers' comeback; depending on your preference, Nick Anderson could have also told to give LA the lead, explaining his wild pitch.
Cash, however, did have some logic for pulling his starter from the game when he did. As laid out by ESPN's Jesse Rogers, Snell hadn't gone past the sixth inning in any of his 21 past appearances; he was also about to start his third trip through the Dodgers order, where modern wisdom posits that hitters have seen enough of a pitcher to gain the advantage.
Based on that reality, Kevin Cash's decision seems a bit more understandable, if still controversial. Thanks to Justin Turner's positive COVID-19 case, however, the 2020 World Series may have earned a place in history for its conspiracy theory, rather than its unusual circumstances or result.